ORIGINALLY POSTED IN 2017
ROLL THE TAPE PLEASE:
Of course the left thinks this "okay" symbol is racist, like everything is now "racist" (milk, the term "athletic," criticizing the IRS, saying that Barack Obama lied, wanting lower taxes, Star Wars, your baby, craft beer, being white, lunch bags, etc., etc. — TOWNHALL | TWITTER [Tucker Carlson] | WASHINGTON TIMES | NATIONAL REVIEW | ZERO HEDGE [Tucker Carlson]).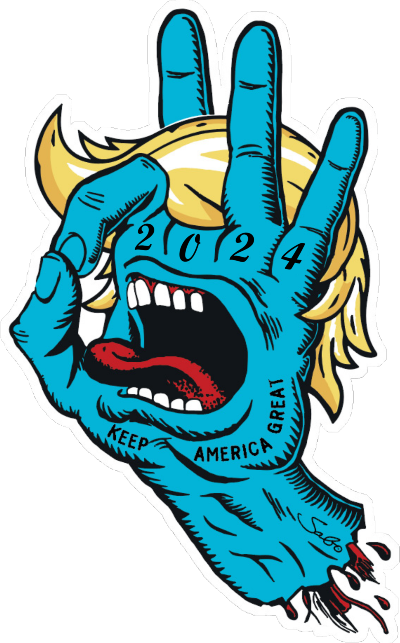 See, of course, my previous posts on the "okay" symbol, here and here. I assume that "racist things" and the list of things caused by "Global Warming" will compete with each other.
Of course, if you are not familiar with the original graphic from SANTA CRUZ, it made #3 in the TOP 50 GREATEST SKATE LOGOS.
I was happened upon DICTIONARY.COM's definition of the "Okay" symbol — and can you guess what I found? And the reason for Savory Agent's version of the Santa Cruz Symbol? Here is the WRONG DEFINITION description first:
This is just factually wrong. The "okay" symbol as a white supremacist symbol was first a hoax by 4Chan dating to 2017, and, the media made such a stink about it [thinking  it was true] that after the media freakout, white supremacist groups adopted it.

Here is WIKIPEDIA'S noting of it:
Dennis Prager says it often, "everything the Left touches it ruins." The Mainstream Media and Democrats [the Left] had their grubby hands/paws/mitts all over this story as factual — and because of the perceived power play seen in using this politically — they even ruined the "okay symbol."
Here is the ADL's dealing with it — take note the "circle game" was ruined as well by the Democrats and Media:
But hey…. our dictionaries. Lol.
You know who get's it right? BLOG EMOJIPEDIA!
The myth of the OK gesture as a secret symbol of white supremacy begins in 2017 as a deliberate effort on 4chan to spread the sign as such. It was chosen in part due to its use by the controversial speaker Milo Yiannopoulos and some white nationalists in support of Donald Trump during the 2016 presidential election. Its creators also claimed that the fingers of the OK gesture represent a W for white and the ring a P for power, as illustrated below. (read it all, it's good)
I rarely say anything positive about VOX, but the link in the bullet point above surprised me. Bravo.
The "OK Sign" Hoax | Joe Rogan & Tim Pool