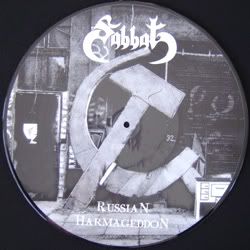 This news is with thanks to Religion News Blog. I had posted another story about Russian Satanism earlier, "Russian Satanic Teens Stabbed Their Victims 666 Times Before Cannibalizing Them." It seems Russia, persons enjoy being told how to think. They have had generation after generation of this ingrained thinking — and now cults and aberrant thinking are flowing more freely in their culture commanding their reality. Something they are use to and that people all over the world show their proclivity for. I ultimately do not know, but the fall of the Wall/Iron Curtain and the failure of their experiment in trying to marry free-markets wit their love for Dialectical Materialism and , in my humble opinion, has helped ravage these persons who are groping in the dark for answers:
February 5, 2010 (edited July 19th)

Two young people are being tried in Russia for organizing a Satan-worshiping sect. Their adepts were subjected to abuse during gatherings, while some girls, including those below the age of consent, were molested.

The sect named "Nobilis Ordo Diaboli" – or the "Noble Order of the Devil" – was engaged in the secret worshiping of Satan in the republic of Mordovia in central Russia since 2003. It was organized by medical student Aleksandr Kazakov, 24, and had up to 75 adepts over the years, investigators say.

Kazakov, who is the prime suspect in the trial, used his charisma to lure young people from well-to-do families into the "Order". New adepts were recruited from mysticism-loving friends of sect members and through satanic websites and internet message boards. Every initiate had to sign "a contract", which gave the "high priest" ownership of his or her soul as part of the initiation rituals.

Under Kazakov's guidance, members gathered in secrecy, dressed in black robes and performed "unholy rites". They also indulged in orgies and drinking sessions that could last for days. For girls, sex with the man and his closest "apprentices" was a requirement, and those unwilling could be raped. The Satanists also didn't hesitate to involve minors, say the investigators.

The second man on trial, Denis Danshin, 23, was Kazakov's second-in-command and was responsible for suppressing dissent and doubt among the flock, sometimes through violence.

When police cracked down on the cult in 2009, they seized numerous books about Satanism and occult paraphernalia like animal sculls. The defendants claim that their sect was a mere role-playing club, and everything the members did was done voluntarily. They also deny charges of sexual abuse and violence.
…(see also)…
Take note, that Putin would love to implement this law, which is partially understood and reasonable. Putin, in his atheistic manner, would love to lump the historic faith in with these wacky cult: