I wanted to wait a bit and allow for some information to trickle out on who this killer was, and why this information is relevant to our current issue of Democrats not allowing for common sense to call a spade-a-spade. So below will be links to a lot of stories that hit a nerve with me with a small excerpt… but first, it should be noted that Jim Hoft, of GATEWAY PUNDIT, has come out of the closet and is now in the pantheon of conservative [Catholic] gay bloggers.
I wish to make a point before going to a relevant [similar] story. Remember the story about the second known American killed while fighting for ISIS in Syria? His name was Abdirahmaan Muhumed, and do you know where he was working before fighting overseas? He worked at Delta Global Services at the Minneapolis-St. Paul International Airport. This position allowed him access to the tarmac and unfettered access to planes (JIHAD WATCH). GAY PATRIOT turned me on [watch it!] to a story about Omar Mateen — the Orlando jihadi shooter — and his "day job," here is the excerpt:
Gotta love that political correctness kicking in, considering he was on the FBI's radar: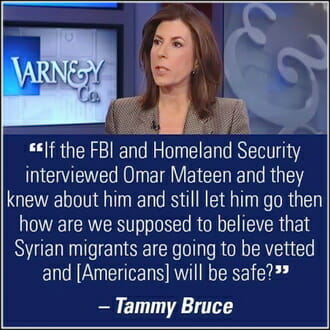 Mateen traveled to Saudi Arabia and the United Arab Emirates — before the FBI interviewed him in 2013

A former co-worker reported Mateen's extremism to their employer but no one took action… because Mateen was Muslim

Last year, the FBI investigated Mateen's connection to "the first American suicide bomber in Syria"

Fox report: Mateen was enrolled in online courses from a notorious terrorist recruiter
This is the thing as well, Mateen was friend's with the first American suicide bomber and went to the same mosque (Ft. Pierce, Florida — DAILY MAIL) as his friend, Moner Mohammad Abusalha. The polidce invited a speaker after the night-club shooting to warn against the "sensationalizing of the story into more than it is (JIHAD WATCH). However, this man who heads the Islamic Society of Central Florida is on VIDEO blaming the U.S. for 9/11 (right). To my ears this is anathema, to many Democrats, they say the same thing (*wagging head*).
Omar Mateen went so far as to brag about his involvement with terror orgs. Which may be why a co-worker reported and complained about him:
When a police officers warning goes unheeded, we have a problem [Houston]. This person goes on to claim that he "quit because everything he [Mateen] said was toxic, and the company wouldn't do anything (THE BLAZE) — "He always talked of killing people" (DAILY MAIL). Mateen's classmates said he praised Allah after 9/11 — um, it seems like his whole life is a red flag? (YOUNG CONSERVATIVES)
And his dad, Seddique Mateen, is a GIANT RED-FLAG! Even CBS said this: "The Orlando gay club gunman's father has well-known anti-American views and is an ideological supporter of the Afghan Taliban."
Besides supporting the Taliban, he even ran for Afghanistan's presidential bid (HEAVY). In addition, Got News.Com has discovered the sister of Omar Mateen, Miriam Seddique, purchased Omar's house for $100 in April via a "quit claim deed." Obviously the family knew something was up.
Now we come around to who the left blames for all this. MSNBC's law enforcement expert said it could be white supremacist groups. CNN's Sally Kohn took the opportunity to demonize Christians. The gay left magazine The Advocate "quotes ACLU lawyer Chase Strangio, who blames Christians for the Islamist attack along with several other left-wing politicians and then echoes the left's call for outlawing the civilian ownership of firearms" (GAY PATRIOT). Canadian "journalist" Doug Sanders said that "yesterday's violence showed us how shockingly similar the philosophies of jihadism and US Republicanism have become" (GAY PATRIOT). The New York Daily News on their full-paged front cover story blames the NRA (MOONBATTERY). Meanwhile, sane Republican gay groups are begging for the President and his administration to use the term, RADICAL ISLAM! ~ That Would Be Swell ~ On cue the New York Times op-ed as well blames the NRA (TWITCHY). Obama essentially blamed us for the problem (NEW YORK POST). And even preacher's are blamed for Omar's jihadi attack (GAY PATRIOT).
All that is why I must note that the shooter was a registered DEMOCRAT! (AMERICAN THINKER).
His father was a fan of Obama as well. And now the retarded Democrat law makers come out and mislabel the gun and the attributes of the gun. In fact, one conservative journalist is offering $50,000 to Democrat Representative Alan Grayson's asinine statement… video:
My son and I were talking about the logistics of this. A shooter that could pull this off would have to be legendary. There would have to be a wheel-barrel full of magazines, and a person to hand off full magazines to the shooter who would have to change them out quickly. Carbon build-up would most likely jam the striker, the shooters finger would tire from pulling the trigger so many times. We were laughing about all the scenarios available to a father and son, but the idea Grayson puts forward is not funny as it serves the left to try to put forward gun-control.
What a crazy world, thanks to the obfuscation of facts and common sense by Democrats covering for radical terrorism. Obama got it WOEFULLY WRONG when he said this in his speech in response to this radical Islamic jihadi attack:
There was no assault weapon used in this attack. Sorry Charlie.