The below is a clip from a larger post of mine titled, "Radical Groups Support the Democrats (Even the KKK)," however, I end the post with an updated list of Democrat Congressional radicals. Enjoy.
RADICAL SOCIALISTS/MARXISTS
I want to build on an idea via the following short post over at GAY PATRIOT (as well as MOONBATTERY):
I was challenged with how many actual members there are of Communist Party members. Great question!
So I pointed out the numbers do not matter, the ideology does.
From the early ruminations of the Woodrow Wilson types, to the New Left (see here also) of the 60's radicals, to a President who had close affiliations to Marxist thinkers and the radical left. ALSO, Obama went to a church that taught radical "liberation theology" which seeks to interpret the Christian call for justice in a way that is in harmony with this Marxist dictum.
It is this ideology rather than numbers that causes Moonbat to note: "The days of anticommunist Democrats like JFK and Scoop Jackson are a fading memory now." While I believe the Democrats have had a very sordid history, in the least they use to fight foreign threats/ideology, well. Now they cannot bring themselves to call the Taliban a terrorist organization.
All this aside, let us take a look at the numbers of a few radical left parties. First up, the Democratic Socialists of America (DSA). They have about 10,000 persons in their membership. While this seems small, let's look at their influence on members in Congress, shall we (note, these stats are somewhat dated [111th Congress], but the importance of their impact still stands):
Q: How many of the DSA members sit on the Judiciary Committee?
A: Eleven:
John Conyers [Chairman of the Judiciary Committee], Tammy Baldwin, Jerrold Nadler, Luis Gutierrez, Melvin Watt, Maxine Waters, Hank Johnson, Steve Cohen, Barbara Lee, Robert Wexler, Linda Sanchez [there are 23 Democrats on the Judiciary Committee of which eleven, almost half, are now members of the DSA].
Q: Who are these members of Congress?
Answer:
Co-Chairs: Raúl M. Grijalva (AZ-07); Lynn Woolsey (CA-06)
Vice Chairs: Diane Watson (CA-33); Sheila Jackson-Lee (TX-18); Mazie Hirono (HI-02); Dennis Kucinich (OH-10)
Senate Members:
House Members:
Neil Abercrombie (HI-01); Tammy Baldwin (WI-02); Xavier Becerra (CA-31); Madeleine Bordallo (GU-AL); Robert Brady (PA-01); Corrine Brown (FL-03); Michael Capuano (MA-08); André Carson (IN-07); Donna Christensen (VI-AL); Yvette Clarke (NY-11); William "Lacy" Clay (MO-01); Emanuel Cleaver (MO-05); Steve Cohen (TN-09); John Conyers (MI-14); Elijah Cummings (MD-07); Danny Davis (IL-07); Peter DeFazio (OR-04); Rosa DeLauro (CT-03); Rep. Donna F. Edwards (MD-04); Keith Ellison (MN-05); Sam Farr (CA-17); Chaka Fattah (PA-02); Bob Filner (CA-51); Barney Frank (MA-04); Marcia L. Fudge (OH-11); Alan Grayson (FL-08); Luis Gutierrez (IL-04); John Hall (NY-19); Phil Hare (IL-17); Maurice Hinchey (NY-22); Michael Honda (CA-15); Jesse Jackson, Jr. (IL-02); Eddie Bernice Johnson (TX-30); Hank Johnson (GA-04); Marcy Kaptur (OH-09); Carolyn Kilpatrick (MI-13); Barbara Lee (CA-09); John Lewis (GA-05); David Loebsack (IA-02); Ben R. Lujan (NM-3); Carolyn Maloney (NY-14); Ed Markey (MA-07); Jim McDermott (WA-07); James McGovern (MA-03); George Miller (CA-07); Gwen Moore (WI-04); Jerrold Nadler (NY-08); Eleanor Holmes-Norton (DC-AL); John Olver (MA-01); Ed Pastor (AZ-04); Donald Payne (NJ-10); Chellie Pingree (ME-01); Charles Rangel (NY-15); Laura Richardson (CA-37); Lucille Roybal-Allard (CA-34); Bobby Rush (IL-01); Linda Sánchez (CA-47); Jan Schakowsky (IL-09); José Serrano (NY-16); Louise Slaughter (NY-28); Pete Stark (CA-13); Bennie Thompson (MS-02); John Tierney (MA-06); Nydia Velazquez (NY-12); Maxine Waters (CA-35); Mel Watt (NC-12); Henry Waxman (CA-30); Peter Welch (VT-AL); Robert Wexler (FL-19)
Source: Congressional Progressive Caucus
So… while the DSA has only 10,000 members, officially, the impact and membership is wider than that.
Now, let us look at the Communist Party USA. Keep in mind they have voted for quite some time a straight Democratic ticket… only now have they officially announced the policy to continue on this path: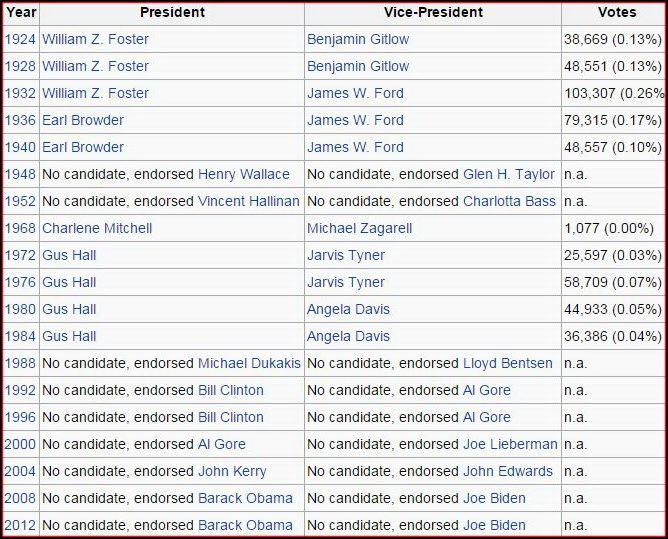 So how many members does the Communist Party USA (CPUSA) have? Two-thousand. Again, the numbers do not matter, it is that the very root of communism and "democratic" socialists ~ their ideology (the CPUSA as well as the DSA) ~ are anathema to our founding ideals and documents.
You may think this is the end of my rant. However… you would be wrong. Because there is another radical group that has historically been Democratic and still to this day vote predominately for Democrats. You must be wondering who?
I will tell you.
UPDATED INFO — via TREVOR LONDON:
THE EPOCH TIMES has a great article noting the infiltration of Communists into the Democrat Party: