Kwanzaa: Racism in Disguise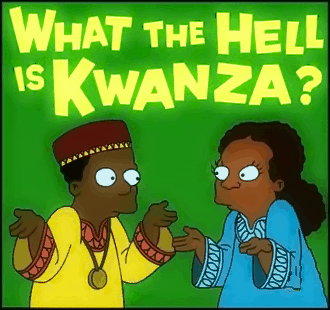 Kwanzaa ~ Not Just Another Holiday!
A Letter from a Concerned Parent
(Fifth-Grade/2002 ~ updated 11-11-05)
Who Created Kwanzaa?
Kwanzaa was invented by Ron Kerenga in 1966 as a means to foster and help the Black Nationalist movement in their goal to segregate and separate the races. Ron Kerenga, thus, views people of Jewish decent, much like the Nation of Islam, as "devils," to be stamped out like weeds. His views towards whites are very similar ~ racist, in-other-words. Let's look at some of this history.
Kerenga founded and led the United Slaves, a Black Nationalist organization, which got into gun battles with the Black Panthers on occasion with people murdered as a result.
In 1970, Kerenga and two of his followers were arrested by authorities for the torture of two of his female followers, Debra Jones and Gail Davis. Kerenga did time in prison for disrobing these two women at gunpoint and having them beaten severely. Kerenga told them that "Vietnamese torture is nothing compared to what we know," whereupon he forced a hot soldering iron into the mouth of one while the other had a toe squeezed in a vice.
The Los Angeles Times described the events:
Karenga was sentenced to one-to-ten years in prison on counts of felonious assault and false imprisonment. At his trial, the question arose as to Karenga's sanity. The psychiatrist's report stated:
How terrifying for these two women! According to the July 27, 1971 Los Angeles Times, a psychological profile of Kerenga described him "as a danger to society who is in need of prolonged custodial treatment in prison." The profile noted that Kerenga, while legally sane, was "confused and not in contact with reality."
The "seven principles" of Kwanzaa that Kerenga created as part of the Nguzo Saba are little more than Marxism transposed into afrocentric key.[4] Therefore, the Kwanzaa celebration, unlike – for instance – the Martin Luther King holiday, celebrates separatism and Black Nationalism. It would be the same as the school teaching and celebrating a holiday created by the Ku Klux Klan, or an offshoot thereof. (I would just as vehemently speak out against this as well, for when the school sets its seal of approval on a celebration, you teach all its goals and aims ~ whether religious or political.)
Created Equal
My point is that I teach my children that all men are created equal and that all men are equal in the eyes of God. This is what Christmas is all about! Jesus came to save the world (John 3:16-17), God's Word has always stated that He has "made of one blood [i.e. from one man, Adam] all nations of men" (Acts 17:26, cf. 1 Cor. 15:45). Kerenga created Kwanzaa to shun the world and display racism as their main goal for the holiday season, in place of Christmas. In fact, when asked why he designed Kwanzaa to take place around Christmas, Karenga explained, "People think it's African, but it's not. I came up with Kwanzaa because black people wouldn't celebrate it if they knew it was American. Also, I put it around Christmas because I knew that's when a lot of bloods would be partying." Great values!
Again, trying to tie in African culture and beliefs with this holiday celebration is a stretch, to say the least. Kwanzaa was created in 1966 by a revolutionary Marxist and racist man – Kerenga – who took here and there from the African culture as well as the Menorah from Judaism[5], and created a new celebration with socialist/Marxist overtones.
I have long-standing family friends who are native-born Africans (Kenyans), who have given their entire life to the mission field. They vehemently oppose this holiday because it creates subversion between the races when love is needed most. Neither do they find a connection with it and African culture. Mason Weaver points out the bottom line:
(Updated quote) Ann Coulter, likewise, points out the bottom line:
Origins vs. Current Beliefs
Do the millions of black Americans who celebrate Kwanzaa think of it as the ritualization of socialism? Doubtful. Do they object to the mainstreaming of Kwanzaa symbols and products? Probably not. Do they know anything about Karenga and his past? It doesn't seem so. When Karenga spoke at the Million-Man March, he went virtually unnoticed. However, the holiday's origins in a terrible time and with a terrible person are certainly relevant to its legitimacy.
Neutrality?
I do not mind if the school teaches my son true history, which includes the history of Africa, as well as other Continents. However, having said this, I do not pay my hard earned tax dollars for the school to meet some need of trying to teach and include all the cultural holidays of the world, which apparently must include racist holidays founded right here in California's radical [recent] past. That is not the schools job; it is mine, if I so choose!
This is why this subject is so "political," you have in a sense undermined my family's values and put it upon yourselves to teach my son "multi-culturalism" in a "politically-correct" fashion. This, then, requires the school to make value judgments on how to teach this to my child. Which is why I pointed out that by doing so, you have strayed from being neutral to taking a position on how to present other peoples cultural mores (which now includes racism as mainstream) to my child (in rejection of America's cultural mores… which is Christmas and Hanukah, i.e., Judeo-Christian).
Back to the Original Premise!
So again, I restate my three points in the original letter[6] on why I asked to have my son join either the Christmas table or Hanukah table in class; in contradistinction to Kwanzaa or the Chinese New Year:
It [Kwanzaa] promotes and supports ethnic separation and segregation. For instance, Hallmark Cards and Giant Foods have a policy of any items related to Kwanzaa be produced and sold only by blacks (William A. Henry III, "The Politics of Separation," Time Magazine [fall 1993]: 75).
This was also the intent of the founder of Kwanzaa, Dr. Maulana Kerenga, separation, not healing. Christmas promotes the latter.
It is not practiced equally with the traditional (Judeo-Christian) practices. For example: one public schools students and parents were asked to come in and share with the class about Kwanzaa, and other religious holiday practices of their Buddhist faith and Muslim faith as well as the traditions and practices of Hanukkah. When one parent attempted to share the true meaning Christmas, using a Nativity scene as a visual aid, the presentation was prohibited. (Ravi Zacharias, Deliver Us from Evil: Restoring the Soul in a Disintegrating Culture, p. 57).
It takes a political and moral stance. This type of multi-cultural "politically-correct" inclusive teaching takes a moral and political stance that requires value judgments to be made that are at variance with my (and many others) particular political and moral stance on afro-centric history and teaching… as well as putting one set of moral pre-suppositions (Marxism, racism, segregation) above others. Thus, taking a non-neutral position.
---
Notes
---
---
UPDATE
---
(Updated via GATEWAY PUNDIT)
The Obama White House extended Holiday greetings to all those celebrating Kwanzaa. Kwanzaa was created in 1966 as a holiday celebration of African culture and heritage — however, as the above and below show well is that this is a racist holiday thru-and-thru.
CONSERVATIVE FIRING LINE has a good post on Kwanzaa: "Kwanzaa: A Fraud Holiday With A Racist Goal, Created By Criminal Madman"