Hillary Clinton again calls for the Electoral College to be nixed: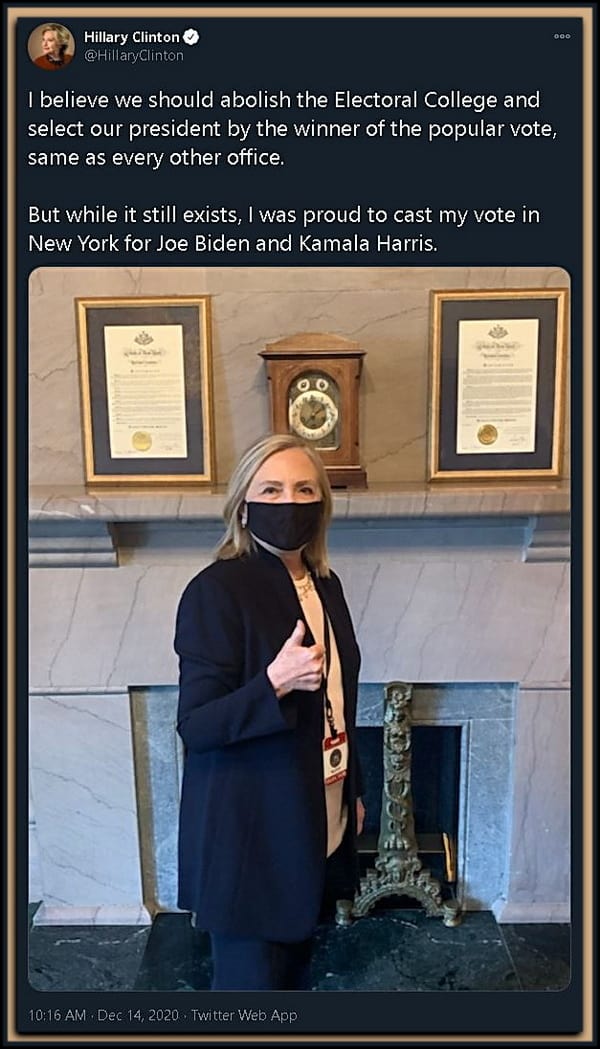 Mark Levin does a few second response to this idiocy:
CIVICS 101
"

…

the possibility that the [Constitutional Republic] in which we live provides us with opportunities for [representation] that

…

exceed those provided by primitive orders to far fewer people should not be dismissed."
I wanted to edit/adapt the above HAYEK quote to fit the broader idea that what our Founders created is the most fair to the most people. I will include the larger quote at the end, in context, as, it has nothing to do with what I adapted it to. As I was reading this section of "The Fatal Conceit: The Errors of Socialism," I thought of the attempt by Democrats to do away with the Electoral College. Which immediately brought to mind that MORE voters will be disenfranchised if it is eliminated. Why? Because the popular vote could be won by almost 4-states alone: California, Texas, Florida, New York. So, let's take the most recent election as an example:
The Democrat outpaced President-elect Donald Trump by almost 2.9 million votes, with 65,844,954 (48.2%) to his 62,979,879 (46.1%), according to revised and certified final election results from all 50 states and the District of Columbia. (CNN)
In the Electoral College world, the smaller states had a say and 2.9 million voters were "disenfranchised," so-to-speak. In a direct democracy, which our Founders specifically wrote against, all a candidate would have to do is campaign in about 11-cities to win the election.
Do you understand what the Electoral College is? Or how it works? Or why America uses it to elect its presidents instead of just using a straight popular vote? Author, lawyer and Electoral College expert Tara Ross does, and she explains that to understand the Electoral College is to understand American democracy.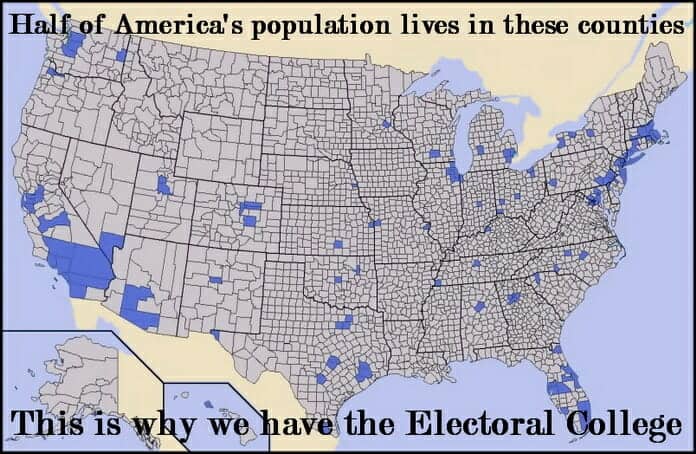 Right now, there's a well-organized, below-the-radar effort to render the Electoral College effectively useless. It's called the National Popular Vote, and it would turn our presidential elections into a majority-rule affair. Would this be good or bad? Author, lawyer, and Electoral College expert Tara Ross explains.
You vote, but then what? Discover how your individual vote contributes to the popular vote and your state's electoral vote in different ways–and see how votes are counted on both state and national levels.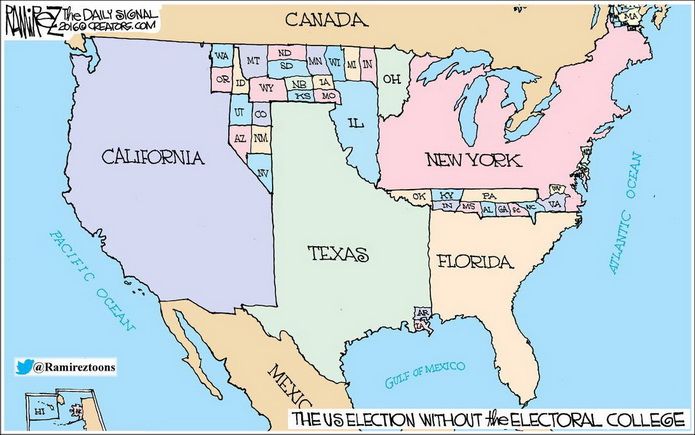 More Common Sense