A Facebook friend posts a lot of stuff from the Left. And while I could spend all day refuting in similar fashion much of it (like the below), this topic caught my eye. Here is the FB graphic she posted on her wall: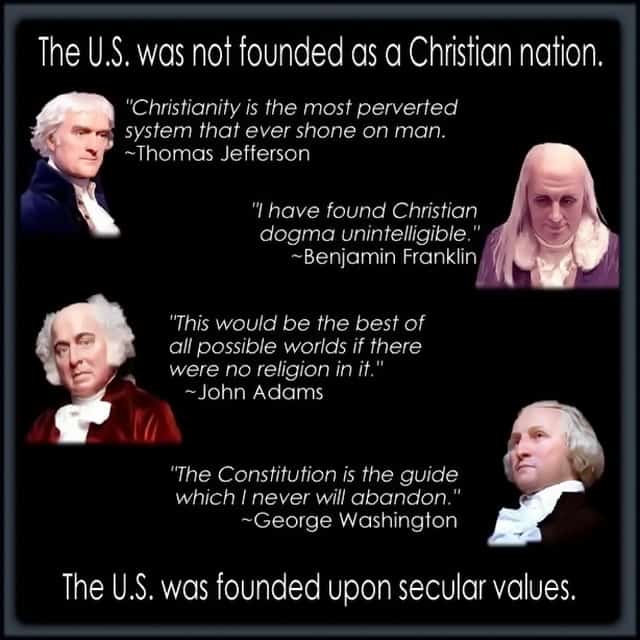 So, let's deal with these in order, shall we?
THOMAS JEFFERSON
This is the headline at THE JEFFERSON MONTICELLO site: "Christianity is the most perverted system that ever shone on man (Spurious Quotation)" — spurious indeed. They follow this with the fuller quote:
There are other useful links at MONTICELLO'S link to this topic. Even CHECK YOUR FACT has this regarding the Jefferson quote:
BENJAMIN FRANKLIN
The fuller quote reads… and note, many say this about their youth as well. I say similar things — as I stayed out of the church as a youth when I could.
"I have found Christian dogma unintelligible. Early in life I absented myself from Christian assemblies."
Later in life however, Franklin (and I would say myself) wrestled with religious matters well, and came out on the theistic end of life. Here, for example, is a letter from Benjamin Franklin to the "atheist" Thomas Paine:
Other interesting items of Mr. Franklin's faith in God can be found here: "Benjamin Franklin Was Not A Secularist"
I start out this upload with a call into the show this week… after a little back-n-forth it ends. BUT, I include a bit of the show Dennis Prager speaks about during the call. That is from late February. A great topic covered well. Here is the creed spoken of:
✦ I believe in one God, the creator of the universe.
✦ That he governs by his providence.
✦ That he ought to be worshipped.
✦ That the most acceptable service we render to him is doing good to his other children.
✦ That the soul of man is immortal, and will be treated with justice in another life respecting its conduct in this.
For a very good discussion of the influence of the Calvinistic tradition on the thinking of Benjamin, see:
John Eidsmoe, Christianity and the Constitution: The Faith of Our Founding Fathers (Grand Rapids: Baker Book House, 1987), 191-213.
JOHN ADAMS
The fuller quote from Adam's sheds some light on Calvinism' influence on the founders. The quote was taken out of context from a letter from John Adams to Thomas Jefferson, 19 April 1817 (entire letter):
Twenty times, in the course of my late Reading, have I been upon the point of breaking out, "This would be the best of all possible Worlds, if there were no Religion in it"!!! But in this exclamati[on] I Should have been as fanatical as Bryant or Cleverly. Without Religion this World would be Something not fit to be mentioned in polite Company, I mean Hell. So far from believing in the total and universal depravity on human Nature; I believe there is no Individual totally depraved. 
A slightly more English friendly version is this:
Adam's was using the quote as a hyperbolic analogy to make a larger point. The opposite point as displayed in the meme. And the point was the depravity of mankind in a VERY Calvinistic structure. Here, as a way to drive the point home that this topic — that is, religious influences on the founding of America — is a topic I have for seminary studied well. Here is a bibliography of books used for a class. Books that sit on my shelves, I will highlight one in particular I recommend:
Later in life, Adams wrote:
"I love and revere the memories of Huss, Wickliff, Luther, Calvin, Zwingli, Melancton, and all the other Reformers, how muchsoever I may differ from them all in many theological metaphysical & philosophical points. As you justly observe, without their great exertions & severe sufferings, the USA had never existed." — John Adams to F. C. Schaeffer, November 25, 1821, in James Hutson, ed., The Founders on Religion: A Book of Quotations (Princeton: Princeton University Press, 2005), 15–16.
GEORGE WASHINGTON
The quote by our first official President does not even hint at secular thought? The entire letter in fact does not. An excellent site recording the non-secular events surrounding the Constitution, also note the following — to use just one example from the many via Is the Constitution a "Secular Document?"
More on Washington can be found HERE.