Differences
(Originally posted April 2021)
DEMOGRAPHIC REPLACEMENT
'Tucker Carlson Tonight' host says the left is obsessed with 'demographic replacement.'
What a difference an administration makes when it comes to immigration. Let's remember at one time (and not very long ago), Democrats sounded just like former President Trump on the issue of illegal immigration. They even used the term 'illegal alien.' And why do they always throw around the number of immigrants in the United States is 11 million? And for the record, 'illegal alien' is not the same thing as an undocumented worker or undocumented immigrant. An illegal alien is an illegal alien. (Elder plays Eliseo Medina's speech – who is noted in the video below that!)
Eliseo Medina PLAYBOOK
This is a montage of democrats revealing their true goals for illegal immigrants and other minorities – they want their votes. This is a clip from Trevor Loudon's film, the "Enemies Within." Watch the entire film @AMAZON:
Eliseo Medina PLAYBOOK
---
It's About Power!
---
See more at:
Historically, Democrats supported strong borders because they knew American workers could never compete with illegal immigrants. Now, they regularly support "open borders." So why the drastic change? Tucker Carlson, host of Tucker Carlson Tonight, explains.
Via SOOPERMEXICAN! (h/t to LIBERTARIAN REPUBLICAN – now defunct):
What about the leftist hero who was recently lionized by Obama? Mark Levine takes you on a short tour-de-forces of how Democrats try and re-write history:
BREITBART notes a recent visit by Mark Levin to the Sean Hannity Show:
---
BORDER TOWN DEMOCRATS
---
Democrat Congressman Vicente Gonzalez noted that Joe Biden's border policies will be "catastrophic for our party, for our country," when he appeared on CNN on 3/1/2021.
Rep. Henry Cuellar, who represents a district on the U.S.-Mexico border, says he has a lot of tough questions for the Biden administration on immigration policy.
LA TIMES: Even the Democratic mayor, Bruno "Ralphy" Lozano, backed the Republican governor, attacking President Biden on Twitter, saying he's failed to address the border crisis.
Also, "Democrat Texas Judge On Border Crisis: 'Biden Fomented This And Now He's Alienated Us,' 'At Our Wits End'"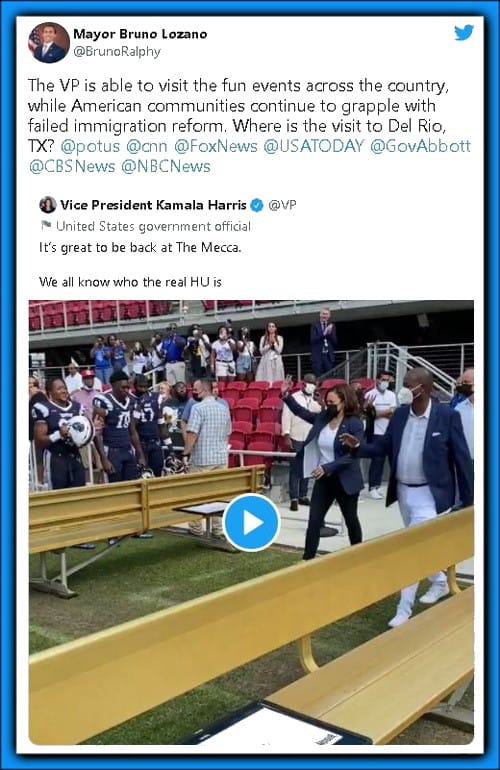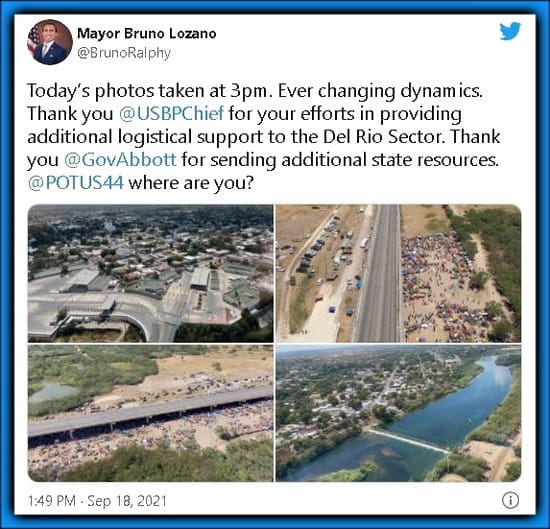 Friedman is WRONG. Donald Trump did lay compromise on the table — the Dems rejected it. ALSO, the "hard-liners" Friedman mentions (Stephen Miler) are saying NOTHING DIFFERENT that Democrats a decade ago. Nothing. But at least the HARD-LEFT is admitting Trump is right. To Wit:
---
BIDEN'S MESS
---
A friend posted the following on Facebook: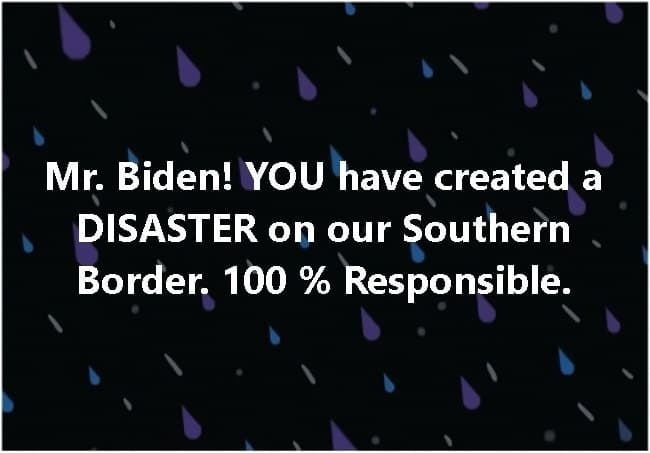 One of this friend's – friend's responded:
PRESIDENT Biden is just trying to clear up the mess the former occupant of the White House left…
I respond:
The above bullet pointed story is one of many in the description of my upload….
I coble together some reminders that this crisis is all Biden's doing.
Here are the linked stories:
---
A Wall… With Cars?
---
First of all, as you look at the wall of Texas State Troopers vehicles lined up to make a wall — note, Texas is going to build a wall. BUT, the irony should not be lost on my Democrat friends, which is this: walls work. It just so happens that the Border Wall Trump envisioned has a smaller carbon footprint than gasoline fed movable walls.
---
Democrats Finished "Wall"
---
RIGHT SCOOP hat-tip to Rep Crenshaw:
Here is a portion of the border "secured" by the 2006 SECURE BORDER FENCE ACT... as you can see in the video (and the picture) just how effective this was: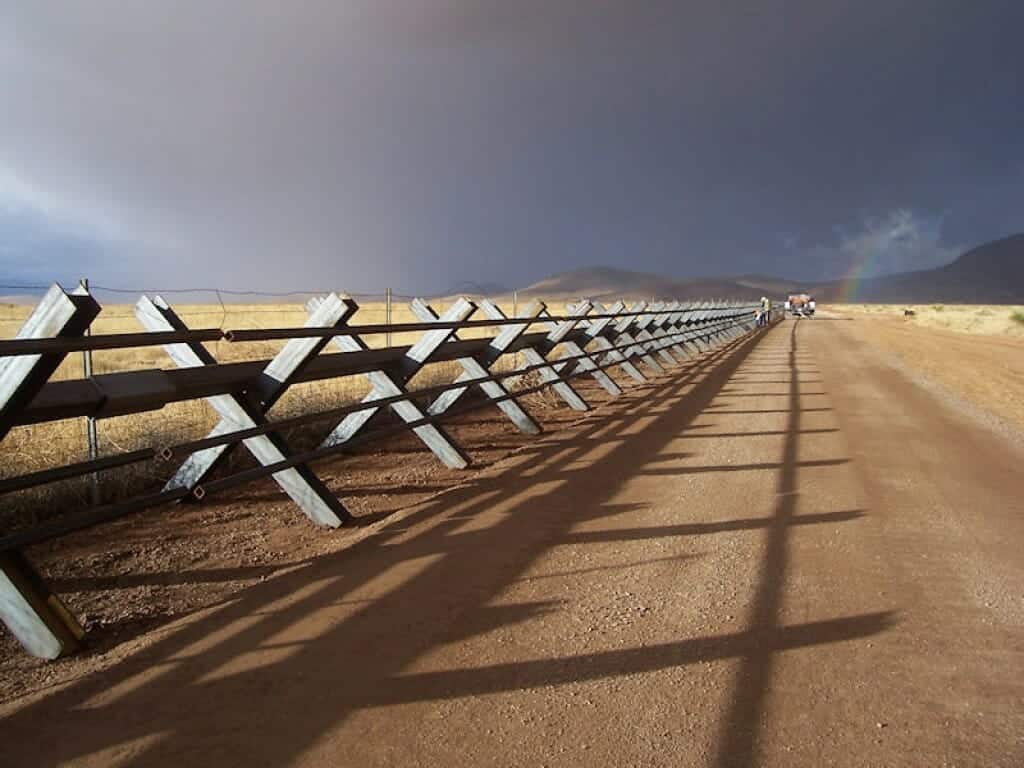 ---
Biden's Policies Hurt
Women & Children
---
Larry O'Connor reads a bit from this article at THE WASHINGTON EXAMINER:
More about Hurting Women/Children with an Open Border:
Texas Governor Greg Abbott is releasing some horrifying numbers from the first month of Operation Lone Star, an operation he launched to combat #smuggling and other crimes at the southern #border. He explains how smugglers and cartels get drugs and criminals across the border by abusing young children.
Here is horrible footage of kids drugged for smuggling purposes:
---
Is Mexico Sending Rapists?
---
When I ask people to offer me an example of Trump's "racism," I get a reference to this example most often:
"The U.S. has become a dumping ground for everybody else's problems

….

When Mexico sends its people, they're not sending their best. They're not sending you

….

They're sending people that have lots of problems

….

They're bringing drugs. They're bringing crime. They're rapists. And some, I assume, are good people." ~ Donald J. Trump
Before I add information that I doubt a millennial has heard because either they or their friends are quick to label Trump as being bigoted or racist for saying this, and moving on without further reflection, I want to note that all Republican politicians said to round up illegals in America would be an impossible task. Trump has evolved on his statement that many understood as rounding up 11-million (actually, there are 30-million). ALSO, every Republican politician noted that the Constitution would not allow for the banning of all Muslims coming to our country. Again, our Constitution forbids this. It allows for banning all persons from a country, but not a religious or sectarian belief. He [Trump] has backed away from this as well, as all of us knew he would. In fact, this was removed from his site. Trump is not a politician, but his team is counseling him well.
…Continuing.
Okay. What of Trump's statement? It surely sounds bigoted at best.
I will shock the reader.
I think that is the most pro-woman statement in a long time by a politician regarding real — violent — crime against women.
Let me explain.
This is from the HUFFINGTON POST:
For clarity in the sources for the HUFFPO article, for those that are of the impatient and research non-oriented generation:
✦ 60% Amnesty International Report (PDF)
✦ 80% Is rape the price to pay for migrant women chasing the American Dream? (FUSION)
(UPDATED EDITORIAL BY RPT) To be clear, these rapes are happening by residents who live in towns and districts these migrants are passing through. Other rapes are happening by Coyotajes, as well as many by the men making the trip as well. We know that many Honduren gang-members make the trek, and so, a high percentage of these men (criminals) do in fact cross our border into our nation. Where American women of all ethnic background are subjected to assault. Since we know illegals commit crimes at double the rate of native-born… rape is also part of these increased stats.
So, many of the men they travel with are rapping them. Many of the Coyotajes as well take advantage of them. There are what are now being called "rape trees," which you can learn more about on a previous post of mine, here. Here is how a conversation using this understanding went in the real world:
The above exchange was discussed a bit wrong, like Trump, the main idea is lost in the presentation. Gavin McInness made it sound as if the rapes were happening at the border when in actuality they are happening during the entire trip. And the girl thought he meant Coyotes, the real animal. Not Coyotajes. (That was very funny BTW, and why I ended the video like I did.)
What would be the most compassionate step to take? I would say, to control our border. That would help the migrant woman AS WELL AS our own mothers, daughters, and wives. Many from these countries that are experiencing these horrible circumstances are experiencing it because of their government models they have chosen. But this is neither here-nor-there.
The bottom line is that Trump, while not explaining this well at all, was actually making a statement about policy that in the end will protect women. There is this as well dealing with drugs and violence aspect of the comment:
As an side…
Is this man a racist or bigot? He was the co-founder of the United Farm Workers union, and spoke out against the racist organization, La Raza, as well as calling workers who crossed the border "illegal immigrants" and "wetbacks."
"In the mid 1970s, he conducted the 'Illegals Campaign' to identify and report illegal workers, 'an effort he deemed second in importance only to the boycott' (of produce from non-unionized farms), according to Pawel. She quotes a memo from Chavez that said, "If we can get the illegals out of California, we will win the strike overnight."
…"Cesar Chavez opposed illegal immigration," Levin said during a Wednesday appearance on Fox News' Hannity.
After saying that the premise that "compassion is an open border" is a "new idea" that has been pushed in recent times, Levin said that "a nation has a right to secure its border" and its citizens have a right to know who is coming into their country.
Chavez, who was also against ethnic organizations like La Raza, would tell illegal immigrants to get out of the country, especially because they lowered the wages of American workers. And he was often far from compassionate in handling illegal immigrants….
(NATIONAL REVIEW, BREITBART and the HUFFINGTON POST)
---