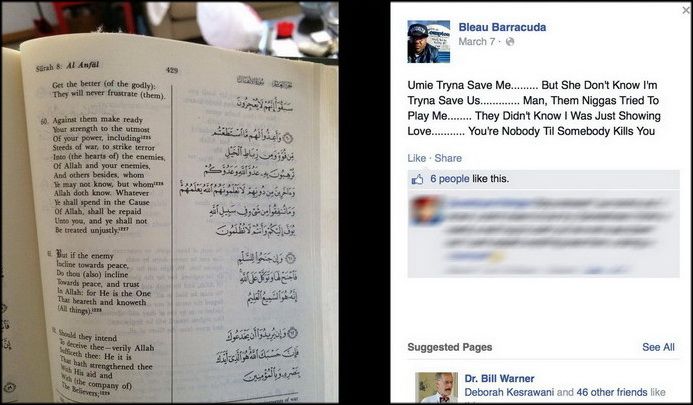 Shoebat (<< lots of good material to read at link) notes the verse pictured above as reading thus:
Against them make ready your strength to the utmost of your power, including steeds of war, to strike terror into (the hearts of) the enemies, of Allah and your enemies, and others besides, whom ye may not know, but whom Allah doth know. Whatever ye shall spend in the cause of Allah, shall be repaid unto you, and ye shall not be treated unjustly.
See more at Atlas Shrugs…. here are some important bullet points adapted from Libertarian Republican:
Ismaaiyl Abdullah Binsley is a suspect in the killing of his girlfriend on Saturday;

Ismaaiyl Abdullah Binsley is said to be a member of a Black Guerilla Family (BGF) gang with connections to the Black Panthers;

Ismaaiyl Abdullah Binsley is confirmed being a Muslim (He put a pic of the Qu'ran on his FB).
(An editors note, in the lower right corner of the above picture FaceBook suggested Ismaaiyl Abdullah Binsley "like" Bill Warner's page. If Ismaaiyl too Dr. Warner's words to heart he wouldn't have been in a death cult.)
The sad news today from New York is that two families and all the friends and NYPD co-workers lost two of their own. "They were quite simply assassinated, targeted for their uniforms, and for the responsibility they embraced to keep the people of this city safe," Police Commissioner Bill Bratton said at a news conference on the deaths of Officers Wenjian Liu and Rafael Ramos. On a left-leaning cartoonists tribute to a police officer back in September, I said this:
The "victim-hood" mentality imposed on people in the liberal trinity (race, class, gender) will be coming home to roost. From the left saying that Chris Matthews has a "white privileged" aspect to him as a person will grow until even the monster the left has created will turn on them.
I only see support from the legacy media in times like these, when they are dead or severely wounded, not when they have an almost 300-pound, 6'4″ [stoned] giant pounding a cops face. Rather the media has it in em' to create an almost mob-like mentality then cry foul when they also get bitch slapped and have camera stolen.
That's sad.
The NYPD turned their backs (rightly so) on the Mayor as he walked into the Woodhull Hospital:
On the 12th of December Mew York police officers made it clear that Mayor de Blasio is NOT welcome at their funerals. Unfortunately that was a bit prophetic. The FBI sent out a warning about a black supremacist prison gang, Black Gurilla Family (BGF) that has taken it upon themselves to kill police officers. Ismaaiyl Abdulah Brinsley, 28, "shot two cops dead as they sat in a patrol car in Bedford-Stuyvesant to avenge the deaths of Michael Brown and Eric Garner. He also shot his former girlfriend at her home in the Baltimore area on Saturday morning, police said. Law enforcement sources said the NYPD has dispatched investigators to Baltimore to probe Brinsley's past and suspected involvement with the Black Guerrilla Family prison gang."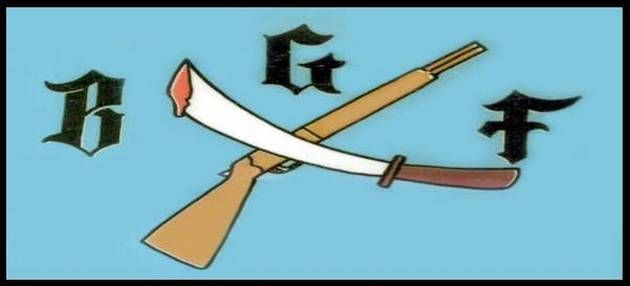 Here is more: