A motto for this strain:

A friend and I had a quick soiree that was based off of my OP (original post) that read thus:
All conservatives are being treated as pariah… this is only the beginning. Already a majority of Democrats believe Trump and Republicans are "racist/bigoted/sexist," which is why social platforms feel like they can shut down businesses and ban conservative ideas from their platforms. While this maligning is historical:
From Ronald Reagan to George H.W. Bush, Newt Gingrich, George W. Bush, John McCain, Mitt Romney, Donald Trump, the Tea Party, the NRA and Republicans everywhere, Democrats have played the race card to tattered, unrecognizable bits. They have all but destroyed the ability to even have a constructive conversation about race. (REVOLUTIONARY ACT)
The difference is you have an entire generation raised on the government tit being taught "critical race theory" in some way that truly believe we are Hitlerian in some way. Thus, "deplatforming" conservatives is thought of as being on the side of angels. Even banks have "redlined" conservatives (WALL STREET JOURNAL). (See also my post where I note the tribalism is being created by deplatforming.)
Like telling Jews they cannot do business in society. The storefront is literal as well as digital in today's world. Conservatives are the current bogeyman:
49% of Democrats think Trump voters are racist — July 2019

83% of Democrats think Trump is racist — June 2020
Here is the conversation with some visual editing for increased access. I post a Rick Wilson Tweet to remind Jim of the people he admires and how far from being a "Reaganite" [whom Jim invoked] he and his peeps are, as, he is a fan of the Lincoln Project. So, this is where we left off, and really the response after it is for everyone to get a feel for what is coming.

So, my response is simple, Biden and Harris (Harris is the MOST LEFTIST senator available — showing Joe Biden is not moderate. See below as well). And Trump lies, but crowd size and ego building lies is a sign of a politician… and? But Trump's lies are not equal to the administration Biden was in previously:
---
LIES
---
IRAN DEAL & Ben Rhodes:
This old story reminds me of talking to millennial's who listed to comedy shows as their source of political moral guidance on what is the case in our body politic. Here is the WASHINGTON TIMES noting the gullibility of these younger persons who really haven't read much or watched much outside of what they had to for their bachelors in literature of psychology or business administration:
KEEP YOUR DR. & HEALTH CARE PLAN
I don't know how crowd size compares to that, but let's continue. Can you name a lie that Trump made that is as big as a lie made to take over a large portion of the economy (one-sixth, some say one-fifth) comparable to Obama/Biden? "If you like your health plan, you can keep it." "If you like your doctor, you can keep him/her." That was a lie that captured MORE government control of the economy.
POWERLINE has a good link fest to various "Obamacare Lies."
Calling Trump & Republican's Hitler
RUSSIA & UKRAINE
MOVIE: The Plot Against the President
Hugh Hewitt and Generalissimo Duane read the phone call Trump had with the Ukrainian President. One debunked position people attribute to the call was that President Trump used military aid as a bargaining chip to get what he wanted from Ukraine. However, the far Left magazine, The Nation, notes this about the issue:
Democratic leaders and media pundits are convinced that Trump extorted Ukraine by delaying military aid to compel an investigation into Biden. Their theory may prove correct, but the available evidence does not, as of now, make for a strong case. Trump had held up military aid to Ukraine by the time of his call with Zelensky, but if the public transcript is accurate, it did not come up during their conversation. According to The New York Times, Zelensky's government did not learn that the military aid was frozen until more than one month later. Democratic Senator Chris Murphy, who met with Zelensky in early September, said that the Ukrainian president "did not make any connection between the aid that had been cut off and the requests that he was getting from [Trump attorney Rudy] Giuliani." It will be difficult to prove extortion if Trump's purported target was unaware. (THE NATION)
GLENN BECK has a good reading too:
Another big lie from the Left/Democrats is that Gender is assigned, and not inherent to our nature.
Another charge made over and over by the left — the mainstream media, academia and the Democratic Party — that the Trump election had unleashed an unprecedented amount of anti-Semitism was proved to be yet another left-wing hysteria based on a left-wing lie.
NEWSBUSTERS Notes CNN's Fareed Zakaria admitting to what I have argued for a long time, that is — if Trump were in cahoots with Putin, whay was he tougher on him than Obama?
See my post: Trump, Tougher On Putin Than Obama
---
REGULATION
---
Besides Trump cutting Federal programs, getting rid of regulations that held back small business, factories, and agriculture — he also added t he fewest laws to the Federal Registry:
Biden and Harris will outdo themselves to break spending and regulatory records.
FARMERS (WOTUS):
Biden will reimplement regulation that will retake (under fiat) 247 Million Acres of Farmland. Among other regulatory increases. What it is….
The Biden Administration has all but promised a rescinding of this huge shrinking of government intrusion into the lives of the individual. Here is a small excerpt of a wonderful resource via RED STATE:
PARIS CLIMATE ACCORD
If power corrupts, as it is said, Americans are going to feel a jolt of degeneration when Joe Biden plugs back into the climate-change network. Rather than save the world from global warming, a President Biden would force Americans to spend more of their hard-earned dollars just to keep the wheels turning and the lights burning. One pledge the presumptive Democratic president-elect has chiseled in stone is that when he first sets foot in the Oval Office, he would rejoin the Paris Climate Agreement, from which President Trump's 2019 withdrawal became final on Election Day 2020: "Today, the Trump Administration officially left the Paris Climate Agreement," Mr. Biden tweeted. "And in exactly 77 days, a Biden Administration will rejoin it." (WASHINGTON TIMES)
FLASHBACK: The Paris climate agreement was a terrible deal for the US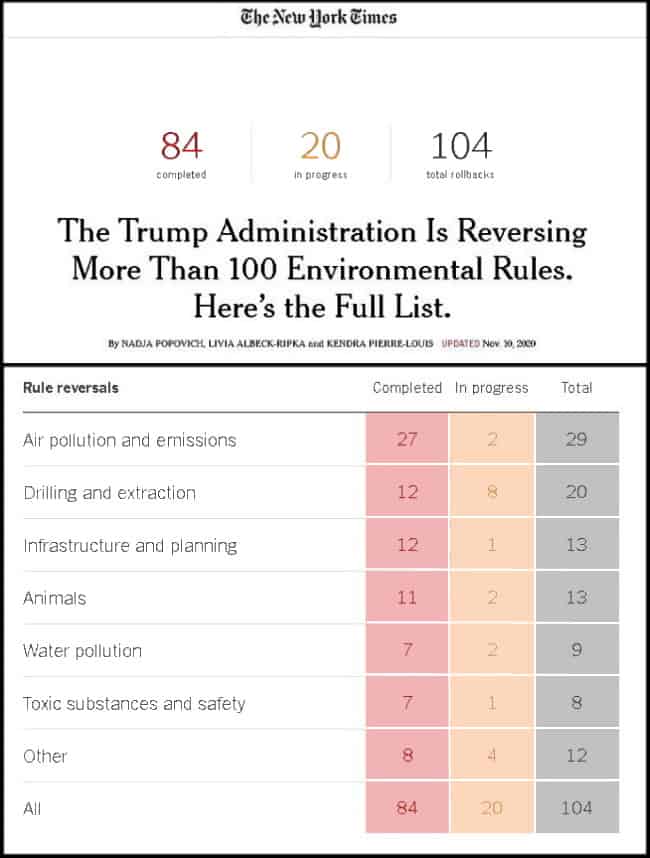 What is on the horizon for more tax-payer expenses
---
TAXES
---