(Just note "far right" is believing that gender/sex is binary) Bari Weiss, a former editor at The New York Times, spoke to CNN's Brian Stelter about the tens of millions of regular Americans who know this to be true (despite what the mainstream media tells you to believe): "The world has gone mad."
Brian Stelter is wrong… YouTube is increasingly removing (along with Twitter and Facebook and other social media outlets) any push back on "gender fluidity" and MANY other topics. Corporations disallow many a person's views that tend toward conservative ideals. The schools and universities? Fuhgeddaboudit! And while Barry Weiss might have had CNN medical contributor Dr. Leana Wen remarked in June that any investigation of the lab theory shouldn't lead to anti-Asian discrimination mixed up with this science writer for The New York Times who says promotion of the theory that the virus was manufactured in a Wuhan, China lab and escaped is "racist." Glenn Greenwald notes the Tweet: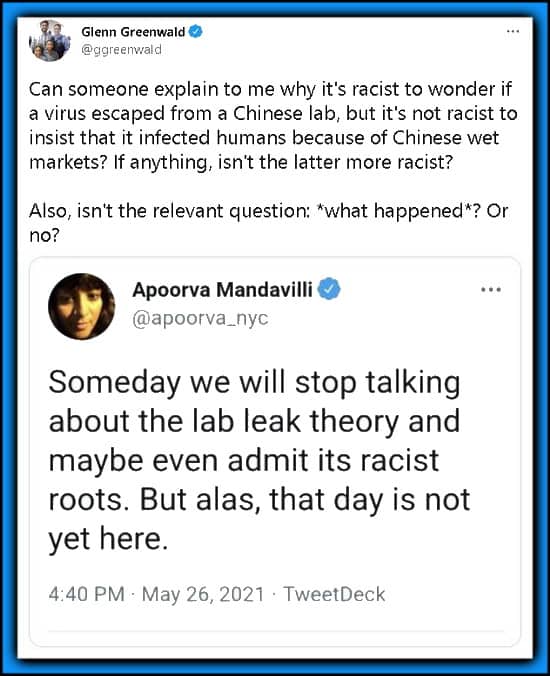 Stelter may also start with the Yale Law administrators who suggested a student's membership in the Federalist Society could be grounds for discipline, including preemptive disbarment. I could go on, but I need to go to work.