(Originally Posted July 2018)
UPDATE – Republicans, Holding the Patriotic Line!
…Currently, 32% of Democrats — down from 43% in 2017 and 56% in 2013 — are extremely proud. The decline preceded the election of Donald Trump but has accelerated in the past year.
Less than half of independents, 42%, are also extremely proud. That is down slightly from 48% a year ago, and 50% in 2013.
As has typically been the case, Republicans are more inclined to say they are extremely proud to be Americans than are Democrats and independents. Seventy-four percent of Republicans are extremely proud, which is numerically the highest over the last five years….
(GALLUP)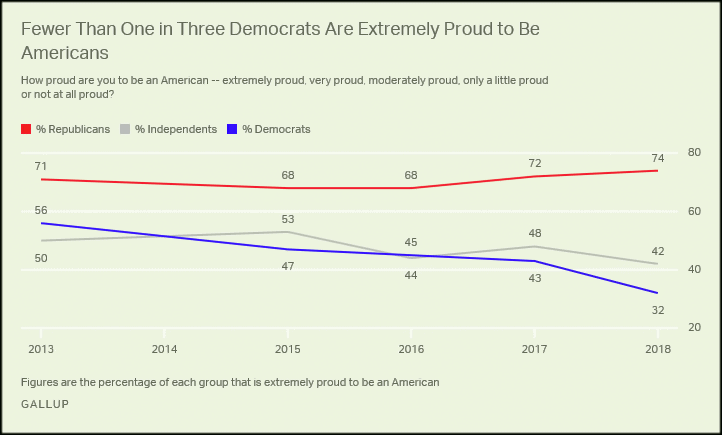 This is the Democrat base… and influences Democratic politics. It boos God/Israel being in the Democrat platform. It tries to get rid of God from the pledge ("Democrats and independents were more likely than Republicans to think the phrase should be taken out"). It tries to force religious people to pay for abortions. Here is BREITBART:
This Fourth of July, according to a recent Pew survey, 60% of full-spectrum "Solid Liberals" are not proud to be Americans.
The Pew Research survey found that just 40% of so-called Solid Liberals "often feel proud to be American" while "60% say that characterization does not fit them."
According to the comprehensive survey, 69% of Solid Liberals are white, and 41% are under 40 years of age. They make up 15% of the general public and 17% of registered voters. Almost unanimously they love President Barack Obama – 84% approve Obama's job performance, "with 51% approving very strongly."
Among all Americans, Obama is considered to be the worst president since World War II, according to a recent Quinnipiac poll (2014).
In addition, 80% of this group believe that "racial discrimination is the main reason why many blacks can't get ahead these days," 87% think abortion should be legal in almost all circumstances, and 83% say "the government should do more to help the needy, even if it means going deeper into debt."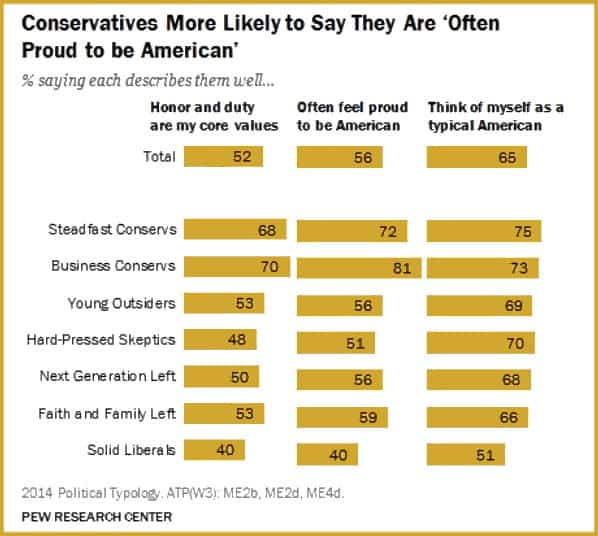 Pew also found that 52% of Solid Liberals "have college degrees and 21% have graduate degrees" while "45% say if they could live anywhere they wanted, they would live in a city." While 93% of Solid Liberals believe that "stricter" environmental regulations are worth the cost, only "12% say the description 'hunter, fisher or sportsman' fits them well, the lowest share of any typology group."
(Click Graph To Enlarge)
Conservatives are significantly prouder to be Americans.
Pew's survey found that "81% of Business Conservatives and 72% of Steadfast Conservatives say the phrase 'often feel proud to be American' describes them well." Pew also concluded that the "feelings of pride in being American – and a belief that honor and duty are core values – are much more widespread among the two conservative groups than the other typology groups."
An excerpt from the book, Freedom Just Around the Corner: A New American History: 1585-1828 (found here), by Walter A. McDougall. (H/T Michael Medved)
…The creation of the United States of America is the central event of the past four hundred years. If some ghostly ship, some Flying Dutchman, were transported in time from the year 1600 into the present, the crew would be amazed by our technology and the sheer numbers of people on the globe, but the array of civilizations would be recognizable.
There is today, as there was then: a huge Chinese Empire run by an authoritarian but beleaguered bureaucracy; a homogeneous, anxious, suspicious Japan; a teeming crazy-quilt of Hindus and Muslims in India attempting to make a state of themselves; an amorphous Russian empire pulsing outward or inward in proportion to Muscovy's projection of force; a vast Islamic crescent hostile to infidels but beset by rival centers of power; a dynamic, more-or-less Christian civilization in Europe aspiring to unity but vexed by its dense congeries of nations and tongues; and finally an Iberian/Amerindian culture in South America marked by relative poverty and strategic impotence.
The only continent that would astound the Renaissance time-travelers would be North America, which was primitive and nearly vacant as late as 1607, but which today hosts the mightiest, richest, most creative civilization on earth – a civilization, moreover, that perturbs the trajectories of all other civilizations just by existing.
One might object that the most salient features of modern history have not been territorial and demographic, but intellectual and political: the invention and spread of enlightened ideas of human rights and democratic self-government on the one hand, and the scientific and technological explosions in human power on the other hand. That is so, but the rise of America goes far to explain the rapidity and scale of their triumphs…