~ Re-Posted ~
Had to post this from NewsBusters. The rhetoric from the media (MSNBC, CNN, and the like) has been mind-numbingly shallow. I also wish to say that I doubt Ball has ever mentioned any add as being backed by Soros. To wit, before getting to the NewsBusters piece, let me explain why people fear government via a post of mine answering a local writer:
---
And any person should acknowledge why someone should "fear" government more than business. In fact, I made this point on my FB outgrowth of this blog in talking to my liberal friend:
…this is to show how the Obama admin is stacking the books with GM. You see, when the government chooses winners-and-losers instead of getting contracts with private companies (like Ford, GM, etc.), they are invested to [i.e., forced to] only choose a government run business and stock their fish (so-to-speak) with GM fleets… leaving the non-government company to flounder.
This next audio deals with the differences of the Koch brothers, in comparison to the Left's version of them, Soros. There are many areas that one can discuss about the two… but let us focus in on the main/foundational difference. One wants a large government that is able to legislate more than just what kind of light-bulbs one can use in the privacy of their own home. Soros wants large government able to control a large portion of the economy (see link to chart below), and he has been very vocal on this goal. The other party always mentioned are the Koch brothers. These rich conservatives want a weak government. A government that cannot effect our daily lives nearly as much (personal, business, etc) as the Soros enterprise wants. And really, if you think about it, what business can really "harm" you, when people come to my door with pistols on their hip… are they a) more likely to be from GM, or, b) from the IRS?
The possibility of them being from the IRS is even more possible with the passing of Obama-Care [i.e., larger government]. So the "fear" (audio in next comment) I think the Left has of "Big-Business" is unfounded, and the problem comes when big-business gets in bed with big-government. Here I am thinking of (like with the penalties that were found to be Constitutional in the recent SCOTUS decision) a government that can penalize you if you do not buy a Chevy Volt, or some other green car in order to save the planet. When this happens, guys coming to my door because of unpaid (hypothetical… but historical examples abound of the tax history of our nation) "fines" are likely to be IRS agents because of a personal choice made in the "free-market."
Appendix: If the above example didn't inspire any liberal fear (forced to go green or be penalized), maybe this one will?
…First, the government needs to issue a mandate that all households must own at least one firearm. We will need a federal agency to ensure that people aren't just buying cheap BB guns or .22 pistols, even though that may be all they need or want. It has to be 9mm or above, with .44 magnums getting a one-time tax credit on their own. Let's pick an agency known for its aptitude on firearms and home protection to issue required annual certifications each year, without which the government will have to levy hefty fines. Which agency would do the best job? Hmmmm … I know! How about TSA? With their track record of excellence, we should have no problems implementing this mandate.
Don't want to own a gun? Hey, no worries. Supreme Court Chief Justice John Roberts says citizens have the right to refuse to comply with mandates. The government will just seize some of your cash in fines, that's all. Isn't choice great? Those fines will go toward federal credits that will fund firearm purchases for the less well off, so that they can protect their homes as adequately as those who can afford guns on their own. Since they generally live in neighborhoods where police response is appreciably worse than their higher-earning fellow Americans, they need them more anyway. Besides — gun ownership is actually mentioned in the Constitution, unlike health care, which isn't. Obviously, that means that the federal government should be funding gun ownership….
This is why people fear government, to answer John's question.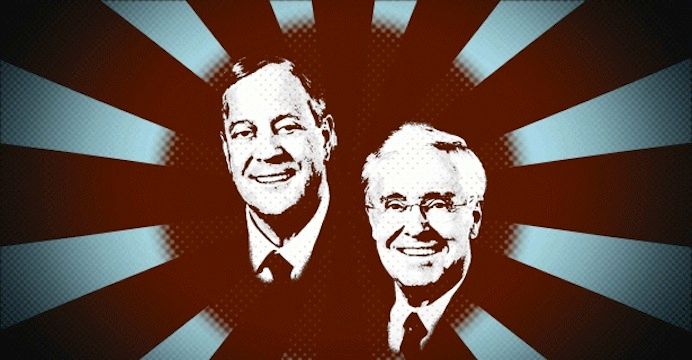 ---
Back to the excellent NewsBusters response to "Krystal Ball" on MSNBC:
Honestly, how does this woman have a job in a news division?
Oh. That's right. MSNBC isn't a news organization. How could I have forgotten?
Saying Republicans don't want young people to buy health insurance is preposterous.
What conservatives don't want is the government to force young people to purchase something that morbidity tables show will likely have absolutely no benefit for them until the distant future so that others who likely will benefit much sooner can get it either for free or far more cheaply.
Irrespective of what Supreme Court chief justice John Roberts foolishly ruled last year, this is neither Constitutional nor ethical.
As for these young people dying if ObamaCare is not enacted, that asininely assumes that people won't have the money to pay for their care if they get sick or won't purchase health insurance when they reach an age when they believe they need it.
For example, Ball mentioned prenatal care and tetanus shots. As a person that owns an insurance agency, I certainly would be telling a client looking to have children to purchase health insurance.
As for Pap smears, the Mayo Clinic recommends women over 21 do them every two to three years.
The cost varies state by state. In New York City, you can get one for as little as $150.
As such, a woman in that city doing it even once every two years would save thousands of dollars paying for it herself rather than buying health insurance.
As for cholesterol tests, these are now available online for as little as $40.
This great, short, update comes via The Lonely Conservative:
The short answer to the question posed above is "Not even close." It's not the Koch Brothers or ALEC. Nope. The biggest spender in the dark money game is the Tides Foundation. Oh and by the way, Tides is a big liberal group.
Whenever "ALEC" and "dark money" are mentioned in the media, however, there ought to be a third name given at least equal attention – the Tides Foundation. That's because Tides, the San Francisco-based funder of virtually every liberal activist group in existence since the mid-1970s, pioneered the concept of providing a cut-out for donors who don't wish to be associated in public with a particular cause. It is instructive to compare the funding totals for Tides and ALEC.
A search of non-profit grant databases reveals 139 grants worth a total of $5.6 million to ALEC since 1998. By comparison, Tides is the Mega-Goliath of dark money cash flows. Tides received 1,976 grants worth a total of $451 million during the same period, or nearly 100 times as much money as ALEC. But even that's not the whole story with Tides, which unlike ALEC, has divided and multiplied over the years. Add to the Tides Foundation total the directly linked Tides Center's 465 grants with a combined worth of $62 million, and the total is well over half a billion dollars. (Read More)
So there.
---
BIG versus SMALL
---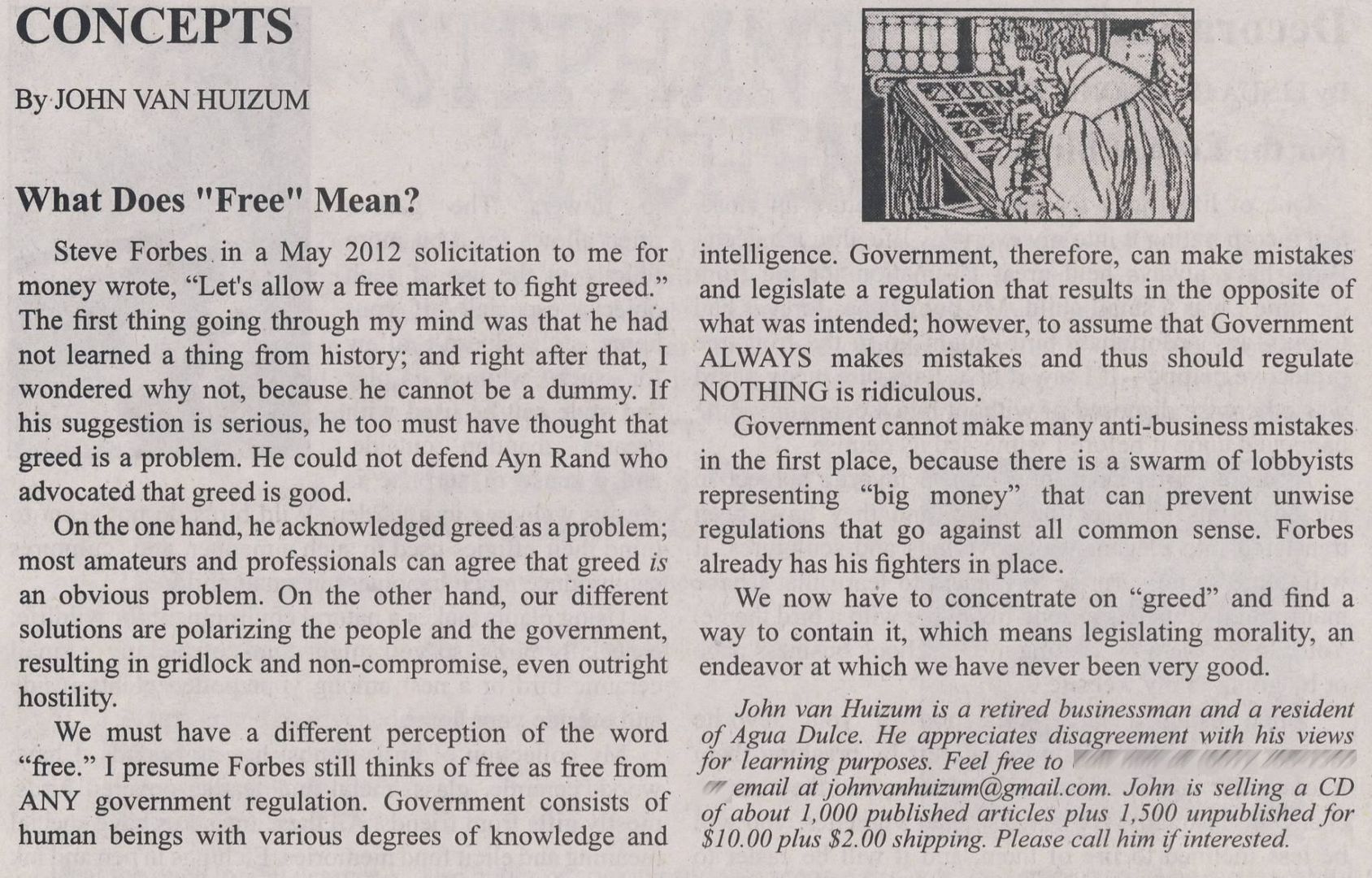 (You can enlarge the article by clicking it.) This is a local, small town magazine, and John Van Huizum writes a regular piece that I will critique here-and-there. Here is my first installment:
I wish to write a response to a recent Concepts article by John Van Huizum, entitled "What Does 'Free' Mean?" There are a couple issues worth responding to or in-the-least offering a differing viewpoint on. The first of Mr. Huizum's positions that needs de"concept"ualizing is the idea of "greed." Mr. Huizum spoke of history, something Dr. Sowell reminds us of in the telling of Richard Sears ferocious greed in wanting to overtake Montgomery Ward.[1] This type of greed leads to lower prices. Alternatively the Fords, Rockefellers, and the Carnegies found ways to offer goods at lower prices. This type of greed leads to Carnegie — for instance — becoming a "prodigious philanthrop[ist] – building more than 3,000 public libraries in 47 states…, founding Carnegie-Mellon University and the Carnegie Institute of Technology (C.I.T.), establishing Carnegie Hall in New York, the Carnegie Endowment for International Peace, and much more."[2]
In a wonderful response to Donahue's 1979 challenge to Milton Freidman on the issue of greed and if greed has ever caused Dr. Friedman to doubt capitalism. Milton Friedman responded that "the world runs on individuals pursuing their own interests, the great achievements of civilization have not come from government bureaus. Einstein didn't construct his theory from an order of a bureaucrat. Henry Ford didn't revolutionize the automobile industry that way. In the only cases in which the masses have escaped from the kind of the grinding poverty you're talking about, the only cases in recorded history are where they have had capitalism and free trade."[3] So I wish to proffer another history that maybe, just possibly Forbes is taking into account and Mr. Huizum is not.
Another point worth politely rejecting is the definition given to Forbes by Mr. Huizum on freedom: "free from ANY government regulation."[4] This is a fallacy of straw-man.[5] Mr. Huizum does not show a full knowledge of Forbes understanding on this matter. Nor does the facile dealing with this complex issue and the putting forth of a false definition as if-it-were Forbes do this topic justice.
One last point, the most important. Unlike big business when it makes mistakes, big government cannot go out of business. Unlike corrupt government, corrupt business cannot print money and thereby devalue a nation's currency. Businesses cannot coerce you by force (tax liens, garnishing of wages, or armed IRS officials, etc) into an action. So the "greed" of the corporation pales in comparison to the greed of government.[6] Which is why our Founders stated that, "The Constitution is not an instrument for the government to restrain the people, it is an instrument for the people to restrain the government" (Patrick Henry); "Government is not reason; it is not eloquence. It is force. And force, like fire, is a dangerous servant and a fearful master" (George Washington).
Footnotes:
[1] Thomas Sowell, Basic Economics (New York, NY: Basic Books, 2004), 361.
[2] Michael Medved, The 10 biggest Lies About America (New York, NY: Crown Forum, 2008), 132; see also, "What Did He Get for That Money?"
[3] youtu.be/RWsx1X8PV_A
[4] John Van Huizum, Agua Dulce/Acton Country Journal, Vol. XXII, Issue 21 (May 26, 2012), 19.
[5] a) Person A has position X; b) Person B presents position Y (which is a distorted version of X); c) Person B attacks position Y; d) Therefore X is false/incorrect/flawed.
[6] Dennis Prager, Still the Best Hope (New York, NY: Broadside Books, 2012), 35-36.