(Originally Posted Dec 13, 2015)
WHY SO MANY?
ATHEIST CHALLENGE
I was recently in a conversation and was challenged with a long litany of items. This is a common tactic of atheists. Not camping on a single topic and dealing with it well. Rather they have a myriad of points combined that they think are sound, which is why I often choose on from their long screed to show them that in similar fashion when each statement is looked at and dealt with properly you often find straw-men, non-sequiturs, of category mistakes. Here is an example:
You see that is why there are 40,000 denominations approximately. Each interprets the bible differently, never mind all the other religions. Saying the bible is spot on is totally crazy

…
I thought I responded to this in the past… but after searching through my Word docs and my sites… I have not in fact posted responses to this challenge. So here I wish to do just that. But first, I want to define myself, and what "I am"
DEFINITIONS
RESPONDING TO CHALLENGE
Now on to the challenge itself, which, the self-definition above will exemplify the main points. When I first cam across the argument myself, it was 33,000 denominations, which "WAR_EAGLE" points out is a fluctuating number in his concise refutation of this number:
In the above challenge of 40,000 denominations… Jehovah's Witnesses, Latter-Day Saints (Mormons), and other cults are included in the number. Using the same criteria found in the ever-changing large number we see how the criteria works out to an INFLATED NUMBER: Please realize, this includes "Gnostics" (!), Mormons (122 denominations worth!) and Jehovah's Witnesses (228 denominations)! No Christian church would include them as a "Christian denomination," unless infected by a form of liberalism that causes a universal viewpoint. That is, all people are going to heaven. This question about denominations comes up often by Mormons. They typically claim they are the one true church… but there are well over 40-factions of Mormonism ("denominations"). How do they themselves distinguish what is true?
Even the Roman Catholic church has 242 "denominations." (See Dr. White's presentation near the bottom)
Here is a good concluding remark of a larger response:
An historical analogy for one of the bullet points above may help. If the world was made up of a "Pangaea" of a country (one country/one world order), it would be impossible to stop a "Hitler" or Mao," or "Stalin" conquering said world. But because the world is divided into different cultures, languages, and the like… it is near impossible for a tyrant to overthrow the world. (Which is one reason why a "united Europe" is looked upon as a net negative.)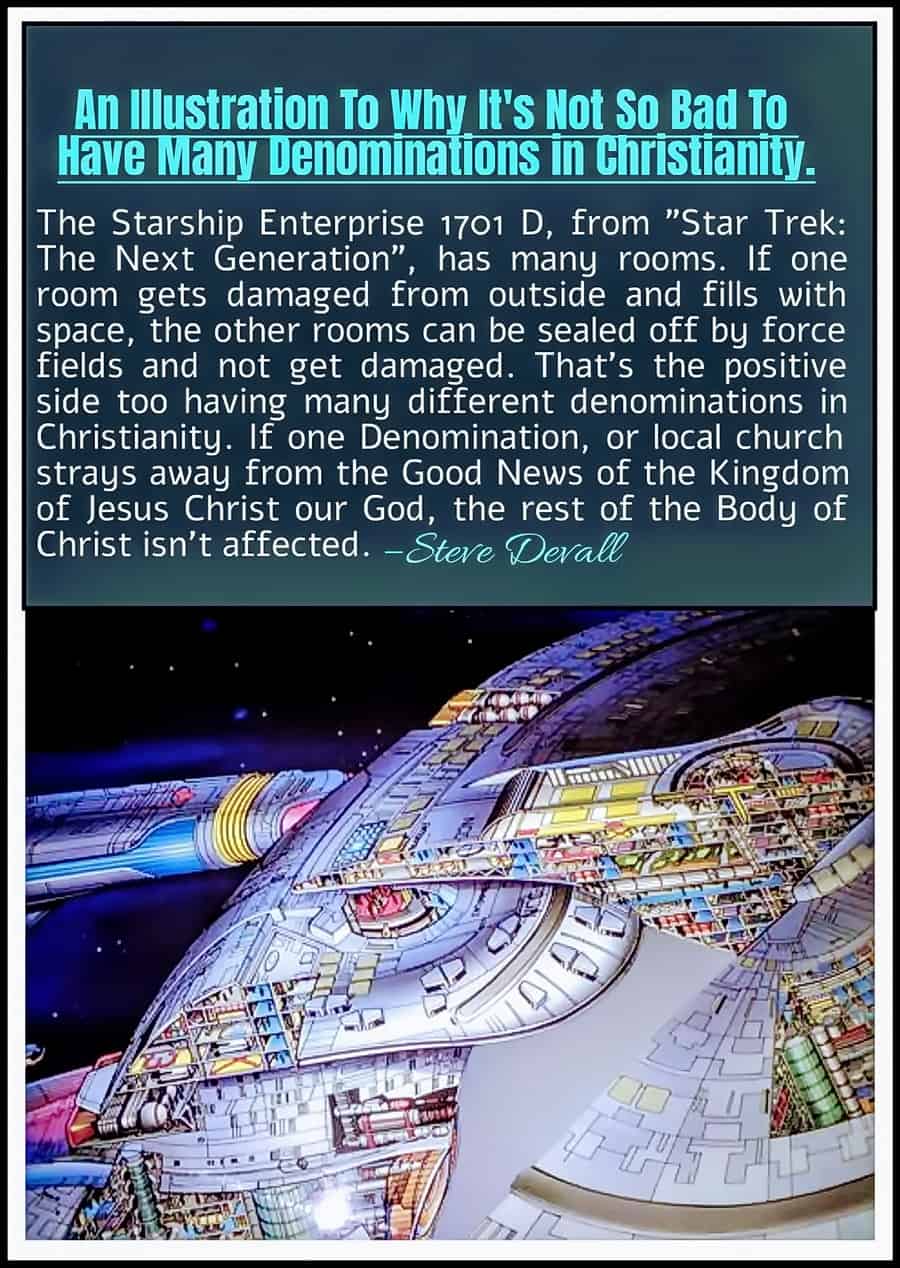 (Hat-Tip To STEVE'S CHRISTIAN APOLOGETICAL INFOGRAPHICS)
Similarly, as was already pointed out, these many denominations "helped to filter out the spread of harmful heresies and false doctrines."
CATHOLIC'S CONTINUE MYTH
There are of course NEGATIVE VIEWS of the "many denominations," but all-in-all, it is not a very good challenge to a thoughtful Christian that the many denominations are somehow evidence that Christianity is not true, is a battle Catholics have lost FOR A WHILE NOW.
Here is an older video with James White (Jan 7, 2009):
Most (not all) Roman Catholic apologists repeat the same falsehood over and over again: that there are 33,000 Protestant denominations due to sola scriptura. 
I hope this helps.