An open letter to friends and those I respect… depravity vs. permanence.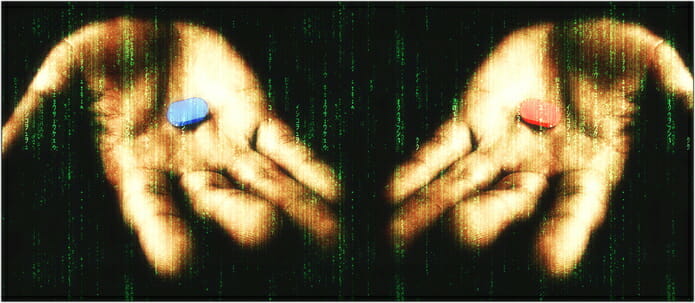 I feel I have to write this as an open letter to my Christian friends who do not want to vote for Trump based on a sense of loyalty to their Christian convictions. I wish to thank a friend (Shane) for aligning this last piece of the puzzle for me. I wish to thank as well Dennis Prager for challenging my position on this as well.
We have – essentially – a choice between two candidates. I would have considered voting for the Libertarian party if their candidate was not wanting to use the state to jail and fine people for not baking cakes or taking photographs of same-sex weddings. He even said on stage that he would use the power of the state to force a Jewish baker to bake a cake for a Nazi type celebration. He is an open borders guy – just publicly, not secretly like Hillary, and he has more in common with Bernie Sanders than any of the other candidates. In other words, an anti-Libertarian is leading the Libertarian Party to a record win for them in this election. Nightmare!
So Gary Johnson is out. And do I really need to show the resume of the Green Party candidate? So Jill Stein is out as well.
Continuing.
At a men's Bible study a friend noted something that brought together all the pieces of a puzzle for me. He mentioned that Donald Trump's heart is not "seared" fully. This brought to mind the story of Pharaoh and the working together of Pharaoh and God in hardening Pharaoh's heart:
"But the Lord hardened Pharaoh's heart and he did not listen to them…"

 (

Exodus 9:12a. See also: Exodus 4:21, 7:3; 7:13, 10:1, 10:20, 10:27, 11:10, 14:4, 14:8, and 14:18).
Yet we also see Pharaoh taking part in this depravity that the first chapter of Roman's speaks so clearly to:
"But when Pharaoh saw there was relief, he hardened his heart and would not listen to them."

(

Exodus 8:15. See also: 8:32, 9:34; and 1 Samuel 6:6).
In other words, to put it bluntly, Pharaoh was a lost cause. He was not only what the Reformers would call, totally depraved, but also permanently depraved.
And it is this permanence I wish to address in our choice for the Presidency.
There is a lot of hub-bub lately about what Trump did 11-to-30[+] years ago. And I agree, it is horrible. But unlike Hillary Clinton who says many people are irredeemable, is this true of Trump? Do we see moral positions bubbling up in him? Stuff to show his heart is not seared fully as Romans chapter one states?
Many may not know that Trump had a somewhat recent "Born Again" moment, mind you, I am not a fan of the person who led Trump in this repentant moment of his life, but you can at least see a need in Trump to proclaim his sinfulness and ask God for forgiveness. Even if as a baby Christian (if his conversion is authentic) he does not express his depravity well, yet. Here is another thought in conversation I expressed today (10-28):
The point is that he has not become totally and permanently depraved.
There are other hints that morality exists in the macro sense in Trump. A friend said that by supporting Trump I become "one of them." And trust me, for those that love Hayek and Sowell and Smith, these are moral positions:
Stopping 20[+] years of anti-Constitutionalist judges is not becoming one of them;

Reducing taxes is not becoming one of them;

Border control is not becoming one of them;

Reducing regulations is not becoming one of them;

Fighting and pushing back the worst of the Islamic faith is not becoming one of them;

Supporting law enforcement and putting in a DOJ head that supports them as well is not becoming one of them;

Rejecting climate change legislation is not becoming one of them;

Rejecting cultural Marxism is not becoming one of them;

etc., etc.
In other words, my Christian principles are not in play for my vote. In fact… having studied the issue of economics and free-markets, if-anything, my Christian principles want to increase freedom in the markets as well as slow the progress in other areas of progressive growth. These ARE moral positions. (I say slow by-the-by because Trump does not have ideal views in every area. And?) Another friend notes that "we must realize that a private vote for someone is not the same as a public endorsement." Yep.
---
See also: "Capitalism Works," and, "Capitalism, The Moral Choice"
---
You see, God can (and has) used the most depraved men to conquer evil. Eric Metaxas notes this in two person's he has studied over the years:
You can at least SEE in Trump pulses of conscience and morality welling up in wanting smaller government (less legislative rules from the EPA for instance and reduction in impact on many departments). You can SEE this in wanting to protect life by appointing Justices who are pro-life as well as for honoring the 1st and 2nd Amendment. You can SEE he is not completely hardened ethically because he believes in nation states, which are God ordained. You can SEE this in his wanting to protect the GOD GIVEN RIGHT for self-defense.
To say one cannot be blamed for their not voting for Trump because he is a horrible candidate will have to face 20-years of Supreme Court Justices allowing sexualized materials in schools as well as a radical redefining of concepts and words [by fiat] and the radical agenda for culture the Left has publicly made their goal ~ to proceed unchecked for their daughters and granddaughters to grow up in and contend with. It is not about hoping for 2020… it is about 2017.
Dennis Prager makes a great point in regards to God using broken men to get His way.
So too I believe God is greater than Trump, and can use the hints that he has not buried completely his conscience, something we cannot say for Hillary Clinton.
Again, we cannot posit these for Hillary Clinton… even in the least. Here is just one example from YOUNG CONSERVATIVES:
And note that this choice really is as simple as Prager puts it:
There are other reasons I find important to vote trump, one being the violence of the Left and a need to reject this tendency in every Progressive Democrat. And many have tried to lecture me about the ethics of this election season. The same people that characterized the "Boyscout" Mitt Romney as racist, a bully, and a failure in business. Please.
Having been a student of human nature, and the theology involved in the economic systems catering to the two: mankind is fallen and tends toward selfishness |OR| he is inherently good and society corrupts him… causes me to say, YES, Trump is truly the lesser of the two evils. Not permanently or totally depraved, like his counterpart.
I do not always agree with Max Lucado, but he nails the main understanding of the issue in an important way: God's sovereignty over all of His creation, and our reliance on him through prayer:
~ RPT ~