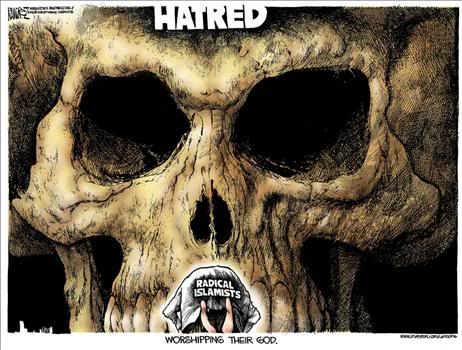 When I first read about this (thanks to Drudge) the very first thing I did was follow the rabbit trail. I typed in "Alassane Ouattara Muslim" in Google search… guess what? These followers of Ouattara and Ouattara himself are Muslims. I thought to myself that most likely the people murdered were Christians. Guess what, Libertarian Republican has this story.
NEW INFORMATION!! Massacre of 800 Catholics in Ivory Coast likely work of Islamists
….From the UK Telegraph "Ivory Coast: aid workers find 1,000 bodies in Duekoue":
The single biggest atrocity in the long battle for control of Ivory Coast has emerged after aid workers discovered the bodies of up to 1,000 people in the town of Duekoue.
Patrick Nicholson, a spokesman for the Catholic charity Caritas, said his team had counted 1,000 bodies, adding that some had been hacked with machetes.
From Deutsche Presse-Agentur (via M&G News):
'The secretary general expressed particular concern and alarm about reports that pro-Ouattara forces may have killed many civilians in the town of Duekoue in the west of the country,' the UN said.
The Catholic charity Caritas has said that up to 1,000 people had been massacred in Duekoue, which forces loyal to Ouattara seized earlier this week.
Breaking from the HeraldScottland.com "The next Rwanda?":
A massacre in a Roman Catholic mission compound in the heart of the Ivory Coast's cocoa-producing region could come to be seen as a crucial moment in the West African state's escalating civil war.
Early reports suggested that more than 800 people, largely from the Gbagbo-supporting Gueré tribe, were killed in a single day at the sprawling Salesian Saint Teresa of the Child Jesus mission in Duekoue, 300 miles west of Abidjan towards the Liberian border. The attackers seem to have been largely soldiers descended from Burkina Faso immigrant Muslim families loyal to Ouattara…
UPDATE: Libertarian Republican has a graphic video of the dead with this note prior to it:
The attackers seem to have been largely soldiers descended from Burkina Faso immigrant Muslim families loyal to Ouattara…