I have been a bit confused as well, but after a few days of digesting news — old and new media — I have come to the conclusion that if I had the time/money I would take a trip out to the Bundy Ranch and help. Below is some of the news that fortified this previous "on-the-fence" position I had.
(The below video is via GOP Daily Dose.) An earlier video had me hoping this would end well, but alas, it turns out Harry Reid was right for once when he said, "Well, it's not over. We can't have an American people that violate the law and then just walk away from it. So it's not over" (Breitbart).
Firstly, I wish to thank Powerline for a well written, thought out, presentation that has cleared up some more issues for me. I suggest reading their entire article entitled: "Why You Should Be Sympathetic Toward Cliven Bundy," it is worth the time.
On Saturday, I wrote about the standoff at Bundy Ranch. That post drew a remarkable amount of traffic, even though, as I wrote then, I had not quite decided what to make of the story. Since then, I have continued to study the facts and have drawn some conclusions. Here they are.

First, it must be admitted that legally, Bundy doesn't have a leg to stand on. The Bureau of Land Management has been charging him grazing fees since the early 1990s, which he has refused to pay. Further, BLM has issued orders limiting the area on which Bundy's cows can graze and the number that can graze, and Bundy has ignored those directives. As a result, BLM has sued Bundy twice in federal court, and won both cases. In the second, more recent action, Bundy's defense is that the federal government doesn't own the land in question and therefore has no authority to regulate grazing. That simply isn't right; the land, like most of Nevada, is federally owned. Bundy is representing himself, of necessity: no lawyer could make that argument.

That being the case, why does Bundy deserve our sympathy? To begin with, his family has been ranching on the acres at issue since the late 19th century. They and other settlers were induced to come to Nevada in part by the federal government's promise that they would be able to graze their cattle on adjacent government-owned land. For many years they did so, with no limitations or fees. The Bundy family was ranching in southern Nevada long before the BLM came into existence.

Over the last two or three decades, the Bureau has squeezed the ranchers in southern Nevada by limiting the acres on which their cattle can graze, reducing the number of cattle that can be on federal land, and charging grazing fees for the ever-diminishing privilege. The effect of these restrictions has been to drive the ranchers out of business. Formerly, there were dozens of ranches in the area where Bundy operates. Now, his ranch is the only one. When Bundy refused to pay grazing fees beginning in around 1993, he said something to the effect of, they are supposed to be charging me a fee for managing the land and all they are doing is trying to manage me out of business. Why should I pay them for that?…. (continued after break)…

The Washington Times gets to the core of the issue and why a militarized force (many government agencies, even the Post Office, that have no law enforcement needs have such units now) may be being used. And it is where an administration places it's eggs:
Mr. Reid's son Rory Reid, a former Clark County commissioner, represented ENN Mojave Energy, a Chinese-backed company seeking to build a $5 billion solar plant near Laughlin, Nev. The company ultimately dropped those plans after failing to secure sufficient financial backing, according to reports.

That project was more than 100 miles from the Bundy Ranch, Ms. Orthman said.

A separate solar project, involving a local Indian tribe, that Mr. Reid has pushed also does not overlap with the Bundy ranch.

"[Harry] Reid's push for solar energy development in southern Nevada included attendance last month at a groundbreaking ceremony for a solar power facility that involves the Moapa Band of Pauites and First Solar Inc.," said the KLAS-TV report. "But that 250-megawatt power plant will be roughly 35 miles southwest of the Bundy ranch."
Powerline continues to explain there may be some alternative energy interests (the Washington Times article directly above) involved in why the BLM is enforcing the issue right now, and then PL goes on to explain:
…So it is possible that the federal government is driving Bundy off federal lands to make way for mitigation activities that enable the solar energy development to the north. But I don't think it is necessary to go there. Rather–this is the second and more important point–it is obvious that some activities are favored by the Obama administration's BLM, and others are disfavored. The favored developments include solar and wind projects. No surprise there: the developers of such projects are invariably major Democratic Party donors. Wind and solar energy survive only by virtue of federal subsidies, so influencing people like Barack Obama and Harry Reid is fundamental to the developers' business plans. Ranchers, on the other hand, ask nothing from the federal government other than the continuation of their historic rights. It is a safe bet that Cliven Bundy is not an Obama or Reid contributor.

The new head of the BLM is a former Reid staffer. Presumably he was placed in his current position on Reid's recommendation. Harry Reid is known to be a corrupt politician, one who has gotten wealthy on a public employee's salary, in part, at least, by benefiting from sweetheart real estate deals. Does Harry Reid now control more than 80% of the territory of Nevada? If you need federal authority to conduct business in Nevada–which is overwhelmingly probable–do you need to pay a bribe to Harry Reid or a member of his family to get that permission? Why is it that the BLM is deeply concerned about desert tortoises when it comes to ranchers, but couldn't care less when the solar power developers from China come calling? Environmentalists have asked this question. Does the difference lie in the fact that Cliven Bundy has never contributed to an Obama or Reid campaign, or paid a bribe to Reid or a member of his family?

Based on the evidence, I would say: yes, that is probably the difference. When the desert tortoises balance out, Occam's razor tells us that the distinction is political.

So let's have some sympathy for Cliven Bundy and his family. They don't have a chance on the law, because under the Endangered Species Act and many other federal statutes, the agencies are always in the right. And their way of life is one that, frankly, is on the outs. They don't develop apps. They don't ask for food stamps. It probably has never occurred to them to bribe a politician. They don't subsist by virtue of government subsidies or regulations that hamstring competitors. They aren't illegal immigrants. They have never even gone to law school. So what possible place is there for the Bundys in the Age of Obama?
Here is a good explanation in media form via FreeDomain Radio that clearly goes through the many aspects of this confrontation.. well: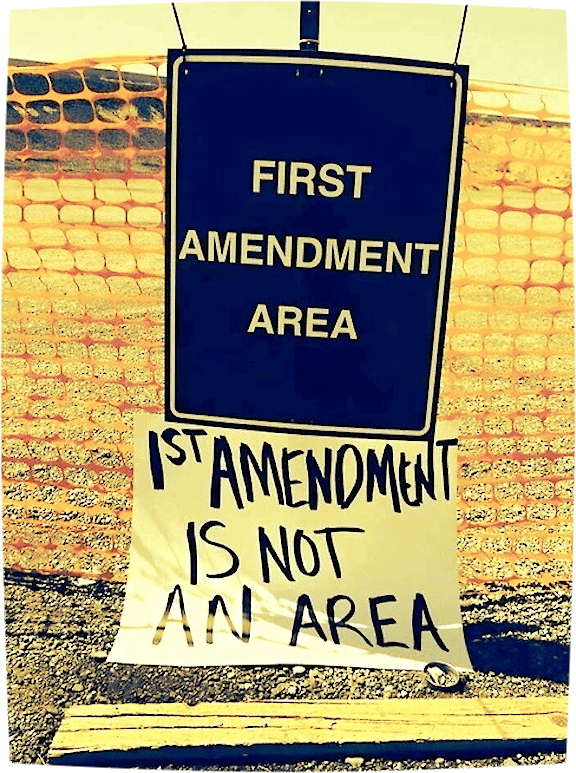 (From the above videos description) Nevada Rancher Cliven Bundy – of Bundy Ranch – is locked in a standoff with the federal Bureau of Land Management over illegal cattle grazing, endangered tortoises and property rights. It gets even better…
The fight involves a 600,000-acre area under BLM control called Gold Butte, near the Utah border. The is the habitat of the protected desert tortoise, and the land has been off-limits for cattle since 1998.
Five years before that, when grazing was legal, Bundy stopped paying federal fees for the right. Bundy stopped paying grazing fees in 1993. He said he didn't have to because his Mormon ancestors worked the land since the 1880s, giving him rights to the land.
"We own this land," he said, not the feds. He said he is willing to pay grazing fees but only to Clark County, not BLM.
"Years ago, I used to have 52 neighboring ranchers," he said. "I'm the last man standing. How come? Because BLM regulated these people off the land and out of business."
Nevada, where various federal agencies manage or control more than 80 percent of the land, is among several Western states where ranchers have challenged federal land ownership.
Freedomain Radio is 100% funded by viewers like you. Please support the show by signing up for a monthly subscription or making a one time donation at: http://www.fdrurl.com/donate
Another good "new media" presentation filters out the junk and provides the below cache of the original issue and drive behind the Bundy Ranch "round-up" ~ pun intended. This comes via SCG News: