UPDATE BELOW
NEWSBUSTERS notes this about the Steele Dossier:
While CNN previously insisted that the FISA warrant against Page did not use the infamous and debunked Steele dossier, in a Senate hearing on Wednesday, IG Michael Horowitz confirmed that the warrant was "entirely" reliant on it. The report also showed that FBI investigators knew the dossier was bogus and presented it to the FISA court as a reliable source of information.
They link to this excellent article by THE FEDERALIST:
BTW, for 2-years I was told that the Steele Dossier was only PART of the warrants. NOPE. I was right, others woefully wrong.
---
Some Additional Stuff
---
In an article noted by POWERLINE, Tucker Carlson notes how the media is partially responsible for the "cover-up" of facts regarding the spying on an American citizen – via JEWISH WORLD REVIEW: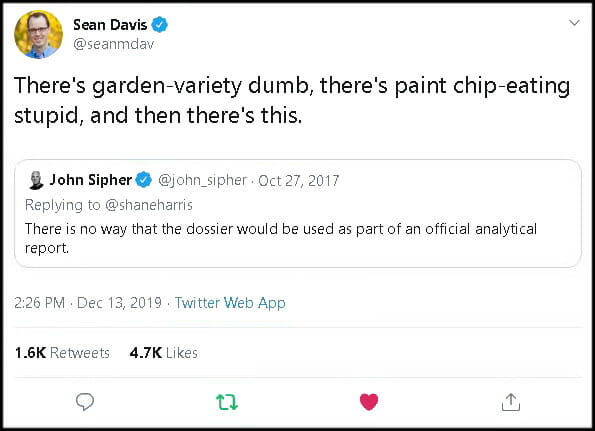 Back in September of 2017, the EMPTY WHEEL was already noting John Sipher's defense of the dossier as indefensible: "John Sipher's Garbage Post Arguing the Steele Dossier Isn't Garbage" And my post documenting the hard work of MYRDDRAAL showing that almost nothing was confirmed as true or fitting reality is here: "Past CIA Head of Russia Clueless"
CHUCK ROSS add to the media blame by noting that a Washington Post reporter is going back and doing a series on how the Steele Dossier was proffered as fact. In this latest article, Rachel Maddow is under the microscope: "WaPo Columnist Rips Rachel Maddow For Hyping Steele Dossier"
And where is the full-court-press in discussing how Adam Schiff has been shown to be woefully wrong at best, and a liar at worst (THE LID):
All this is a travesty to truth.