I truncated a MUCH LONGER RESPONSE and isolated my original thinking in the area of a common atheist charge of evil towards the Judeo-Christian God. I want Prager to read it!
Here the skeptic posits God's wrath on 42 children, presumably innocent in that their greatest offense was calling someone a "bald-head." It would be similar to a guy being called "four-eyes" by a bunch of kids and then whipping out an AK-47 and mowing them down… and then expecting you to view him as a moral agent. In accessing the following books,
The New Manners & Customs of Bible Times;

Manners and Customs in the Bible: An Illustrated Guide to Daily Life in Bible Times;

An Introduction to the Old Testament;

The IVP Bible Background Commentary: Old Testament;

Old Testament Survey: The Message, Form, and Background of the Old Testament;

A Popular Survey of the Old Testament;

New International Encyclopedia of Bible Difficulties;

Hard Sayings of the Bible;

When Critics Ask: A Popular Handbook on Bible Difficulties.
I noticed something was missing. That is, a bit more of what is not said in the text, but we can assume using and accessing what any historical literary critic would with the principles that predate Christ — mentioned in the above "latte" link. Mind you, many of the responses in my home library that I came across were great, and, in fact they made me dig a bit further. (I do not want the reader to think that I place myself on a higher academic level that these fine theologians and professors.)
[…..]
This crowd of persons was older than what is typically posited by skeptics. Secondly, this group was a very bad lot. But didn't explain why bald-head was egregious enough for God to call 42 scurvy bastards to judgement. To be fair, I sympathize with the skeptic here. That being said, there is more to the story.
I want us to view some artistic drawings of historical figures from Israel's history: priests, prophets, spiritual leaders, and even Flavius Josephus.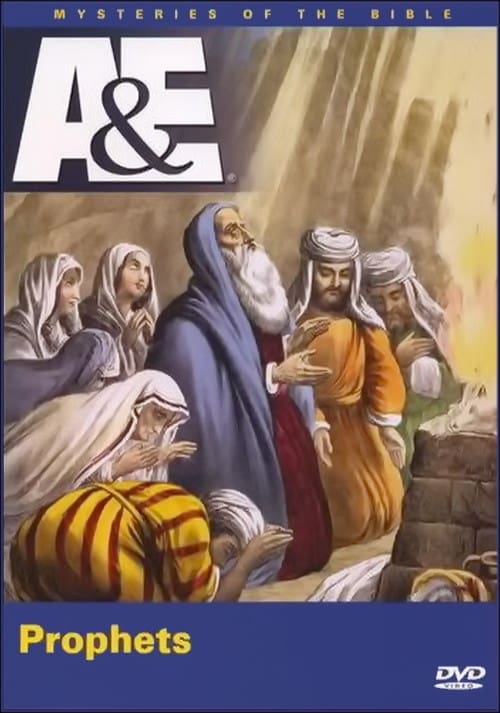 What did you notice above in the cover to an A&E documentary? Yup, a turban as well as a cloak which covers the heads of the priests and prophets. "Biblical Dress" is mentioned pretty well in these few sentences: "The Bible tells how fine linen was wrapped around the head of the High Priest as a turban or mitre — the saniph or kidaris (Exodus 28:39). Ordinary people wore a kerchief over the head, held tight by a cord reminiscent of the Arab headdress commonly worn today, the 'aggal."
And this:
In public the Jews always wore a turban, for at certain seasons of the year it is dangerous in Palestine to expose the head to the rays of the sun. This turban was of thick material and passed several times around the head. It was somewhat like our handkerchief and was made of linen, or recently of cotton. The patriarch Job and the prophet Isaiah mention the use of the turban as a headdress (Job 29:14, A. R. V. margin; Isa. 3:23, A. R. V.). In place of the turban, the Palestinian Arabs today, for the most part, wear a head veil called "Kaffieh" which hangs down over part of their garment.
— Fred H. Wight, Manners and Customs of Bible Lands (Moody Press, 1953 | PDF)
Take note of the below as well.
I posted multiple images to drive a point home in our mind. The prophet Elisha would have had a couple cultural accoutrements that changes this story from simple name calling to an assault. He wouldn't have been alone either, in other words, he would have had some people attached to him that would lay down their lives to protect him. And secondly, he would have had a head covering on, especially since he was returning from a "priestly" intervention. So we know from cultural history the following:
He would have had a head dressing on — some sort of turbin or head-covering;

and he would have had an entourage of men to dissuade any attack or mistreatment of a priest of Israel on a journey.
One last point before we bullet point the complete idea behind the Holy and Rightful judgement from the Judge of all mankind. There were 42 persons killed by two bears. Obviously this would require many more than 42 people. Why? What happens when you have a group of ten people and a bear comes crashing out of the bushes in preparation to attack? Every one will immediately scatter! In the debate I pointed out that freezing 42 people and allowing the bears time to go down the line to kill each one would be even more of a miracle than this skeptic would want to allow. So the common sense position would require a large crowd and some sort of terrain to cut off escape. So the crowd would probably have been at least a few hundred.
Also, this holy man of God was coming back from a "mission," he would have had an entourage with him ~ as already mentioned, as well as having some sort of head-covering on as pictured above ~ as already mentioned.
QUESTION:
So, what do these cultural and historical points cause us to rightly assume?
ANSWER:
That the crowd could not see that the prophet was bald.
Which means they would have had to of gotten physical — forcefully removing the head covering. Which means also that the men with the prophet Elisha would have also been overpowered. So lets bullet point the points that undermine the skeptics viewpoint.
✔ The crowd was in their late teens to early twenties;
✔ they were antisemitic (this is known from most of the previous passages and books);
✔ they were from a violently cultic city;
✔ the crowd was large;
✔ the crowd had already turned violent.
These points caused God in his foreknowledge to protect the prophet and send in nature to disperse the crowd. Nature is not kind, and the death of these men were done by a just Judge. This explains the actions of a just God better than many of the references I read.
[May I also add here that there is a bit of "free-will" actions here that could have contributed greatly — although this is still an example of God intervening with nature. I suppose that these mother bears may have minded their own business while keeping their cubs safe. But the ruckus created by this large crowd caused alarm enough in these mother bears to roust their natural instinct to protect their own. That is all. If this crowd had not done the above, everyone could have gone their own way on their respective journeys and "survived." So while I think God DID intervene, miraculously, the actions natural or Divine were based on the violence of men]