(Link in Pic)
UPDATED via Politico:
More info at FEC linked in graph at top. See also NewsMax.
(Above) MSNBC Can't Think of Any Possible 'Good News' for Progressives Tonight

The above graphic will change… the race in Alaska will be called for the Republican in the race, this from the Alaskan Dispatch: "With results from all 441 precincts counted, Sullivan led 49 percent to 45 percent. The margin remained essentially the same from the first returns early in the evening."

In December you will have a runoff in Louisiana… in which even CNN says will be a Republican win. (The Democrat lost with T W O Republicans running against her!)
So the number for the Senate will be a plus-nine.
PBS notes that the "wealthiest Americans have spent more money than ever before on these midterms, but there are actually fewer big donors. The top five donors to unrestricted super PACs reads like a billionaire boys club."
The top-five out of the ten are donating to Democrat "causes." What is the lesson here? Money doesn't matter! Here is the NYT's assessment of outside groups:
This H U G E win adds to the historic wins in 2010: "Michael Medved goes over just how HUGE this victory was for the Republicans on Nov 2, 2010."
For example, here are a couple news headlines from this 2014 race: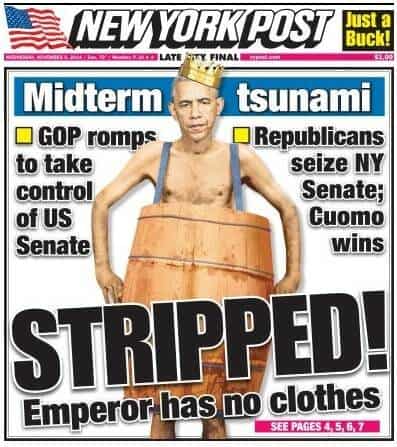 Here is more from Libertarian Republican:
FLASHBACK 2009: James Carville Says Democrats Will Dominate Politics for Next Four Decades
And how is the Left taking all this? Gay Patriot points out the despair:
---
---
Just a final example of a "by-county" count in Iowa;