I will combine some previous posts after the video which is a very quick update to common knowledge. Unless, that is, you watch CNN: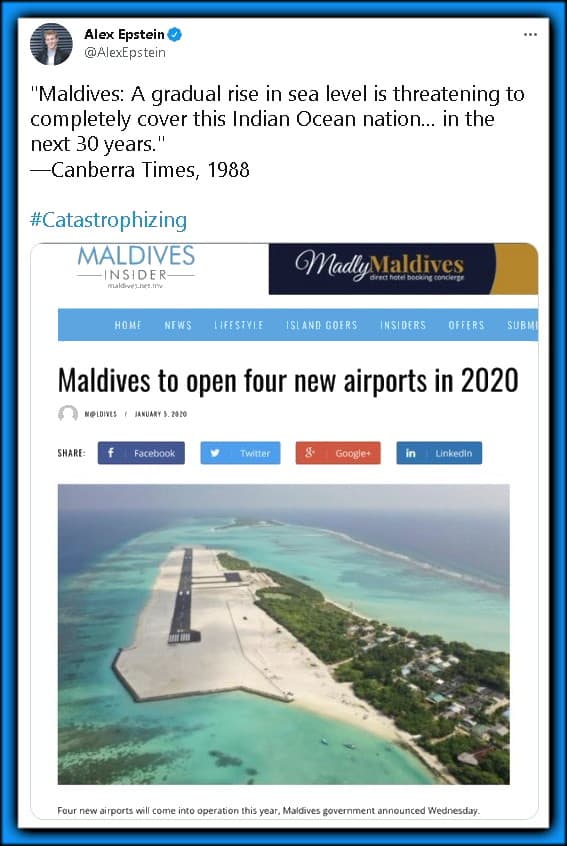 Global Warming Fear Mongering (1988 Flashback: Maldives Edition)
Here is an example of failed predictions that new orgs love to report for their "immediacy" of danger… which makes news "exciting" ~ click to isolate this 1988 prediction:
This seems odd in light of Maldives spending many millions of dollars to build two new airports.
Shouldn't they be investing in life rafts? Or are Western busy-bodies the only ones really worried about "man-caused" global warming? Here is a Canadian Free Press story:
[….]
Manhattan and Maldives Property Value Keeps Going Up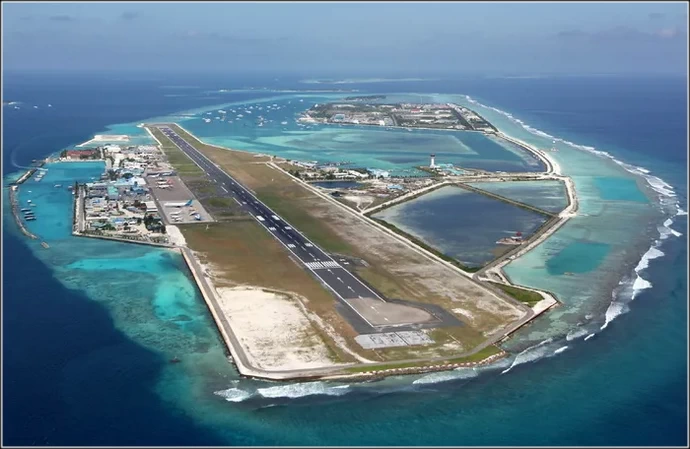 BREITBART makes fun of the idea that loans and insurance could ever be had if these Islands are soon to underwater… unless these banks and insurance companies know that "Climate Change" is more political than science
[….]
Global Warming Good For Island Growth
Much like the "Polar Bear Scare" – Polar Bears reaching a record population since being measured, I tell my "warmist" friends that we should burn more CO2 because if we were worried about CO2 when the population was thought to be decreasing… why aren't we lauding it as it increases?!
LIKEWISE – here is a report about the "disappearing islands due to "SEA RISE":
Should we encourage China to build MORE coal plants? Hmmm?
An older challenge was about ANWR… and running a pipeline from Alaska to a port. Eco-fascists use to tell me that it was bad for the caribou species in the area. Then someone did a study and found the caribou population thrived as they used the pipeline to break the harsh elements. After that study came out, the challenge faded into history. But, it caused headlines that swayed public opinion… truth being hindmost in the Left's arsenal. One last example of this statement for context:
"The scientist behind the bogus claim in a Nobel Prize-winning UN report that Himalayan glaciers will have melted by 2035 last night admitted it was included purely to put political pressure on world leaders…. Dr. Lal's admission will only add to the mounting furor over the melting glaciers assertion, which the IPCC was last week forced to withdraw because it has no scientific foundation." (David Rose, The Daily Mail, January 24, 2010)
David Mamet, The Secret Knowledge: On the Dismantling of American Culture (New York, NY: Sentinel Publishing, 2011), [FN] 161.
JO NOVA catches us up with the latest studies involving islans shrinking:
WATTS UP WITH THAT has the abstract and the conclusion of the study. Here is the abstract:
---
ADDITION
---
(h/t to CLIMATE DEPOT)NEW SCIENTIST has an inconvenient article about some islands we have been warned of that sea rise will create "climate refugees" is not so: