(JUMP)
UPDATES will appear above  [scroll up] Ace of Spades
ALSO, Go To: JUNE UPDATES TO SPYGATE
Keep in mind this whole story is about BIG government and makes Prager's maxim stand taller:
The larger the government, the smaller the individual.
The NEW YORK TIMES offered a major correction to its "official" timeline of when the spy operation started against the Trump Campaign. The NYTs confirms a spy in the Trump campaign, thus, undermining its own attacks on "crazy Trump" and his and other conservative "conspiracy theories" – so called.
Since Sally Yates, the acting Attorney General who was appointed by Obama, signed the first FISA application using the Steele Dossier as evidence to spy on a campaign of an opposing political Party, you bet Obama would have been aware.
One thing the NYT article did admit, and that is that "…No Evidence Exists of Trump-Russia Collusion" (EPOCH TIMES). And there have been many concerted efforts to whitewash the players in this cabal from the article in the New York Times — proving they are helping soften the blow (MOLLIE HEMINGWAY) — click graphic to enlarge:
What is the bottom line of this issue?
The NYTs reveals FBI used a secret type of subpoena to spy on the Trump campaign, as well as human spies inserted into the campaign – BEFORE Carter-Page, before Papadopoulos, BEFORE Flynn (BREITBART). Meaning, this is a concerted effort by a political party to overturn an election. Lavrentiy Pavlovich Beria, head of Stalin's secret police, once told Stalin, "Show me the man and I'll find you the crime." – Me
All I will do is give a listing of some articles that are noting the NYT column:
Here is another evidence of the New York Times carrying water for this deep state:
This example cam from an article entitled, "The Deep State Is Real, And Much Bigger Than You Know" (TOWNHALL).
In Politicized Justice, Desperate Times Call for Disparate Measures (NATIONAL REVIEW, Andrew C. Mccarthy | May 19, 2018 )
IMPORTANT!!!
Perspectives On An "Outing" (POWERLINE, by Paul Mirengoff | MAY 20, 2018)
Nunes Approaches The Target (POWERLINE, Scott Johnson | May 20, 2018)
Nunes Approaches The Target (2) (POWERLINE, by  Scott Johnson | May 21, 2018)
BREAKING: E-mails Show FBI Brass Discussed Dossier Briefing Details With CNN (THE FEDERALIST, by Sean Davis | May 21, 2018)
Byron York: When Did Trump-Russia Probe Begin? Investigators Focus On Mystery Months (WASHINGTON EXAMINER, by Byron York | May 21, 2018)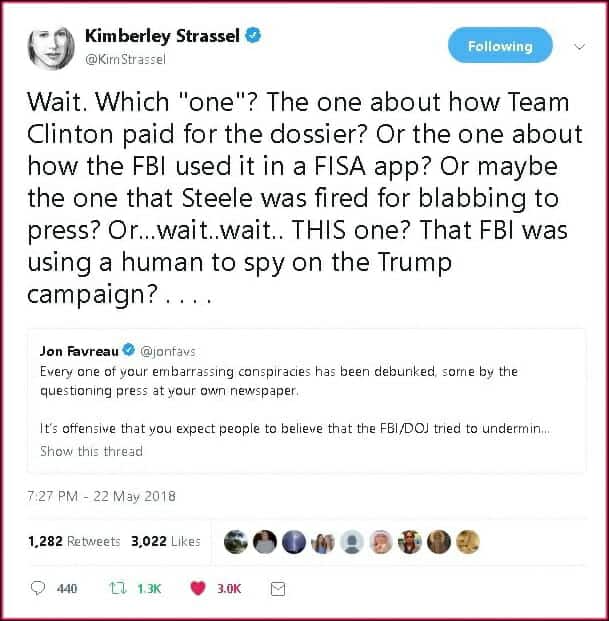 (Meadows: We Need to Know Who Directed Spy Campaign – BREITBART)
---
---
MUELLER WITCH HUNT, DEEP STATE COUP