My thoughts on the Middle-East have been pretty consistent., in that any hope of a stable area over there had the linchpin as Iraq. I think if we had committed to Iraq in a way we had with Japan and Germany, We would have had a country closer to Kuwait in governing, and headed in a faster pace than Kuwait toward more freedom. Once we pulled out of Iraq rather than continuing our presence there, all surrounding foreign policy was moot. Years and years ago I posted a short statement by KEN JOWITT that is still true today, but our chance to change the Middle-East was set on Iraq, in my opinion.
RELATED POST: Some SOFA/Iraq History (RPT FLASHBACK)
So, what I see Biden doing is both a horrible withdrawal as well as sending a message to our biggest enemies that we are weak. Before I show why I think both China and Russia will make some geo-political land grabs, here is an excellent article via PJ-MEDIA: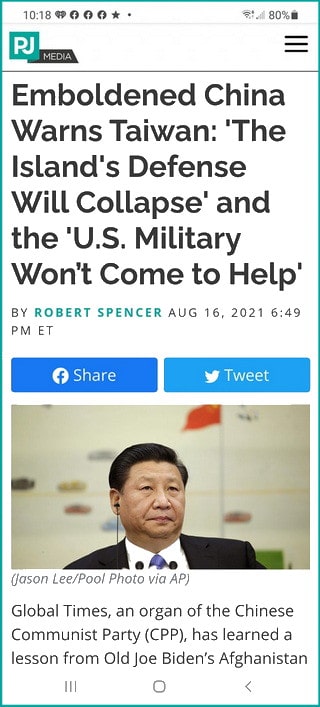 And the first to act? China… "China likely to recognize Taliban as Afghan rulers with fall of Kabul" (WASHINGTON EXAMINER). China is emboldened with US weakness in the region, the historic collapse of Afghanistan, and the frail puppet installed in Washington DC.
On Monday Steve Bannon warned that the US economy will implode if Taiwan falls to the Communist Chinese. According to Bannon he entire American economy centers around the chips, and in particular, the advanced chips designed, made, and manufactured in Taiwan. (GATEWAY PUNDIT)
All this said, I doubt Biden and his VERY progressive team would even bother with unenforced red-lines like Obama.
And then there is this:
AMERICAN MILITARY NEWS has quite a few pics for the visually attentive:
[pics of Tweets from article and more]