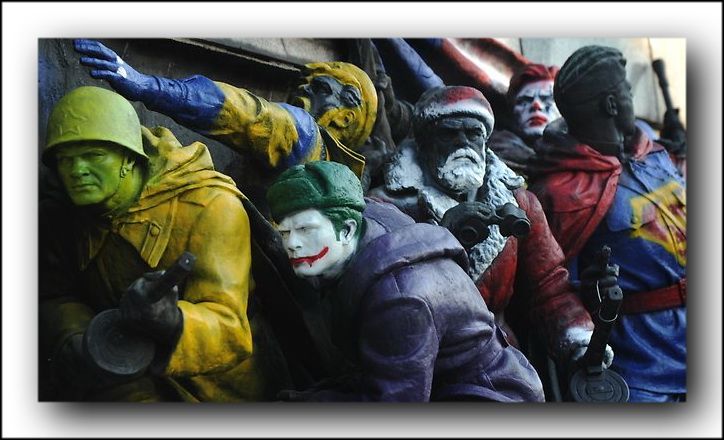 On June 17, 2011 the monument was painted overnight by a group of anonymous artists who call themselves Destructive Creation and who "dressed" the Soviet Army soldiers as the American popular culturecharacters: Superman, Joker, Robin, Captain America, Ronald McDonald, Santa Claus, Wolverine, The Mask, and Wonder Woman.
A caption was painted underneath which translates as "Abreast with the Times" (in Bulgarian "V krak s vremeto", literally "In pace with time") ~ WIKI
Click to enlarge
The Monument to the Soviet Army (Bulgarian: Паметник на Съветската армия, Pametnik na Savetskata armia) is a monument located in Sofia, the capital of Bulgaria. There is a large park around the statue and the surrounding areas. It is a popular place where many young people gather. The monument is located on Tsar Osvoboditel Boulevard, near Orlov Most and the Sofia University. It portrays a soldier from the Soviet Army as a freedom fighter…
"Freedom" fighter my ass!
Another vandalism took place on the anniversary of the of the Prague spring. There was an inscription both in Bulgarian and in Czech which read "Bulgaria apologizes."
Apologizes for what? I asked.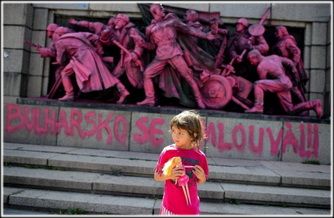 Here are some "arresting" pictures from this event that took place before I was born, and were the early ruminations of the fall of the Soviet Empire. [Unfortunately, many of these Warsaw Pact countries kept some form of socialism, slowing or stagnating their potential free-market capabilities.]: