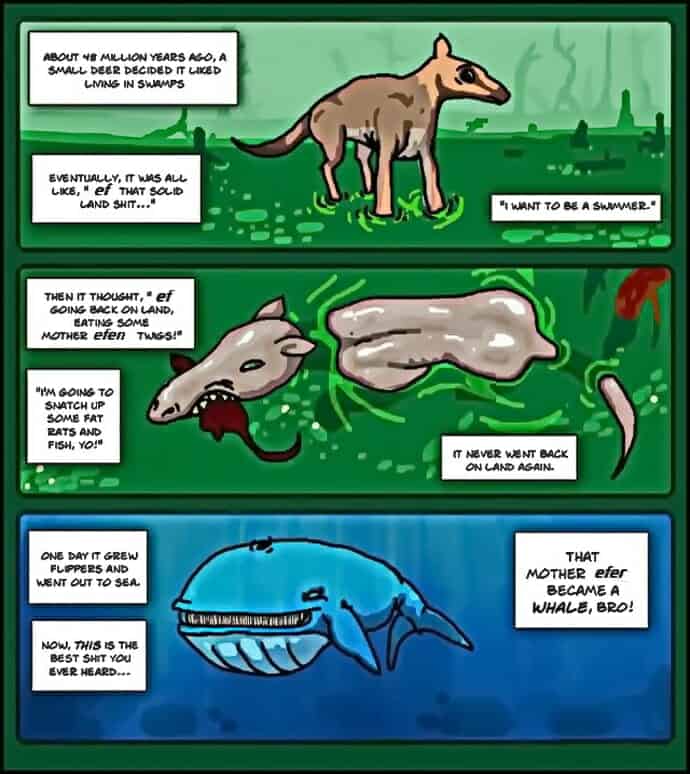 This post is with thanks to Philip Cunningham.
(For a great introduction to the below video of which the following is a clip from, see Evolution News & Views)
More About the Male (Whale's) Refrigeration System ~ The system actually works better when the whale swims hard. How can that be, when the testes are located right between the abdominal swimming muscles? It's like trying to keep a refrigerator cold between two furnaces. 
It works because the blood pumps harder during exercise, allowing more heat to escape into the water through the dorsal fin and tail. The higher volume of cool venous blood then enters the "miraculous web" (Latin rete mirabile, read more here) between the abdominal muscles, where the heat from the arteries is transferred to the cooler veins before entering the testes. It's a marvelous solution: a "counter-current heat exchanger" (CCHE) mechanism.
As Richard Sternberg and Paul Nelson explain in the film, without both internal testes and the refrigeration mechanism existing simultaneously, natural selection would halt, and whales would have gone extinct. Females, too, have a CCHE to protect the young during pregnancy. Similar CCHE systems are found in other marine mammals such as manatees and seals, providing more unlikely examples of "convergent evolution."
---
One of the key (most complete) missing link in this WILD scenario is Rodhocetus. Rodhocetus' discoverer, Dr. Phil Gingerich, one of the leading experts on whale evolution, promoted the idea that Rodhocetus had a whale's fluke (tail) and flippers. Later Dr. Gingerich admitted,
"Since then, we have found the forelimbs, the hands, and the front arms of Rodhocetus, and we understand that it doesn't have the kind of arms that can be spread out like flippers on a whale."
When asked about the missing fluke, Dr. Gingerich replied,
"I speculated that it might have had a fluke… I now doubt that Rodhocetus would have had a fluked tail."
Without this fossil, there is no evolutionary story telling like we see in this WHALE OF A TALE:

Will museums and textbooks change their displays or portraits Rodhocetus as a transitional fossil? Don't hold your breath.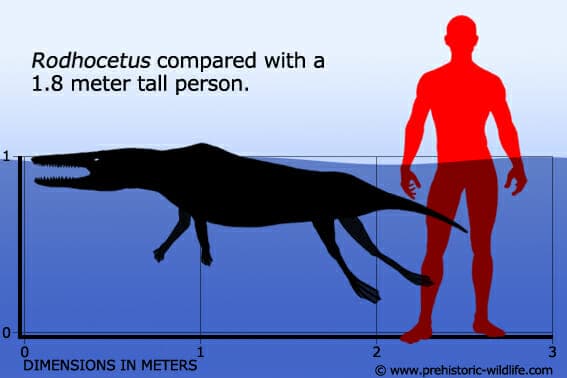 (Philip Cunningham Intro) In the following video, Philip Gingerich, the paleontologist who discovered and reconstructed Rhohocetus, which has been called by evolutionists, 'the most spectacular intermediary fossil in whale evolution', states this about that, "most spectacular intermediary fossil"….
"Well, I told you we don't have the tail in Rodhocetus. We don't know for sure whether it had a ball vertebrate indicating a (tail) fluke or not. So I speculated (that) it might have had a (tail) fluke…. Since then we found the forelimbs, the hands, and the front arms, the arms in other words of Rodhocetus, and we understand that it doesn't have the kind of arms that can be spread out like flippers are on a whale.,, If you don't have flippers, I don't think you can have a fluke tail and really powered swimming. And so I now doubt that Rodhocetus would have had a fluke tail." 
Philip Gingerich paleontologist – Whale Evolution vs. The Actual Evidence – video – fraudulent fossils revealed (Starts at the 11:40 minute mark – see another clip of this here):
Here we get into the weeds with these fraudulent Plaster of Paris replicas for the myriad of students visiting natural history museum. The excerpt here comes from Uncommon Descent:
Vestigial Responses
(just that, old… useless [baseless] theories)
Here is an example of my child's biology textbook from grade school (enlargeable by just clicking the image ~ for maximum enlargement, right click with the mouse and choose, "open link in new tab"):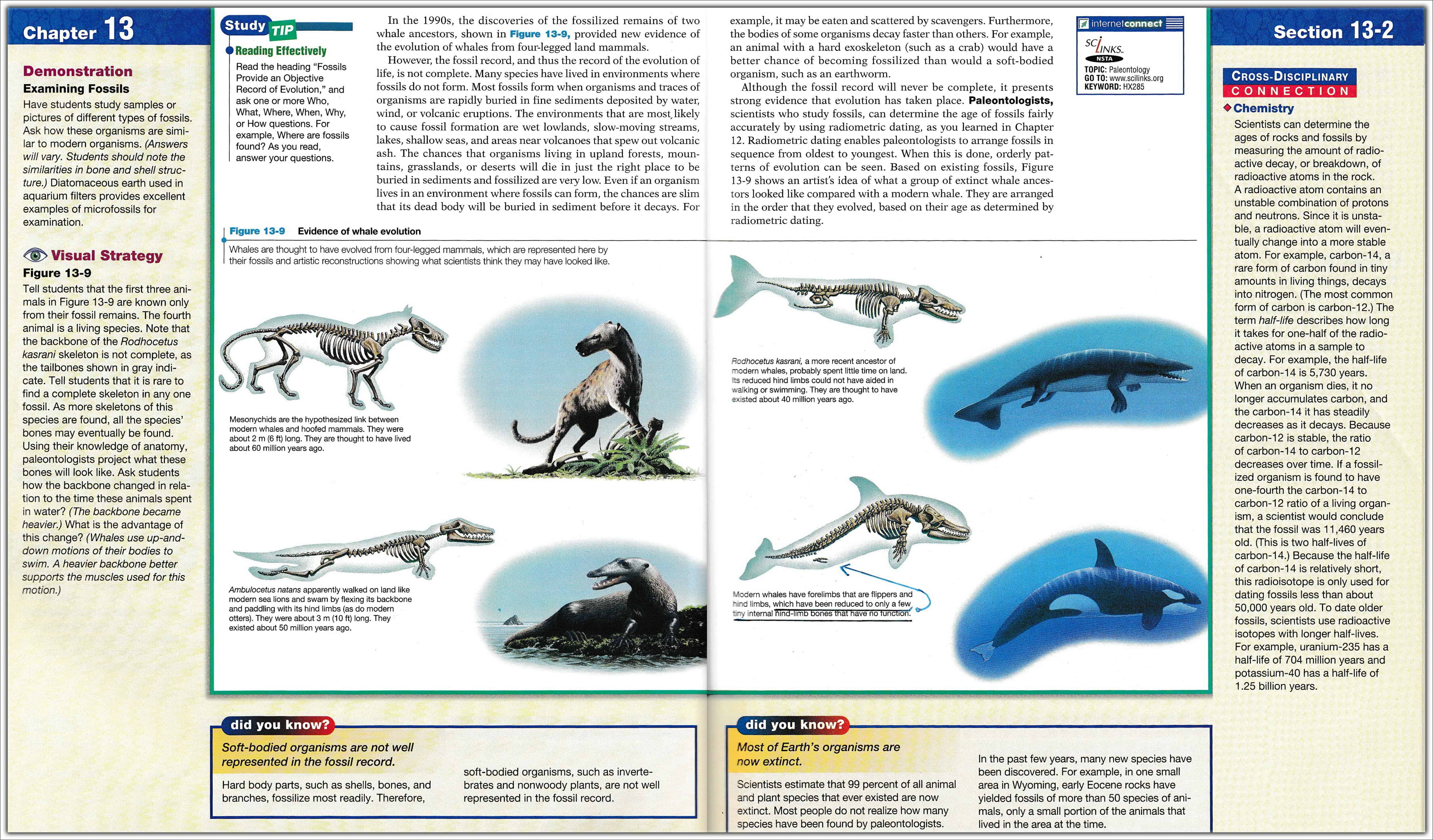 George B. Johnson and Peter H. Raven,
Biology: Principles & Explorations, Annotated Teacher's Edition
(Austin, TX: Holt, Rinehart and Winston, 2001), 284-285.
On page 288 of the same text we read:
The pelvic bones found in modern whales are homologous to the pelvises that are found in land vertebrates. Although the whale pelvis bones are located near their reproductive organs, these bones do not function like a pelvis in a land vertebrate. The whale pelvis is located far from the vertebrae and has no apparent function. Thus, the whale pelvis is a vestigial structure.
The "pelvic bones" in whales are said to be vestigial. Here is another example from my son's public schooling:
Here, Philip Cunningham fills in what these "vestigial" bones are used for via a couple examples, the first being an Email Exchange regarding "vestigial legs" pelvic bones in whales:
This second example comes by way of PHYS.ORG and like all other vestigial organs, the "Darwinism-of-the-gaps" is proven to be vacuous:
The Smithsonian Institute has and article on this as well… the title is illuminating:
I thought this was a telling commentary in the article:
My only question would be…
…why this "speculation" wasn't applied to the previously held position that these bones are vestigial.
---