In the following audio, Elizebeth Warren uses a term coined by Alexandria Ocasio-Cortez:
You look at our tax rates back in the '60s and when you have a progressive tax rate system. Your tax rate, you know, let's say, from zero to $75,000 may be ten percent or 15 percent, et cetera. But once you get to, like, THE TIPPY TOPS — on your 10 millionth dollar— sometimes you see tax rates as high as 60 or 70 percent. That doesn't mean all $10 million are taxed at an extremely high rate, but it means that as you climb up this ladder you should be contributing more. — AOC
Here is Senator Warren Tweeting it as well as you hearing it below: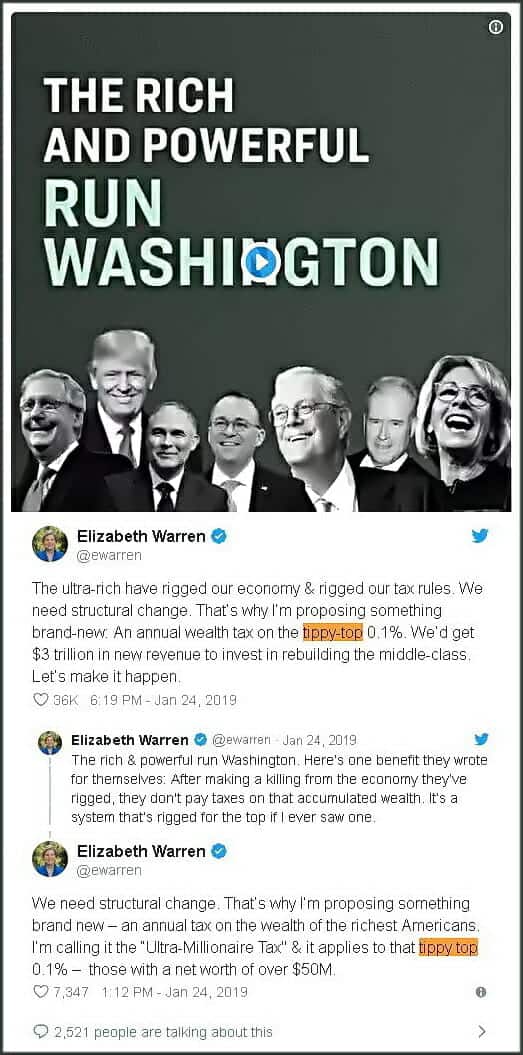 I presume they are trying to explain Marxism to Millennials? Senator Warren and Senator Harris are just trying to outdo the crazy chica from "the Bronx," *She Guevara.
Now "TIPPY-TOP" and words like "fair" are dog-whistles for Communism. Here is audio of Kamala Harris and Elizebeth Warren trying to bankrupt the country:
Larry Elder a while back showed how this didn't work… and it will be no different decades later:
* In one of the funniest posts in a while, TWITCHY want to shorten Alexandria Ocasio-Cortez's name:
We need a nickname for Alexandria Ocasio-Cortez. It's too long to type it all out. Post your suggestions here….
"She Guevara"

"Bolshichick"

"Bolshevik Barbie"

"Alex from the East Bloc"

"Bronxhevik"

"MARXandria"

"MiLENINal"