Gregg Jarrett: Rod Rosenstein WILL NOT ALLOW Gen. Flynn Interrogator Joe Pientka To Testify. Hmmm, I wonder why?
GATEWAY PUNDIT has some good stuff on this:
As GATEWAY further notes…  Joe Pientka's name was redacted in the newly released 302s: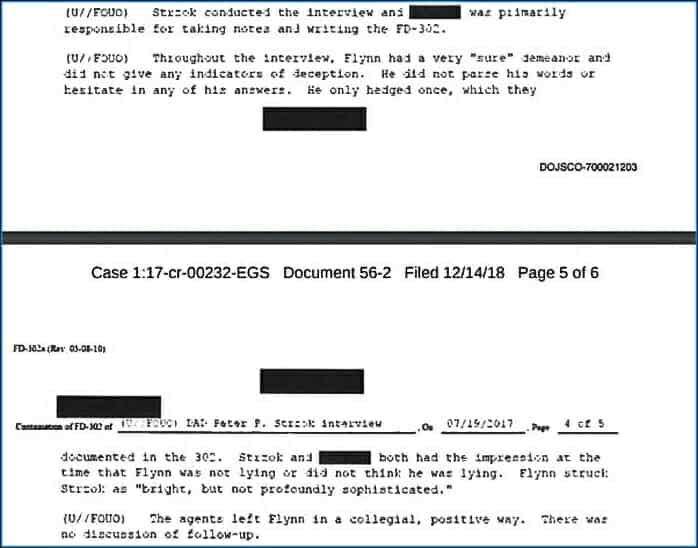 As noted above, Special Agent, Joe Pientka, who was present during the interrogation of General Flynn. He has been ready to give testimony regarding circumstances surrounding the ambush interview (GATEWAY PUNDIT | SARA CARTER). Investigative reporter, Sara Carter says Pientka, if issued a subpoena, will discuss how forthcoming Flynn was about very specific sensitive information that Flynn could not have possibly known the investigators already knew, which may give additional insight into Flynn's veracity and willingness to tell the truth.
SARA CARTER notes that with these new revealed documents, that some internal document discrepancies are noted… and it is because of the changed 302 we know Strzok had written:
JOHN SOLOMON also is in the mix as he dropped a bombshell of information:
As the NATIONAL SENTINEL continues in their posting, we see the Judge in Flynn's case
DAN BONGINO also joins the fun by letting us know about the destruction of key evidence to another investigation (seperate from Mueller's of course) that hints at something damning is being hidden:
I guess they were learning from Hillary Clinton? As Trey Gowdy noted about the HIllary:
Her aid also smashed her cell phones and hard drives with a hammer. I wonder why? CONSERVATIVE TREE-HOUSE breaks down the issue well.