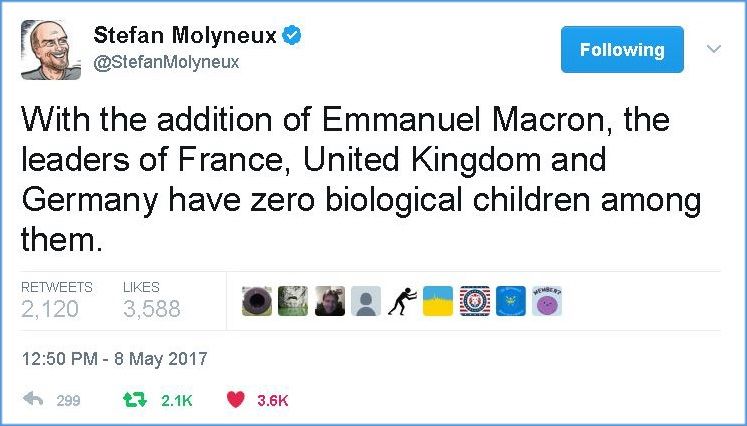 A couple of the comments by others under STEFAN'S TWEET:
Macron's step kids are probably older than him #smh

They clearly wouldn't want to bring children into this hellish world that they are helping to bring to fruition.

Nor does Sweden PM Stefan Löfven or Holland PM Mark Rutte, far as I know. Maybe a few trainee Prime Ministers will migrate to Europe.

Explains why they have no problem destroying their own counties, they have no biological stake in it!

— A point well made, no emotional capital in the future of their countries. No guilt when the mayhem starts

Europeans liberal leftist snowflakes don't want children. it gives stretch marks. That's why they let in millions of migrants to make them

They are the Mom & Dad to the Middle East

Neither do my friends who voted for Killary.

Actually… … Thank God.

That would make them natural *Keynesians* (Keynes also had no children): "In the long run we are all dead".

Don't forget the Netherlands and Luxemburg.

They don't need them, they're busy nannying the whole world.

That means that they don't understand the truths of life which having children teaches you.