Alarmist Assertion via CLIMATE DISPATCH:
---
"Shrinking Glaciers – In 2013, an iceberg larger than the city of Chicago broke off the Pine Island Glacier, the most important glacier of the West Antarctic Ice Sheet. And at Montana's Glacier National Park glaciers have gone from 150 to just 35 over the past century."
---
Response: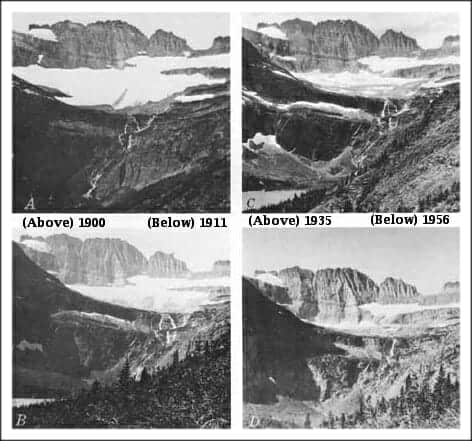 Hockey Schtick piles on with this historical look back on Glacier National Park:
Some more in-depth studies on Glacier National Park detailing the rapid recession before man started to insert in earnest CO2 into the atmosphere can be found here:
Testimony of Dr. Syun-Ichi Akasofu before the united states senate committee on commerce (PDF)… (BIO — Dr. Akasofu is the founding director of the International Arctic Research Center of the University of Alaska Fairbanks, serving in that position from the center's establishment in 1998 until January 2007.)
A lacustrine-based Neoglacial record for Glacier National Park, Montana, USA (PEER REVIEWED)
Another blow to the glacier myth comes from WATTS UP WITH THAT and notes that the "receding Swiss glaciers inconveniently reveal 4000 year old forests – and make it clear that glacier retreat is nothing new," …continuing:
Continuing via NEWSMAX:
…Other evidence exists that there is really nothing new about dramatic glacier advances and retreats. In fact the Alps were nearly glacier-free again about 2,000 years ago. Schlüchter points out that "the forest line was much higher than it is today; there were hardly any glaciers. Nowhere in the detailed travel accounts from Roman times are glaciers mentioned."
Schlüchter criticizes his critics for focusing on a time period which is "indeed too short." His studies and analyses of a Rhone glacier area reveal that "the rock surface had [previously] been ice-free 5,800 of the last 10,000 years."
Such changes can occur very rapidly. His research team was stunned to find trunks of huge trees near the edge of Mont Miné Glacier which had all died in just a single year. They determined that time to be 8,200 years ago based upon oxygen isotopes in the Greenland ice which showed marked cooling.
Casting serious doubt upon alarmist U.N.-IPCC projections that the Alps will be nearly glacier-free by 2100, Schlüchter poses several challenging questions: "Why did the glaciers retreat in the middle of the 19th century, although the large CO2 increase in the atmosphere came later? Why did the Earth 'tip' in such a short time into a warming phase? Why did glaciers again advance in the 1880s, 1920s, and 1980s? . . . Sooner or later climate science will have to answer the question why the retreat of the glacier at the end of the Little Ice Age around 1850 was so rapid."
Although we witness ongoing IPCC attempts to blame such developments upon evil fossil-fueled CO2 emissions, that notion fails to answer these questions. Instead, Schlüchter believes that the sun is the principal long-term driver of climate change, with tectonics and volcanoes acting as significant contributors….
Regarding IPCC integrity with strong suspicion, Schlüchter recounts a meeting in England that he was "accidentally" invited to which was led by "someone of the East Anglia Climate Center who had come under fire in the wake of the Climategate e-mails."
As he describes it: "The leader of the meeting spoke like some kind of Father. He was seated at a table in front of those gathered and he took messages. He commented on them either benevolently or dismissively."