A girl named "Moldylocks" is seen here holding a bottle as a weapon… she was previously throwing them into the crowd of supporters for Trump. This photo was taken as the first defensive punch was thrown at her by Nathan Damigo (more on his later):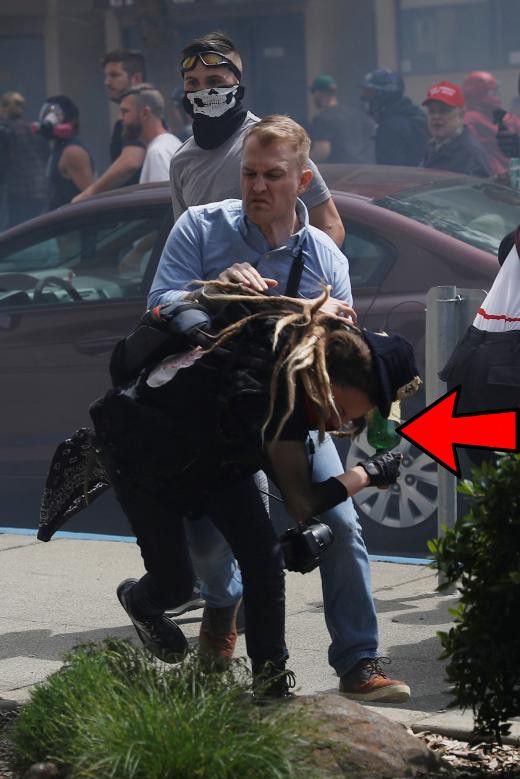 Image of moldy locks swinging a glass bottle at the Berkeley riots.
Don't let them pretend this was self defense! (REDDIT)
This next video discusses the issue of bottle throwing and notes that another bottle fell out of her backpack when she fell after the second punch by Damigo:
So now that we know the girl deserved the punch to the face… twice, who is this character Nathan Damigo? I would caution people to stay clear of this guys politics… while GAY PATRIOT notes he is not a strict Nazi… as Antifa labels everything — he is a person concerned about ethnicity as the "be-all-that-ends-all." Here is an excerpt from GP's excellent post about Damigo's views:
This is the same "white power" B.S. I experienced while in jail various times for three felonies (yes, my past is checkered, now, clean as the driven snow [1 Peter 2:24]). I like how GP puts what we should be concerned about as "Western Supremacists"
UPDATE:
A comment on GP's site quoted Theodore Roosevelt's thoughts on this:
She [MOLDYLOCKS] is a liar… we know this, but we also know she and others have a "battle plan," if you will, that she was clearly involved in:
I have been saying for years that the racist cults and anarch-leftists along with all the conspiracy people (left and right) will degrade the Western Judeo-Christian mores which is the main buffer to our Western societal adhesion.