Walk With Me

This is a topic I taught on at church, and it is a simple way to preach the Gospel to yourself. There are 5 categories:
In our busy schedules choose a single verse from each section and on Monday study that single verse about our sinful nature. Use an online resource such as Blue Letter Bible to read a commentary on it or Bible Gateway to read a version you haven't read of the verse. (Or one of your home resources… whatever the case may be.) On Tuesday take a verse on forgiveness (mine, or one that has hit a cord with you over the years). Etc.
By Friday, T.G.I.F. takes on a new meaning. The following week, do the same, but with a different verse. Habits.
WE ARE CALLED TO CHECK IN
A verse that calls us to "check in" so-to-speak, is 2 Corinthians 13:5 ~ I will read from a paraphrase of this verse, however, feel free to click on the link below to see the paraphrase next to my favorite versions:
Even one of the greatest Repormers mentioned this "preaching the Gospel to ourselves" aspect of our faith: "We need to hear the Gospel every day, because we forget it every day" ~ Martin Luther.
ALL HAVE SINNED (#1)
Proverbs 21:2 ~ "Every way of a man is right in his own eyes, but the LORD weighs the heart."
Proverbs 16:2 ~ "All a man's ways seem right to him, but the LORD evaluates the motives."
1 Samuel 16:7 ~ "Man looks at the outward appearance, but the LORD looks at the heart."
2 things to glean from these:
Here we read a quick insight gleaned from Matthew Henry (Matthew 23:27-28)
How many righteous persons are there?
Romans 3:10 ~ "There is no one righteous, not even one."
Bill Cosby teaches us about this malady we have from the earliest age (and he is a debased sinner as well, in need of a savior):
As an aside. Something that Bill Cosby said above struck a cord with me. He mentioned that the only time a child tells the truth is when they are in pain. So do we ~ often times ~ as adults. Here is the C.S. Lewis quote that came to me when I watched this:
We can rest contentedly in our sins and in our stupidities, and anyone who has watched gluttons shoveling down the most exquisite foods as if they did not know what they were eating, will admit that we can ignore even pleasure. But pain insists upon being attended to. God whispers to us in our pleasures, speaks in our consciences, but shouts in our pains. It is his megaphone to rouse a deaf world.
C.S. Lewis, The Problem of Pain (NY, New York: Touchstone, 1996), 82-83.
Let us take a short historical theology break and read a few points from the 1689 London Baptist Confession:
Hank Hanegraaff explains WHAT sin is and is not:
R.C. Sproul, a theologian of report, helps us define what TOTAL and UTTER "depravity" means:
While some will not support my posting of this next video by Mark Driscoll… I understand. But he has done a lot of good explaining of core doctrine that assists us in understanding concepts, like, TOTAL DEPRAVITY:
Jeremiah 17:9 ~ "The heart is more deceitful than anything else, and

incurable

 – who can understand it?"
Sproul has a wonderful ministry, and he [Sproul] has asked ~ rhetorically ~ how: anyone could be involved in believing in the value of human worth and at the same time believing in TOTAL depravity? He responds:
SENTENCED! (#2)
Leviticus 5:17 ~ "If someone sins and without knowing it violates any of the Lord's commands concerning anything prohibited, he bears the consequences of his guilt."
In the O.T. guilt has three aspects.
(1) There is an act which brings guilt;
(2) There is the condition of guilt which follows the act;
(3) There is punishment appropriate to the act.
In the N.T., guilt is a judicial concept. The Greek word/idea is drawn from the courts, and emphasize liability to punishment. The guilty person has been:
(1) accused;
(2) tried;
(3) and convicted.
Both Testaments view acts which bring guilt as the end result of offenses against God. (See: Heb. 9:11–28 for the legal answer to this predicament)
And, we must always keep in mind that we are judged righteously by our Triune God:
FORGIVEN (#3)
Galatians 2:16-17 (<< link to the HCSB version. Below is the ISV)
— According to the text in the ISV, Christ's faith — not ours — does the justifying. It is His focus of attention, not ours, that does the work. (The "onus" then is put in proper perspective.) As an example from one of my favorite verses, Philippians 1:6:
To be clear:
(a) HE started the Good work [salvation];
(b) He will carry it out;
(c) He will complete it.
It is ALL a work of Christ!
In-other-words, we will join the 24-elders in Revelation in throwing our crowns at Jesus feet, for all the good "WE" did was in actually Him working through us by even creating these… good works in our heart, and the will and drive to do them for His glory: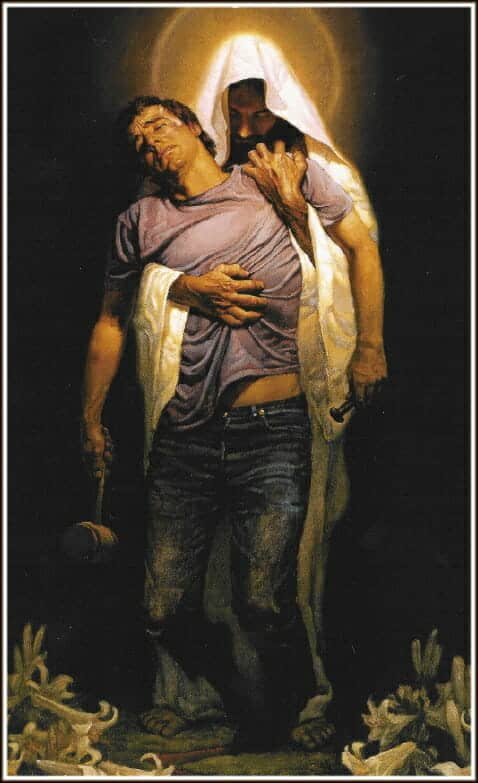 The Imperishable Crown (1 Cor 9:24-24) — The Crown of Rejoicing (1 Thess 2:19) — The Crown of Righteousness (2 Timothy 4:8) — The Crown of Glory (1 Peter 5:4) — The Crown of Life (Revelation 2:10)
Romans 6:23(b) — "but the gift of God is eternal life in Christ Jesus our Lord."
For those that do not know, I am a three-time convicted felon from many years ago. I like to say I am a retired felon. While in Jail I had to realign drastically the direction I had traveled. I didn't realize it then, but I was preaching the Gospel to myself by studying Hosea. The Lord told the prophet — literally —
"Go, take to yourself a wife who will prove to be unfaithful."
And if you think about it, we are all unfaithful to God in some way: "We love because he first loved us" (1 John 4:19). And we break our marriage contract with the Lord, it is the Lord who is faithful and bridges the gap we cannot:
[David offered raisin cakes to the starving (1 Sam 30:11-12); at the celebration of the return of the Ark of the Covenant (2 Sam 6:18-19); Abigail made for David's troops (1 Sam 25:18). What was once good in the Lord's eyes man will surely corrupt.]
Jeremiah 15:19(a,b) ~ "Therefore, this is what the LORD says: 'If you return, I will restore you…

'"
This implies we will fail, and He knew it, and yet chose us.
George Gilder enumerates a law that goes well with the Refiners Fire hymn. In an Interview with Dennis Prager Mr. Gilder enumerated a law of Information Theory*, and thus economics:
*(the mathematical theory concerned with the content, transmission, storage, and retrieval of information, usually in the form of messages or data, and especially by means of computers)
✜ Zechariah 13:9;
✜ Job 23:10;
✜ Isaiah 48:10;
✜ 1 Peter 1:7.
Notes on 1 Peter 1:7
a) Peter  was not backslidden or apathetic;
b) It was Paul's general encouragement to fan the flame/keep the fire burning brightly
How?
2 Corinthians 4:16 ~ Therefore we do not give up. Even though our outer person is being destroyed, our inner person is being renewed day by day.
"…renewed day by day." Almost like a Jewish Seder which Paul would have been familiar with. Like the Passover Seder, for instance, that helped keep the identity of the Jewish nation for almost 3-millinea, we need habits that keep our identity as owned by Christ, daily. Are we equipped for the task?
"…but one of power, love, and sound judgment." We have "to take some responsibility in that renewal. The continual brightening of the inner flame that God has given to us is related to God's own equipment for us. God does not equip us with weakness, but with power. He does not equip us with hatred, but with love. He does not equip us with self-destruction, but with self-discipline."
Romans 8:15 — "For you did not receive a spirit of slavery to fall back into fear, but you received the Spirit of adoption, by whom we cry out, "Abba, Father!"
John Calvin, the great Reformer, says this of the above Romans thinking:
MARTIN LUTHER tells us we have to preach this to ourselves constantly… because it is SUCH GREAT NEWS we seem to view it as unbelievable: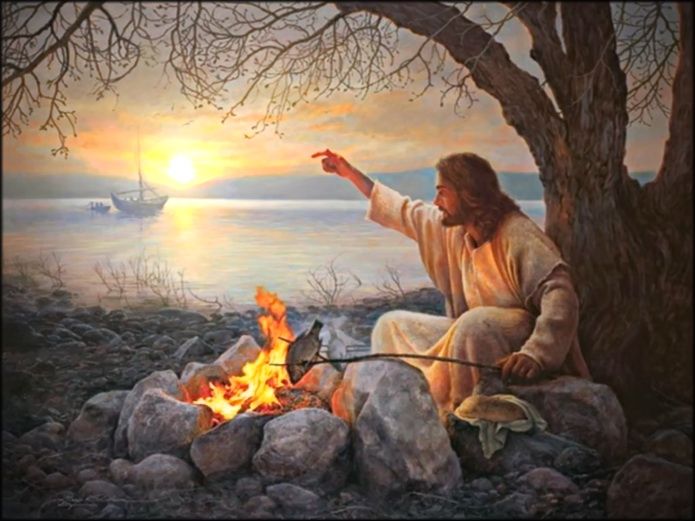 RELATIONAL (#4)
Okay, what does "forgiven" mean? And, how does this change our position with God?
We have all heard the famous saying, "Mercy is not getting what you deserve. And grace is getting what you absolutely do not deserve." This comes in part from Hebrews 4:16:
"At the proper time" is a colloquial saying of the day that means "just in the nick of time." The Believer's Bible Commentary says this of the Hebrews verse:
In Genesis 8 when Noah sacrificed clean animals to God, "the Lord smelled the pleasing aroma." Christ is the last Adam, thee final sacrifice that ends all sacrificial offerings, and we see in 2 Corinthians 2:15 the "…we are the aroma of Christ to God among those who are being saved and among those who are perishing." You see, we are covered in Christ' offering and are thus pleasing to God.
…Segue
How should we respond to this idea in Psalm 30:5?
JOYFULNESS (#5)
Indeed, God is my salvation;
I will trust Him and not be afraid,
for Jehovah, the Lord,
is my strength and my song.
He has become my salvation."
You will joyfully draw water
from the springs of salvation,
and on that day you will say:
"Give thanks to Yahweh; proclaim His name!
Celebrate His works among the peoples.
Declare that His name is exalted.
Sing to Yahweh, for He has done glorious things.
The God of Glory
Even in failure and time of testing and trials we have a line to divine joy. Consider James 1:2-4:
Of verse two my first owned (and still a favorite of mine) commentary says this:
In another commentaries summing up of verse three, we see perseverance is key to our joy as well, but this takes time and is something not magically infused at the outset:
Paul surely knew by heart this verse:
My lips will shout for joy
when I sing praise to You
because You have redeemed me.
We should then have a definition of o-u-r-s-e-l-v-e-s… as Christians, that bring to bear the gift we should now be celebrating, here, Martin Luther in his Commentary on Galatians, offers a good definition of a Christian. In this definition we see the totality of the above study of Romans Road ~ exemplified:
A "summation" of the above: