(MOONBNATTERY and TOM ELLIOT hat-tips!)
What do I think? I think that China was using the labs (level 2 and 4) to change – genetically – this coronavirus to have in it's arsenal as a bio-weapon. But through human or facility errors (or both), it escaped. I highly doubt this release was intentional.
ARTICLES: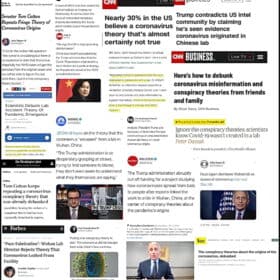 Premiered Apr 7, 2020
Ben Swann — Apr 17, 2020
1-Year Ago:
Media slammed as conspiracies, but later turned out true.
the MSM said ppl who believed the FBI spied on Trump were whacks… turned out true . Mark Levin called it in March of 2017.

The media said what was said to be going on in the nursing homes in New York was a big conspiracy from conservatives. Turned out to be worse than expected.

The MSM said the Hunter laptop story was a conspiracy, and very likely a Russian propaganda operation. Biden even said he had zero discussions with his sone and brother regarding Hunter's business dealings. This turned out to be patently false

Biden met with Ukranian, Kazakhstan, and Russian business associated of Hunter. There are signed receipts by Hunter when he dropped it off — lol.

the MSM and Big Tech censored evidence and called the idea of Covid escaping a lab in Wuhan conspiratorial. As of this week, Big Tech has backed off censoring these now heavily evidentiary positions.

It was touted that Dominion Machines did not have wireless modems, and were safe for elections. Anyone who thought different was called crazy. Turns out Dominion now admits "human error" can influence the election (per Dominion)

People were called conspiracy nuts for thinking Antifa/BLM dressed up as Trumpers and entered the Capital. Turns out they have arrested one main agitator (seen stoking the crowd) and seized money paid him from CNN. He and some others were Antifa/BLM.

For 2-years the media said Mueller had evidence. The media said Trump said there were good Nazi's.

Etc., Etc.
Trump and Republicans have been batting .750
LOL – VOX STEALTH EDITS
(Click to go to larger source)