The Weekly Standard posted this comment by former New York city mayor, Michael Bloomberg:
B-u-t alas… if you think good works get you into heaven, there is always gonna be someone who is "better" than you.
ENTER Tom Steyer… who has Bloomberg beat by a whopping 50-mil more to "SAVE" the environment. The almost unbearable hypocrisy Reid doesn't get is his "renting" of the Senate floor to the 1% ~ via Breitbart:
Bloomberg said he would walk through the gates of Heaven, unhindered. Does this mean Steyer will be choppered in? Also, take note this is the Left connecting entrance into Heaven with THEIR politics. If you are for the 2nd Amendment, do not believe in anthropogenic global warming, you don't recycle, are pro-life/anti-choice… well… your destined for hell. But it doesn't have to be this way my children… Bloomberg (a Jew), Harry Reid (a Mormon), and Nancey Pelosi (a Catholic) are all here to guide us to Heaven.
Sick….
and dangerous.
HotAir has a funny reply from a common sense point of view:
Ahem. According to Bloomberg, there may or may not be a God, but Bloomberg will tell Him what to do in the former case. I'm not an expert on Bloomberg's reform Judaism, but, ah … I'm pretty sure that's not how it works. Or maybe Bloomberg just believes that heaven is the eternal nanny state. Hard to guess, really, from the data presented here, but from Bloomberg's track record here on this side of the veil, I'd guess that Bloomberg figures to be on Big Gulp/Trans-Fat Watch for the rest of eternity. That may be heaven for Bloomberg, but how many of us dream of an afterlife with a self-important bureaucrat telling us and God how it's going to be?
….Had the rich ruler sold all as Jesus commanded, he could never have rightfully said, "I purchased my salvation." No, he could only rightly say, "I spent my entire life as a religious hypocrite, ignoring His second greatest commandment. However, because of His amazing grace, God gave me an opportunity to receive eternal life, a gift of unparalleled worth. I only had to believe in His Son, which I did, and because I believed, I began obeying Him from that time on, repenting of my greed and finding true joy in the process. Praise God for His wonderful grace by which I'm saved!"
When we consider what our salvation cost Jesus and the punishment we deserved for our sins, is there any way we could rightfully boast?
[Yes, if you are extreme progressive, then "works" measures your salvific stature. Did YOU save the planet by planting trees for your carbon footprint? I did. Did YOU recycle, and stop using plastic water bottles? I did. Did YOU talk to people about the dangers of the Keystone XL pipeline? I did. Etc. All this equals what the left considers "good works."]
---
1. that riches engross the affections.
2. that people consider wealth as the chief good, and when this is obtained they think they have gained all.
3. that they are proud of their wealth, and unwilling to be numbered with the poor and despised followers of Jesus.
4. that riches engross the time, and fill the mind with cares and anxieties, and leave little for God.
5. that they often produce luxury, dissipation, and vice. that it is difficult to obtain wealth without sin, without avarice, without covetousness, fraud, and oppression, 1 Timothy 6:9-10, 1 Timothy 6:17; James 5:1-5; Luke 12:16-21; Luke 16:19-31.
Still, Jesus says Matthew 19:26, all these may be overcome. God can give grace to do it. Though to people it may appear impossible, yet it is easy for God.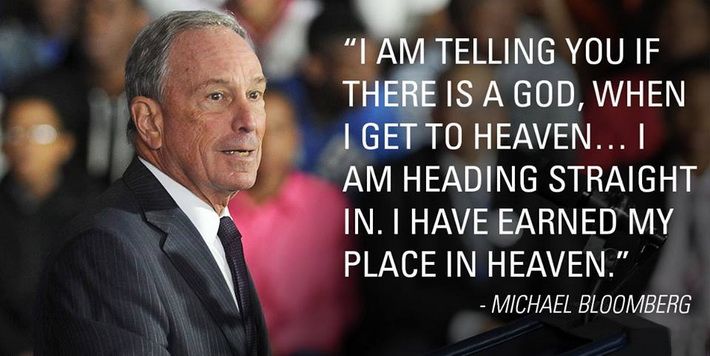 We should be fair and really discuss this issue a bit more, including the ideas of Bill O'Reilly as well. As, fallen beings we naturally rebel against God's clear address to us from the Bible. This rebellion knows no party, age, gender, ethnicity, or the like. Our depravity is truly "multicultural." 
Reformed Apologist thusly adds well to the conversation about BOTH Bloomberg AND O'Reilly. Everybody would be good? R e a l l e e e:
…"For by grace are ye saved through faith; and that not of yourselves: it is the gift of God: Not of works, lest any man should boast." Apostle Paul / Follower of Christ (true to the Scriptures)…
…After putting forth a doctrine of salvation by works, O'Reilly went on to express most ardently that he hopes that justice will prevail at the final judgment. O'Reilly couldn't have been more clear. Bill O'Reilly does not need God's mercy and grace. He, also, hopes others will receive the justice they deserve. (I prayed for this lost soul at various times throughout the day. Many verses came to mind, especially that Christ didn't come to call the righteous but sinners to repentance.) Bill O'Reilly is self-righteous and, therefore, on his way to hell.*
I heard the Bloomberg quote on CNBC while driving home. Had I not heard his quote I would not have blogged on this matter.
Bloomberg is a blasphemer. The difference between him and O'Reilly is one of degree. Bloomberg has tried to convince himself (and others) that he has already earned heaven whereas O'Reilly, at best, tries to project that he can and hopefully will merit heaven. That's a distinction without a relevant difference in the grand scheme of things.
[….]
*If we cannot pronounce God's curses based upon His word, then we forgo the right to pronounce God's blessings. When O'Reilly professes that he is saved by God's grace alone, then it can be said that he is on his way to Heaven. It is not biblical to say one can be saved now while they clearly profess that they are trusting in self-merit alone.
[/stextbox]