"It is easier to build strong children than to repair broken men."
Frederick Douglass
=============================
"A fundamental principle of information theory is that you can't guarantee outcomes… in order for an experiment to yield knowledge, it has to be able to fail. If you have guaranteed experiments, you have zero knowledge"
George Gilder, Interview by Dennis Prager {Editors note: this is how the USSR ended up with warehouses FULL of "widgets" (things made that it could not use or people did not want) no one needed in the real world. This "insurers won't be losing a lot of sleep over it" (see below) enforcers George Gilders contention that when government supports a venture from failing, no information is gained in knowing if the program actually works.}
=============================
S.I.X.H.I.R.B. ~ sexist, intolerant, xenophobic, homophobic, islamophobic, racist, and bigoted
Dennis Prager
=============================
"We must ask first whether the theory of evolution by natural selection is scientific or pseudoscientific …. Taking the first part of the theory, that evolution has occurred, it says that the history of life is a single process of species-splitting and progression. This process must be unique and unrepeatable, like the history of England. This part of the theory is therefore a historical theory, about unique events, and unique events are, by definition, not part of science, for they are unrepeatable and so not subject to test."
Colin Patterson, Evolution (London: British Museum of Natural History, [1978]), 145-146 (Dr. Patterson was Senior Principal Scientific Officer of the Paleontology Department of the British Museum of Natural History in London.)
=============================
"Tradition means giving a vote to most obscure of all classes, our ancestors. It is the democracy of the dead"
G.K. Chesterton
=============================
"We should hire three or four colored ministers, preferably with social-service backgrounds, and with engaging personalities. The most successful educational approach to the Negro is through a religious appeal. We don't want the word to go out that we want to exterminate the Negro population, and the minister is the man who can straighten out that idea if it ever occurs to any of their more rebellious members."
Maragret Sanger (letter to Dr. Clarence Gamble, Dec. 19, 1939)
=============================
"If God is 'dead,' somebody is going to have to take his place. It will be megalomania or erotomania, the drive for power or the drive for pleasure, the clenched fist or the phallus, Hitler or Hugh Heffner."
Malcolm Muggeridge (a British journalist, author, satirist, media personality, soldier-spy and, in his later years, a Catholic convert and writer); from, Ravi Zacharias, The Real Face of Atheism (Grand Rapids, MI: Baker Books, 2004), 32.
=============================
"The minute sex ceases to be a servant, it becomes a tyrant."
G.K. Chesterton, St. Francis of Assisi (Mineola, NY: Dover Publications, 2008), 19.
=============================
"It is the mark of an educated man to look for precision in each class of thing in so far as its nature admits."
Aristotle
=============================
"The necessary result, then, of the unequal fiscal action of the government is, to divide the community into two great classes; one consisting of those who, in reality, pay the taxes, and, of course, bear exclusively the burthen of supporting the government; and the other, of those who are the recipients of their proceeds, through disbursements, and who are, in fact, supported by the government; or, in fewer words, to divide it into tax-payers and tax-consumers."
John C. Calhoun, Disquisition on Government, 1848
=============================
* One other aspect of objective morality, or moral truths, needs to be explained. Objective right and wrong does not mean than an act is always wrong. It means that in any given situation there is a right and wrong. Many people who believe in objective morality confuse "objective" with "always." Objective morality means that good and evil really exist and are not matters of individual taste or feeling or preference. Therefore objective morality means that an action is right or wrong for all people but not necessarily in every situation. Very few actions are always wrong. It is usually wrong to lie, for example, but lying to Nazis searching for Jews to murder was not morally wrong—it was the highest form of morality. Therefore, "situational ethics" is not the same thing as moral relativism. Moral relativism means that every individual (or society) decides what is right or wrong. It completely negates objective morality. Situational ethics means what is right or wrong depends on the situation. It in no way negates objective morality. For example, it is the situation that determines when killing is wrong. According to the Bible itself, the situation determines when killing is murder. That is why the Ten Commandments say, "Do not murder" not "Do not kill." Murder is immoral killing—and it is the situation that determines when killing is moral and when it is immoral and therefore deemed murder. Pacifism is an excellent example of the flawed belief that an action—in this case, killing—is always immoral. Pacifism argues that it is wrong to take a life in every situation. For this reason, it has no basis in Judeo-Christian values, which hold that there is moral killing (self-defense, defending other innocents, taking the life of a murderer) and immoral killing (intentional murder of an innocent individual, wars of aggression, terrorism, etc.).
Dennis Prager, Still the Best Hope: Why the World Needs American Values to Triumph (New York, NY: Broadside Books, 2012), 349n. (Bold/underlined emphasis added.)
=============================
8. God has established both evangelism and the power of government to restrain evil
The problem with Boyd's view here is that he fails to distinguish the task of evangelism from the task of civil government. Of course God has not told us to spread the Gospel of Christ by using the "power of the sword" or the power of government. We spread the Gospel by the proclamation of the Word of God (see Rom. 10:17). But God has told us that we should restrain evil by the power of the sword and by the power of civil govern­ment (as in the teaching of Romans 13:1-6, quoted above, p. 37).
If the power of government (such as a policeman) is not present in an emergency, when great harm is being done to another person, then my love for the victim should lead me to use physical force to prevent any further harm from occurring. If I found a criminal attacking my wife or children, I would use all my physical strength and all the physical force at my disposal against him, not to persuade him to trust in Christ as his Savior, but to immediately stop him from harming my wife and children! I would follow the command of Nehemiah, who told the men of Israel, "Remember the Lord, who is great and awesome, and fight for your brothers, your sons, your daughters, your wives, and your homes" (Neh. 4:14; see also Genesis 14:14-16, where Abraham rescued his kinsman Lot who had been taken captive by a raiding army).
Boyd has wrongly taken one of the ways that God restrains evil in this world (chang­ing hearts through the Gospel of Christ) and decided that it is the only way that God restrains evil (thus neglecting the valuable role of civil government). Both means are from God, both are good, and both should be used by Christians.
This is why Boyd misunderstands Jesus' statement, "If anyone slaps you on the right cheek, turn to him the other also" (Matt. 5:39). When this verse is rightly understood (see below, p. 82), we see that Jesus is telling individuals not to take revenge for a personal insult or a humiliating slap on the cheek. But this command for individual kindness is not the same as the instructions that the Bible gives to governments, who are to "bear the sword" and be a "terror" to bad conduct and are to carry out "God's wrath on the wrong­doer" (Rom. 13:3-4). The verses must be understood rightly in their own contexts. One is talking about individual conduct and personal revenge. The other is talking about the responsibilities of government. We should not confuse the two passages.
9. Could more pacifism have stopped slavery or stopped hitler?
Near the end of his book Boyd responds to the objection that war was necessary to end slavery in the United States (in the Civil War) and to stop Hitler's campaign to take over the entire world (in World War II). Didn't the use of military force bring about good in those cases?
Boyd's response is to say that if Christians had been better pacifists, history would have been different: "Had professing Christians been remotely like Jesus in the first place, there would have been no slavery or war for us to wonder about what would have happened had Christians loved their enemies and turned the other cheek." With regard to the US Civil War, Boyd says, "A kingdom person should rather wonder what might have happened had more kingdom people been willing to live out the call of the radical kingdom."
But this is just an elegant way of saying, "If history was different, it would prove my case." And that is another way of saying, "If the facts were different, they would prove my case." That is not a valid argument. It is appealing to wishful thinking rather than facts.
Boyd is simply saying that if the world were different, the world would be different. But that proves nothing. History is what it is, and history shows that both the evil of American slavery and the evil of Adolf Hitler were only stopped by the power of superior military force. That is the task that God has assigned to governments when they "bear the sword" (Rom. 13:4).
Wayne Grudem, Politics According to the Bible (Grand Rapids, MI: Zondervan, 2010), 41-43.
=============================
"…it's tragic, I think, that hook-ups and casual sex on college campuses have become the default relationship patterns…. It feels like it's a dreadful alternative that's been crafted out of the ashes of the cherished institutions that the women's movement has looked to run to the ground"
Susan Patton
=============================
"Fallacies do not cease to be fallacies because they become fashions"
G. K. Chesterton
=============================
"There will be no jarring note in Heaven, no whisper of human merit, no claim of a reward for good intentions—but every crown shall be cast at Jesus' feet and every voice shall join in the ascription, 'Not unto us, not unto us, but unto Your name be all the glory of the salvation which You have worked out for us from first to last.'"
C.H. Spurgeon, from a sermon published in March of 1904 entitle "CHRIST'S CROWNING GLORY"

=============================
"We therefore make this definition of a Christian: a Christian is not he who hath no sin, but he to whom God imputeth not his sin, through faith in Christ. That is why we so often repeat and beat into your minds, the forgiveness of sins and imputation of righteousness for Christ's sake. Therefore when the law accuseth him and sin terrifieth him, he looketh up to Christ, and when he hath apprehended Him by faith, he hath present with him the conqueror of the law, sin, death, and the devil: and Christ reigneth and ruleth over them, so that they cannot hurt the Christian. So that he hath indeed a great and inestimable treasure, or as St. Paul saith: 'the unspeakable gift' (2 Cor. ix. 15), which cannot be magnified enough, for it maketh us the children and heirs of God. This gift may be said to be greater than heaven and earth, because Christ, who is this gift, is greater."
Martin Luther, Commentary on Galatians (Grand Rapids, MI: Kregal, 1979), 72.
=============================
Further poisoning musical judgment is the Left-wing value of diversity. In 2011, Anthony Tommasini, music critic of the New York Times, published his list of the ten greatest composers who ever lived. Absent from the list was Haydn, who Tommasini acknowledged was the father of the symphony, father of the string quartet, and father of the piano sonata. Indeed, one of the avant-garde's most celebrated modern composers (and a justly celebrated conductor), Pierre Boulez, "thinks Haydn a greater composer than Mozart," and one of the greatest pianists who ever lived, Glenn Gould, thought Haydn's piano sonatas were superior to Mozart's. So, why did the New York Times music critic omit Haydn? Because, he wrote, "If such a list is to be at all diverse and comprehensive, how could 4 of the 10 slots go to composers—Haydn, Mozart, Beethoven and Schubert—who worked in Vienna during, say, the 75 years from 1750 to 1825?" Diversity, not greatness, helped determine the New York Times list of the greatest ten composers. That is why Bartok, Debussy, and Stravinsky made the list but Haydn (and Handel) didn't.
Dennis Prager, Still the Best Hope: Why the World Needs American Values to Triumph (New York, NY: Broadside Books, 2012), 52-53
=============================
"…we have no government, armed with power, capable of contending with human passions, unbridled by morality and religion. Avarice, ambition, revenge and licentiousness would break the strongest cords of our Constitution, as a whale goes through a net. Our Constitution was made only for a moral and religious people. It is wholly inadequate to the government of any other."
John Adams, first (1789–1797) Vice President of the United States, and the second (1797–1801) President of the United States. Letter to the Officers of the First Brigade of the Third Division of the Militia of Massachusetts, 11 October 1798, in Revolutionary Services and Civil Life of General William Hull (New York, 1848), pp 265-6.
=============================
Bill Maher: Kathy, why do you oppose a women's right to choose
Kathy Ireland: Bill, when my husband was going to medical school I underwent a transformation.  Because I used to be in favor of abortion.  But I noticed when I was reading through some of his medical teaching books, that according to a law in science known as the law of biogenesis, every living thing reproduces after it own kind.  That means dog produce dogs, cats produce cats, humans produce humans.  If we want to know what something is we simply ask what are its parents. If we know what the parents are, we know what the thing in question is.  And I reasoned from that because human parents can only produce human offspring, unborn human fetuses could be nothing but human beings, because the law of biogenesis rules out every other alternative.  And I concluded therefore that because human fetuses were part of our family, we should not harm them without justification.
=============================
"[T]hose with the highest levels of education have the lowest exposure to people with conflicting points of view." This encourages "the human tendency to live within our own echo chambers."
Diana C. Mutz, Samuel A. Stouffer Professor of Political Science and Communication, Director, Institute for the Study of Citizens and Politics
=============================
"Men do not make laws. They do but discover them. Laws must be justified by something more than the will of the majority. They must rest on the eternal foundation of righteousness."
Calvin Coolidge, "Have Faith in Massachusetts," Massachusetts Senate President Acceptance Speech (Jan. 7, 1914) ~ 30th President of the United States (1923–1929)

=============================
"I have never believed in God. Yet, I have to admit that if He does not actually exist, then we can be little more than feverish, selfish little clods of ailments and grievances. And that is hardly enough reason to go on living. Only the existence of God can make anything at all have any meaning at all."
George Bernard Shaw
=============================
When gay marriage was first thrust on the nation by the Massachusetts Supreme Court during the 2004 presidential primary campaign, Senator John Kerry said what was at stake was "somebody's right to live equally under the same laws as other people in the country."
But of course, gays do live equally under the same laws as other people. There are no special speed limit laws or trespassing laws or murder laws for gays. What gays can't do is get married to members of the same sex. Nor can heterosexuals, immigrants, whites, blacks, the rich, the poor or the homeless.
The Democrats' comparison of gay marriage to civil rights ultimately led to the ridiculous spectacle of Kerry basically accusing a black woman of being a bigot because she did not appreciate the comparison of gays to blacks under the equal protection clause. It had to happen.
At a "town hall" meeting in Mississippi during the campaign, a black woman in the audience asked Kerry to reject the comparison of gay marriage to civil rights. "I don't care what they say," she said, "there is no correlation between gay rights and civil rights in terms of what black Americans have gone through."
In response, Kerry said it was important to recognize that "we have a Constitution which has an equal protection clause." (Because black people had probably forgotten that.)
The woman "was not satisfied" with Kerry's answer, in the delicate phrasing of the New York Times. She said: "My point is, homosexuality is an idea. You have never heard a doctor say, 'Mr. and Mrs. John Doe, you have a bouncing baby homosexual.' It's an idea."
Ann Coulter, Mugged: Racial Demagoguery from the Seventies to Obama (New York, NY: Sentinel [Penguin], 2012), 149-150.
============================= 
"I think we have deluded ourselves into believing that people don't know that abortion is killing. So any pretense that abortion is not killing is a signal of our ambivalence…"
Faye Wattleton, former president of Planned Parenthood (1997)
=============================
"Science is belief in the ignorance of experts"
Richard Feynman, "What is Science?", presented at the fifteenth annual meeting of the National Science Teachers Association, in New York City (1966) published in The Physics Teacher Vol. 7, issue 6 (1969)
=============================
"Historically, the claim of consensus has been the first refuge of scoundrels; it is a way to avoid debate by claiming that the matter is already settled."
Michael Crichton, Aliens cause Global Warming, 17 January 2003 speech at the California Institute of Technology
=============================
"Consensus means that everyone agrees to say collectively what no one believes individually"
Abba Eban
=============================
"In questions of science, the authority of a thousand is not worth the humble reasoning of a single individual." 
Galileo Galilei
=============================
"…virtually every significant racist in American political history was a Democrat."
Bruce Bartlett, Wrong on Race: The Democratic Party's Buried Past (New York, NY: Palgrave MacMillan, 2008), ix;
"…not every Democrat was a KKK'er, but every KKK'er was a Democrat."
Ann Coulter, Mugged: Racial Demagoguery from the Seventies to Obama (New York, NY: Sentinel [Penguin], 2012), 19.
=============================
"They [the women] are never allowed to look at the ultrasound
because we knew that if they so much as heard the heart beat,
they wouldn't \want to have an abortion."
– Abortion doctor quoted in New Dimensions magazine, 1990
Invariably, the feminist position on abortion is portrayed as the "pro-woman" position—mostly because feminist leaders have convinced their followers that this procedure is essential to women's liberty. As Gloria Feldt, former president of Planned Parenthood, said, "'abortion' became a symbol of our independence, because reproductive freedom is fundamental to a woman's aspirations."
This is also known as the "pro-choice" position. But how do feminists feel about women who don't choose abortion—and, more importantly, the women who assist them in making that choice?
Don't be fooled by the deceptive labels and euphemisms. When it comes to "reproductive rights," feminists have a very specific agenda—one that involves a lot more abortions, but not necessarily more choice.
At Temple University in Philadelphia, Serrin Foster, president of Feminists for Life of America, faced a tough crowd. As Crisis magazine described the scene, "The 40 or so students gathered to hear Foster are mostly women. Not even the pro-lifers are smiling. The student who introduced her asked those with differing opinions to be respectful. It set an ominous tone. Would they start chanting soon? Blowing whistles? Would they get violent?"
But then, somehow, Foster performed a miracle. She threw the cover off "the dirty little secret of women's studies departments" — America's earliest feminists were anti-abortion. In the words of coura­geous suffragette Susan B. Anthony, abortion was "child murder," and "no matter what the motive, love of ease, or a desire to save from suffering the unborn innocent the woman is awfully guilty who commits the deed. It will burden her conscience in life, it will burden her soul in death; but oh, thrice guilty is he who drove her to the desperation which impelled her to the crime!"
Foster then asked the crowd, "If women were fighting for the right not to be considered property, what gives them the right to consider their baby property?"
It was something to think about. From that moment on, even students who had showed up to protest couldn't help but nod in agreement.
That night, Foster raised a point that feminists dare not discuss: before the women's movement was hijacked by leftists in the 1960s, abortion was never viewed as a good thing for women. In fact, the prac­tice was unthinkable to individuals like Elizabeth Cady Stanton, the mastermind behind the historic Seneca Falls Convention and mother of seven chil­dren. (If Stanton applied for a teaching position in a women's studies department today, she would be labeled a "Jesus freak" and promptly dismissed.)
"When we consider that women are treated as property, it is degrading to women that we should treat our children as property to be disposed of as we see fit," Stanton wrote to her friend Julia Ward Howe in 1873.
She wasn't the only one.
Victoria Woodhull, the first female stockbroker on Wall Street, also became the first woman to run for President in 1870. An early suffragette with a flair for the outrageous, Woodhull epitomized the modern feminist slogan "well-behaved women rarely make history." (She was repeatedly arrested for her polit­ical activities.) And she too hated abortion.
"A human life is a human life and equally to be held sacred whether it be a day or a century old," Woodhull wrote. "Wives…to prevent becoming mothers…deliberately murder [children] while yet in their wombs. Can there be a more demoralized condition than this? "
Alice Paul, who authored the original Equal Rights Amendment, was willing to face arrests, harassment, and physical assaults in order to win the right to vote. Later, when 1960s feminists began advocating the repeal of abortion laws, Paul asked, "How can one protect and help women by killing them as babies?" She considered abortion "the ulti­mate exploitation of women."
Who are the modern descendents of Anthony, Stanton, Woodhull, and Paul? They can be found at Feminists for Life of America, whose founder, Pat Goltz, was kicked out of NOW for her anti-abortion views. On its website, FFL issues a challenge: "If you believe in the strength of women and the poten­tial for every human life…If you refuse to choose between women and children…If you reject violence and exploitation, join us in challenging the status quo. There is a better way."
FFL reaches out to women facing crisis pregnan­cies and opposes any legislation that might make it harder for them to keep their children—much of which has been proposed by Republicans, proving that FFL hardly deserves the "right- wing" label assigned to it by pro-abortion feminists. In 1996, FFL attempted to dissuade President Clinton from signing a Republican-backed welfare reform bill that elimi­nated additional assistance for babies born to girls under 18. Their rationale? If a pregnant girl couldn't afford to raise her child, she would have no choice but to abort.
FFL also pressures universities to provide special resources for pregnant and parenting students, a move opposed by many conservatives on the principle that pregnant women aren't entitled to handouts. But FFL refuses to compromise its mission: to make moth­erhood a viable option for women facing unwanted pregnancies.
FFL is not actively involved in efforts to outlaw abortion. Instead, the group is interested in "system­atically eliminating the root causes that drive women to abortion — primarily lack of practical resources and support — through holistic, woman-centered solutions."
This is a truly "pro-choice" position—the one that groups like NOW and NARAL claim to uphold. But evidently a lot of feminists do not believe that women deserve better than abortion.
"Who are the Feminists for Life? In a word, dangerous," began an article in the online magazine Nerve.
"Feminists for what?" the author gasped. "Not a typo: Feminists for Life. As in, against abortion." The horror!
As the article explained, the women of FFL "aren't really feminists—a feminist could not force another woman to bear a child."
Feminist hysteria over FFL indicates that the only "choice" they deem acceptable is the decision to terminate a pregnancy. The way FFL was treated by the Lilith Fair, a feminist music festival organized by singer Sarah McLachlan in the late 90′s, proved that different views on abortion will not be tolerated.
"Women are everywhere. Walking in groups, laughing and talking. Sitting on the grass. Playing the guitar. Reading pamphlets on women's issues picked up from booths in the Village area," a reporter described Lilith Fair's stop in my hometown of Cleveland, Ohio. "There is also a woman with a gag in her mouth standing in front of one of the booths, wearing a T-shirt reading, 'Peace begins in the womb, Sarah.'"
That woman was Marilyn Kopp, the director of Ohio Feminists for Life. Lilith Fair, despite its stated mission of "raising consciousness of women's issues," denied booth space to any group that did not wholeheartedly support abortion as the ultimate cata­lyst of gender equality.
Naturally, Lilith Fair's feminist organizers were outraged that FFL had the gall to show up at their concert.
"This isn't a democracy. This is a tyranny," fumed singer Sheryl  Crow, justifying Lilith's ban on pro-life groups.
However, some ordinary concertgoers were unimpressed with the notion of tyranny in the name of women's advancement.
"As Kopp's friend Denise Mackura stands gagged in front of the NOW booth, a group of teenage girls walk up to her. When they find out what's going on, they're shocked," reporter Laura Demarco wrote. "They see the situation as a violation of civil rights, not a defense of women's rights. 'This is wrong,' says Casey Patton, 17."
The sight of FFL members standing in front of NOW's booth with gags in their mouths spoke volumes about the authoritarian nature of the modern feminist movement. As DeMarco observed, "It's hard to miss the hypocrisy of feminists censoring other women like this… they patronizingly assume women aren't smart enough to hear all sides on an issue and decide for themselves."
The prospect of women deciding for themselves is terribly threatening to the feminist establishment—which might also explain their fanatical opposition to Crisis Pregnancy Centers.
Ashley Herzog, Feminism vs. Women (Xulon Press, 2008), 85-91.
=============================
Change can happen—but admitting the problem is half the battle.
Feminist journalist and author Anne Taylor Fleming issues a warning. Thirty years ago, Fleming argued that if she got pregnant unexpectedly, she'd have an abortion—she was adamantly opposed to pro-life arguments. Twenty years later, in her book Motherhood Deferred, Fleming wrote, "I am a woman of forty who put career ahead of motherhood and now longs for motherhood….  I belong to the sisterhood of the infertile. I am a lonesome, babyless baby boomer now completely consumed by the longing for a baby. . . . I am tempted to roll down the window and shout 'Hey, hey, Gloria, Germaine, Kate. Tell us, how does it feel to have ended up without babies, children, flesh of your flesh. Was your ideology worth the empty womb?"'
Germaine Greer, the 1970s feminist icon who encouraged women to reject motherhood, also paid the ultimate price. "I was desperate for a baby and I have the medical bills to prove it. I still have pregnancy dreams, waiting for something that will never happen."
But it is Rebecca Walker, daughter of committed feminist Alice Walker, who wrote The Color Purple (which was revered by the feminist elite and made into a major motion picture and Broadway musical) who was the most courageous in telling the truth about feminism in an article entitled, "How My Mother's Fanatical Views Tore Us Apart":
As a child, I… yearned for a traditional mother. . . . I grew up believing that children are millstones around your neck, and the idea that motherhood can make you happy is a complete fairytale. . . . When I hit my 20s, …I could feel my biological clock ticking, but I felt if I listened to it, I would be betraying my mother and all she had taught me. . . . In fact, having a child has been the most rewarding experience of my life…. My only regret is that I discovered the joys of motherhood so late—I have been trying for a second child, but so far with no luck.

Feminism has betrayed an entire generation of women into childlessness…. But far from taking responsibility for this, the leaders of the women's movement close ranks against anyone who dares to question them—as I have learned to my cost…. I believe feminism is an experiment, and all experiments need to be assessed on their results. Then, when you see huge mistakes have been paid, you need to make alterations.
The cultural shift in American women's plans for the future—toward big careers, rather than motherhood—has resulted in many unfulfilled dreams. The childless women above who regret their choices may represent the extreme result of feminism, but millions of modern women needlessly face fertility battles simply because no one told them not to focus so obsessively on careers, or to find careers that work well with motherhood. No one told them that getting academic degree after degree may be counterproductive if having children, is part of their lifer plan.
The result is that young women give babies no thought whatsoever until they're holding their own in their arms. Only then do their previous plans fall away, and women find themselves in a quandary. Because they didn't assume they'd be out of the workforce caring for babies, women are left with an unbearable choice: they either put their children in day care, or they rethink their entire life plan.
Suzanne Venker & Phyllis Schlafly, The Flipside of Feminism: What Conservative Women Know — and Men Can't Say (Washington, D.C.: WND Books, 2011), 171-172. (emphasis  added)
=============================
Does rejecting feminism mean rejecting women's equality? No, because that's not what feminism is about. Rejecting feminism means recognizing that women don't need feminism to make them equal to men because they already are equal—just not the same. Does rejecting feminism mean rejecting women's liberation? Yes—if liberation means liberating women from marriage and motherhood. We have learned the hard way that there is nothing empowering about ignoring one's biology.
Suzanne Venker & Phyllis Schlafly, The Flipside of Feminism: What Conservative Women Know — and Men Can't Say (Washington, D.C.: WND Books, 2011), 169.
=============================
If there is indeed a social revolution under way, it shouldn't stop with women's choice to honor their [own] nature. It must also include a newfound respect for men. It was New York City's firemen who dared to charge up the stairs of the burning Twin Towers on September 11, 2001. The death tally of New York City's firefighters was: men 343, women 0. Can anyone honestly say you would have wanted a woman coming to your rescue on that fateful day?
Suzanne Venker & Phyllis Schlafly, The Flipside of Feminism: What Conservative Women Know — and Men Can't Say (Washington, D.C.: WND Books, 2011), 181-182.
=============================
Feminist Quotes ~ Radical Feminism Goes Mainstream (*Coarse Language*) ~ These Quotes come from two sources and can be better referenced by them:
Suzanne Venker & Phyllis Schlafly, The Flipside of Feminism: What Conservative Women Know — and Men Can't Say (Washington, D.C.: WND Books, 2011);
and my chapter in my book on feminism, Gnostic Feminism: Empowered to Fail.
Author and journalist Natalie Angier begins an article in the New York Times by writing, "Women may not find this surprising, but one of the most persistent and frustrating problems in evolutionary biology is the male. Specifically… why doesn't he just go away?" (Natalie Angier, "The Male of the Species: Why Is He Needed?" New York Times, May 17, 1994)
In a CNN interview with Maureen Dowd about her 2005 book, Are Men Necessary? Dowd says, "Now that women don't need men to reproduce and refinance, the ques­tion is, will we keep you around? And the answer is, 'You know, we need you in the way we need ice cream—you'll be more ornamental." ("Are Men Necessary?" CNN.com, November 15, 2005, http:// www.cnn.com/2005/SHOWBIZ/books/11/15/dowd.men.necessary/ index.html)
Lisa Belkin, a blogger for the New York Times whose work is provocative but not overly biased, wrote, "We are standing at a moment in time when the role of gender is shifting seismically. At this moment an argument can be made for two separate narrative threads—the first is the retreat of men as this becomes a woman's world." (Lisa Belkin, "Are Men Necessary?" Motherlode: Adventures in Parenting blog, New York Times Magazine, June 30, 2010, http:// parenting.blogs. nytimes.com/2010/06/30/are-men-necessary/)
In an article in the Atlantictitled 'Are Fathers Necessary?" author Pamela Paul wrote, "The bad news for Dad is that despite common perception, there's nothing objectively essential about his contribution." (Pamela Paul, "Are Fathers Necessary?" Atlantic, July/August 2010, http://www.theatlantic.com/magazine/archive/2010/07/arefathers-necessary/8136/)
For example, in the January 1988 National NOW Times, the newsletter for the organization, said:  "The simple fact is that every woman must be willing to be identified as a lesbian to be fully feminist." (William D. Gairdner, The War Against the Family: A Parent Speaks Out on the Political, Economic, and Social Policies That Threaten Us All, 295.)
Well-known feminist author and co-founder/editor of Ms. Magazine, Gloria Steinem, said the following about feminisms end game: "Overthrowing capitalism is too small for us. We must overthrow the whole #@*! patriarch!" (Ibid., 300) [How can a civil rights movement be interested in capitalism?]
One sign of an over oppressive movement is illustrated in The Animal Farm, by George Orwell.  Napoleon, one of the main characters, concerns himself with the education of the young, and forcefully takes two litters of puppies away as soon as they're weaned, saying he'll educate them. In effect the "State" are the ones who are charged with educating and rearing them.  Now compare this to a statement made by feminist Mary Jo Bane, assistant professor of education at Wellesley College and associate director of the school's Center for Research on Woman, and the lesson taught in Animal Farm:
"In order to raise children with equality, we must take them away from families and communally raise them."
(Fr. Robert J. Carr, "No News For You!!" Catholic Online [9-23-2004]. Found at: http://www.catholic.org/featured/headline.php?ID=1364 ~ last accessed 7-29-09; Here is the full quote from Father Carr's article: "Mary Jo Bane, formerly of the Clinton Administration Department of Health and Human Services one of the major voices in the Boston Globe against the average Catholic's right to freedom of religion. Bane's most famous quote is 'We really don't know how to raise children. If we want to talk about equality of opportunity for children, then the fact that children are raised in families means there's no equality. … In order to raise children with equality, we must take them away from families and communally raise them.'")
Alternatively, Gloria Steinem declared: "By the year 2000 we will, I hope, raise our children to believe in human potential, not God." (Angela Howard and Sasha Ranae Adams Tarrant, Reaction to the Modern Women's Movement, 1963 to the Present: Antifeminism in America: A Collection of Readings from the Literature of the Opponents to U.S. Feminism, 1848 to the Present, 153.)
NEA president/feminist Catherine Barrett wrote likewise that, "Dramatic changes in the way we will raise our children in the year 2000 are indicated, particularly in terms of schooling. … We will need to recognize that the so-called 'basic skills', which currently represent nearly the total effort in elementary schools, will be taught in one-quarter of the present school day. … When this happens—and it's near—the teacher can rise to his true calling. More than a dispenser of information, the teacher will be a conveyor of values, a philosopher. … We will be agents of change." (Dennis Laurence Cuddy, The Grab for Power: A Chronology of the NEA, 6.)
A Feminist Dictionary, published by the University of Illinois, gives the following definitions:
Male:  "… represents a variant of or deviation from the category of female. The first males were mutants… the male sex represents a degeneration and deformity of the female."
Man: "… an obsolete life form… an ordinary creature who needs to be watched … a contradictory baby-man."
Testosterone Poisoning: "Until now it has been thought that the level of testosterone in men is normal simply because they have it. But if you consider how abnormal their behavior is, then you are led to the hypothesis that almost all men are suffering from 'testosterone poisoning.'"
(Cheris Kramarae and Paula A. Treichler, eds.,  Feminist Dictionary [Champaign, IL: University of Illinois Press, 1986], cf. male, 242; cf. male, 246; cf.  testosterone poisoning, 446.)
Feminist author Ti-Grace Atkinson shows her true autonomy when stating, "the institution of sexual intercourse is anti-feminist." (Daniel Dervin, Enactments: American Modes and Psychohistorical Models, 244)
Another telling quote comes directly from Atkinson's own biography, Amazon Odyssey: "The price of clinging to the enemy [a man] is your life. To enter into a relationship with a man who has divested himself as completely and publicly from the male role as much as possible would still be a risk. But to relate to a man who has done any less is suicide…. I, personally, have taken the position that I will not appear with any man publicly, where it could possibly be interpreted that we were friends." (Ti-Grace Atkinson, Amazon Odyssey, 90, 91.)
Marilyn French, feminist author calls all men rapists: "All men are rapists and that's all they are. They rape us with their eyes, their laws, and their codes." (Elizabeth Knowles, ed., The Oxford Dictionary of Quotations, 5th ed. [New York, NY: Oxford University Press, 1999], cf. Freeman, E.A., 324.)
Let us allow Gloria Steinen, feminist extraordinaire, to set the stage with the following praises about her contemporary, Andrea Dworkin, "In every century, there are a handful of writers who help the human race to evolve. Andrea is one of them." (David M. Friedman, A Mind of Its Own: A Cultural History of the Penis, 225.) Why preface Andrea Dworkin?  Because she has this to say about men in general: "Heterosexual intercourse is the pure, formalized expression of contempt for women's bodies." (Neil Boyd, Big Sister: How Extreme Feminism has Betrayed the Fight for Sexual Equality, 23.)
Dr. Boyd continues with Dworkin's quote: "In fucking, as in reproduction, sex and economics are inextricably joined. In male-supremacist cultures, women are believed to embody carnality; women are sex. A man wants what a woman has – sex. He can steal it outright (prostitution), lease it over the long term (marriage in the United States), or own it outright (marriage in most societies). A man can do some or all of the above, over and over again." (Ibid.)
"What Gloria Steinem, Molly Yard, Patricia Ireland and all the rest have presented to you over the last [30-years] years has not been feminist theory." …. Tammy Bruce goes on to show that Betty Friedan and Patricia Ireland, ex-presidents of NOW, (and others) are involved with socialist or communist political parties or organizations,
Do not be mistaken: what Gloria Steinem, Molly Yard, Patri­cia Ireland and all the rest have presented to you over the last 15 years (at least) has not been feminist theory.  Betty Friedan, a former Communist Party member, was only the precursor of the hijacking of feminism to serve other political interests. Some consider Gloria Steinem, the founder of Ms. magazine and probably the second most influential feminist leader, after Friedan, of the last 30 years, to be the one who began blurring the lines between gender and race issues. This might be sur­prising to those who are unaware of Steinem's involve­ment in socialist politics. In fact, she serves as an honorary chair of the Democratic Socialists of America, which boasts of being the largest socialist organization in the United States and is the principal U.S. affiliate of the Socialist International. Good for her, but we should know this as we explore what factors influence those who are considered feminist leaders.  Steinem's influence, combined with the socialist sym­pathies of NOW's immediate past-president, Patricia Ire­land, explain the co-opting of NOW by leftist ideologues. A 1996 article in Ms. quoted Ireland as saying that NOW "must offer a clear understanding of what it means to be a feminist organization concerned with ending discrimina­tion based on race, class, and other issues of oppression [emphasis mine] that come from a patriarchal structure." Steinem then commented, "To be feminist, we have to take on the entire caste system." Ireland details her support of the Communist Party in her autobiography, What Women Want. She admits that her socialist sympathies and participation in pro-Commu­nist rallies in Miami (of all places!) were due in part to the fact that her friend and future lover, Pat Silverthorn, was an activist in the Socialist Worker's Party. There were problems, Ireland explains, with Silverthorn and her friends being Communists in Miami. "Later, after we'd become close," Ireland writes, "[Pat Silverthorn] would confide that she, too, had wondered how much more dan­gerous she'd made her life by openly professing commu­nist convictions in that volatile, violent, commie-hating city… Working closely with Pat opened my eyes about the reality of living as a political leftist in this country."
 (Tammy Bruce, The New Thought Police: Inside the Left's Assault on Free Speech and Free Minds, 123-124.)
=============================
Researchers have now used MRIs of older kids' brains to explain the differences. The portion of the brain that pertains to language works harder in girls' brains than it does in boys' brains. Infant girls make a great deal of eye contact with one person and show more empathy than infant boys. Infant boys prefer moving objects, which helps to explain their subsequent interest in 3-D and moving toys, such as cars and trucks. They are also more likely to run and jump than girls, preferring active play rather than reading.
Despite such overwhelming evidence of sex differences, American boys are subjected to the feminization process as early as kindergarten. Surrounded mostly by women (and often feminists), both curriculum and activities revolve around the needs of girls and girls' interests. Assigned stories are in subjects girls like (such as fairy tales), rather than subjects boys like (such as adventure and battles). Moreover, first-grade boys are roughly nine months behind girls in coordination, yet the emphasis in this grade is on sitting still at a desk. Many schools have also eliminated recess, which does not bode well for boys. They are active by nature and need to run around, and when they can't sit still, teachers and administrators often wrongly attribute this to ADD or ADHD.
Many elementary school teachers, raised to believe in a false concept of gender equality, are reluctant to admit any gender differences between males and females. Some think little boys are just unruly girls. "Boys learn to subdue their more spirited, intrepid behavior in school, their male instincts of competition and individualism quashed in the interest of what's best for girls as they walk like lemmings over the edge of the radical feminist cliff by the time they reach high school," wrote schoolteacher and op-ed contributor Jane Gilvary for the Bulletin (Philadel­phia) in "Skinny Jeans, John Wayne, and the Feminization of America" (August 24, 2010).
Experts believe developmentally inappropriate expectations and practices are causing normal boy behavior to be wrongly labeled as misbehavior, and normal learning patterns to be mislabeled as learning disabilities. The result is that many boys become frustrated and discouraged by school in the early grades.
[….]
We can start by raising them to be courageous, principled, and capable of thinking for themselves. Encourage them to embrace their masculinity. When little boys pick up a hairbrush and pretend it's a gun, let them. When they can't sit still in school, don't medicate them. When they like throwing a football around with their dads, do everything in your power to stay happily married to their dads so your boys can do this. When they want to play sports, find a college where Title IX has not wiped out their favorite sports. Teach your sons the virtue of "manliness," which Harvard professor Harvey Mansfield defines (in his book of the same name) as "confidence in the face of risk." Men's role as protector remains vital to civilization.
Suzanne Venker & Phyllis Schlafly, The Flipside of Feminism: What Conservative Women Know — and Men Can't Say (Washington, D.C.: WND Books, 2011), 147-148, 164.
=============================
Even Darwin had some misgivings about the reliability of human beliefs. He wrote, "With me the horrid doubt always arises whether the convictions of man's mind, which has been developed from the mind of lower animals, are of any value or at all trustworthy. Would any one trust in the convictions of a monkey's mind, if there are any convictions in such a mind?"
Given unguided evolution, "Darwin's Doubt" is a reasonable one. Even given unguided or blind evolution, it's difficult to say how probable it is that creatures—even creatures like us—would ever develop true beliefs. In other words, given the blindness of evolution, and that its ultimate "goal" is merely the survival of the organism (or simply the propagation of its genetic code), a good case can be made that atheists find themselves in a situation very similar to Hume's.
The Nobel Laureate and physicist Eugene Wigner echoed this sentiment: "Certainly it is hard to believe that our reasoning power was brought, by Darwin's process of natural selection, to the perfection which it seems to possess." That is, atheists have a reason to doubt whether evolution would result in cognitive faculties that produce mostly true beliefs. And if so, then they have reason to withhold judgment on the reliability of their cognitive faculties. Like before, as in the case of Humean agnostics, this ignorance would, if atheists are consistent, spread to all of their other beliefs, including atheism and evolution. That is, because there's no telling whether unguided evolution would fashion our cognitive faculties to produce mostly true beliefs, atheists who believe the standard evolutionary story must reserve judgment about whether any of their beliefs produced by these faculties are true. This includes the belief in the evolutionary story. Believing in unguided evolution comes built in with its very own reason not to believe it.
This will be an unwelcome surprise for atheists. To make things worse, this news comes after the heady intellectual satisfaction that Dawkins claims evolution provided for thoughtful unbelievers. The very story that promised to save atheists from Hume's agnostic predicament has the same depressing ending.
It's obviously difficult for us to imagine what the world would be like in such a case where we have the beliefs that we do and yet very few of them are true. This is, in part, because we strongly believe that our beliefs are true (presumably not all of them are, since to err is human—if we knew which of our beliefs were false, they would no longer be our beliefs).
Suppose you're not convinced that we could survive without reliable belief-forming capabilities, without mostly true beliefs. Then, according to Plantinga, you have all the fixins for a nice argument in favor of God's existence For perhaps you also think that—given evolution plus atheism—the probability is pretty low that we'd have faculties that produced mostly true beliefs. In other words, your view isn't "who knows?" On the contrary, you think it's unlikely that blind evolution has the skill set for manufacturing reliable cognitive mechanisms. And perhaps, like most of us, you think that we actually have reliable cognitive faculties and so actually have mostly true beliefs. If so, then you would be reasonable to conclude that atheism is pretty unlikely. Your argument, then, would go something like this: if atheism is true, then it's unlikely that most of our beliefs are true; but most of our beliefs are true, therefore atheism is probably false.
Notice something else. The atheist naturally thinks that our belief in God is false. That's just what atheists do. Nevertheless, most human beings have believed in a god of some sort, or at least in a supernatural realm. But suppose, for argument's sake, that this widespread belief really is false, and that it merely provides survival benefits for humans, a coping mechanism of sorts. If so, then we would have additional evidence—on the atheist's own terms—that evolution is more interested in useful beliefs than in true ones. Or, alternatively, if evolution really is concerned with true beliefs, then maybe the widespread belief in God would be a kind of "evolutionary" evidence for his existence.
You've got to wonder.
Mitch Stokes, A Shot of Faith: To the Head (Nashville, TN: Thomas Nelson, 2012), 44-45.
=============================
That is why the Left around the world runs interference on behalf of Islamists. Criticism of Islam or Muslims, no matter how nuanced or free of malice, is attacked by the Left as "Islamophobic." Sometimes the Left is so vigorous in its defense of Muslims that it acts more "Catholic than the pope." This is what happened during the "Ground Zero mosque" controversy in 2010. The majority of Americans supported objections expressed by many relatives of those murdered on 9/11 to the building of a hundred-million-dollar mosque and Islamic center two blocks from the World Trade Center, where thousands of Americans had been murdered by Muslims in the name Islam. It was the Left, much more than Muslims, that excoriated the opponents: Around the world some leading Muslim authorities actually sided with the American objectors.
The Left understands on a visceral, if not always fully conscious, level that a strong and self-confident America is a threat to its ascendancy. Though a vigorous Islam is no friend of the Left, the Left (correctly) feels much more threatened at this time by Americanism than by Islamism.
Since 1980, the largest demonstrations in Western Europe—always involving people on the Left and/or led by groups on the Left—have often been against America, and, not coincidentally, have taken place when the American president was a conservative (Ronald Reagan and George W. Bush). It is difficult to cite a single Leftist demonstration against any of the worst evils since World War II. Why? Because all those evils were committed by Leftist and Islamist regimes or groups, not by America.
Nor have Leftist peace activists demonstrated in any great numbers against war. It is America (or Israel) at war, not just any war, that disturbs the Left. That is why there have been few demonstrations, and none of any size, against the mass murder of Sudan's blacks; the genocides in Rwanda, Cambodia, or Congo; China's crushing of Tibet; or Saddam Hussein's wars against Iran, Kuwait, and Iraq's own Kurds. Though there are always admirable individual exceptions, the Left has not been nearly as vocal about these large scale atrocities as it is about America's wars. One additional reason is that, in general, atrocities committed by non-whites rarely interest the Left—and therefore "world opinion," which is essentially the same thing as Leftist opinion.
Leftist university professors in Western Europe and the United States have also been agitated about one other country's wars—Israel's. Hence the numerous attempts by Leftist professors at Western universities to boycott Israeli professors and universities. But, of course, Chinese professors and universities are not only exempt from boycotts; they are enthusiastically sought after despite the lack of elementary freedoms in China, the Chinese government's incarceration of dissidents in psychiatric wards, the decimation of much of Tibetan culture, and the increasing Chinese occupation of that ancient country.
Dennis Prager, Still the Best Hope: Why the World Needs American Values to Triumph (New York, NY: Broadside Books, 2012), 13-15.
=============================
"The Prophet wrote the (marriage contract) with 'Aisha while she was six years old and consummated his marriage with her while she was nine years old and she remained with him for nine years (i.e. till his death)."
Sahih Bukhari 7.62.88
=============================
Often, however, the cause of our doubt isn't what you might think. It isn't necessarily the strength of the arguments that rattles us, but the way they resonate with the unbeliever in each of us (what the Bible calls the "old self"). We hear Tokyo Rose's voice and she seems to make pretty good sense sometimes. Yet more often than not, if we look closely at the atheist's arguments, we find that there is little substance. Seeing this can change the argument's frequency and therefore break its spell. Believers often worry that their doubts signify the rapid approach of full-blown unbelief. But as pastor and author Tim Keller puts it,
Faith without some doubts is like a human body without any antibodies in it. People who blithely go through life too busy or indifferent to ask hard questions about why they believe as they do will find themselves defenseless against either the experience of tragedy or the probing questions of a smart skeptic.
All thoughtful believers—even those whose faith is mature—encounter doubt. Not a single person has had unadulterated faith. In any case, it certainly won't do to ignore your doubts, and defusing them will only strengthen your faith. To be sure, doubts can be strong enough to become a trial in your life; but like all trials, they're meant to refine faith, not stifle it.
Mitch Stokes, A Shot of Faith: To the Head (Nashville, TN: Thomas Nelson, 2012), xvii. (Emphasis added!)
=============================
"We believe as much in the purity of race as we think they do, only we believe that they would best serve the interest, which is as dear to us as to them, by advocating the purity of all races, and not one alone. We believe also that the white race in South Africa should be the predominating race…" ~ Gandhi
G.B. Singh, Gandhi: Behind the Mask of Divinity(New York, NY: Prometheus Books, 2004), 191-193. (see more context)

=============================
Paul, who often gets a bad rap for his perceived low view of women, considered at least twelve women coworkers in his ministry.* Paul clearly had a high view of women: "There is neither Jew nor Greek, slave nor free, male nor female, for you are all one in Christ Jesus." The earliest Christians recited these remarkable, countercultural words as a baptismal confession. Widows, far from being abandoned, were cared for, and older women were given a place of honor. In light of all of this, is it any wonder "the ancient sources and modern historians agree that primary conversion to Christianity was far more prevalent among females than males"?
In recent history, Christians were responsible for the banning of three despicable practices inflicted upon women around the world. Christian missionaries pressured the Chinese government to abolish foot binding in 1912. This practice was done for the sole reason of pleasing men—"it made a woman with her feet bound in an arch walk tiptoe and sway seductively." In 1829 the English outlawed the Indian practice of suttee, in which widows were burned alive on the funeral pyres of their husbands, because of Christianity's teaching regarding widows and women. Finally, Western countries influenced by a Christian view of women and sexuality have condemned clitoridectomy (female genital mutilation), a gruesome practice that is still common in Muslim countries in Africa and the Middle East.
Sean McDowell and Jonathan Morrow, Is God Just a Human Invention? And Seventeen Other Questions Raised by the New Atheists (Grand Rapids, MI: Kregel Publications, 2010), 230-231.
=============================
Liberalism is a religion; its tenets cannot be proved, its capacity for waste and destruction demonstrated. But it affords a feeling of spiritual rectitude at little or no cost. Central to this religion is the assertion that evil does not exist, all conflict being attributed to a lack of understanding between the opposed.
David Mamet, The Secret Knowledge: On the Dismantling of American Culture (New York, NY: Sentinel Publishing, 2011), 81.
=============================
The rich in Ancient Greece would have benefited little from modern plumbing: running servants replaced running water. Television and radio— the patricians of Rome could enjoy the leading musicians and actors in their home, could have the leading artists as domestic retainers. Ready-to-wear clothing, supermarkets— all these and many other modern developments would have added little to their life. They would have welcomed the improvements in transportation and in medicine, but for the rest, the great achievements of Western capitalism have redounded primarily to the benefit of the ordinary person.
Milton and Rose Friedman, Free to Choose (New York: Harcourt Brace Jovanovich, 1980), 148.
=============================
…During the last quarter century or so, an enormous amount of philosophical analysis has been poured into the problem of evil, with the result that genuine philosophical progress on the age-old question has been made. We may begin our inquiry by making a number of distinctions to help keep our thinking straight. Most broadly speaking, we must distinguish between the intellectual problem of evil and the emotional problem of evil. The intellectual problem of evil concerns how to give a rational explanation of the coexistence of God and evil. The emotional problem of evil concerns how to comfort those who are suffering and how to dissolve the emotional dislike people have of a God who would permit such evil. The intellectual problem lies in the province of the philosopher; the emotional problem lies in the province of the counselor. It is important to keep this distinction clear because the solution to the intellectual problem is apt to appear dry, uncaring and uncomforting to someone who is going through suffering, whereas the solution to the emotional problem is apt to appear superficial and deficient as an explanation to someone contemplating the question abstractly. Keeping this distinction in mind, let us turn first to the intellectual problem of evil….
3. THE EMOTIONAL PROBLEM OF EVIL
But, of course, when one says [the problem of evil is] "solved" one means "philosophically resolved." All these mental machinations may be of little comfort to someone who is intensely suffering from some undeserved evil in life. This leads us to the second aspect of the problem mentioned earlier: the emotional problem of evil.
For many people, the problem of evil is not really an intellectual problem: it is an emotional problem. They are hurting inside and perhaps bitter against a God who would permit them or others to suffer so. Never mind that there are philosophical solutions to the problem of evil—they do not care and simply reject a God who allows such suffering as we find in the world. It is interesting that in Dostoyevsky's Brothers Karamazov, in which the problem of evil is presented so powerfully, this is what the problem really comes down to. Ivan Karamazov never refutes the Christian solution to the problem of evil. Instead, he just refuses to have anything to do with the Christian God. "I would rather remain with my unavenged suffering and unsatisfied indignation, even if I am wrong," he declares. His is simply an atheism of rejection.
What can be said to those who are laboring under the emotional problem of evil? In one sense, the most important thing may not be what one says at all. The most important thing may be just to be there as a loving friend and sympathetic listener. But some people may need counsel, and we ourselves may need to deal with this problem when we suffer. Does Christian theism also have the resources to deal with this problem as well?
It certainly does! For it tells us that God is not a distant Creator or impersonal ground of being, but a loving Father who shares our sufferings and hurts with us. Alvin Plantinga has written,
As the Christian sees things, God does not stand idly by, coolly observing the suffering of his creatures. He enters into and shares our suffering. He endures the anguish of seeing his son, the second person of the Trinity, consigned to the bitterly cruel and shameful death of the cross. Some theologians claim that God cannot suffer. I believe they are wrong. God's capacity for suffering, I believe, is proportional to his greatness; it exceeds our capacity for suffering in the same measure as his capacity for knowledge exceeds ours. Christ was prepared to endure the agonies of hell itself; and God, the Lord of the universe, was prepared to endure the suffering consequent upon his son's humiliation and death. He was prepared to accept this suffering in order to overcome sin, and death, and the evils that afflict our world, and to confer on us a life more glorious that we can imagine. So we don't know why God permits evil; we do know, however, that he was prepared to suffer on our behalf, to accept suffering of which we can form no conception
Christ endured a suffering beyond all understanding: he bore the punishment for the sins of the whole world. None of us can comprehend that suffering. Though he was innocent, he voluntarily underwent incomprehensible suffering for us. Why? Because he loves us so much. How can we reject him who gave up everything for us?
When we comprehend his sacrifice and his love for us, this puts the problem of evil in an entirely different perspective. For now we see clearly that the true problem of evil is the problem of our evil. Filled with sin and morally guilty before God, the question we face is not how God can justify himself to us, but how we can be justified before him.
J.P. Moreland and William Lane Craig, Philosophical Foundations for a Christian Worldview (Downers Grove, IL: IVP Academic, 2003), 536-537, 550-551.
=============================
*In my family, as in yours, someone regularly says, "Hey, you know what would be a good idea … ?" And then proceeds to outline some scheme for making money by providing a product or service the need for which has just occurred to him. He and the family fantasize about and discuss and elaborate this scheme. Inherent in this fantasy is the unstated but ever-present truth that, given sufficient capital and expertise or the access to the same, the scheme might actually be put into operation (as, indeed, constantly, throughout our history, such schemes have), bettering the lives of the masses and bringing wealth to their creators. Do you believe such conversations take place in Syria? In France?
David Mamet, The Secret Knowledge: On the Dismantling of American Culture (New York, NY: Sentinel Publishing, 2011), [FN] 120.
=============================
There is a Liberal sentiment that it should also punish those who take more than their "fair share." But what is their fair share? (Shakespeare suggests that each should be treated not according to his deserts, but according to God's mercy, or none of us would escape whipping.)
The concept of Fairness, for all its attractiveness to sentiment, is a dangerous one (cf. quota hiring and enrollment, and talk of "reparations"). Deviations from the Law, which is to say the Constitution, to accommodate specifically alleged identity-group injustices will all inevitably be expanded, universalized, and exploited until there remains no law, but only constant petition of Government.
We cannot live in peace without Law. And though law cannot be perfect, it may be just if it is written in ignorance of the identity of the claimants and applied equally to all. Then it is a possession not only of the claimants but of the society, which may now base its actions upon a reasonable assumption of the law's treatment.
But "fairness" is not only a nonlegal but an antilegal process, for it deals not with universally applicable principles and strictures, but with specific cases, responding to the perceived or proclaimed needs of individual claimants, and their desire for extralegal preference. And it could be said to substitute fairness (a determination which must always be subjective) for justice (the application of the legislated will of the electorate), is to enshrine greed—the greed, in this case, not for wealth, but for preference. The socialistic spirit of the Left indicts ambition and the pursuit of wealth as Greed, and appeals, supposedly on behalf of "the people," to the State for "fairness."
….But such fairness can only be the non-Constitutional intervention of the State in the legal, Constitutional process—awarding, as it sees fit, money (reparations), preferment (affirmative action), or entertainment (confiscation).
 David Mamet, The Secret Knowledge: On the Dismantling of American Culture (New York, NY: Sentinel Publishing, 2011), 116-117, 122.
=============================
So after playing Skyrim for three days in a row, I can safely say, you can learn more about: History, science and government from Skyrim than you can from Loose Change and Zeitgeist.
Michael Grennan, posted in the 9/11 Conspiracy Theories are an Inside Job!
=============================
Let us squint for a moment, to see if we may blur the particulars and perceive a familiar outline in an unfamiliar act. A young wealthy woman puts on vaguely military garb and travels to a far-off, less-developed land to participate in adventure. She meets there the more primitive indigenous people, admires their hunting abilities, and, in fact, poses with one of their large guns, famous for having bagged many trophies.
Q. What is she doing? A. Going on Safari.
Essentially, yes. The woman, however, would be appalled had the big gun been used to kill an elephant. But it has not. It has been used to kill American fliers.
Jane Fonda's Adventure Tourism is, then, incorrectly, identified not as a safari but as "Ending the War."
This was a no-cost, exhilarating adventure, all the more attractive because it took place in the purlieus of danger, but contained no danger; and it could be described as "humanitarianism," which is an edifying title, rather than "slumming," which is perhaps less so.
Ms. Fonda did not choose to take her wish for adventure into the veldt, where, after all, the beasts might strike back, but to Hanoi in 1969. At the height of the Vietnam War—to pose with the enemy, secure in the knowledge that her (largely inherited) position would protect her from prosecution for what was, arguably, an act of treason.
In her reliance upon this protection she was, of course, availing herself of that same privilege and culture whose destruction she was endorsing in posing by the gun.
Her pilgrimage, as Mr. Hollander points out, was not unique. Intellectuals through the twentieth century have traveled see the Potemkin Villages of Stalin's "Workers Miracle," the happy children of China, and the grinning, sun-drenched Campesinos [peasants] of the Island Paradise. They have believed what they were shown.
From the Webbs, and Bertrand Russell, to Susan Sontag, Jane Fonda, Vanessa Redgrave, and various movie stars of our day, these happy dupes reward themselves for feeling superior to their own country, from which country they were free to travel, and to which they were free to return, while the smiling folk they visited were locked in slave states.
See also the brave actors who endeavored to boycott, and so close, the 2009 Toronto Film Festival because it offended by showing films from Israel.
This "visiting" and political pilgrimage differs from safari in that one does not here toy with danger. It more closely resembles the Victorian practice of "going among the poor."
It used to be called "passing out tracts."
David Mamet, The Secret Knowledge: On the Dismantling of American Culture (New York, NY: Sentinel Publishing, 2011), 96-98.
=============================
My own affections have been deeply wounded by some of the martyrs to this cause [the French Revolution], but rather than it should have failed, I would have seen half the earth desolated.
Thomas Jefferson, Letter of January 3, 1793, The Portable Thomas Jefferson, ed. Merrill D. Peterson (New York: Penguin Books, 1975), p. 465; from, Thomas Sowell, A Conflict of Visions: Ideological Origins of Political Struggles (New York, NY: basic Books, 2007), 29.
=============================
According to Adam Smith, it is when the businessman "intends only his own gain" that he contributes— via the process of competition— to promote the social good "more effectually than when he really intends to promote it." Smith added: "I have never known much good done by those who affected to trade for the public good."
Thomas Sowell, A Conflict of Visions: Ideological Origins of Political Struggles (New York, NY: basic Books, 2007), 57.
 =============================
Christianity is closely tied to the success of capitalism,[1] as it is the only possible ethic behind such an enterprise.  How can such a thing be said?  The famed economist/sociologist/historian of our day, Thomas Sowell, speaks to this in his book A Conflict of Visions: Ideological Origins of Political Struggles. He whittles down the many economic views into just two categories, the constrained view and the unconstrained view.
The constrained vision is a tragic vision of the human condition. The unconstrained vision is a moral vision of human intentions, which are viewed as ultimately decisive. The unconstrained vision promotes pursuit of the highest ideals and the best solutions. By contrast, the constrained vision sees the best as the enemy of the good— a vain attempt to reach the unattainable being seen as not only futile but often counterproductive, while the same efforts could have produced a more viable and beneficial trade-off. Adam Smith applied this reasoning not only to economics but also to morality and politics: The prudent reformer, according to Smith, will respect "the confirmed habits and prejudices of the people," and when he cannot establish what is right, "he will not disdain to ameliorate the wrong." His goal is not to create the ideal but to "establish the best that the people can bear."[2]
Dr. Sowell goes on to point out that while not "all social thinkers fit this schematic dichotomy…. the conflict of visions is no less real because everyone has not chosen sides or irrevocably committed themselves." Continuing he points out:
Despite necessary caveats, it remains an important and remarkable phenomenon that how human nature is conceived at the outset is highly correlated with the whole conception of knowledge, morality, power, time, rationality, war, freedom, and law which defines a social vision…. The dichotomy between constrained and unconstrained visions is based on whether or not inherent limitations of man are among the key elements included in the vision.[3]
The contribution of the nature of man by the Judeo-Christian ethic is key in this respect. One can almost say, then, that the Christian worldview demands a particular position to be taken in the socio-economic realm.* You can almost liken the constrained view of man in economics and conservatism as the Calvinist position.  Pulitzer prize winning political commentator, Walter Lippmann (1889-1974), makes the above point well:
At the core of every moral code there is a picture of human nature, a map of the universe, and a version of history. To human nature (of the sort conceived), in a universe (of the kind imagined), after a history (so understood), the rules of the code apply.[4]
A free market, then, is typically viewed through the lenses of the Christian worldview with its concrete view of the reality of man balanced with love for your neighbor;
Sean Giordano (AKA. Papa Giorgio), Worldviews: A Click Away from Binary Collisions (Religio-Political Apologetics), found in the introductive chapter, "Technology Junkies"
---
[1] See for instance: R.H. Tawney, Religion and the Rise of Capitalism (New Brunswick, NJ: Transaction Publishers, 2000 [originally 1926]); Max Weber, The Protestant Ethic and the Spirit of Capitalism (Mineola, NY: Dover Publications, 2003 [originally 1904]); Rodney Stark, The Victory of Reason: How Christianity Led to Freedom, Capitalism, and Western Success (New York, NY: Random House, 2005); Thomas E. Woods, Jr., How the Catholic Church Built Western Civilization (Washington, D.C.: Regnery, 2005).
[2] Thomas Sowell, A Conflict of Visions: Ideological Origins of Political Struggles (New York, NY: basic Books, 2007), 27.
[3] Ibid., 33, 34.
[4] Walter lippmann, Public Opinion (New York, NY: Freee Press, 1965), 80.
=============================
What properties must such a cause of the universe possess? By the very nature of the case, the cause of space and time must transcend space and time and therefore exist timelessly and nonspatially (at least without the universe). This transcendent cause must therefore be changeless and immaterial, since anything that is timeless must also be unchanging, and anything that is changeless must be nonphysical and immaterial (since material things are constantly changing at the molecular and atomic levels). Such an entity must be beginningless and uncaused, at least in the sense of lacking any prior causal conditions, since there cannot be an infinite regress of causes. Ockham's razor—the principle which states that we should not multiply causes beyond necessity—will shave away any other causes, since only one cause is required to explain the effect. This entity must be unimaginably powerful, if not omnipotent, since it created the universe without any material cause.
Finally, and most remarkably, such a transcendent first cause is plausibly personal. Two reasons can be given for this conclusion. First, the personhood of the first cause of the universe is implied by its timelessness and immateriality. The only entities which can possess such properties are either minds or abstract objects, like numbers. But abstract objects don't stand in causal relations. The number 7, for example, can't cause anything. Therefore, the transcendent cause of the origin of the universe must be an unembodied mind.
Second, this same conclusion is implied by the origin of an effect with a beginning from a beginningless cause. We've concluded that the beginning of the universe was the effect of a first cause. By the nature of the case, that cause cannot have either a beginning of its existence or any prior cause. It just exists changelessly without beginning, and a finite time ago it brought the universe into existence. Now this is exceedingly odd. The cause is in some sense eternal and yet the effect which it produced is not eternal but began to exist a finite time ago. How can this be? If the necessary and sufficient conditions for the effect are eternal, then why isn't the effect also eternal? How can the cause exist without the effect?
There seems to be only one way out of this dilemma, and that is to say that the cause of the universe's beginning is a personal agent who freely chooses to create a universe in time. Philosophers call this type of causation "agent causation," and because the agent is free, he can initiate new effects by freely bringing about conditions which were not previously present. Thus, a finite time ago a Creator endowed with free will could have freely brought the world into being at that moment. In this way, the Creator could exist changelessly and eternally but freely create the world in time. By exercising his causal power, he brings it about that a world with a beginning comes to exist? So the cause is eternal, but the effect is not. In this way, then, it is possible for the temporal universe to have come to exist from an eternal cause: through the free will of a personal Creator.
We may therefore conclude that a personal Creator of the universe exists, who is uncaused, beginningless, changeless, immaterial, timeless, spaceless and unimaginably powerful.
William Lane Craig and Chad Meister, God Is Great, God Is Good: Why Believing in God Is Reasonable and Responsible (Downers Grove, IL: IVP, 2009), 16-17.
=============================
II. GOD THE REDEEMER OF SINNERS
While reiterating the teaching of nature as to the existence and character of the personal Creator and Lord of all, the Scriptures lay their stress upon the grace or the undeserved love of God, as exhibited in his dealings with his sinful and wrath-deserving creatures. So little, however, is the consummate divine attribute of love advanced, in the scriptural revelation, at the expense of the other moral attributes of God, that it is thrown into prominence only upon a background of the strongest assertion and fullest manifestation of its companion attributes, especially of the divine righteousness and holiness, and is exhibited as acting only along with and in entire harmony with them. God is not represented in the Scriptures as forgiving sin because he really cares very little about sin; nor yet because he is so exclusively or predominatingly the God of love, that all other attributes shrink into desuetude in the presence of his illimitable benevolence. He is rather represented as moved to deliver sinful man from his guilt and pollution because he pities the creatures of his hand, immeshed in sin, with an intensity which is born of the vehemence of his holy abhorrence of sin and his righteous determination to visit it with intolerable retribution; and by a mode which brings as complete satisfaction to his infinite justice and holiness as to his unbounded love itself. The biblical presentation of the God of grace includes thus the richest development of all his moral attributes, and the God of the Bible is consequently set forth, in the completeness of that idea, as above everything else the ethical God. And that is as much as to say that there is ascribed to him a moral sense so sensitive and true that it estimates with unfailing accuracy the exact moral character of every person or deed presented for its contemplation, and responds to it with the precisely appropriate degree of satisfaction or reprobation. The infinitude of his love is exhibited to us precisely in that while we were yet sinners he loved us, though with all the force of his infinite nature he reacted against our sin with illimitable abhorrence and indignation. The mystery of grace resides just in the impulse of a sin-hating God to show mercy to such guilty wretches; and the supreme revelation of God as the God of holy love is made in the disclosure of the mode of his procedure in redemption, by which alone he might remain just while justifying the ungodly. For in this procedure there was involved the mighty paradox of the infinitely just Judge himself becoming the sinner's substitute before his own law and the infinitely blessed God receiving in his own person the penalty of sin.
B.B. Warfield, Selected Short Writings of Benjamin B. Warfield (Phillipsburg, NJ: P&R, 1970), 71-72.
==============================
Scientism, materialism, empiricism, existentialism, naturalism, and humanism – whatever you want to call it… it is still a metaphysical position as it assumes or presumes certain things about the entire universe.  D'Souza points this a priori commitment out:
Naturalism and materialism are not scientific conclusions; rather, they are scientific premises. They are not discovered in nature but imposed upon nature. In short, they are articles of faith. Here is Harvard biologist Richard Lewontin: "We take the side of science in spite of the patent absurdity of some of its constructs, in spite of its failure to fulfill many of its extravagant promises of health and life, in spite of the tolerance of the scientific community for unsubstantiated just-so stories, because we have a priori commitment, a commitment — a commitment to materialism. It is not that the methods and institutions of science somehow compel us to accept a material explanation of the phenomenal world, but, on the contrary, that we are forced by our a priori adherence to material causes to create an apparatus of investigation and a set of concepts that produce material explanations, no matter how counter-intuitive, no matter how mystifying to the uninitiated. Moreover, that materialism is an absolute, for we cannot allow a Divine Foot in the door."
Dinesh D'Souza, What's So Great about Christianity (Washington, DC: Regnery Publishing, 2007), 161 (emphasis added).
==============================
The moment you say that one set of moral ideas can be better than another, you are, in fact, measuring them both by a standard, saying that one of them conforms to that standard more nearly than the other. But the standard that measures two things is something different from either.
C.S. Lewis, Mere Christianity, p 25
==============================
"Anyone who denies the law of non-contradiction should be beaten and burned until he admits that to be beaten is not the same as not to be beaten, and to be burned is not the same as not to be burned."
Avicenna, Great Medieval Philosopher
==============================
Affordability
Many of the cant words of politics are simply evasions of reality. A prime example is the notion of making housing, college, health insurance, or other things "affordable."
Virtually anything can be made more affordable in isolation, simply by transferring resources to it from elsewhere in the economy, and having most of the costs absorbed by the U. S. Treasury.
The federal government could make a Rolls Royce affordable for every American, but we would not be a richer country as a result. We would in fact be a much poorer country, because of all the vast resources transferred from other economic activities to subsidize an extravagant luxury.
Of course it might be nice to be sitting at the wheel of a Rolls Royce, but we might be sitting there in rags and tatters, and gaunt with hunger, after having squandered enormous amounts of labor, capital, and costly materials that could have been put to better use elsewhere. That doesn't happen in a market economy because most of us take one look at the price tag on a Rolls Royce and decide that it is time for another Toyota.
The very notion of making things affordable misses the key point of a market economy. An economy exists to make trade-offs, and a market economy makes the terms of those trade-offs plain with price tags representing the relative costs of producing different things. To have politicians arbitrarily change the price tags, so that prices no longer represent the real costs, is to defeat the whole purpose.
Reality doesn't change when the government changes price tags. Talk about "bringing down health care costs" is not aimed at the costly legal environment in which medical science operates, or other sources of needless medical costs. It is aimed at price control, which hides costs rather than reducing them.
Hidden costs continue to take their toll— and it is often a higher toll than when these costs are freely transmitted through the marketplace. Less Supply, poorer quality, and longer waits have been the consequences of price Controls for all sorts of goods and services, in all sorts of societies, and foi thousands of years of human history.
Why would anyone think that price controls on medical care would be any different, except for being more deadly in their consequences?
One of the political excuses for making things affordable is that a particular product or service is a "right." But this is only explaining one question-begging word with another.
Although it has been proclaimed that "health care is a right, not a privilege," this neat dichotomy ignores the vast territory in between, where most decisions are made as trade-offs.
If health insurance is a right and not a privilege— and not even a subject of incremental trade-offs— then the same should be even more true of food. History in fact shows all too many instances of governments trying to keep food affordable, usually with disastrous consequences.
Whether in France during the 1790s, the Soviet Union after the Bolshevik revolution, or in newly independent African nations during the past generation, governments have imposed artificially low prices on food. In each case, this led to artificially low supplies of food and artificially high levels of hunger.
People who complain about the "prohibitive" cost of housing, or of going to college, for example, fail to understand that the whole point of costs is to be prohibitive.
Why do we go through this whole rigmarole of passing around dollar bills and writing each other checks, except to force everyone to economize on the country's inherently limited resources?
What about "basic necessities"? Shouldn't they be a "right"?
The idea certainly sounds nice. But the very fact that we can seriously entertain such a notion, as if we were God on the first day of creation, instead of mortals constrained by the universe we find in place, shows the utter unreality of failing to understand that we can only make choices among alternatives actually available.
For society as a whole, nothing comes as a "right" to which we are "entitled." Even bare subsistence has to be produced— and produced at a cost of heavy toil for much of human history.
The only way anyone can have a right to something that has to be produced is to force someone else to produce it for him. The more things are provided as rights, the less the recipients have to work and the more others have to carry their load.
That does not mean more goods are available than under ordinary market production, but less. To believe otherwise is to commit the Rolls Royce fallacy on a more mundane level.
For the government to make some things more affordable is to make other things less affordable— and to destroy people's freedom to make their own trade-offs as they see fit, in the light of economic realities, rather than political visions. Trade-offs remain inescapable, whether they are made through a market or through politics. The difference is that price tags present all the trade-offs simultaneously, while political "affordability" policies arbitrarily fix on whatever is hot at the moment. That is why cities have been financing all kinds of boondoggles for years, while their bridges rusted and their roadways crumbled.
 Thomas Sowell, The Thomas Sowell Reader (New York, NY: Basic Books, 2011), 73-75.
==============================
There are limits to how long unions can siphon off money from businesses, without facing serious economic repercussions. The most famous labor union leader, the legendary John L. Lewis, head of the United Mine Workers from 1920 to 1960, secured rising wages and job benefits for the coal miners, far beyond what they could have gotten out of a free market based on supply and demand. But there is no free lunch. An economist at the University of Chicago called John L. Lewis "the world's greatest oil salesman." His strikes that interrupted the supply of coal, as well as the resulting wage increases that raised its price, caused many individuals and businesses to switch from using coal to using oil, leading to reduced employment of coal miners. The higher wage rates also led coal companies to replace many miners with machines. The net result was a huge decline in employment in the coal mining industry, leaving many mining towns virtually ghost towns by the 1960s. There is no free lunch.
Thomas Sowell, The Thomas Sowell Reader (New York, NY: Basic Books, 2011), 72.
==============================
Chirping about "change" may produce a giddy sense of excitement or of personal exaltation but, as the devil is in the details. Even despotic countries that have embraced sweeping changes have often found  that these were changes for the worse. The czars in Russia, the shah of Iran, the Batista regime in Cuba, were all despotic. [Read here Tunisia, Egypt, and Libya.] But they look like sweetharts compared to the regimes that followed. For example, the czars never executed as many people in half a century as Stalin did in one day.
Thomas Sowell, The Thomas Sowell Reader (New York, NY: Basic Books, 2011), 7.
==============================
After quoting H.G. Wells and the Time Machine, Jean-Paul Sartre, Albert Camus, Bertrand Russell, and the like, in sections titles: "Meaning of Life," and "Value of Life — William Lane Craig continues his line of thinking:
Purpose of life
Finally, let's look at the problem of purpose in life. The only way most people who deny purpose in life live happily is either by making up some purpose — which amounts to self-delusion, as we saw with Sartre — or by not carrying their view to its logical conclusions. The temptation to invest one's own petty plans and projects with objective significance and thereby to find some purpose to one's life is almost irresistible.
For example, the outspoken atheist and Nobel Prize—winning physicist Steven Weinberg, at the close of his much-acclaimed book The First Three Minutes, writes,
It is almost irresistible for humans to believe that we have some special relation to the universe, that human life is not just a more-or-less farcical outcome of a chain of accidents reaching back to the first three minutes, but that somehow we were built in from the beginning…. It is very hard to realize that this all is just a tiny part of an overwhelmingly hostile universe. It is even harder to realize that this present universe has evolved from an unspeakably unfamiliar early condition, and faces a future extinction of endless cold or intolerable heat. The more the universe seems comprehensible, the more it also seems pointless.
But if there is no solace in the fruits of our research, there is at least some consolation in the research itself. Men and women are not content to comfort themselves with tales of gods and giants, or to confine their thoughts to the daily affairs of life; they also build telescopes and satellites and accelerators, and sit at their desks for endless hours working out the meaning of the data they gather. The effort to understand the universe is one of the very few things that lifts human life a little above the level of farce, and gives it some of the grace of tragedy.
There's something strange about Weinberg's moving description of the human predicament: Tragedy is not a neutral term. It expresses an evaluation of a situation. Weinberg evidently sees a life devoted to scientific pursuits as truly meaningful, and therefore it's tragic that such a noble pursuit should be extinguished. But why, given atheism, should the pursuit of science be any different from slouching about doing nothing? Since there is no objective purpose to human life, none of our pursuits has any objective significance, however important and dear they may seem to us subjectively. They're no more significant than shuffling deck chairs on the Titanic.
The Human Predicament
The dilemma of modern man is thus truly terrible. The atheistic worldview is insufficient to maintain a happy and consistent life. Man cannot live consistently and happily as though life were ultimately without meaning, value, or purpose. If we try to live consistently within the atheistic worldview, we shall find ourselves profoundly unhappy. If instead we manage to live happily, it is only by giving the lie to our worldview.
Confronted with this dilemma, modern man flounders pathetically for some means of escape. In a remarkable address to the American Academy for the Advancement of Science in 1991, Dr. L. D. Rue, confronted with the predicament of modern man, boldly advocated that we deceive ourselves by means of some "Noble Lie" into thinking that we and the universe still have value. According to Rue, "The lesson of the past two centuries is that intellectual and moral relativism is profoundly the case." He says that the consequence of this realization is that the quest for self-fulfillment and the quest for social coherence fall apart. This is because on the view of relativism the search for self-fulfillment becomes radically privatized: Each person chooses his own set of values and meaning.
So what are we to do? Rue says there is on the one hand "the madhouse option": We just pursue self-fulfillment regardless of social coherence. On the other hand, there is "the totalitarian option": The state imposes social coherence at the expense of people's personal fulfillment. If we're to avoid these two options, he says, then we have no choice but to embrace some Noble Lie that will inspire us to live beyond selfish interests and so voluntarily achieve social coherence. A Noble Lie "is one that deceives us, tricks us, compels us beyond self-interest, beyond ego, beyond family, nation, [and] race." It is a lie because it tells us that the universe is infused with value (which is a great fiction), because it makes a claim to universal truth (when there is none), and because it tells me not to live for self-interest (which is evidently false). "But without such lies, we cannot live."
This is the dreadful verdict pronounced over modern man. In order to survive, he must live in self-deception.
William Lane Craig, On Guard: Defensing Your Faith with Reason and Precision (Colorado Springs, CO: David Cook, 2010), 44-46.
 ==============================
Certain words can mean very different things to different people. For instance, if I say to an atheist, "I have faith in God," the atheist assumes I mean that my belief in God has nothing to do with evidence. But this isn't what I mean by faith at all. When I say that I have faith in God, I mean that I place my trust in God based on what I know about him.
William A. Dembski and Michael R. Licona, Evidence for God: 50 Arguments for Faith from the Bible, History, Philosophy, and Science (Grand Rapids, MI: Baker Books, 2010), 38. (emphasis added)
==============================
The Epistemological Commitments
of Philosophical Naturalists
I have delineated the metaphysical commitments of those who deny that the mental is basic to the universe. At the same time atheists like Richard Dawkins are not philosophical skeptics. They hold that there is genuine knowledge, discovered by science. They are scientific realists who believe that science discovers the truth about the way reality is. That is why they object, for example, to religious believers who hold to theism as true and thus broadly informative about the nature of reality, including the natural world. They think science has discovered that evolution is true and creationism is false. They think physicists discover the truth, which means they believe that physicists make correct mathematical inferences. They think we literally add, subtract, multiply, divide, square, and take square roots of numbers.
In a recent paper William Hasker has recommended that the Argument from Reason be presented as a transcendental argument which identifies the necessary presuppositions of the fact of scientific inference and goes from there to draw the implications of these. He writes:
The objection is not merely that naturalism has not yet produced an explanation of rational inference and the like, as though this were a deficiency that could be remedied by another decade or so of scientific research. The problem is that the naturalist is committed to certain assumptions that preclude in principle any explanation of the sort required. The key assumptions are three in number: mechanism (the view that fundamental physical explanations are nonteleological), the causal closure of the physical domain, and the supervenience of the mental on the physical. So long as these assumptions remain, no amount of ingenious computer modeling can possibly fill the explanatory gap. In order to bring out this feature of the situation, I propose that the first two stages of the Argument from Reason are best viewed as a transcendental argument in roughly the Kantian sense: They specify the conditions which are required for experience of a certain sort to be possible — in this case the kind of experience found in the performance of rational inference.
Consider the following list of presuppositions of reason. These presuppositions have transcendental justifications. The justification goes from the fact that at least one person has made a rational inference (such as a mathematical calculation) and establishes that these conditions must obtain if that rational inference has taken place.
1. States of mind have a relation to the world we call intentionality, or aboutness. The intentionality I am referring to is propositional in nature. Our possessing this kind of intentionality means that we are capable of having, entertaining, believing, and desiring states of affairs propositionally described. We recognize the propositional contents of our thoughts.
2. Thoughts and beliefs can be either true or false.
3. Human beings can be in the condition of accepting, rejecting, or suspending belief about propositions.
4. Logical laws exist.
5. Human beings are capable of apprehending logical laws.
6. The state of accepting the truth of a proposition plays a crucial causal role in the production of other beliefs, and the propositional content of mental states is relevant to the playing of this causal role.
7. The apprehension of logical laws plays a causal role in the acceptance of the conclusion of the argument as true.
8. The same individual entertains thoughts of the premises and then draws the conclusion.
9. Our processes of reasoning provide us with a systematically reliable way of understanding the world around us.
Unless all of these statements are true, it is incoherent to argue that one should accept naturalism based on evidence of any kind. Nor would it be possible to accept the claim that one should accept evolution as opposed to creationism because there is so much evidence for evolution. Nor could one argue that one should be supremely confident that use of the scientific method will result in an accurate understanding of reality. Unless all these statements are true, there are no scientists, and no one is using the scientific method.
To see how the transcendental justification works, consider the possibility that reality consists of nothing but a turnip with whipped cream on top. Of course this flies in the face of all the empirical evidence, but we can argue further that if this were so, no one would be able to reason to that conclusion. Given the way this argument is structured, one could not use the Paradigm Case argument to argue that since there has to be a contrast between valid and invalid inference, inference would also have to be possible in the turnip world. No, the fact that we can make such a distinction provides a transcendental basis for believing that we do not live in the turnip world.
Paul Copan and William Lane Craig [Victor Reppert], eds., Contending With Christianity's Critics: Answering the New Atheists & Other Objections (Nashville, TN: B&H Publishing, 2009), 30-33.
==============================
….Darwin thought that, had the circumstances for reproductive fitness been different, then the deliverances of conscience might have been radically different. "If . . . men were reared under precisely the same conditions as hive-bees, there can hardly be a doubt that our unmarried females would, like the worker-bees, think it a sacred duty to kill  their brothers, and mothers would strive to kill their fertile daughters, and no one would think of interfering" (Darwin, Descent, 82). As it happens, we weren't "reared" after the manner of hive bees, and so we have widespread and strong beliefs about the sanctity of human life and its implications for how we should treat our siblings and our offspring.
But this strongly suggests that we would have had whatever beliefs were ultimately fitness producing given the circumstances of survival. Given the background belief of naturalism, there appears to be no plausible Darwinian reason for thinking that the fitness-producing predispositions that set the parameters for moral reflection have anything whatsoever to do with the truth of the resulting moral beliefs. One might be able to make a case for thinking that having true beliefs about, say, the predatory behaviors of tigers would, when combined with the understandable desire not to be eaten, be fitness producing. But the account would be far from straightforward in the case of moral beliefs." And so the Darwinian explanation undercuts whatever reason the naturalist might have had for thinking that any of our moral beliefs is true. The result is moral skepticism.
If our pretheoretical moral convictions are largely the product of natural selection, as Darwin's theory implies, then the moral theories we find plausible are an indirect result of that same evolutionary process. How, after all, do we come to settle upon a proposed moral theory and its principles as being true? What methodology is available to us?
Paul Copan and William Lane Craig [Mark D. Linville], eds., Contending With Christianity's Critics: Answering the New Atheists & Other Objections (Nashville, TN: B&H Publishing, 2009), 70.
==============================
WHILE I WOULD argue with random liberals on the street, I always kept my conservatism close to my chest when it came to relationships. Being a Republican was a deal breaker; we all knew that—kind of like picking your nose at red lights or stealing tips off restaurant tables. Only Rene and Meredith knew the truth, and, quite frankly, justifying myself to them had become a full-time job. I liked to think of my GOP bent as my alter ego, the smart, conservative superhero itching to burst forth any second to dispel the convoluted beliefs of my new blue state acquaintances. I was waiting for just the right moment to dazzle the ladies at the park or the mothers at Camille's school with my logic or impress them with my homespun moral values.
But my coming out didn't happen exactly as I'd scripted. I sat one day with some mothers on the benches that face each other in the middle of Three Bears Park—coveted see-and-beseen seats—where fashionable mothers gab while their kids play nonviolent, character-affirming games in one of Philly's best neighborhoods.
Suddenly one of the ladies mentioned she'd heard I was writing a column for the Philadelphia City Paper, and all ears perked. "What do you write about?"
"Oh, I write from a red state point of view, to show readers there's life outside the big city." I used a folksy voice to come off as charming instead of conservative.
But they were no fools. Claudia Shipman, who was still proudly wearing her Mothers Opposing Bush button weeks after Kerry's defeat, spoke first. "Are you saying, you're a—" not even wanting to say the word "Republican" aloud. She said it in a hushed tone like some people say the F word.
This was my big moment. As casually as possible, I told her I voted for Bush and supported the war on terror. I braced myself for a heated debate on Saddam and for barbed comments including the word "strategery." I mentally ran through a few speaking points I'd gotten off National Review Online and dug in my heels in anticipation.
Claudia's only response was a rather dejected "But you seem so reasonable."
The other mothers exchanged worried glances before averting their eyes. I had hoped to trigger an exciting give-and-take, but instead it felt like I had popped a balloon—things just deflated. I think they would have been happier had I proclaimed I was a pedophile on the prowl. Instead, I felt like I'd tricked them into liking one of the prickliest, most off-putting creatures on the planet—a conservative.
To their credit, they handled it with as much grace as they could muster. "You have to meet Louise," they all said in unison. Evidently there was one other lady in the entire city of Philadelphia who was Republican. "She's not mean, though," they clarified.
Several weeks later, I was sitting in Louise's Delancey Street home, drinking coffee at one of her weekly get-togethers with local women. She introduced herself with a flourish, and I could instantly see how Democrats would overlook her archaic beliefs. She was bright and cheery—a former Philadelphia 76ers cheerleader—confidently offering coffee in mismatched mugs while women casually passed in and out of her kitchen.
"Look what someone gave me! Isn't this a riot?" she said upon meeting me. She plopped down a book, Dumb Things That Democrats Have Said, right on the place mat in front of me. "I thought you'd get a kick out of it."
As she flattered around, greeting people who'd dropped in late, I was thrilled to be there—an urban setting where smart women of diverse opinions meet to talk. City life couldn't get any better than this. I was prepared to meet all my new friends, people who would embrace me and spend hours discussing issues of the day. Months from now we'd be shopping at Tiffany's, and one of them would turn to me and say, "I knew from the first time I saw you at Louise's you were the kind of person I wanted to know."
I snapped out of my reverie when I realized, with horror, that my new friends were entering the room, taking one glance at the book before me, and hurrying to the farthest corner of the room. Louise had left it right in front of me, the social equivalent of having gloppy Kleenexes on your lap. If the book had been titled The Sadomasochist Handbook I'd have gotten a warmer reception. I flipped through it nonchalantly and smiled a disapproving smile. That gosh-darn Louise, I tried to convey. Always joking. But my friendship prospects were disappearing every second the book was visible. I considered slipping it into my purse, but I thought theft might be considered gauche.
Finally Claudia walked through the door, greeted me, and noticed the book. "Dumb Things Democrats Have Said," she read in a stage whisper, before smiling condescendingly.
"Bringing books like that here will not win you any friends. If you want to be invited back, I'd suggest leaving the propaganda at home."
I smiled, choosing to act like it was a joke; I didn't want to incriminate the kind hostess who was obliviously adding cream to people's coffee.
Another lady chimed in, "You're smiling because you think we're kidding. Trust me"—she narrowed her eyes and lowered her voice—"we're not."
"I'm not smiling because I think you're kidding," I said, hoping to lighten the mood. "I'm just surprised this book isn't longer." It went over like a Chappaquiddick joke at a Kennedy house.
Nancy French, A Red State Mind: How a Catfish Queen Reject Became a Liberty Belle (New York, NY: Center Street, 2006), 79-82.
 ==============================
Vietnam represents the cornerstone of the Free World in Southeast Asia, the Keystone to the arch, the finger in the dike. Burma, Thailand, India, Japan, the Philippines and, obviously, Laos and Cambodia are among those whose security would be threatened if the red tide of Communism overflowed into Vietnam… Moreover, the independence of Free Vietnam is crucial to the free world in fields other than the military. Her economy is essential to the economy of all of Southeast Asia; and her political liberty is an inspiration to those seeking to obtain or maintain their liberty in all parts of Asia — and indeed the world. The fundamental tenets of this nation's foreign policy, in short, depend in considerable measure upon a strong and free Vietnamese nation.
Remarks of Senator John F. Kennedy at the Conference on Vietnam Luncheon in the Willard Hotel, Washington, D.C., June 1, 1956. Phillip Jennings, The Politically Incorrect Guide to the Vietnam War (New York, NY: Regnery, 2010), appendix A.
 ==============================
As Dr. Carl F. H. Henry pointed out: "The Chicago evangelicals, while seeking to overcome the polarization of concern in terms of personal evangelism or social ethics, also transcended the neo¬Protestant nullification of the Great Commission." "The Chicago Declaration did not leap from a vision of social utopia to legislation specifics, but concentrated first on biblical priorities for social change." "The Chicago evangelicals did not ignore transcendent aspects of God's Kingdom, nor did they turn the recognition of these elements into a rationalization of a theology of revolutionary violence or of pacifistic neutrality in the face of blatant militarist aggression." (Cf. Dr. Carl F. H. Henry, "Evangelical Social Concern" Christianity Today, March 1, 1974.) The evangelical social concern is transcendental not merely horizontal.
We must make it clear that the true revolutionaries are different from the frauds who "deal only with surface phenomena. They seek to remove a deep-seated tumor from society by applying a plaster to the surface. The world's deepest need today is not something that merely dulls the pain, but something that goes deep in order to change the basic unity of society, man himself. Only when men individually have experienced a change and reorientation, can society be redirected in the way it should go. This we cannot accomplish by either violence or legislation" (cf. Reid: op. cit.). Social actions, without a vertical and transcendental relation with God only create horizontal anxieties and perplexities!
Furthermore, the social activists are in fact ignorant of the social issues, they are not experts in the social sciences. They simply demand an immediate change or destruction of the social structures, but provide no blueprint of the new society whatsoever! They can be likened to the fool, as a Chinese story tells, who tried to help the plant grow faster by pulling it higher. Of course such "action" only caused the plant to wither and die. This is exactly what the social radicals are doing now! And the W.C.C. is supporting such a tragic course!
We must challenge them [secular social activists] to discern the difference between the true repentance and "social repentance." The Bible says: "For the godly grief produces a repentance that leads to salvation and brings no regret; but worldly grief produces death" (II Cor. 7:10). This was the bitter experiences of many former Russian Marxists, who, after their conversion to Christ came to understand that they had only a sort of "social repentance"—a sense of guilt before the peasant and the proletariat, but not before God. They admitted that "A Russian (Marxist) intellectual as an individual is often a mild and loving creature, but his creed (Marxism) constrains him to hate" (cf. Nicolas Zernov: The Russian Religious Renaissance). "As it is written, there is none righteous, no, not one…. For all have sinned and come short of the glory of God" (Rom. 3:10,23). A complete change of a society must come from man himself, for basically man is at enmity with God. All humanistic social, economic and political systems are but "cut flowers," as Dr. Trueblood put it, even the best are only dim reflections of the Glory of the Kingdom of God. As Benjamin Franklin in his famous address to the Constitutional Convention, said, "Without His concurring aid, we shall succeed in this political building no better than the builders of Babel." Without reconciliation with God, there is no reconciliation with man. Social action is not evangelism; political liberation is not salvation. While we shall by all means have deep concern on social issues; nevertheless, social activism shall never be a substitution for the Gospel.
Lit-sen Chang, The True Gospel vs. Social Activism, (booklet. Presbyterian and Reformed Publishing Co: 1976), 9.
==============================
"CALL ME AN ASSHOLE, call me a blowhard, but don't call me an African American, please. It divides us, as a nation and as a people, and it kinda pisses me off. It diminishes everything I've accomplished and everything every other black person has accomplished on American soil."
Whoopi Goldberg, quoted in Tunde Adeleke, The Case Against Afrocentrism (Jackson, MS: Univ. Press of Mississippi, 2009), 120-121.
==============================
The surge of religious evangelism inspired hope and optimism in blacks. Instead of folding their arms in resignation, or succumbing to fatalistic ethos, or even escaping to Canada or some safe haven abroad, blacks portrayed themselves as a people with the capacity to assist in transforming America. As white abolitionists including William Lloyd Garrison, the Tappan brothers, Arthur and Lewis, Simeon S. Joycelin, Benjamin Lundy, and John Greenleaf Whittier armed themselves with the weapon of moral suasion [the act of advising, urging, or attempting to persuade; persuasion] and nonviolence, and mounted frontal attacks against slavery, blacks felt encouraged to invoke the long-tried tradition of self-help, cooperative activities, and economy that had shaped the reform efforts of eighteenth-century free blacks in New York and Pennsylvania. They officially launched the convention movement and proclaimed moral suasion as their guiding principle. Since the prevailing ideology exalted the individual, blacks, individually and collectively, became actively energized and projected themselves as active agents of change. They hoped to accomplish this, however, by first changing themselves and their communities with the weapon of moral suasion….
…. By the 1800s, the vast majority of the black American population was American-born, with little recollection of Africa. Whatever knowledge or consciousness of Africa that existed was colored by pro-slavery propaganda and values, which served to alienate many blacks from, rather than endear them to, the continent. Africa was not a place to cherish or with which to desire identification. Many blacks perceived themselves as "negative Americans" or "aliened Americans," people denied any positive self-definition and knowledge." The need to define and assert an identity, therefore, became a central focus of the black abolitionist crusade.
Though brought together by the desire to organize and fight back in the face of overwhelming adversity, the platform that black abolitionists produced betrayed a deep sense of wanting to be acknowledged as Americans. These early conventions clearly revealed a strong integrationist consciousness. Though some blacks embraced emigration and colonization as avenues of escaping the ugly and harsh realities of their lives, the vast majority refused to give up. Delegates overwhelmingly rejected and condemned colonization and invoked passages of the Constitution and Declaration of Independence in justification of their claims to American citizenship. For most blacks, colonization or permanent relocation to another country was anathema. It was tantamount to a voluntary relinquishing of identity.
Tunde Adeleke, The Case Against Afrocentrism (Jackson, MS: Univ. Press of Mississippi, 2009), 36, 38.
 ==============================
One of my favorite sentences eva! I love this author's style and ability to get one to indulge in deep/meditative thinking/contemplation:
The hegemony-subordination binary within which the black American experience unfolded problematized the Self-Other identitarian nexus and consciousness.
Tunde Adeleke, The Case Against Afrocentrism (Jackson, MS: Univ. Press of Mississippi, 2009), 20.
==============================
….History, however, has shown a consistent muddling of the color line. In order to sustain the line, its advocates suggest, blacks must exhibit cohesiveness built on shared feelings of love and confraternity. Some observers contend that the ascendance of racism and the problematic state of black America (measured by economic poverty, social and political subordination and marginalization, problems of drug addiction, teenage pregnancy, unemployment, the alarming rate of homicide, and so forth) accord legitimacy to the color line. In essence, these negative and destructive circumstances and factors have become unifying elements that authenticate the color line. It becomes incumbent on all blacks to rally behind the line. Actions or movements that seemed to efface the color line, or even compromise its authenticity, were often frowned at and vociferously opposed. For many, therefore, toeing the line, faithfully advancing, and defending, at all times and under all circumstances, the interests and problems of blacks became the litmus test of racial identity. It is this allegiance that establishes one's authenticity as a black person. It is also what distinguishes an authentic black person from an "Uncle Tom."
The conviction of confraternity evokes anger and resentment toward those who, either through actions or utterances, appear to compromise or undermine the interests and aspirations of the race. Racism is presumed to be of such potency as to obviate any basis for disrupting or muddling of the color line. Intraracial problems and contradictions are expected to be kept within rather than made issues of public discourses that could potentially damage the image of the race and thereby provide the other group (that is, the racial enemy on the other side of the color line) ammunition with which to further malign and mistreat the race. The mandate of racial solidarity stands indissoluble, even in circumstances when the conditions and complexities of the racial group clearly demand critical introspection and self-criticism. In this respect, the color line accents racial censorship and discourages actions or comments that are critical of blacks, especially if such criticisms could become subjects of public discourse. Such self-criticisms, however justified, are discouraged because they present the outside world with the image of a black community in crisis and disarray, thus compromising the struggle at critical moments when the entire race was expected to stand together in harmony and unison. A good illustration is the responses of some black nationalists and scholars to the publication of Keith Richburg's Out of America: A Black Man Confronts Africa. Published in 1997, the book immediately provoked anger and resentment among black Americans and Africans. In radio and television talk shows and on network news, angry respondents lambasted Richburg, accusing him of maligning and misrepresenting Africa and of displaying ignorance of African history. Many called him a black racist, an Uncle Tom, someone who manifested profound self-hatred and confusion on identity." Members of a group referred to as "mainstream African American middle class" dismissed Rich-burg as "a self-serving Uncle Tom looking to make good with his white bosses." Former chair of the African American studies department, Temple University, Molefi K. Asante, found the book "offensive and obscene:' He described Richburg as someone "caught in the spiral of psychic pain induced by … `Internal inferiorization"
Tunde Adeleke, The Case Against Afrocentrism (Jackson, MS: Univ. Press of Mississippi, 2009), 7-8.
==============================
One ever feels his two-ness,—an American, a Negro; two souls, two thoughts, two unreconciled strivings; two warring ideals in one dark body… The history of the American Negro is the history of this strife,—this longing to attain self-conscious manhood, to merge his double self into a better and truer self. In this merging he wishes neither of the older selves to be lost. He would not Africanize America, for America has too much to teach the world and Africa. He would not bleach his Negro soul in a flood of white Americanism, for he knows that Negro blood has a message for the world. He simply wishes to make it possible for a man to be both a Negro and an American.
W.E.B. DuBoise, quoted in: Tunde Adeleke, The Case Against Afrocentrism (Jackson, MS: Univ. Press of Mississippi, 2009), 4-5.
==============================
Teacher: "Welcome, students. This is the first day of class, and so I want to lay down some ground rules. First, since no one person has the truth, you should be open-minded to the opinions of your fellow students. Second… Elizabeth, do you have a question?"
Elizabeth: "Yes I do. If nobody has the truth, isn't that a good reason for me not to listen to my fellow students? After all, if nobody has the truth, why should I waste my time listening to other people and their opinions? What's the point? Only if somebody has the truth does it make sense to be open-minded. Don't you agree?"
Teacher: "No, I don't. Are you claiming to know the truth? Isn't that a bit arrogant and dogmatic?"
Elizabeth: "Not at all. Rather I think it's dogmatic, as well as arrogant, to assert that no single person on earth knows the truth. After all, have you met every single person in the world and quizzed them exhaustively? If not, how can you make such a claim? Also, I believe it is actually the opposite of arrogance to say that I will alter my opinions to fit the truth whenever and wherever I find it. And if I happen to think that I have good reason to believe I do know truth and would like to share it with you, why wouldn't you listen to me? Why would you automatically discredit my opinion before it is even uttered? I thought we were supposed to listen to everyone's opinion."
Teacher: "This should prove to be an interesting semester."
Another Student: "(blurts out) Ain't that the truth." (Students laugh)
Francis Beckwith & Gregory Koukl, Relativism: Feet Planted in Mid-Air (Baker Book House; 1998), p. 74.
 ==============================
A Statement Made by an atheist at the Atheist and Agnostic Society:
"Some atheists do believe in ethical absolutes, some don't. My answer is a bit more complicated — I don't believe that there are any axiological claims which are absolutely true, except within the context of one person's opinion.
That is, beauty is in the eye of the beholder, and so are ethics. So, why is Hitler wrong? Because he murdered millions, and his only justification, even if it were valid, was based on things which he should have known were factually wrong. Why is it wrong to do that? Because I said so. Unless you actually disagree with me — unless you want to say that Hitler was right — I'm not sure I have more to say."
[side note] You may also be aware that Dawkins stated,
*"What's to prevent us from saying Hitler wasn't right? I mean, that is a genuinely difficult question."
*Stated during an interview with Larry Taunton, "Richard Dawkins: The Atheist Evangelist," by Faith Magazine, Issue Number 18, December 2007 (copyright; 2007-2008)
(Sources)

==============================
• You can't know anything for sure. Are you sure of that? • You should never judge.  Is that your judgment? • There is no certainty. Are you certain of that? • All things are relative. Then that statement is relative, so it is not true, thus all things are not relative. If a statement is relative then it is not binding, so all things cannot be relative. • You can't know anything. Do you know that? • No one can know anything about God. Do you know that about God? To assert that God is unknowable, is to say a lot about God. • What is true for you is not true for me. Well, what is true for me is that you are wrong. • Logic is just sophistry and isn't always true. That's self-refuting because the claimant used logic to attempt to disprove logic. To declare that the law of non-contradiction isn't true, is to prove that law is true. It has to be true for the assertion to be made.  • There are no laws of logic. The attempt to refute the laws of logic requires the employment of the laws of logic. These Laws of Reason are invariant and universal truths. The laws of logic are nonmaterial, invariant, transcendent, atemporal, universal, and necessary. They require God because He is nonmaterial, immutable, transcendent, atemporal, universal in knowledge, and necessary. • The only true knowledge of reality is discovered through the positive sciences. That statement is not true because it is not found in the positive sciences. • We can't be married to any idea. Are you married to that idea? • Philosophy can add nothing to science. Is that your philosophy for your science? • How to Believe in Nothing and Set Yourself Free (a title of a book). Is that what you believe? • Language is not useful for a definition. Is that your definition in which you employ language? • I can't believe in anything that I can't see or feel. Can you see or feel the point of that statement? • There are no wrong needs. I need that to be wrong. • All knowledge begins with experience. Did you experience that? • God is indescribable. Is that your description of God? • All speculations of the reality of absolutes are an illusion. Is that statement an absolute? If it is, it is an illusion, thus it is false. • Everything is just an illusion. Then that statement is an illusion, so it is false, thus all things are not illusions. If people really believed this, they wouldn't look both ways when crossing the street, but they do, proving they can't consistently hold this view. They must depend on the Christian worldview. • "Pundits all make over $50,000.00, so they can't understand anything" (Chris Matthews, wealthy pundit).  Chris, do you understand that? • "All knowledge is confined to the realm of experience" (Immanuel Kant). Have you experienced all knowledge? • The whole notion of truth must be scrapped and replaced by the ongoing process of refutation. Then that statement is not true. • Every assertion is false. Then that assertion is false. • No truth is immutable. Then that statement is mutable, so it is not true. • Truth can never be rationally attained but remains an elusive myth and an erroneous pre-commitment. Then that is an elusive myth and is not true. • True knowledge is only that knowledge that can be empirically verified. Can you empirically verify that statement? • "That intelligence, when froze in dogmatic social philosophy generates a vicious cycle of blind oscillation" (John Dewey). Is that statement frozen in dogmatic philosophy? If yes, its blind oscillation, therefore it is false. • Truth is not a boxy, dogmatic thing with hard corners attached by dogmatists. Are you dogmatic about that? • Truth does not consist of words, propositions or assertions that can be communicated by language. Are those words or assertions communicated by language? • Here, we have no rules. Is that your rule? • Lies, lies, everywhere you turn are lies. Is that a lie? • Apart from mathematics, we can know nothing for sure. Is that proposition a mathematical equation? No. Then you are providing in what you say, the very basis to reject what you say. • Commit to the flames any propositions or assertions that do not contain mathematics or facts obtained from observable experiments. Did you test that statement with experiments or does that statement contain mathematics? No. Then commit it to the flames on the basis of its own statement. • We can know nothing about reality. Do you know that about reality? • "The line of demarcation between knowledge and mere opinion is determined by one criterion: falsebility by empirical evidence, by observed phenomena" (Popper). Did you observe that? If not, then that is just mere opinion. • The only thing that is predictable is unpredictability. Do you think that prediction is unpredictable? • Only things that are blue are true. Is that statement blue? • I doubt everything. If you tried to doubt everything, you would be clipping off the rope you're holding onto, because the notion of doubting, itself, presupposes certainty. • There are no good reasons for holding to the belief in objective knowledge. Is that objective knowledge? • We cannot achieve certainty because it is based on postulates. Are you certain about that postulate? • Nobody's right. Are you right about that? • Every attempt to fashion an absolute philosophy of truth and right is a delusion. Is that true and right? • All I believe in are the laws of logic. Is that statement one of the laws of logic? • All English sentences consist of four words. This sentence comments on all English sentences, including itself. It fails to meet its own demands, hence it is false. • Seen on display in a store: "I Love You Only" Valentine cards: Now available in multipacks.
==============================
It is so obvious that we live in a world in which a fantastic amount of logic, of rational lawfulness, is at work. We are aware of a large number of laws of physics and chemistry and biology which, by their mutual interdependence, make nature work as if it were following a grandiose plan from its earliest beginnings to the farthest reaches of its future destiny. To me, it would be incomprehensible that there should be such a gigantic master plan without a master planner behind it. This master planner is He whom we call the Creator of the Universe . . . One cannot be exposed to the law and order of the universe without concluding that there must be a Divine intent behind it all.
(Werner von Braun)
==============================
But it is the free individual who alone can provide sustenance for the group. For if there is no effort, no use (called "exploitation"), no reward for initiative (called "greed"), where will the food come from? Malthus, before the invention of the improved plow and before scientific agriculture, "proved" that the world must soon starve.
Socialist Europe is held up as a model of "just behavior"; but the Left forgets that for seventy-five years America defended Europe from the Communist threat, and bore the cost, which would have bankrupted Europe, and which, in the event, bankrupted Communism. The Left looks at the peace of Europe since World War II and forgets that it was not only ensured, but created by American military strength and determination.* And now the Left has elected a President who thinks it good to go to Europe and apologize for our "arrogance," who proclaims the benefits of appeasement both at home and around the world.
This appeasement, called the antiwar movement, the antinuclear movement, One-Worldism, Code Pink, "the end to American Exceptionalism," is, to the Left, another example of the Correct Thinking of the never-involved. They believe that our enemies, like the monsters in Where the Wild Things Are, will be so moved by some unnamable but real excellence on our part, that they will forswear their desire for our destruction (recognizing it, now, as an unnecessary expenditure of effort) and beat their swords into plowshares.
But the Left does not stop to consider that if we, the most prosperous country in the history of the world, choose neither to exploit nor to defend our property, someone else will take it, and if we announce, indeed, proclaim our passivity, we will only advance that bad day.
____________________________________________
*And funded by the Marshall Plan, which is to say, by the surplus of American industrial wealth [I am adding here: "greed" and "exploitation"].
David Mamet, The Secret Knowledge: On the Dismantling of American Culture(New York, NY: Sentinel Publishing, 2011), 44-45.
==============================
All the old canards can be found, as if new-discovered, today on the nearby Volvo: "The Population Explosion: It's Your Baby"; "Wind Power"; "War Is Not the Answer"; "Coexist."
No wonder the Left embraces Socialism, the largest myth of modern times and the most easily debunked; for it is a religion, and the tests of actual membership in any religion are likely to include an endorsement of their Foundation Myths: God in the Burning Bush, Joseph Smith's discovery of the Tablets; the Resurrection of Jesus. This is not to denigrate religions, merely to say that they are all based upon myth and symbol, which is to say that they proclaim at the outset their intention to approach toward the unknowable, and toward that over which we have no power. This is, however, necessary in religion, a rather unfortunate basis for a political philosophy.
Observe that to propitiate an unknowable power, the Left, ignorant or dismissive of any society or history but its own, insists upon the primacy of Trees and Soil, Oceans and Animals—theirs is a return to the nature worship of the Savage. To see that this nature worship is not quite the good simple-heartedness they believe it is, but rather a religion, observe its imperviousness to information: polar bears are not, in fact, decreasing but increasing in population;* the earth is not, in fact, warming.✝
____________________________________________
* "Of the thirteen populations of polar bears in Canada, eleven are stable or increasing in number. They are not going extinct, or even appear to be affected at present. It is noteworthy that the neighbouring population of southern Hudson Bay does not appear to have declined, and another southern population (Davis Strait) may actually be over-abundant." (Dr. Mitchell Taylor, Polar Bear Biologist, Dept. of the Environment, Government of Nanavut, lgloolik, Nunavut, Canada.)
✝ lt is to a dramatist, which is to say, to an unfrocked psychoanalyst, stunning that that which has sustained the Left in my generation, its avatar, its prime issue, has been abortion. For, whether or not it is regarded as a woman's right, an unfortunate necessity, or murder, which is to say, irrespective of differing and legitimate political views, to enshrine it as the most important test of the Liberal, is, mythologically, an assertion to the ultimate right of a postreligious Paganism.
David Mamet, The Secret Knowledge: On the Dismantlement of American Culture (New York, NY: Sentinel, 2011), 41-42.
==============================
We cannot live without trade. A society can neither advance nor improve without excess of disposable income. This excess can only be amassed through the production of goods and services necessary or attractive to the mass. A financial system which allows this leads to inequality; one that does not leads to starvation.
David Mamet, The Secret Knowledge: On the Dismantling of American Culture (New York, NY: Sentinel Publishing, 2011), 2.
==============================
Raising one's self-consciousness [awareness] about worldviews is an essential part of intellectual maturity…. The right eyeglasses can put the world into clearer focus, and the correct worldview can function in much the same way. When someone looks at the world from the perspective of the wrong worldview, the world won't make much sense to him. Or what he thinks makes sense will, in fact, be wrong in important respects. Putting on the right conceptual scheme, that is, viewing the world through the correct worldview, can have important repercussions for the rest of the person's understanding of events and ideas…. Instead of thinking of Christianity as a collection of theological bits and pieces to be believed or debated, we should approach our faith as a conceptual system, as a total world-and-life view.
Ronald H. Nash, Worldviews in Conflict: Choosing Christianity in a World of Ideas (Grand Rapids, MI: Zondervan, 1992), 9, 17-18, 19.
==============================
Pragmatism is unjustified. The most serious internal criticism against pragmatism is that, pragmatically, it doesn't work. We would have to have infinite knowledge of all possible consequences to each alternative action or philosophy. We can never be sure how things will turn out. Only a theistic God could be an effective pragmatist, and he is not one. One of James's Harvard colleagues, Josiah Royce, penetrated to the root problem of this pragmatic view of truth when he asked James if he would take the witness stand in court and swear "to tell the expedient, the whole expedient, and nothing but the expedient, so help him future experience."
Norman L. Geisler, Baker Encyclopedia of Christian Apologetics (Grand Rapids, MI: Baker, 1999), 378.
==============================
Isn't it interesting that such determinism is the curse and the cause of religious belief but atheists are able to break outside the box of determinism and think for themselves? Apparently they are not bound by the same restrictions that bind the rest of us. After years in the academy I have learned a trade secret: If you know enough about a subject, you can confuse anybody by a selective use of the facts. The inescapable fact for the atheist is that life is the random product of time plus matter plus chance.
Ravi Zacharias, The End of Reason: a Response to the New Atheists (Grand Rapids, MI: Zondervan, 2008), 38.
==============================
The first we hear of Aslan in the book is when the four children are in the house of the Beavers, and Susan asks Mrs Beaver about Aslan:
"Is he – quite safe? I shall feel rather nervous about meet a lion."

Mrs Beaver replies, "if there's anyone who can appear before Aslan without their knees knocking, their either braver than most or else just silly."

Lucy, the youngest child then pipes up, "Then he isn't safe".

But Mr. Beaver comes out with the one line I'm sure we all recognize from the book, "Safe, don't you hear what Mrs Beaver tells you? Who said anything about safe? Course he isn't safe. But he's good. He's the King, I tell you."
(The Lion, The Witch, and the Wardrobe)
==============================
He thus acknowledged the need for any theory to allow that humans have genuine freedom to recognize the truth. He (again, correctly) saw that if all thought, belief, feeling, and choice are determined (i.e., forced on humans by outside conditions) then so is the determinists' acceptance of the theory of determinism forced on them by those same conditions. In that case they could never claim to know their theory is true since the theory making that claim would be self-referentially incoherent. In other words, the theory requires that no belief is ever a free judgment made on the basis of experience or reason, but is always a compulsion over which the believer has no control.
Roy A. Clouser, The Myth of Religious Neutrality: An Essay on the Hidden Role of Religious Belief in Theories (Notre Dame, IN: Notre Dame University Press, 2005), 174.
==============================
What merit would attach to moral virtue if the acts that form such habitual tendencies and dispositions were not acts of free choice on the part of the individual who was in the process of acquiring moral virtue? Persons of vicious moral character would have their characters formed in a manner no different from the way in which the character of a morally virtuous person was formed—by acts entirely determined, and that could not have been otherwise by freedom of choice.
Mortimer J. Adler, Ten Philosophical Mistakes (New York, NY: Touchstone, 1985), 154.
==============================
If what he says is true, he says it merely as the result of his heredity and environment, and nothing else. He does not hold his determinist views because they are true, but because he has such-and-such stimuli; that is, not because the structure of the structure of the universe is such-and-such but only because the configuration of only part of the universe, together with the structure of the determinist's brain, is such as to produce that result…. They [determinists – I would posit any philosophical naturalist] want to be considered as rational agents arguing with other rational agents; they want their beliefs to be construed as beliefs, and subjected to rational assessment; and they want to secure the rational assent of those they argue with, not a brainwashed repetition of acquiescent pattern. Consistent determinists should regard it as all one whether they induce conformity to their doctrines by auditory stimuli or a suitable injection of hallucinogens: but in practice they show a welcome reluctance to get out their syringes, which does equal credit to their humanity and discredit to their views. Determinism, therefore, cannot be true, because if it was, we should not take the determinists' arguments as being really arguments, but as being only conditioned reflexes. Their statements should not be regarded as really claiming to be true, but only as seeking to cause us to respond in some way desired by them.
J. R. Lucas, The Freedom of the Will (New York: NY: Oxford University Press, 1970), 114, 115.
==============================
Let's consider a basic question: Why does the natural world make any sense to begin with? Albert Einstein once remarked that the most incomprehensible thing about the universe is that it is comprehensible. Why should we be able to grasp the beauty, elegance, and complexity of our universe?
Einstein understood a basic truth about science, namely, that it relies upon certain philosophical assumptions about the natural world. These assumptions include the existence of an external world that is orderly and rational, and the trustworthiness of our minds to grasp that world. Science cannot proceed apart from these assumptions, even though they cannot be independently proven. Oxford professor John C. Lennox asks a penetrating question, "At the heart of all science lies the conviction that the universe is orderly. Without this deep conviction science would not be possible. So we are entitled to ask: Where does the conviction come from?"" Why is the world orderly? And why do our minds comprehend this order?
Toward the end of The God Delusion, Dawkins admits that since we are the product of natural selection, our senses cannot be fully trusted. After all, according to Darwinian evolution, our senses have been formed to aid survival, not necessarily to deliver true belief. Since a human being has been cobbled together through the blind process of natural selection acting on random mutation, says Dawkins, it's unlikely that our views of the world are completely true. Outspoken philosopher of neuro-science Patricia Churchland agrees:
The principle chore of brains is to get the body parts where they should be in order that the organism may survive. Improvements in sensorimotor control confer an evolutionary advantage: a fancier style of representing [the world] is advantageous so long as it… enhances the organism's chances for survival. Truth, whatever that is, takes the hindmost.
Dawkins is on the right track to suggest that naturalism should lead people to be skeptical about trusting their senses. Dawkins just doesn't take his skepticism far enough. In Miracles, C. S. Lewis points out that knowledge depends upon the reliability of our mental faculties. If human reasoning is not trustworthy, then no scientific conclusions can be considered true or false. In fact, we couldn't have any knowledge about the world, period. Our senses must be reliable to acquire knowledge of the world, and our reasoning faculties must be reliable to process the acquired knowledge. But this raises a particularly thorny dilemma for atheism. If the mind has developed through the blind, irrational, and material process of Darwinian evolution, then why should we trust it at all? Why should we believe that the human brain—the outcome of an accidental process—actually puts us in touch with reality? Science cannot be used as an answer to this question, because science itself relies upon these very assumptions.
Even Charles Darwin was aware of this problem: "The horrid doubt always arises whether the convictions of man's mind, which has developed from the mind of the lower animals, are of any value or at all trustworthy. Would anyone trust the conviction of a monkey's mind, if there are any convictions in such a mind?" If Darwinian evolution is true, we should distrust the cognitive faculties that make science possible.
Sean McDowell and Jonathan Morrow, Is God Just a Human Invention? And Seventeen Other Questions Raised by the New Atheists (Grand Rapids, MI: Kregel Publications, 2010), 37-38.
==============================
(The money quote is the emphasized one)
If we were free persons, with faculties which we might carelessly use or wilfully misuse, the fact might be explained; but the pre-established harmony excludes this supposition. And since our faculties lead us into error, when shall we trust them? Which of the many opinions they have produced is really true? By hypothesis, they all ought to be true, but, as they contradict one another, all cannot be true. How, then, distinguish between the true and the false? By taking a vote? That cannot be, for, as determined, we have not the power to take a vote. Shall we reach the truth by reasoning? This we might do, if reasoning were a self-poised, self verifying process; but this it cannot be in a deterministic system. Reasoning implies the power to control one's thoughts, to resist the processes of association, to suspend judgment until the transparent order of reason has been readied. It implies freedom, therefore. In a mind which is controlled by its states, instead of controlling them, there is no reasoning, but only a succession of one state upon another. There is no deduction from grounds, but only production by causes. No belief has any logical advantage over any other, for logic is no longer possible.
Borden P Bowne, Metaphysics: A Study In First Principles (originally published in 1882; London: Sampson Low, Searle & Rivington, 2005), 105.
==============================
One of the most intriguing aspects mentioned by Ravi Zacharias of a lecture he attended entitled Determinism – Is Man a Slave or the Master of His Fate, given by Stephen Hawking, who is the Lucasian Professor of Mathematics at Cambridge, Isaac Newton's chair, was this admission by Dr. Hawking's, was Hawking's admission that if "we are the random products of chance, and hence, not free, or whether God had designed these laws within which we are free."[1] In other words, do we have the ability to make choices, or do we simply follow a chemical reaction induced by millions of mutational collisions of free atoms?[2] Michael Polyni mentions that this "reduction of the world to its atomic elements acting blindly in terms of equilibrations of forces," a belief that has prevailed "since the birth of modern science, has made any sort of teleological view of the cosmos seem unscientific…. [to] the contemporary mind."[3]
Ravi Zacharias, The Real Face of Atheism (Grand Rapids, MI: Baker Books, 2004), 118, 119.
My summation.
Michael Polanyi and Harry Prosch, Meaning (Chicago, IL: Chicago university Press, 1977), 162.
==============================
The Gospel contains a conception of human life, not a theology. If I light an electric torch at night out of doors I don't judge its power by looking at the bulb, but by seeing how many objects it lights up. The brightness of a source of light is appreciated by the illumination it projects upon non-luminous objects. The value of a religious or, more generally, a spiritual way of life is appreciated by the amount of illumination thrown upon the things of this world.
Simone Weil, The Just Balance (New York, NY: Cambridge University Press, 1989), 207.
==============================
One should either write ruthlessly what one believes to be the truth, or else shut up.
(Arthur Koestler)
==============================
… fundamentally, the way we know Christianity to be true is by the self-authenticating witness of God's Holy Spirit. Now what do I mean by that? I mean that the experience of the Holy Spirit is veridical and unmistakable (though not necessarily irresistible or indubitable) for him who has it; that such a person does not need supplementary arguments or evidence in order to know and to know with confidence that he is in fact experiencing the Spirit of God; that such experience does not function in this case as a premise in any argument from religious experience to God, but rather is the immediate experiencing of God himself; that in certain contexts the experience of the Holy Spirit will imply the apprehension of certain truths of the Christian religion, such as "God exists," "I am condemned by God," "I am reconciled to God," "Christ lives in me," and so forth; that such an experience provides one not only with a subjective assurance of Christianity's truth, but with objective knowledge of that truth; and that arguments and evidence incompatible with that truth are overwhelmed by the experience of the Holy Spirit for him who attends fully to it.
William Lane Craig, Reasonable Faith: Christian Truth and Apologetics, 3rd ed. (Wheaton, IL: Crossway Books, 2008), 43
==============================
The study of God and delight in knowing God requires a mode of understanding that transcends simply empirical data gathering, logical deduction, or the dutiful organization of scriptural or traditional texts into a coherent sequence. The Christian study of God intrinsically involves a mode of knowing from the heart that hopes to make the knower "wise unto salvation" (2 Tim. 3:15, KJV, i.e., a knowing grounded in the "sacred writings which have power to make you wise and lead you to salvation," NEB), to save the soul, to teach the sinner all that is needed to attain saving knowledge of God (Clement of Alex., Who Is the Rich Man That Shall Be Saved? pp. 591-604; Catherine of Siena, Prayers 7, pp. 58-61; Baxter, PW II, pp. 23-25; Wesley, WJW VIII, pp. 20 ff., 290 ff.).
Faith's knowing is distinguishable from objective, testable, scientific knowledge, although not necessarily inimical to it. It is a form of knowing that embraces the practical question of how we choose to live in the presence of this Source and End of all (Clement of Alex., Exhort. to the Heathen IX, ANF II, pp. 195-97;Teresa of Avila, CWST, III, pp. 219-22; Calvin, Inst. 1.11-13).
Thomas C. Oden, Systematic Theology, Volume One: The Living God (Peabody, MS: Hendrickson, 2006), 9-10.
==============================
Central to any programme which treats Scripture as normative is the delim­itation of Scripture. In other words, what is Scripture? The term 'canon' (a Greek word meaning 'rule' or 'norm') came to be used to refer to those Scriptures recognized as authentic by the church. For medieval theologians, `Scripture' meant 'those works included in the Vulgate'. The reformers, however, felt able to call this judgement into question. While all the New Testament works were accepted as canonical — Luther's misgivings concern­ing four of them gaining little support" — doubts were raised concerning the canonicity of a group of Old Testament works. A comparison of the contents of the Old Testament in the Hebrew Bible on the one hand and the Greek and Latin versions (such as the Vulgate) on the other shows that the latter contain a number of books not found in the former. The reformers argued that the only Old Testament writings which could be regarded as belonging to the canon of Scripture were those originally included in the Hebrew Bible.' A distinction was thus drawn between the 'Old Testament' and the `Apocrypha': the former consisted of books found in the Hebrew Bible, the latter of books found in the Greek and Latin Bibles (such as the Vulgate), but not in the Hebrew Bible. While some reformers allowed that the apocryphal works were edifying reading, there was general agreement that these works Could not be used as the basis of doctrine. Medieval theologians, however, to be followed by the Council of Trent in 1546, defined the `Old Testament' as `those Old Testament works contained in the Greek and Latin bibles', thus eliminating any distinction between `Old Testament' and 'Apocrypha'.
Alister E. McGrath, Reformational Thought: An Introduction, 3rd ed. (Malden, MA: Blackwell 1999), 151.
==============================
The Christian faith often served as a prelude to political reform. Just as it appeared that the reforming light was about to be extinguished" in early medieval Europe, missionaries from Ulster sailed and transplanted the faith. Democracy's growth centuries later would come from the soil nourished by the Christian ethos. St. Patrick's Ulster faith would blos­som as much in Switzerland as anywhere else at the time. During the early sixteenth century, that same faith, greatly matured, would both fuel and be charged by Calvinism. Calvinism, in turn, contributed to revolu­tionizing the politics of England and eventually returned to Irish soil, from which many of the second wave of American settlers sailed. The faith that would transform Western political institutions spread conta­giously—not always predictably or systematically, but irrepressibly. As it was recycled from Bangor to Geneva, then back to Donegal, it gath­ered force again in the massive Ulster Scot migration during the eight­eenth century to America—still preserving the improvements of Genevan polity—through Scots-Irish missionaries like Francis Makemie.
David W. Hall, The Genevan Reformation and the American Founding (Lanham, MD: Lexington Books, 2005), 37.
==============================
Why did he, [Thomas Jefferson], a man more closely associated with French Revolutionary philosophes than with Calvin's Reformation thought, join with Ben Franklin in rec­ommending an official seal for the United States emblazoned with bibli­cal imagery from the Book of Exodus and encircled by the motto "Rebel­lion against Tyrants Is Obedience to God"?
That motto, with overt religious overtones, did not have its origin in the New World. The tyrants for New Englanders to overthrow were mainly distant ones, and the upstart revolutionary army eventually dis­posed of those troops. Considering that George III was not personally ranging around the countryside, arresting or killing dissenters, why, then, would this early American motto commemorate the overthrow of tyrants as a religious duty? That question is all the more important when one notes that the remaining biblical symbolism first proposed by Jefferson alluded to Moses, complete with a depiction of the Red Sea deluging the pursuing British army under the command of Pharaoh George HI. The symbolism was likely Jefferson's mature reflection on a principle that stemmed from the Protestant Reformation. Calvin's disciples were the ones (Theodore Beza after 1572 in Switzerland and John Knox in Scot­land) who taught that it was not only permitted for Christians to oppose a tyrannical regime but also that in some cases it was required. It was merely living out the Golden Rule to do so, they argued. Jefferson ap­parently concurred that this was the irreducible minimum of good gov­ernment, placarding "Rebellion to Tyrants Is Obedience to God" as a lasting imprint of the enduring Calvinistic philosophy of government.
The motto that Jefferson borrowed from Knoxian Calvinists was not the only slogan that conveyed Calvin's political philosophy. Samuel Rutherford (and other Calvinists active in America a full century before the Revolutionary War) advocated another synopsis of politics that was pregnant with meaning. Such influential Calvinist political thinkers like Rutherford and Johannes Althusius (see chapters 4 and 5) argued that one could not give relief if he were not authorized, nor govern if one did not rightly possess the authority to act. In practice that meant govern­ments were circumscribed both in their authority to exact as well as their power to enact. They were prohibited from enacting in areas where they were not authorized, even if animated by good intentions or supported by referendum. Neither could citizens rightly delegate functions to other agencies or governors if God had not assigned those tasks to them. This post-Reformation slogan "One cannot give what he does not possess," which was applicable in either church or state matters, cast a long shadow over American formulations.25 Certain areas were accordingly off-limits to government, thus frustrating authoritarian impulses. Only a climate that ignores appropriate limitations on governmental scope could imagine the far-ranging intrusions of government we witness in our own day. Earlier Calvinistic pioneers looked for less from, and gave less power to, human governments.
In contrast to Rousseau, Calvinistic political theory did not agree with the progressive idea, which asserted that the people may give them­selves to the king as long as they voluntarily do so by social contract. It posited instead that government is limited regardless of the will of the people. Because of Calvin's view of the nature of man, he viewed government as a divine creation, but one that nevertheless must not assume all prerogatives to itself, even if citizens wished to cede excessive authority to it. Whenever governors presumed authority over private realms, Calvinists and early Americans cried "Tyranny."
The limitations placed on governors in both Madison's America and Calvin's Switzerland share an organic similarity that has been frequently noted by both historians and politicians. John Adams referred to the Swiss republic, which perpetuated many of Calvin's political legacies, as a model for the American republic. In his 1787 Defense of the Constitution, Adams noted the benefits of a well-regulated militia and advocated the same right to vote on laws and possess arms as the citizens of the Swiss cantons enjoyed. Adams also noted the value of the decentralized cantonal spheres (already operative in the time of Calvin) and the courage of William Tell to resist tyranny. Adams thought these decentralized spheres provided an apt model for the American government in "fix[ing] the sacred rights of man." American founding fathers George Mason, Patrick Henry, and others lauded the preservation of independence fostered by the Swiss republics, a form of government that would not have endured apart from Calvin's strong philosophical commitment to limited government. From the earliest settling of America, a full century and a half before the Revolutionary War, Calvinistic thought suffused the political rumi­nations of the entire colonial period. Readers, of course, are free to ac­cept or reject Calvinistic tenets in whole or in part, but all should benefit from turning over the ancient soil to examine our roots. Once unearthed. these divots reveal that Calvinism had a positive influence in keeping government from expanding too far or from interfering unduly with the private sector.
Numerous political concepts that reflect robust links back to Calvin are also readily apparent in some of the New World's earliest writings, sermons, and constitutions. Much of America's heritage grew out of the era that pre-dates 1776. After all, America did not spontaneously generate on a single humid morning in Philadelphia.
David W. Hall, The Genevan Reformation and the American Founding (Lanham, MD: Lexington Books, 2005), 8-10.
==============================
The assurance that God has spoken to them directly through his holy Scriptures gave the Reformers their unique boldness. The formation of that truth theologically was the fundamentally new element in the Reformation. The Reformation battle cry was sola Scriptura, "Scripture alone." But sola Scriptura meant more to the Reformers than that God has revealed himself in the propositions of the Bible. The new element was not that the Bible, being given by God, speaks with God's authority. The Roman Church held to that as well as the Reformers. The new element, as Packer points out,
was the belief, borne in upon the Reformers by their own experience of Bible study, that Scripture can and does interpret itself to the faithful from within—Scripture is its own interpreter, Scriptura sui ipsius interpres, as Luther puts it—so that not only does it not need Popes or Councils to tell us, as from God, what it means; it can actually challenge Papal and conciliar pronouncements, convince them of being ungodly and untrue, and require the faithful to part company with them. . . . As Scripture was the only source from which sinners might gain true knowledge of God and godliness, so Scripture was the only judge of what the church had in each age ventured to say in her Lord's name.
In Luther's time the Roman Church had weakened the authority of the Bible by exalting human traditions to the stature of Scripture and by insisting that the teaching of the Bible could be communicated to Christian people only through the mediation of popes, councils and priests. The Reformers re­stored biblical authority by holding that the living God speaks to his people directly and authoritatively through its pages.
James Montgomery Boice, Foundations of the Christian Faith: A Comprehensive and Readable Theology (Downers Grove, IL: InterVasity Press, 1986), 48-49.
==============================
Federal agencies publish an average of over 200 pages of new rulings, regulations, and proposals in the Federal Register each business day. That growth of the federal statute book is one of the clearest measures of the increase of the government control of the citizenry…
James Bovard, Lost Rights: The Destruction of American Liberty (St. Martins Griffen; 1994),  1.

==============================
Some quotes regarding John Maynard Keynes. John Maynard Keynes hailed the Soviet Union in a 1936 radio interview as,
"engaged in a vast administrative task of making a completely new set of social and economic institutions work smoothly and successfully."
And in a preface he wrote to the 1936 German edition of his General Theory of Employment, Interest, and Money, Keynes stated that his economic theory,
"is much more easily adapted to the conditions of a totalitarian state" than to "conditions of free competition and a large measure of laissez-faire." (this quote and the above is from James Bovard's book Freedom in Chains: The Rise of the State and the Demise of the Citizen, pp. 14,20,21)
Another Keynes quote lets the individual in on the result of his theories, which most nations use (i.e., central banking; e.g., the Federal Reserve Bank)
"By a continuous process of inflation, governments can confiscate, secretly and unobserved, an important part of the wealth of their citizens. By this method, they not only confiscate, but they confiscate arbitrarily; and while the process impoverishes many, it actually enriches some . . .. The process engages all of the hidden forces of economic law on the side of destruction, and does it in a manner that not one man in a million can diagnose." (Partially quoted from Money Mischief: Episodes in Monetary History, by Noble Prize holder in economics, Milton Friedman.)
This quote above is what happens with Keynesian economics! An unseen taxation of citizens, on top of normal taxation.
==============================
It is better to be a live jackal than a dead lion—for jackals, not men. Men who have the moral courage to fight intelligently for freedom have the best prospects of avoiding the fate of both live jackals and dead lions. Survival is not the be-all and end-all of a life worthy of man…. Man's vocation should be the use of the arts of intelligence in behalf of human freedom.
Sidney Hook, quoted in Mona Charen, Useful Idiots: How Liberals Got It Wrong In the Cold War and Still Blame America First (Washington, DC: Regnery, 2003), 11.
==============================
I. F. Stone was a lifelong leftist who used his biweekly newsletter to boost Castro, defend the Soviet Union, and condemn the United States. His biographer wrote that Stone saw "communism [as] a pro-gressive force, lined up on the correct side of historical events." And Stone himself admitted that he was "half a Jeffersonian, half a Marxist." The Marxist usually got the better of him.
When Stone died in 1989, he was hailed as the "conscience of investigative journalism" by the Los Angeles Times." The New York Times obituary called him a "pugnacious advocate of civil liberties, peace, and truth." TV personality Larry King called Stone "a truly genuine hero." Both Anthony Lewis and Tom Wicker eulogized him in their New York Times columns, and Peter Jennings offered an on-air encomium, calling Stone "a journalist's journalist," and recom¬mending his work: "For many people, it's a rich experience to read or re-read Stone's views on America's place in the world, on freedom, on the way government works, and sometimes corrupts."
Sidney Hook, a tireless battler for liberty and democracy and scourge of American Stalinists, died within days of Stone. But his death went unlamented by American liberals. If liberalism were truly about respect for liberty, individual rights, and democracy, then it was Hook—not Stone—who exemplified those values. Stone's motto was "pas d'enemies a gauche" (no enemies to the left), and much the same can be said of his many admirers.
Mona Charen, Useful Idiots: How Liberals Got It Wrong In the Cold War and Still Blame America First (Washington, DC: Regnery, 2003), 89-90.
==============================
If science really is permanently committed to methodological naturalism – the philosophical position that restricts all explanations in science to naturalistic explanations – it follows that the aim of science is not generating true theories. Instead, the aim of science would be something like: generating the best theories that can be formulated subject to the restriction that the theories are naturalistic. More and more evidence could come in suggesting that a supernatural being exists, but scientific theories wouldn't be allowed to acknowledge that possibility.
Bradley Monton, author of Seeking God in Science: An Atheist Defends Intelligent Design ~ Apologetics315 h/t
==============================
"If my mental processes are determined wholly by the motions of atoms in my brain, I have no reason to suppose that my beliefs are true… and hence I have no reason for supposing my brain to be composed of atoms." ~ J.B.S. Haldane
Quoted in Victor Reppert's, C.S. Lewis's Dangerous Idea: In Defense of the Arguments from Reason (Downers Grove, IL: IVP, 2003), 50.
==============================
A. PRIVATE PROPERTY
According to the teachings of the Bible, government should both document and protect the ownership of private property in a nation.
The Bible regularly assumes and reinforces a system in which property belongs to individuals, not to the government or to society as a whole.
We see this implied in the Ten Commandments, for example, because the eighth commandment, "You shall not steal" (Exod. 20:15), assumes that human beings will own property that belongs to them individually and not to other people. I should not steal my neighbor's ox or donkey because it belongs to my neighbor, not to me and not to anyone else.
The tenth commandment makes this more explicit when it prohibits not just stealing but also desiring to steal what belongs to my neighbor:
"You shall not covet your neighbor's house; you shall not covet your neighbor's wife, or his male servant, or his female servant, or his ox, or his donkey, or anything that is your neighbor's" (Exod. 20:17).
The reason I should not "covet" my neighbor's house or anything else is that these things belong to my neighbor, not to me and not to the community or the nation.
This assumption of private ownership of property, found in this fundamental moral code of the Bible, puts the Bible in direct opposition to the communist system advocated by Karl Marx. Marx said:
The theory of the Communists may be summed up in the single sentence: abolition of private property.
One reason why communism is so incredibly dehumanizing is that when private property is abolished, government controls all economic activity. And when government controls all economic activity, it controls what you can buy, where you will live, and what job you will have (and therefore what job you are allowed to train for, and where you go to school), and how much you will earn. It essentially controls all of life, and human liberty is destroyed. Communism enslaves people and destroys human freedom of choice. The entire nation becomes one huge prison. For this reason, it seems to me that communism is the most dehumanizing economic system ever invented by man.
Other passages of Scripture also support the idea that property should belong to individuals, not to "society" or to the government (except for certain property required for proper government purposes, such as government offices, military bases, and streets and highways). The Bible contains many laws concerning punishments for stealing and appropriate restitution for damage of another person's farm animals or agricultural fields (for example, see Exod. 21:28-36; 22:1-15; Deut. 22:1-4; 23:24-25). Another com­mandment guaranteed that property boundaries would be protected: "You shall not move your neighbor's landmark, which the men of old have set, in the inheritance that you will hold in the land that the LORD your God is giving you to possess" (Deut. 19:14). To move the landmark was to move the boundaries of the land and thus to steal land that belonged to one's neighbor (compare Prov. 22:28; 23:10).
Another guarantee of the ownership of private property was the fact that, even if property was sold to someone else, in the Year of Jubilee it had to return to the family that originally owned it:
It shall be a Jubilee for you, when each of you shall return to his property and each of you shall return to his clan (Lev. 25:10).
This is why the land could not be sold forever: "The land shall not be sold in perpetuity, for the land is mine. For you are strangers and sojourners with me" (Lev. 25:23).
This last verse emphasizes the fact that private property is never viewed in the Bible as an absolute right, because all that people have is ultimately given to them by God, and people are viewed as God's "stewards" to manage what he has entrusted to their care.
The earth is the LORD'S and the fullness thereof, the world and those who dwell therein (Ps. 24:1; compare Ps. 50:10-12; Hag. 2:8).
Yet the fact remains that, under the overall sovereign lordship of God himself, property is regularly said to belong to individuals, not to the government and not to "society" or the nation as a whole.
When Samuel warned the people about the evils that would be imposed upon them by a king, he emphasized the fact that the monarch, with so much government power, would "take" and "take" and "take" from the people and confiscate things for his own use:
So Samuel told all the words of the LORD to the people who were asking for a king from him. He said, "These will be the ways of the king who will reign over you: he will take your sons and appoint them to his chariots and to be his horsemen and to run before his chariots. And he will appoint for himself commanders of thousands and commanders of fifties, and some to plow his ground and to reap his harvest, and to make his implements of war and the equipment of his chariots. He will take your daughters to be perfumers and cooks and bakers. He will take the best of your fields and vineyards and olive orchards and give them to his servants. He will take the tenth of your grain and of your vineyards and give it to his officers and to his servants. He will take your male servants and female servants and the best of your young men and your donkeys, and put them to his work. He will take the tenth of your flocks, and you shall be his slaves. And in that day you will cry out because of your king, whom you have chosen for yourselves, but the LORD will not answer you in that day" (1 Sam. 8:10-18).
This prediction was tragically fulfilled in the story of the theft of the vineyard of Naboth the Jezreelite by Ahab the wicked king and Jezebel, his even more wicked queen (see 1 Kings 21:1-29). The regular tendency of human governments is to seek to take control of more and more of the property of a nation that God intends to be owned and controlled by private individuals.
Wayne Grudem, Politics According to the Bible (Grand Rapids, MI: Zondervan, 2010), 261-263.
==============================
Satan's Authority
1. Support from Luke 4:6
This viewpoint has been strongly promoted by Minnesota pastor Greg Boyd in his influential book The Myth of a Christian Nation (Grand Rapids: Zondervan, 2005). Boyd's views in this book have had a large impact in the United States, especially on younger evangelical voters.
Boyd says that all civil government is "demonic" (p. 21). Boyd's primary evidence is Satan's statement to Jesus in Luke 4:
And the devil took him up and showed him all the kingdoms of the world in a moment of time, and said to him, "To you I will give all this authority and their glory, for it has been delivered to me, and I give it to whom I will. If you, then, will worship me, it will all be yours" (Luke 4:5-7).
Boyd emphasizes Satan's claim that all the authority of all the kingdoms of the world "has been delivered to me" and then says that Jesus "doesn't dispute the Devil's claim to own them. Apparently, the authority of all the kingdoms of the world has been given to Satan."
Boyd goes on to say, "Functionally, Satan is the acting CEO of all earthly governments." This is indeed a thoroughgoing claim!
2. The mistake of depending on Luke 4:6
Greg Boyd is clearly wrong at this point. Jesus tells us how to evaluate Satan's claims, for he says that Satan "has nothing to do with the truth" because
"there is no truth in him. When he lies, he speaks out of his own character, for he is a liar and the father of lies" (John 8:44).
Jesus didn't need to respond to every false word Satan said, for his purpose was to resist the temptation itself, and this he did with the decisive words, "It is written, 'You shall worship the Lord your God, and him only shall you serve"' (Luke 4:8).
In evaluating Boyd's claim that "the authority of all the kingdoms of the world has been given to Satan," we have a choice: Do we believe Satan's words that he has the authority of all earthly kingdoms, or do we believe Jesus' words that Satan is a liar and the father of lies? The answer is easy: Satan wanted Jesus to believe a lie, and he wants us to believe that same lie, that he is the ruler of earthly governments.
By contrast, there are some very specific verses in the Bible that tell us how we should think of civil governments. These verses do not agree with Satan's claim in Luke 4:6 or with Boyd's claim about Satan's authority over all earthly governments. Rather, these verses where God (not Satan) is speaking portray civil government as a gift from God, something that is subject to God's rule (not Satan) and used by God for his purposes. Here are some of those passages:
"The Most High rules the kingdom of men and gives it to whom he will and sets over it the lowliest of men" (Dan. 4:17).
Let every person be subject to the governing authorities. For there is no authority except from God, and those that exist have been instituted by God. Therefore whoever resists the authorities resists what God has appointed, and those who resist will incur judgment. For rulers are not a terror to good conduct, but to bad. Would you have no fear of the one who is in authority? Then do what is good, and you will receive his approval, for he is God's servant for your good. But if you do wrong, be afraid, for he does not bear the sword in vain. For he is the servant of God, an avenger who carries out God's wrath on the wrongdoer. Therefore one must be in subjection, not only to avoid God's wrath but also for the sake of conscience. For the same reason you also pay taxes, for the authorities are the ministers of God, attending to this very thing (Rom. 13:1-6).
Be subject for the Lord's sake to every human institution, whether it be to the emperor as supreme, or to governors as sent by him to punish those who do evil and to praise those who do good (1 Peter 2:13-14).
At this point it is interesting that both Paul (in Romans) and Peter see civil government as doing the opposite of what Satan does: civil governments are established by God "to punish those who do evil," but Satan encourages those who do evil! Civil governments are established by God "to praise those who do good," but Satan discourages and attacks those who do good. In addition, it would not make sense for Peter to say, "Be subject for the Lord's sake to every institution in which Satan is the CEO." Peter would not want Christian citizens to be subject to Satan's control and direction.
The point is that Satan wants us to believe that all civil government is under his control, but that is not taught anywhere in the Bible. (Of course, Satan can influence some individuals in government, but he is not in control.) The only verse in the whole Bible that says Satan has authority over all governments is spoken by the father of lies, and we should not believe it. Greg Boyd is simply wrong in his defense of the view that "all government is demonic."
Wayne Grudem, Politics According to the Bible (Grand Rapids, MI: Zondervan, 2010), 36-38.
==============================
The damaging consequences of homosexual conduct are rarely mentioned in the mainstream press. However, Jeffrey Satinover, a psychiatrist who is a graduate of MIT, Harvard, and the University of Texas and has lectured at both Yale and Harvard, reports some of the medical harm that is typically associated with male homosexual practice:
A twenty-five to thirty-year decrease in life expectancy
Chronic, potentially fatal, liver disease—infectious hepatitis
Inevitably fatal immune disease including associated cancers
Frequently fatal rectal cancer
Multiple bowel and other infectious diseases
A much higher than usual incidence of suicide
What is the reason for these medical conditions? Satinover explains that many are due to the common homosexual practice of anal intercourse:
… we are designed with a nearly impenetrable barrier between the bloodstream and the extraordinarily toxic and infectious contents of the bowel. Anal intercourse creates a breach in this barrier for the receptive partner, whether or not the insertive partner is wearing a condom. As a result, homosexual men are disproportionately vulnerable to a host of serious and sometimes fatal infections caused by the entry of feces into the bloodstream. These include hepatitis B and the cluster of otherwise rare conditions … known as the "Gay Bowel Syndrome."
Satinover also points out a significant contrast in the sexual behaviors of heterosexual and homosexual persons. Among heterosexuals, sexual faithfulness was relatively high: "90 percent of heterosexual women and more than 75 percent of heterosexual men have never engaged in extramarital sex." But among homosexual men the picture is far different:
A 1981 study revealed that only 2 percent of homosexuals were monogamous or semi-monogamous—generously defined as ten or fewer lifetime partners…. A 1978 study found that 43 percent of male homosexuals estimated having sex with five hundred or more different partners…. Seventy-nine percent said that more than half of these partners were strangers.
Such patterns of behavior need to be taken into account when voters decide whether to give societal encouragement and legal benefits to same-sex relationships.
Wayne Grudem, Politics According to the Bible (Grand Rapids, MI: Zondervan, 2010), 226-227. Doc Grudem is quoting from a great book, Homosexuality and the Politics of Truth
==============================
A poignant point from a discussion about Global Warming via a professor I admire:
…one that bedevils an atheist philosopher friend of mine: "if human beings are part of nature, then why is that we, rather than the chimpanzee, have a special responsibility to care for nature. And if we do have this responsibility, what is its limits and rightful powers? Is irrigation moral if it leads to human flourishing, or should we ask the beavers for their permission?" I am not being facetious. If there is nothing special about us–if we have not been given "dominion" over nature, as the Bible teaches–then it seems that the atheist environmentalist has a very tough time explaining why we should be in charge and what technological innovation that disturbs natural patterns is appropriate for that responsibility. Hence, Christian environmentalism is far more defensible than any secular variety, IMHO.
(Francis Beckwith quoting a friend)
==============================
Although there were some forms of democratic government in local areas in ancient and medieval history (such as ancient Athens), when the United States began as a representative democracy in 1776, it could be called the "American experiment," because there were at that time no other functioning national democracies in the world. But after the founding of the United States, and especially in the twentieth century, the number of functioning national democracies grew remarkably. The World Forum on Democracy reports that in 1950 there were 22 democracies accounting for 31% of the world population and a further 21 states with restricted democratic practices, accounting for 11.9% of the globe's population. Since the turn of the century, electoral democracies now represent 120 of the 192 existing countries and constitute 58.2% of the world's population.
Therefore, when people today complain to me that they don't want to get involved in politics because they think that politicians are too corrupt (or arrogant, greedy, power-hungry, and other forms of being "unspiritual"), I want to remind them that although democracy is messy, it still works quite well, and all the alternative forms of government are far worse. We should be thankful for those who are willing to be involved in it, often at great personal sacrifice.
Wayne Grudem, Politics According to the Bible (Grand Rapids, MI: Zondervan, 2010), 108-109.
==============================
With wit and dry humor William Buckley tells a story of a question typically asked of him while lecturing about:
"What is conservatism?" Sometimes the questioner – guarding against the windy evasiveness one comes to expect from lecturers – will add, "preferably in one sentence." On which occasions I have replied: "I could not give you a definition of Christianity in one sentence, but that does not mean that Christianity is undefinable."
Usually that disposes of the hopes of those who wish a neatly packaged definition of conservatism which they an stow away in their mind, alongside (or replacing?) the definitions of astrology, necrophilia, xenophobia, and philistinianism. Those who are obstinate I punish by giving, with a straight face, Professor Richard Weaver's definition of conservatism as "a paradigm of essences towards which the phenomenology of the world is in continuing approximation" – as noble efforts as any I have ever read.
Frank S. Meyer, ed., What Is Conservatism? A Timely, Important and Provocative Examination of American Conservatism by Twelve Leading Thinkers and Spokesman (New York, NY: Holt Rinehart and Winston, 1964), 211.
==============================
Just going to church doesn't make you a Christian any more than standing in your garage makes you a car.
(G.K. Chesterton)
==============================
The modern philosopher had told me again and again that I was in the right place, and I still felt depressed even in acquiescence. But I had heard that I was in the wrong place, and my soul sang for joy like a bird in spring.
(G.K. Chesterton)
==============================
Creatures are not born with desires unless satisfaction for these desires exists. A baby feels hunger; well, there is such a thing as food. A duckling wants to swim; well, there is such a thing as water. Men feel sexual desire; well, there is such a thing as sex. If I find in myself a desire which no experience in this world can satisfy, the most probable explanation is that I was made for another world.
CS Lewis, Mere Christianity [New York, NY: Touchstone, 1996], 121
==============================
Historian Alvin Schmidt points out how the spread of Christianity and Christian influence on government was primarily responsible for outlawing infanticide, child abandonment, and abortion in the Roman Empire (in AD 374); outlawing the brutal battles-to-the-death in which thousands of gladiators had died (in 404); outlawing the cruel punishment of branding the faces of criminals (in 315); instituting prison reforms such as the segregating of male and female prisoners (by 361); stopping the practice of human sacrifice among the Irish, the Prussians, and the Lithuanians as well as among other nations; outlawing pedophilia; granting of property rights and other protections to women; banning polygamy (which is still practiced in some Muslim nations today); prohibiting the burning alive of widows in India (in 1829); outlawing the painful and crippling practice of binding young women's feet in China (in 1912); persuading government officials to begin a system of public schools in Germany (in the sixteenth century); and advancing the idea of compulsory education of all children in a number of European countries.
During the history of the church, Christians have had a decisive influence in opposing and often abolishing slavery in the Roman Empire, in Ireland, and in most of Europe (though Schmidt frankly notes that a minority of "erring" Christian teachers have supported slavery in various centuries). In England, William Wilberforce, a devout Christian, led the successful effort to abolish the slave trade and then slavery itself throughout the British Empire by 1840.
In the United States, though there were vocal defenders of slavery among Christians in the South, they were vastly outnumbered by the many Christians who were ardent abolitionists, speaking, writing, and agitating constantly for the abolition of slavery in the United States. Schmidt notes that two-thirds of the American abolitionists in the mid-1830s were Christian clergymen, and he gives numerous examples of the strong Christian commitment of several of the most influential of the antislavery crusaders, including Elijah Lovejoy (the first abolitionist martyr), Lyman Beecher, Edward Beecher, Harriet Beecher Stowe (author of Uncle Tom's Cabin), Charles Finney, Charles T. Torrey, Theodore Weld, William Lloyd Garrison, "and others too numerous to mention." The American civil rights movement that resulted in the outlawing of racial segregation and discrimination was led by Martin Luther King Jr., a Christian pastor, and supported by many Christian churches and groups.
There was also strong influence from Christian ideas and influential Christians in the formulation of the Magna Carta in England (1215) and of the Declaration of Independence (1776) and the Constitution (1787) in the United States. These are three of the most significant documents in the history of governments on the earth, and all three show the marks of significant Christian influence in the foundational ideas of how governments should function.
Wayne Grudem, Politics According to the Bible [Grand Rapids, MI: Zondervan, 2010], 49-50.
==============================
I have sworn upon the altar of God, eternal hostility against every form of tyranny over the mind of man.
(Thomas Jefferson)
==============================
Conservatism is the antithesis of the kind of ideological fanaticism that has brought so much horror and destruction to the world. The common sense and common decency of ordinary men and women, working out their own lives in their own way—this is the heart of American conservatism today. Conservative wisdom and principles are derived from willingness to learn, not just from what is going on now, but from what has happened before.
(Ronald Reagan)
==============================
The inherent vice of capitalism is the unequal sharing of blessings; the inherent virtue of socialism is the equal sharing of miseries.
(Winston Churchill)
==============================
Patriotism is as much a virtue as justice, and is as necessary for the support of societies as natural affection is for the support of families.
(Benjamin Rush)
==============================
…Conservatives have excellent credentials to speak about human rights. By our efforts, and with precious little help from self-styled liberals, we were largely responsible for securing liberty for a substantial share of the world's population and defending it for most of the rest.
(The "Iron Lady", Margaret Thatcher)
==============================
I hope we have once again reminded people that man is not free unless government is limited. There's a clear cause and effect here that is as neat and predictable as a law of physics: as government expands, liberty contracts.
(Ronald Reagan)
==============================
Compassion is defined not by how many people are on the government dole but by how many people no longer need government assistance.
(Rush Limbaugh)
==============================
I am for doing good to the poor, but I differ in opinion of the means. I think the best way of doing good to the poor, is not making them easy in poverty, but leading or driving them out of it. In my youth I travelled much, and I observed in different countries, that the more public provisions were made for the poor, the less they provided for themselves, and of course became poorer. And, on the contrary, the less was done for them, the more they did for themselves, and became richer.
(Ben Franklin)
==============================
1. It fails to distinguish the reasons for a law from the content of the law
Such "exclude religion" arguments are wrong because marriage is not a religion! When voters define marriage, they are not establishing a religion. In the First Amendment, "Con­gress shall make no law respecting an establishment of religion, or prohibiting the free exercise thereof," the word "religion" refers to the church that people attend and support. "Religion" means being a Baptist or Catholic or Presbyterian or Jew. It does not mean being married. These arguments try to make the word "religion" in the Constitution mean something different from what it has always meant.
These arguments also make the logical mistake of failing to distinguish the reasons for a law from the content of the law. There were religious reasons behind many of our laws, but these laws do not "establish" a religion. All major religions have teachings against stealing, but laws against stealing do not "establish a religion." All religions have laws against murder, but laws against murder do not "establish a religion." The cam­paign to abolish slavery in the United States and England was led by many Christians, based on their religious convictions, but laws abolishing slavery do not "establish a reli­gion." The campaign to end racial discrimination and segregation was led by Dr. Martin Luther King Jr., a Baptist pastor, who preached against racial injustice from the Bible. But laws against discrimination and segregation do not "establish a religion."
If these "exclude religion" arguments succeed in court, they could soon be applied against evangelicals and Catholics who make "religious" arguments against abortion. Majority votes to protect unborn children could then be invalidated by saying these vot­ers are "establishing a religion." And, by such reasoning, all the votes of religious citizens for almost any issue could be found invalid by court decree! This would be the direct opposite of the kind of country the Founding Fathers established, and the direct oppo­site of what they meant by "free exercise" of religion in the First Amendment.
Wayne Grudem, Politics According to the Bible [Grand Rapids, MI: Zondervan, 2010], 31.
==============================
War is an ugly thing, but not the ugliest of things. The decayed and degraded state of moral and patriotic feeling which thinks that nothing is worth war is much worse. The person who has nothing for which he is willing to fight, nothing which is more important than his own personal safety, is a miserable creature and has no chance of being free unless made and kept so by the exertions of better men than himself.
(John Stuart Mill)
==============================
I can imagine no man who will look with more horror on the End than a conscientious revolution­ary who has, in a sense sincerely, been justifying cruelties and injustices inflicted on millions of his contemporaries by the benefits which he hopes to confer on future generations: generations who, as one terrible moment now reveals to him, were never going to exist. Then he will see the massacres, the faked trials, the deportations, to be all ineffaceably real, an essential part, his part, in the drama that has just ended: while the future Utopia had never been anything but a fantasy.
C.S. Lewis, The World's Last Night, p. 131.
==============================
As Isaiah Berlin noted, the terrible consequences of this thinking were foreseen as early as 1832 by the German poet Heinrich Heine. He warned that one day the Germans, fired by a combination of absolutist metaphysics, historical memories and resentments, fanaticism and savage fury, would destroy Western civilization. Berlin recorded Heine as predicting that [very thing]:
"Implacable Kantians … with axe and sword will uproot the soil of our European life in order to tear out the roots of the past. Armed Fichteans will appear… restrained neither by fear nor greed… like those early Christians whom neither physical torture nor physical pleasure could break." And most terrible of all would be Schelling's disciples, the Philosophers of Nature who, isolated and unapproachable beyond the barriers of their own obsessive ideas, will identify themselves with the elemental forces of "the demonic powers of ancient German pantheism."
Melanie Phillips, The World Turned Upside Down: The Global Battle Over God, Truth, and Power, p. 269; quoting from Isiah Berlin, The Crooked Timber of Humanity, p. 242.
==============================
Conservatism is not in trouble — the Republican Party is. Too many of its leaders at the ballot box or in its conservative journals have lost sight of the blindingly obvious: Ronald Reagan was not just a winning personality whose time has come and gone. He was in fact the living embodiment of a set of timeless principles that are not only the gravity of this political world we live in but its oxygen as well. To borrow his once famous query: If not now, when? If not us, who?
(Jeffrey Lord, Reagan and Us: The Conservative Fight Ahead)
==============================
Mortimer J. Adler rightly points out that while many Christians are quick in responding to the conclusions in an argument often times the Christian is unaware that the point of departure is not in the conclusion, but in the starting premise, the foundational assumptions.
Mortimer J. Adler, in Norman L. Geisler & Peter Bocchino, Unshakeable Foundations: Contemporary Answers to Crucial Questions About the Christian Faith, 20-21.
==============================
Religious belief should be assessed as a rounded whole rather than taken in stark isolation, Christianity, for example, like other world faiths, is a complex, large-scale system of belief which must be seen as a whole before it is assessed. To break it up into disconnected parts is to mutilate and distort its true character. We can, of course, distinguish certain elements in the Christian faith, but we must still stand back and see it as a complex interaction of these elements. We need to see it as a metaphysical system, as a worldview, that is total in its scope and range
Michael J. Murray and Michael C. Rae, An Introduction to the Philosophy of Religion (Cambridge Introductions to Philosophy
==============================
Silence in the face of evil is itself evil: God will not hold us guiltless. Not to speak is to speak. Not to act is to act.
(Dietrich Bonhoeffer)
==============================
I'll have those n*ggers voting Democratic for the next 200 years.
(Lyndon B. Johnson to two governors on Air Force One according Ronald Kessler's Book, "Inside The White House")
==============================
…What a difference treatment makes! As researchers succeeded in developing ever more effective drugs, AIDS became—like gonorrhea, syphilis, and hepatitis B before it—what many if consider to be a simple "chronic disease." And many of the gay men who had heeded the initial warning went right back to having promiscuous unprotected sex here is now even a movement—the "bareback" movement—that encourages sex without condoms. The infamous bathhouses are opening up again; drug use, sex parties, and hundreds of sex partners a year are all once again a feature of the "gay lifestyle." In fact, "sexual liberation" has simply become a code phrase for the abandonment of personal responsibility, respect, and integrity.
In his column for Salon.com, David Horowitz discussed gay radicals like the writer Edmund White. During the 1960s and beyond, White addressed audiences in the New York gay community on the subject of sexual liberation. He told one such audience that "gay men should wear their sexually transmitted diseases like red badges of courage in a war against a sex-negative society." And did they ever. Then, getting gonorrhea was the so-called courageous act. Today, the stakes are much higher. That red badge is now one of AIDS suffering and death, and not just for gay men themselves. In their effort to transform society, the perpetrators are taking women and children and straight men with them.
Even Camille Paglia, a woman whom I do not often praise, astutely commented some years ago, "Everyone who preached free love in the Sixties is responsible for AIDS. This idea that it was somehow an accident, a microbe that sort of fell from heaven—absurd. We must face what we did."
The moral vacuum did rear its ugly head during the 1960s with the blurring of the lines of right and wrong (remember "situational ethics"?), the sexual revolution, and the consequent emergence of the feminist and gay civil-rights movements. It's not the original ideas of these movements, mind you, that caused and have perpetuated the problems we're discussing. It was and remains the few in power who project their destructive sense of themselves onto the innocent landscape, all the while influencing and conditioning others. Today, not only is the blight not being faced, but in our Looking-Glass world, AIDS is romanticized and sought after…
Tammy Bruce, The Death of Right and Wrong: Exposing the Left's Assault on Our Culture and Values (Roseville: Prima, 2003), 96-97.
==============================
I am obliged to confess I should sooner live in a society governed by the first two thousand names in the Boston telephone directory than in a society governed by the two thousand faculty members of Harvard University.
William F. Buckley, Jr. – 1963 statement, as quoted in The Quote Verifier: Who Said What, Where, and When (2006) by Ralph Keyes, p. 82
==============================
Of all tyrannies, a tyranny exercised for the good of its victims may be the most oppressive. It may be better to live under robber barons than under omnipotent moral busybodies. The robber baron's cruelty may sometimes sleep, his cupidity may at some point be satiated; but those who torment us for our own good will torment us without end for they do so with the approval of their own conscience. They may be more likely to go to Heaven yet at the same time likelier to make a Hell of earth. Their very kindness stings with intolerable insult. To be 'cured' against one's will and cured of states which we may not regard as disease is to be put on a level of those who have not yet reached the age of reason or those who never will; to be classed with infants, imbeciles, and domestic animals.
C. S. Lewis, God in the Dock, p. 292.
==============================
Nihilism can take more than one form. There is, for instance, passive nihilism, a pessimistic acquiescence in the absence of values and in the purposelessness of existence. But there is also active nihilism which seeks to destroy that in which it no longer believes. And Nietzsche prophesies the advent of an active nihilism, showing itself in world-shaking ideological wars. "There will be wars such as there have never been on earth before. Only from my time on will there be on earth politics on the grand scale."
The advent of nihilism is in Nietzsche's opinion inevitable. And it will mean the final overthrow of the decadent Christian civilization of Europe. At the same time it will clear the way for a new dawn, for the transvaluation of values, for the emergence of a higher type of man. For this reason "this most gruesome of all guests", who stands at the door, is to be welcomed."
Frederick Copleston, S.J., A History of Philosophy, Volume VII, pp. 404-405
==============================
FOLLOWING SUPERNATURALISM MAKES THE SCIENTIST'S TASK TOO EASY
Here's the first of Pennock's arguments against methodological naturalism that I'll consider:
allowing appeal to supernatural powers in science would make the scientist's task too easy, because one would always be able to call upon the gods for quick theoretical assistance…. Indeed, all empirical investigation beyond the purely descriptive could cease, for scientists would have a ready-made answer for everything.
This argument strikes me as unfair. Consider a particular empirical phenomenon, like a chemical reaction, and imagine that scientists are trying to figure out why the reaction happened. Pennock would say that scientists who allow appeal to supernatural powers would have a ready-made answer: God did it. While it may be that that's the only true explanation that can be given, a good scientist-including a good theistic scientist—would wonder whether there's more to be said. Even if God were ultimately the cause of the reaction, one would still wonder if the proximate cause is a result of the chemicals that went into the reaction, and a good scientist—even a good theistic scientist—would investigate whether such a naturalistic account could be given.
To drive the point home, an analogy might be helpful. With the advent of quantum mechanics, scientists have become comfortable with indeterministic events. For example, when asked why a particular radioactive atom decayed at the exact time that it did, most physicists would say that there's no reason it decayed at that particular time; it was just an indeterministic event!' One could imagine an opponent of indeterminism giving an argument that's analogous to Pennock's:
allowing appeal to indeterministic processes in science would make the scientist's task too easy, because one would always be able to call upon chance for quick theoretical assistance…. Indeed, all empirical investigation beyond the purely descriptive could cease, for scientists would have a ready-made answer for everything.
It is certainly possible that, for every event that happens, scientists could simply say "that's the result of an indeterministic chancy process; there's no further explanation for why the event happened that way." But this would clearly be doing bad science: just because the option of appealing to indeterminism is there, it doesn't follow that the option should always be used. The same holds for the option of appealing to supernatural powers.
As further evidence against Pennock, it's worth pointing out that prominent scientists in the past have appealed to supernatural powers, without using them as a ready-made answer for everything. Newton is a good example of this—he is a devout theist, in addition to being a great scientist, and he thinks that God sometimes intervenes in the world. Pennock falsely implies that this is not the case:
God may have underwritten the active principles that govern the world described in [Newton's] Principia and the Opticks, but He did not interrupt any of the equations or regularities therein. Johnson and other creationists who want to dismiss methodological naturalism would do well to consult Newton's own rules of reasoning….
But in fact, Newton does not endorse methodological naturalism. In his Opticks, Newton claims that God sometimes intervenes in the world. Specifically, Newton thinks that, according to his laws of motion, the orbits of planets in our solar system are not stable over long periods of time, and his solution to this problem is to postulate that God occasionally adjusts the motions of the planets so as to ensure the continued stability of their orbits. Here's a relevant passage from Newton. (It's not completely obvious that Newton is saying that God will intervene but my interpretation is the standard one.)
God in the Beginning form'd Matter in solid, massy, hard, impenetrable, moveable Particles … it became him who created them to set them in order. And if he did so, it's unphilosophical to seek for any other Origin of the World, or to pretend that it might arise out of a Chaos by the mere Laws of Nature; though being once form'd, it may continue by those Laws for many Ages. For while Comets move in very excentrick Orbs in all manner of Positions, blind Fate could never make all the Planets move one and the same way in Orbs concentrick, some inconsiderable Irregularities excepted, which may have risen from the mutual Actions of Comets and Planets upon one another, and which will be apt to increase, till this System wants a Reformation…. [God is] able by his Will to move the Bodies within his boundless uniform Sensorium, and thereby to form and reform the Parts of the Universe….
A scientist who writes this way does not sound like a scientist who is following methodological naturalism.
It's worth noting that some contemporaries of Newton took issue with his view of God occasionally intervening in the universe. For example, Leibniz writes:
Sir Isaac Newton and his followers also have a very odd opinion concerning the work of God. According to them, God Almighty needs to wind up his watch from time to time; otherwise it would cease to move. He had not, it seems, sufficient foresight to make it a perpetual motion."
Note, though, that Leibniz also thought that God intervened in the world:
I hold that when God works miracles, he does not do it in order to supply the wants of nature, but those of grace.
Later investigation revealed that in fact planetary orbits are more stable than Newton thought, so Newton's appeal to supernatural powers wasn't needed. But the key point is that Newton is willing to appeal to supernatural powers, without using the appeal to supernatural powers as a ready-made answer for everything.
Pennock says that "Without the binding assumption of uninterruptible natural law there would be absolute chaos in the scientific worldview." Newton's own approach to physics provides a good counterexample to this—Newton is a leading contributor to the scientific worldview, and yet he does not bind himself by the assumption of uninterruptible natural law.
Bradley Monton, Seeking God in Science: An Atheist Defends Intelligent Design, pp.62-64.
==============================
Some people, I believe, account for all things which have come to exist, all things which are coming into existence now, and all things which will do so in the future, by attributing them either to nature, … or chance.
(Plato)
==============================
…suppose that after darkness had prevailed from the beginning of time, it similarly happened to ourselves suddenly to behold the light of day, what should we think of the splendour of the heavens? But daily recurrence and habit familiarize our minds with the sight, and we feel no surprise or curiosity as to the reasons for things that we see always; just as if it were the novelty and not rather the importance of phenomena that ought to arouse us to inquire into their causes.
Cicero, Nature of the Gods, Translated by H. Rackam, p. 217.
==============================
God is entirely inactive and free from all ties of occupation; he toils not neither does he labour, but he takes delight in his own wisdom and virtue, and knows with absolute certainty that he will always enjoy pleasures at once consummate and everlasting.
Cicero, Nature of the Gods, Translated by H. Rackam, pp. 51-53.
==============================
But if the structure of the world in all its parts is such that it could not have been better whether in point of utility or beauty, let us consider whether this is the result of chance, or whether on the contrary the parts of the world are in such a condition that they could not possibly have cohered together if they were not controlled by intelligence and by divine providence. If then the products of nature are better than those of art, and if art produces nothing without reason, nature too cannot be deemed to be without reason. When you see a statue or a painting, you recognize the exercise of art; when you observe from a distance the course of a ship, you do not hesitate to assume that its motion is guided by reason and by art; when you look at a sun-dial or a water-clock, you infer that it tells the time by art and not by chance; how then can it be consistent to suppose that the world, which includes both the works of art in question, the craftsmen who made them, and everything else besides, can be devoid of purpose and of reason? Suppose a traveller to carry into Scythia or Britain the orrery recently constructed by our friend Posidonius, which at each revolution reproduces the same motions of the sun, the moon and the five planets that take place in the heavens every twenty-four hours, would any single native doubt that this orrery was the work of a rational being? These thinkers however raise doubts about the world itself from which all things arise and have their being, and debate whether it is the product of chance or necessity of some sort, or of divine reason and intelligence;
Cicero, Nature of the Gods, Translated by H. Rackam, pp. 207-209
==============================
Cicero (106–43 BC), used this concept in his book De Natura Deorum (On the Nature of the Gods) to challenge the evolutionary ideas of the philosophers of his day.
The two main schools of philosophy then were Epicureanism and Stoicism. The Epicureans sought happiness through bodily pleasures and freedom from pain and anxiety. The two chief causes of anxiety were fear of the gods and fear of death, so Epicurus sought to nullify both of these by teaching an evolutionary atomic theory.
He denied that there was any purpose in nature, because everything was composed of particles (atoma: atoms), all falling downwards. He said that these sometimes spontaneously "swerved" to coalesce and form bodies — non-living, living, human, and divine. The gods were made of finer atoms than humankind. They did not create the world or have any control over it, so they were not concerned with human affairs, and there was therefore no need for man to fear them. At death, the soul disintegrated and became non-existent, so there was no need to fear death or the prospect of judgment after death.
Cicero used the Stoic character in his book to refute these ideas with arguments from design, aimed to show that the universe is governed by an intelligent designer. He argued that a conscious purpose was needed to express art (e.g. to make a picture or a statue) and so, because nature was more perfect than art, nature showed purpose also. He reasoned that the movement of a ship was guided by skilled intelligence, and a sundial or water clock told the time by design rather than by chance. He said that even the barbarians of Britain or Scythia could not fail to see that a model which showed the movements of the sun, stars and planets was the product of conscious intelligence.
Cicero continued his challenge to the evolutionism of Epicurus by marvelling that anyone could persuade himself that chance collisions of particles could form anything as beautiful as the world. He said that this was on a par with believing that if the letters of the alphabet were thrown on the ground often enough they would spell out the Annals of Ennius.
And he asked: if chance collisions of particles could make a world, why then cannot they build much less difficult objects, like a colonnade, a temple, a house, or a city?
(Russell Grigg, A Brief History of Design)
==============================
This was to be the first of many times that an American president would plot to overthrow a foreign government—a dangerous game but one that the Jefferson administration found as hard to pass up as many of its successors would. Wrote Madison:
"Although it does not accord with the general senti¬ments or views of the United States to intermiddle in the domestic contests of other countries, it cannot be unfair, in the prosecution of a just war, or the accomplishment of a reasonable peace, to turn to their advantage, the enmity and pretensions of others against a common foe."
Max Boot, The Savage Wars of Peace: Small Wars and the Rise of American Power, pp. 23-24.
==============================
…The Spanish influence on Mesoamerica is still to this day incredibly prevalent; much like the English fingerprint is on North America. The terms should almost be B.S., before Spain, and A.S., after Spain. Norton makes the point in fact that "[m]any of the folktales from Mexico, South and Central America, and southwestern part of the United States reflect a blending of cultures" (Norton et al, 2001, p. 146).
Who could not write of the clash of civilizations represented in the men of Cortez and Montezuma? Unfortunately much of this historical fiction is more fictionalized than history. An exemplary text used to illustrate this in the classroom would be Montezuma's Daughter by Rider Haggard (1980), originally written in 1894. The myth had already started that the Spaniards were merely there for gold, and killed for it exclusively. While there is a place for literature to express cultural mores and values, even going so far as comforting people away from their homeland, it should still apply to history somewhat. Norton mentions that the "choices of materials to be read and discussed may reflect… moral messages" (Norton, p. 3). Some in the teaching profession can use Latino literature to paint history with broad strokes, thus passing moral messages on to the classroom, guiding, influencing them.
Rarely does one hear in the social studies class, literature class, or history class that Cortez's small band of men (even with horses) couldn't have defeated Montezuma's large army, unless that is, there were defectors. Why would people want to defect from the Aztec culture and join with foreigners? Montezuma had this peculiar habit of taking areas over, grabbing the young men from said area, bringing them back to a temple and while still alive cut their hearts out and throw their bodies down the altar steps (rotten.com, used 4-14-06). This caused many to join the forces of Cortez, making him a more formidable force resulting in forcefully bringing to a halt Aztec pagan sacrifice and setting up Christian icons instead. Incan and Mayan cultures sacrificed humans as well, sometimes 200 children at once….
Papa Giorgio [me], from a portion of a paper for class entitled "Latino Literature & Life"
==============================
GARY HABERMAS: You very kindly noted that our debates and discussions had influenced your move in the direction of theism. You mentioned that this initial influence contributed in part to your comment that naturalistic efforts have never succeeded in producing "a plausible conjecture as to how any of these complex molecules might have evolved from simple entities." Then in your recently rewritten introduction to the forthcoming edition of your classic volume God and Philosophy, you say that the original version of that book is now obsolete. You mention a number of trends in theistic argumentation that you find convincing, like big bang cosmology, fine tuning and Intelligent Design arguments. Which arguments for God's existence did you find most persuasive?
ANTONY FLEW: I think that the most impressive arguments for God's existence are those that are supported by recent scientific discoveries. I've never been much impressed by the kalam cosmological argument, and I don't think it has gotten any stronger recently. However, I think the argument to Intelligent Design is enormously stronger than it was when I first met it.
GARY HABERMAS: So you like arguments such as those that proceed from big bang cosmology and fine tuning arguments?
ANTONY FLEW: Yes.
H. Wayne House, Intelligent Design 101: Leading Experts Explain the Key Issues, p. 174.
==============================
We are the happy Hitler Youth;
We have no need of Christian virtue;
For Adolf Hitler is our intercessor
And our redeemer.
No priest, no evil one
Can keep us
From feeling like Hitler's children.
Not Christ do we follow, but Horst Wessel!
Away with incense and holy water pots.
Singing we follow Hitler's banners;
Only then are we worthy of our ancestors.
I am no Christian and no Catholic.
I go with the SA through thick and thin.
The Church can be stolen from me for all I care.
The swastika makes me happy here on earth.
Him will I follow in marching step;
Baldur Von Schirach, take me along.
~ Hitler Youth Song
Gene Edward Veith, Modern Fascism: Liquidating the Judeo-Christian Worldview [Saint Louis, MO: Concordia Publishing House, 1993], 67; See Ernst Christian Helmreich, The German Churches Under Hitler: Back­ground, Struggle, and Epilogue [Detroit, MI: Wayne State Univ. Press, 1979], 267; Horst Wessel was the composer of the party anthem. Baldur von Schirach was the Reich Youth Leader – See Hermann Glaser, The Cultural Roots of National Socialism [Austin, TX: Univ. Texas Press, 1978], 43, 56n.). This is posted to make sure that skeptics know Nazism and Hitler, and followers of such people and ideology were not Christians… if the three-million Catholics killed in Poland were not enough proof for you.
==============================
The Perspective of Liberal Theology
Modern liberal theologians ascribe great importance to the kingdom concept in the teaching of Jesus, while indifferent to the relation of Israel and the church. Influenced by the Enlightenment, with its high view of human nature and its vision of evolutionary social progress, the tradition stresses the present, ethical dimension of the kingdom. It radically depreciates the future, eschatological dimension of the kingdom as the product of first-century, Jewish apocalyptic fervor. The kingdom of God thus represents a new and Christianized social order on earth achieved by human effort and guided by the ethical teachings of Jesus.
A. Ritschl (d. 1889), the father of modern liberal theology, identified the kingdom of God as the human community striving for the common good via benevolent social action. The kingdom represents "the moral unification of the human race, through action prompted by universal love to our neighbor." Ritschl held that the kingdom must not be equated with the church. The former is an ethical community committed to social action, whereas the latter is a worshiping community organized on a legal basis. Although Jesus was the founder and inspiring force of the kingdom, "the moral perfection of man in the kingdom of God" will be achieved by human action impelled by love. Since the human spirit is destined for God, the entire world is progressing via moral education toward the kingdom. Ritschl's development of the kingdom theme provided a powerful impetus to the twentieth-century social gospel in America. Walter Rauschenbusch (d. 1918) claimed that the kingdom of God is the quintessential doctrine of Christianity. For him the kingdom is human society Christianized by education and social legislation. The futuristic interpretation of the kingdom, which he claimed obscures the ethical sense, originated from the crude apocalypticism of late Judaism and early Christianity. "The kingdom is not a matter of saving human atoms, but of saving the social-organism. It is not a matter of getting individuals to heaven, but of transforming the life on earth into the harmony of heaven." Rauschenbusch explained the nature of the kingdom as follows (1) The domain of the kingdom is not heaven (the other-worldly Greek outlook) but the earthly social situation (the this-worldly Hebrew outlook), "The faith of the Kingdom of God… is a religion for this earth and for the present life. " (2) The enlargement of the kingdom occurs via the forces of evolutionary development. "Translate the evolutionary theories into religious faith and you have the doctrine of the kingdom of God." (3) The task of the kingdom is not saving souls or establishing churches but Christianizing social customs and institutions. (4)(5) the goal of the kingdom is the unity of all mankind. Rauschenbusch claimed that often in history the church has been an impediment to the kingdom, in that it diverted energy and resources from this-worldly problems to other-worldly interests. Membership in the kingdom is not restricted to a select minority but embraces the whole of humanity. And
Liberation theology represents a politically radicalized form of the social gospel. Believing that concern for a future kingdom of God in heaven seriously blunts commitment to social problems, liberationists view the kingdom as a present historical reality. Jesus' message of the kingdom centered on liberation from political, economic, and social oppression. The movement claims that the kingdom of God arrives when the poor and oppressed become liberated human beings. Since God has a special regard for the disenfranchised, they are the unique citizens of the kingdom. Transformation of the world into the kingdom is achieved by struggle against all forms of tyranny, by the social emancipation of the oppressed, and by opposition to the capitalist system. Some liberationists condone violence as a necessary means of introducing the kingdom.
Gustavo Gutierrez warns against adopting a spiritualized view of the kingdom of God. Rather, the kingdom is primarily an interhistorical, social phenomenon: "The coming of the Kingdom and the expectation of the Parousia are necessarily and inevitably historical, temporal, earthly, and material realities." Gutierrez envisages the kingdom as "a new, just and fraternal society," indeed, as an earthly utopia. The sign of the inbreaking of the kingdom of God is the elimination of human misery and exploitation. The forging of history toward the kingdom will be achieved chiefly by human efforts. Radical disciples of Jesus will introduce the kingdom via struggles against all forms of oppression, by transformation of unjust social structures, and by the punishment of oppressors of the poor. Dissolving eschatology into history, black theologian James Cone regards the kingdom of God as this-worldly. Cone concurs with Marx that interest in the afterlife diverts attention from the present sufferings of the exploited. "Black Theology is an earthly theology! It is not concerned with the 'last things' but with the 'white thing.'" Cone interprets the kingdom theme vis-a-vis the American situation, as follows: White American society constitutes the oppressive, racist antichrist. But the black Christ conquers the white oppressor and liberates the black community so that the latter may realize its unique black dignity, black unity, and sense of black nationhood. Thus in the process of salvation history, "the kingdom of God is a black happening." Cone Condones the use of human violence, as a necessary evil, in the realization of these kingdom goals.
Gordon R. Lewis and Bruce A. Demerest, Integrative Theology, vol. 3 [Grand Rapids, MI: Zondervan, 1994], 319-321.
==============================
Liberation Theology
Proponents of the theology of liberation minimize God's providential working in history and stress rather the revolutionary struggles of the poor and oppressed to transform history. Gutierrez believes, not that God actively guides history, but that he is revealed in history amid human efforts (violent if necessary) to forge a just society. For the Peruvian theologian, man rather than God is the artisan of human destiny.
The "messianic humanism" proposed by Rubem Alves envisages the formation of a pact between God and persons, and in this pact both parties, as co-creators, jointly build a new society. According to Alves, God alone cannot guide the course of history, for his being, yet incomplete, requires human activity to be fully constituted. "In the context of the politics of human liberation man encounters a God who remains open, who has not yet arrived, and who is determined and helped by human activity. God needs man for the creation of his future."
Advocates of a black theology of liberation see God as more actively involved in providential activity. Albert Cleage believes that through Christ, the Black Messiah, God works in history to liberate blacks from oppression and to build a Black Nation. God's operations in history are consistently for blacks and against whites. James Cone has a similar vision of the divine providence: "God is at work in the black community vindicating black people against white oppression."
The various forms of political theology are generally skeptical of angels and miracles. The miracles alleged in the Bible involve no supernatural interruption of the natural order. Liberation theologians instead view miracles as momentous events, namely, as signs of liberation or the arrival of the kingdom of God. Moreover, political theologians generally hold that the traditional view of prayer as petition to God to change conditions represents an evasion of personal responsibility and a substitute for action. Thus they view prayer as a reflective exercise that sharpens conscience and so prepares a person to participate in the struggle for the political liberation of the oppressed.
Gordon R. Lewis and Bruce A. Demerest, Integrative Theology, vol. 2 [Grand Rapids, MI: Zondervan, 1990], 77-78.
==============================
2. MYSTICISM. Mysticism is subject to a twofold classification:
a. FALSE MYSTICISM. The theory that divine revelation is not limited to the written Word of God, but that God bestows added truth to souls that are sufficiently quickened by the Spirit of God to receive it. Mystics of this class contend that, by self-effacement and devotion to God. individuals may attain to immediate, direct, and conscious realization of the person and presence of God and thus to all truth in Him. False mysticism includes all those systems which teach identity between God and human life—Pantheism, Theosophy, and Greek philosophy. In it are included practically all the holiness movements of the day; also, Spiritism, Seventh Day Adventism, New Thought, Christian Science, Swedenborgianism, Mormonism, and Millennial Dawnism. The founders and promoters of many of these cults make claim to special revelation from God upon which their system is built. With far less complication with error and untruth a false mysticism is discernible in the beliefs and practices of the Friends or Quakers. In presenting their doctrine of the "inner light," they say that, having the indwelling Spirit, the individual Christian is in contact with the same One who inspired and gave the Scriptures and that the Spirit is not only able to impart added truth beyond that already given in the Bible, but that He is appointed by Christ to do so according to John 16:12, 13, "I have yet many things to say unto you, but ye cannot bear them now. Howbeit when he, the Spirit of truth, is come, he will guide you into all truth." The church generally has believed that this promise is fulfilled in two ways: (a) by the ability given to the men to whom Christ spoke whereby they were able to write the New Testament Scriptures; and (b) by the ministry of the Spirit in teaching the apostles and all in every age who are yielded to Him, the truth now contained in the Bible.
No voice could speak with more authority for the Quakers than Robert Barclay whose Apology was published in 1867. He states: "Moreover, these divine inward revelations, which we make absolutely necessary for the building up of true faith, neither do nor can ever contradict the outward testimony of the Scriptures, or right and sound reason. Yet from hence it will not follow, that these divine revelations are to be subjected to the examination, either of the outward testimony of the Scriptures, or of the natural reason of man, as to a more noble or certain rule or touchstone: for this divine revelation and inward illumination, is that which is evident and clear of itself" (Barclay's Apology, pp. 13-14).
In earlier times this form of mysticism was voiced in the teachings of Francis de Sales, Thomas a Kempis, Madam Guyon, Archbishop Fenelon, and Upham. Montanus advanced these conceptions as early as the second century. They were later sustained by Tertullian and became a vital issue among the Reformers. The extreme spiritual mysticism is known as Quietism, which proposes death to self, disregards the attractions of heaven or the pains of hell, and ceases from petitions in prayer or thanksgiving lest self be encouraged. Likewise, those forms of spiritual-life teachings are to be included which impose upon the Christian a duty of self-crucifixion in place of the recognition of the fact that self was crucified with Christ, and that the values of His death are now to be received by faith in that which was accomplished on the cross rather than by any human accomplishment. The Word of God teaches that the spiritual life is wrought by the Spirit in the heart of the yielded believer, and the Spirit is made righteously free to annul the works of the flesh on the ground of the fact that Christ died unto the sin nature, and not on the ground of human achievement in the way of self-effacement or self-crucifixion.
b. TRUE MYSTICISM. True mysticism contends that all believers are indwelt by the Spirit and thus are in a position to be enlightened directly by Him, but that there is one complete revelation given, and that the illuminating work of the Spirit will be confined to the unveiling of the Scriptures to the mind and heart. False mysticism ignores the statement found in Jude 1:3 that there is a faith or system of belief "once delivered unto the saints," and that when the Spirit is promised to "guide into all truth" ( John 16:13), it is only the truth contained in the Scriptures (cf. 1 Cor. 2:9, 10). There is a unique knowledge of the mysteries or sacred secrets of God accorded to those who are taught by the Spirit of God, but these sacred secrets are already contained in the text of the Bible.
Lewis Sperry Chafer, Systematic Theology, vols. 1 & 2 [Grand Rapids, MI: Kregel Publications, 1948], 12-14.
==============================
"There are several economic theories to explain the causes of what Christians call temptation and resulting sin. Most of these have been influenced by Marxist views of mankind as essentially economic beings. Struggle between economic classes is as near as Marxism comes to a doctrine of sin. I leave to the department of Apologetics a thorough canvass of the several Marxist, essentially anti-Christian theories. Chief among them is liberation theology. Though it was primarily a movement among post-Vatican II Roman Catholics, students in undergraduate university classes in sociology met much of the same thought many long years ago when the now generally despised Stalin was still darling of many professors and Chairman Mao was soon to appear."
Robert Duncan Culver, Systematic Theology: Biblical and Historical [Ross-shire, Scotland: Christian Focus Publications, 2005], 368.
==============================
"It is helpful at this point to remember that classical liberal Protestantism is humanistic, and its approaches are primarily man-centered rather than God- centered.' When a church begins to stray from faithfulness to Christ, this will evident not only in the shift to impure doctrine (which can sometimes be concealed from church members by the use of evasive language) but also in the daily life of the church: its activities, its preaching, its counseling, and even the casual conversations among members will tend to become more and more man-centered and less and less God-centered. There will tend to be a repeated emphasis on the typical kinds of self-help advice given in popular journals and by secular psychologists. There will be a horizontal orientation as opposed to a vertical God-centered orientation, there will be fewer and fewer extended times of prayer and less and less emphasis on the direct application of Scripture to daily situation, but more emphasis on simply being a caring and sensitive person, and on affirming others and acting in love toward them. The conversation and activities of the church will have very little genuine spiritual content—little emphasis on the need for daily prayer for individual concerns and for forgiveness of sins, little emphasis on daily personal reading of Scripture, and little emphasis on moment-by-moment trust in Christ and knowing the reality of his presence in our lives. Where there are admonitions to moral reformation, these will often be viewed as human deficiencies that people can correct by their own discipline and effort, and perhaps encouragement from others, but these moral aspects of life will not primarily be viewed as sin against a holy God, sin which can only effectively be overcome by the power of the Holy Spirit working within. When such humanistic emphases become dominant in a church, it has moved far toward the "less-pure" end of the scale in many of the areas listed above, and it is moving in the direction of becoming a false church."
Wayne Grudem, Systematic Theology [2000], 875-876.
==============================
"In the first place, we should insist that if the immigrant who comes here in good faith becomes an American and assimilates himself to us, he shall be treated on an exact equality with everyone else, for it is an outrage to discriminate against any such man because of creed, or birthplace, or origin. But this is predicated upon the person's becoming in every facet an American, and nothing but an American…There can be no divided allegiance here. Any man who says he is an American, but something else also, isn't an American at all. We have room for but one flag, the American flag… We have room for but one language here, and that is the English language.. And we have room for but one sole loyalty and that is a loyalty to the American people."
(Theodore Roosevelt's ideas on Immigrants and being an American, 1907)
==============================
I know the proud flesh wants to serve Christ by striking out new paths. Proud man has a desire to preach new doctrine, to set up a new Church; to be an original thinker, to judge, and consider, and do anything but obey. This is no service to Christ. He that would serve Christ must follow Him; he must be content to tread only in the old footsteps, and go only where Christ has led the way. It is not for you and me to be originals; we must be humble copies of Christ. There must be nothing about our religion of our own inventing; it is for us to lay thought, judgment, and opinion at the feet of Christ, and do what He bids us, simply because He gives the command.
(C.H. Spurgeon)
==============================
An ardent believer in human depravity and the limitations of the goodness of man, Augustine saw the necessity of government as a restraining mechanism for the good society. Augustine did not expect unbelief to spawn good civil government or liberty:
Sinful man [actually] hates the equality of all men under God and, as though he were God, loves to impose his sovereignty on his fellow men. He hates the peace of God which is just and prefers his own peace which is unjust. However, he is powerless not to love peace of some sort. For, no man's sin is so unnatural as to wipe out all traces whatsoever of human nature (City of God [New York, NY: Doubleday, 1958], 454).
One can see from these early aphorisms why Calvin thought of himself as Augustinian. The Reformation was, in the main, a return to Augustinianism. The state was remedial, protective, and 'a corrective device for the restraint of self-centered human beings.' Augustine saw the state as an institution erected primarily to restrain sin after Eden's Fall. Human government, for Augustine, had its root in the consequences of that Fall, not in the origin of creation. Viewing the Fall as the font of human governments limited both the successes and defeats that Christians might experience in political matters. Such a view necessarily de-emphasizes the political and restores it to its proper perspective, rendering it as less than all-encompassing. Christians during the fourth century needed the reminder that since government was established after the Fall, it should not be expected to achieve utopian goals. The reformers reemphasized these notions centuries later, as did the American founders as well
David W. Hall, Genevan Reformation and the American Founding [New York, NY: Lexington Books, 2003], 29.
==============================
No, the people's freedom's are based in the Necessary Being, the first cause, the First Principle. The government can use power to control its subjects, but the people, if there is no God, cannot base their self-worth on anything absolute. Only if they were in control and had use of power could they. However, God does exist, our Founders knew it, and the people have their rights already, the government is only there to secure them. Not the government granting the people their rights. The former – i.e., natural rights and freedoms – government is based on "first principles," the latter – i.e., power-mongers and tyrants – isn't.
(Papa Giorgio — Me)
==============================
There is one thing a professor can be absolutely certain of: almost every student entering the university believes, or says he believes, that truth is relative. If this belief is put to the test, one can count on the students' reaction: they will be uncomprehending. That anyone should regard the proposition as not self-evident astonishes them. … The relativity of truth is … a moral postulate, the condition of a free society, or so they see it. … The danger they have been taught to fear is not error but intolerance. Relativism is necessary to openness; and this is the virtue, the only virtue, which all primary education for more than fifty years has dedicated itself to inculcating. Openness — and the relativism that makes it plausible — is the great insight of our times. … The study of history and of culture teaches that all the world was mad in the past; men always thought they were right, and that led to wars, persecutions, slavery, xenophobia, racism, and chauvinism. The point is not to correct the mistakes and really be right; rather it is not to think you are right at all.
Allan Bloom, The Closing of the American Mind, 25.
==============================
Have you ever heard the story of a man who used to go to work at a factory and every day would stop outside a clockmaker's store to synchronize his watch with the clock outside? At the end of several days the clockmaker stopped him and said, 'Excuse me, sir, I do have a question for you. I see that every day you stop and adjust your watch with my clock. What kind of work do you do?' The man said, 'I'm embarrassed to tell you this; I keep the time at the factory nearby, and I have to ring the bell at four o clock every afternoon when it is time for the people to go home. My watch doesn't work very well, so I synchronize it with your clock.' The clockmaker says, 'I've got bad news for you. My clock doesn't work very well either, so I synchronize it with the bell that I hear from the factory at 4:00 every afternoon.' If you'll pardon the grammar, what happens when two wrong watches correct themselves by each other? They will get wronger and wronger all the time. Even a clock that doesn't work may show you the right time twice a day…but it's not because it's keeping time!
(Ravi Zacharias, "Address to the United Nations' Prayer Breakfast.")
==============================
…Because so few are thinking, naturally there are found but a few to argue. Prejudice there is in abundance and sentiment too, for these are things born of enthusiasm without the pain of labor. Thinking on the contrary, is a difficult task; it is the hardest work man can do-that is perhaps why so few indulge in it. Thought-saving devices have been invented that rival labor-saving devices in their ingenuity. Fine sounding phrases like 'Life is bigger than logic,' or 'Progress is the spirit of the age,' go rattling by us like express trains, carrying with them the burden of those who are too lazy to think for themselves. Not even philosophers argue today; they only explain away. At best, both sides may shoot off firecrackers, creating the illusion of conflict, but it is only a sham battle in which there are no casualties; there are plenty of explosions, but never an exploded argument.
(Fulton Sheen)
==============================
In the world it is called Tolerance, but in hell it is called Despair, the sin that believes in nothing, cares for nothing, seeks to know nothing, interferes with nothing, enjoys nothing, hates nothing, finds purpose in nothing, lives for nothing, and remains alive because there is nothing for which it will die.
(Dorothy Sayers)
==============================
The mounting evidence indicting the leaders of the sexual revolution is impressive. They promised joy, liberation, and good health. They've delivered misery, disease, and even death.
(Drs. Alexandra and Vernon Mark noted in Medical World News)
==============================
The true university of these days is a collection of books.
(Thomas Carlyle)
==============================
A home without books is a body without soul.
(Marcus Tullius Cicero)
==============================
"The things I want to know are in books. My best friend is the man who'll get me a book I [haven't] read."
(Abraham Lincoln)
==============================
The man who does not read good books is no better than the man who can't.
(Mark Twain)
==============================
Books constitute capital. A library book lasts as long as a house, for hundreds of years. It is not, then, an article of mere consumption but fairly of capital, and often in the case of professional men [or women], setting out in life, it is there only capital.
(Thomas Jefferson)
==============================
Power kills; absolute power kills absolutely…. The more power a government has, the more it can act arbitrarily according to the whims and desires of the elite…
(Death by Government, R. J. Rummel)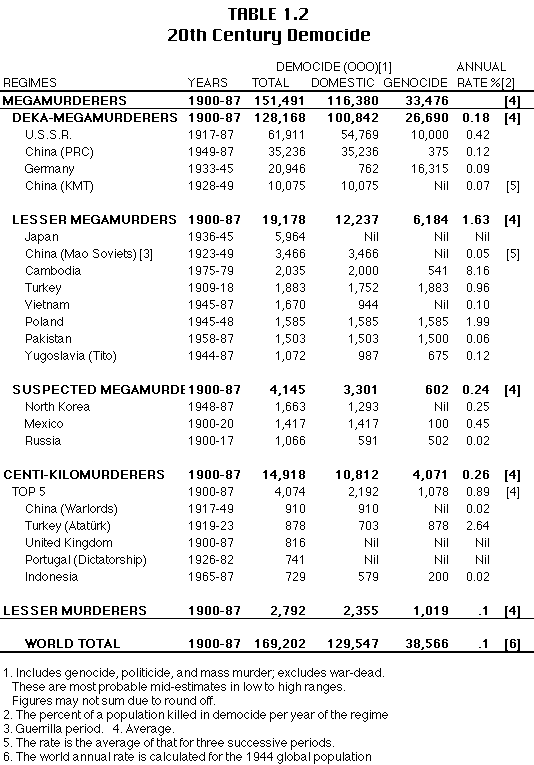 ==============================
Now, there is something in my past I think I should clear up right now: I was once a speechwriter for Walter Mondale. How do I explain that? Easy. Being born one generation too late, working for Mondale was the closest I could get to being a Trotskyite — which, as you all know, is the royal road to neoconservatism.
(Charles Krauthammer)
==============================
… Machen insisted, it is essential that Christian scholars be alert to the power of an idea before it has reached popular formulation. Scholarly procedure, he said, "s based simply upon a profound belief in the pervasiveness of ideas. What is today a matter of academic speculation begins tomorrow to move armies and pull down empires. In that second stage, it has gone too far to be combated; the time to stop it was when it was still a matter of impassionate debate. So as Christians we should try to mold the thought of the world in such a way as to make the acceptance of Christianity something more than a logical absurdity."
William Lane Craig, Passionate Conviction: Contemporary Discourses on Chriostian Apologetics, 11-12; and, J. Menchen Machen, "Christianity and Culture," Princeton Theological Review 11 (1913), 6.
==============================
None of us feels the true love of God till we realize how wicked we are. But you can't teach people that — they have to learn by experience.
(Dorothy Sayers)
==============================
"… it absurd for the evolutionist to complain that it is unthinkable for an admittedly unthinkable God to make everything out of nothing, and then pretend that it is more thinkable that nothing should turn itself into everything."
(G. K. Chesterton)
==============================
…To be forced to believe only one conclusion – that everything in the universe happened by chance – would violate the very objectivity of science itself…. What random process could produce the brains of a man or the system of the human eye?… They [evolutionists] challenge science to prove the existence of God. But must we really light a candle to see the sun?…
(Werner von Braun, letter to the California State board of Education, September 14, 1972)
—I must post some biography here for the younger kinfolk who do not know who von Braun is—
Von Braun [1912-1977] was born in Wirsitz (now in Poland) and studied at Berlin and in Switzerland at Zurich. In 1930, he joined a group of scientists who were experimenting with rockets, and in 1938 he became technical director of the Peenemunde military rocket establishment. It was in the 1940's that he and his team produced the V1 (flying bomb) and the V2 rockets. In the last days of the war, von Braun and his staff, not wishing to be captured by the Soviets, surrendered to US forces. Soon afterwards, von Braun began work at the US Army Ordinance Corps testing grounds at White Sands, New Mexico. In 1952 he became technical director of the army's ballistic-missile program. It was in the 1950's that he produced rockets for US satellites (the first, Explorer 1, was launched early 1958) and early space flights by astronauts. He held an administrative post at NASA from 1970-1972 as well. We would have never made it to the moon if it were not for von Braun.
==============================
The problem with Christianity is not that it has been tried and found wanting, but that it has been found difficult, and left untried.
(G. K. Chesterton)
==============================
[For almost 2,300 years, the universe was thought to be static. However, the Bible clearly states that it had a beginning]:
When Albert Einstein developed his general theory of relativity in 1915 and started applying it to the universe as a whole, he was shocked to discover it didn't allow for a static universe. According to his equations, the universe should either be exploding or imploding. In order to make the universe static, he had to fudge his equations by putting in a factor that would hold the universe steady.
In the 1920′s, the Russian mathematician Alexander Friedman and the Belgium astronomer George Lemaitre were able to develop models based on Einstein's theory. They predicted the universe was expanding. Of course, this meant that if you went backward in time, the universe would go back to a single origin before which it didn't exist. Astronomer Fred Hoyle derisively called this the Big Bang — and the name stuck!
Starting in the 1920′s, scientists began to find empirical evidence that supported these purely mathematical models. For instance, in 1929, the American astronomer Edwin Hubble discovered that the light coming to us from distant galaxies appears redder than it should be, and this is a universal feature of galaxies in all parts of the sky. Hubble explained this red shift as being due to the fact that the galaxies are moving away from us. He concluded that the universe is literally flying apart at enormous velocities. Hubble's astronomical observations were the first empirical confirmation of the predictions by Friedman and Lemaitre.
Then in the 1940′s, George Gamow predicted that if the Big Bang really happened, then the background temperature of the universe should be just a few degrees above absolute zero. He said this would be a relic from a very early stage of the universe. Sure enough, in 1965, two scientists accidentally discovered the universe's background radiation — and it was only about 3.7 degrees above absolute zero. There's no explanation for this apart from the fact that it is a vestige of a very early and a very dense state of the universe, which was predicted by the Big Bang model.
The third main piece of the evidence for the Big Bang is the origin of light elements. Heavy elements, like carbon and iron, are synthesized in the interior of stars and then exploded through supernova into space. But the very, very light elements, like deuterium and helium, cannot have been synthesized in the interior of the stars, because you would need an even more powerful furnace to create them. These elements must have been forged in the furnace of the Big Bang itself at temperatures that were billions of degrees. There's no other explanation.
So predictions about the Big Bang have been consistently verified by the scientific data. Moreover, they have been corroborated by the failure of every attempt to falsify them by alternative models. Unquestionably, the Big Bang model has impressive scientific credentials . . . . Up to this time, it was taken for granted that the universe as a whole was a static, eternally existing object . . . . At the time an agnostic, American astronomer Robert Jastrow was forced to concede that although details may differ, "the essential element in the astronomical and Biblical accounts of Genesis is the same; the chain of events leading to man commenced suddenly and sharply, at a definite moment in time, in a flash of light and energy"…. Einstein admitted the idea of the expanding universe "irritates me" (presumably, said one prominent scientist, "because of its theological implications") -
Lee Strobel, The Case for a Creator, from the chapter, "The Evidence of Cosmology: Beginning with a Bang,", 105-106, 112.
==============================
The atheist can't find God for the same reason a thief can't find a policeman.
Ray Comfort, God Doesn't Believe in Atheists: Proof That the Atheist Doesn't Exist, p. 14.
==============================
…the fossil record doesn't show gradual change, and every paleontologist has known that since Cuvier.
Stephen Jay Gould, "Is a New and General Theory of Evolution Emerging?" Lecture at Hobart & William Smith Colleges; Feb 14, 1980.
==============================
The support which I receive from Germany is my chief ground for hoping that our views will ultimately prevail.
Charles Darwin, The Life and Letters of Charles Darwin, vol. 2, p. 270.
==============================
Being a lover of freedom, when the [Nazi] revolution came, I looked to the universities to defend it, knowing that they had always boasted of their devotion to the cause of truth; but no, the universities were immediately silenced. Then I looked to the great editors of the newspapers, whose flaming editorials in days gone had proclaimed their love of freedom; but they, like the universities, were silenced in a few short weeks… Only the Church stood squarely across the path of Hitler's campaign for suppressing the truth. I never had any special interest in the Church before, but now I feel a great affection and admiration for it because the Church alone has had the courage and persistence to stand for intellectual and moral freedom. I am forced to confess that what I once despised I now praise unreservedly.
Albert Einstein–Albert Einstein Time Magazine, December 23, 1940 (page 38); Mackay, J. A. 1939. "The Titanic Twofold Challenge," New York Times Magazine, May 7, p. 3.
==============================
Even if one does not necessarily accept the institutional structure of "organized religion," the "Judeo-Christian ethic and the personal standards it encourages do not impinge on the quality of life, but enhance it. They also give one a basic moral template that is not relative," which is why the legal positivists of the Left are so threatened by the Natural Law aspect of the Judeo-Christian ethic."
~~~~~~~~~~~
…these problems don't remain personal and private. The drive, especially since this issue is associated with the word 'gay rights,' is to make sure your worldview reflects theirs. To counter this effort, we must demand that the medical and psychiatric community take off their PC blinders and treat these people responsibly. If we don't, the next thing you know, your child will be taking a 'tolerance' class explaining how "transexuality" is just another "lifestyle choice"…. After all, it is the only way malignant narcissists will ever feel normal, healthy, and acceptable: by remaking society – children – in their image.
~~~~~~~~~~~
… and now all manner of sexual perversion enjoys the protection and support of once what was a legitimate civil-rights effort for decent people. The real slippery slope has been the one leading into the Left's moral vacuum. It is a singular attitude that prohibits any judgment about obvious moral decay because of the paranoid belief that judgment of any sort would destroy the gay lifestyle, whatever that is…. I believe this grab for children by the sexually confused adults of the Gay Elite represents the most serious problem facing our culture today…. Here come the elephant again: Almost without exception, the gay men I know (and that's too many to count) have a story of some kind of sexual trauma or abuse in their childhood — molestation by a parent or an authority figure, or seduction as an adolescent at the hands of an adult. The gay community must face the truth and see sexual molestation of an adolescent for the abuse it is, instead of the "coming-of-age" experience many [gays] regard it as being. Until then, the Gay Elite will continue to promote a culture of alcohol and drug abuse, sexual promiscuity, and suicide by AIDS.
Tammy Bruce, The Death of Right and Wrong: Exposing the Left's Assault on Our Culture and Values (Roseville: Prima, 2003), 35; 92 & 206; 90 & 99 – respectively. Tammy is a pro-choice lesbian in case someone reading this is not aware.
==============================
Unfortunately, when the Attorney General, as the highest law enforcement official in the country, does not vigorously pursue justice in cases where government clearly employed improper force, a cancerous suspicion metastasizes in the body of society with potentially devastating effects. Not least of all, it encourages dangerous extremists like those in the Oklahoma City bombing.
Dean Koontz ~ horror/fiction author ~ in the foreword of Ambush at Ruby Ridge, by Alan Bock.
==============================
Our Founders had an opportunity to establish a democracy in America but chose not to. In fact, they made very clear that we were not – and never to become – a democracy:
James Madison (fourth President, co-author of the Federalist Papers and the "father" of the Constitution) – "Democracies have ever been spectacles of turbulence and contention; have ever been found incompatible with personal security, or the rights of property; and have, in general; been as short in their lives as they have been violent in their deaths."
John Adams (American political philosopher, first vice President and second President) – "Remember, democracy never lasts long. It soon wastes, exhausts, and murders itself. There never was a democracy yet that did not commit suicide."
Benjamin Rush (signer of the Declaration) – "A simple democracy… is one of the greatest of evils."
Fisher Ames (American political thinker and leader of the federalists [he entered Harvard at twelve and graduated by sixteen], author of the House language for the First Amendment) – "A democracy is a volcano which conceals the fiery materials of its own destruction. These will provide an eruption and carry desolation in their way.´ / "The known propensity of a democracy is to licentiousness [excessive license] which the ambitious call, and the ignorant believe to be liberty."
Governor Morris (signer and penman of the Constitution) – "We have seen the tumult of democracy terminate… as [it has] everywhere terminated, in despotism…. Democracy! Savage and wild. Thou who wouldst bring down the virtous and wise to thy level of folly and guilt."
John Quincy Adams (sixth President, son of John Adams [see above]) – "The experience of all former ages had shown that of all human governments, democracy was the most unstable, fluctuating and short-lived."
Noah Webster (American educator and journalist as well as publishing the first dictionary) – "In democracy… there are commonly tumults and disorders….. therefore a pure democracy is generally a very bad government. It is often the most tyrannical government on earth."
John Witherspoon (signer of the Declaration of Independence) – "Pure democracy cannot subsist long nor be carried far into the departments of state – it is very subject to caprice and the madness of popular rage."
Zephaniah Swift (author of America's first legal text) – "It may generally be remarked that the more a government [or state] resembles a pure democracy the more they abound with disorder and confusion."
Take note that as well ArticleIV, Section4 of the Constitution reads:
"The United States shall guarantee to every state in this union a republican form of government…"
==============================
Christianity has fought, still fights, and will continue to fight science to the desperate end over evolution, because evolution destroys utterly and finally the very reason Jesus' earthly life was supposedly made necessary. Destroy Adam and Eve and the original sin, and in the rubble you will find the sorry remains of the Son of God. If Jesus was not the redeemer who died for our sins, and this is what evolution means, then Christianity is nothing.
G. Richard Bozarth, "The Meaning of Evolution," American Atheist, p. 30, 20 September 1979.
==============================
To simulate 10 milliseconds of the complete processing of even a single nerve cell from the retina would require the solution of about 500 simultaneous non-linier differential equations one hundred times and would take at least several minutes of processing time on a Cray super computer. Keeping in mind that there are 10 million or more cells intersecting with each other in complex ways it would take a minimum of a hundred years of Cray time to simulate what takes place in your eye many times every second
(John K. Stevens, Byte, April 1988)
==============================
The stronger must dominate and not mate with the weaker, which would signify the sacrifice of its own higher nature. Only the born weakling can look upon this principle as cruel, and if he does so it is merely because he is of a feebler nature and narrower mind; for if such a law [natural selection] did not direct the process of evolution then the higher development of organic life would not be conceivable at all…. If Nature does not wish that weaker individuals should mate with the stronger, she wishes even less that a superior race should intermingle with an inferior one; because in such a case all her efforts, throughout hundreds of thousands of years, to establish an evolutionary higher stage of being, may thus be rendered futile.
Adolf Hitler, Mein Kampf, translator/annotator, James Murphy [New York: Hurst and Blackett, 1942], pp. 161-162.
==============================
The Bible does not teach the horrible practices that some have committed in its name. It is true that it's possible that religion can produce evil, and generally when we look closer at the details it produces evil because the individual people [Christians] are actually living in rejection of the tenets of Christianity and a rejection of the God that they are supposed to be following. So it [religion] can produce evil, but the historical fact is that outright rejection of God and institutionalizing of atheism (non-religious practices) actually does produce evil on incredible levels. We're talking about tens of millions of people as a result of the rejection of God. For example: the Inquisitions, Crusades, Salem Witch Trials killed about anywhere from 40,000 to 80,000 persons combined (World Book Encyclopedia and Encyclopedia Americana), and the church is liable for the unjustified murder of about (taking the high number here) 300,000-women over about a 300 year period. A blight on Christianity? Certainly. Something wrong? Dismally wrong. A tragedy? Of course. Millions and millions of people killed? No. The numbers are tragic, but pale in comparison to the statistics of what non-religious criminals have committed); the Chinese regime of Mao Tse Tung, 60 million [+] dead (1945-1965), Stalin and Khrushchev, 66 million dead (USSR 1917-1959), Khmer Rouge (Cambodia 1975-1979) and Pol Pot, one-third of the populations dead, etc, etc. The difference here is that these non-God movements are merely living out their worldview, the struggle for power, survival of the fittest and all that, no evolutionary/naturalistic natural law is being violated in other words (as non-theists reduce everything to natural law — materialism). However, and this is key, when people have misused the Christian religion for personal gain, they are in direct violation to what Christ taught, as well as Natural Law.
(A condensing of Gregory Koukl's, "The Real Murderers: Atheism or Christianity?")
==============================
Alcohol is nicissary f'r a man so that now an' thin he can have a good opinion iv himself, ondisturbed be th' facts.
Finley Peter Dunne, "Mr. Dooley on Alcohol," The Chicago Tribune, April 26, 1914.
==============================
I am an historian, I am not a believer, but I must confess as a historian that this penniless preacher from Nazareth is irrevocably the very center of history. Jesus Christ is easily the most dominant figure in all history.
(H.G. Wells)
==============================
"Jesus of Nazareth, without money and arms, conquered more millions than Alexander the Great, Caesar, Mohammed, and Napoleon; without science and learning, he shed more light on things human and divine than all philosophers and scholars combined; without the eloquence of school, he spoke such words of life as were never spoken before or since, and produced effects which lie beyond the reach of orator or poet; without writing a single line, he set more pens in motion, and furnished themes for more sermons, orations, discussions, learned volumes, works of art, and songs of praise than the whole army of great men of ancient and modern times."
Schaff, Phillip, "The Person of Christ," American Tract Society, 1913.
==============================
I know men and I tell you that Jesus Christ is no mere man. Between Him and every other person in the world there is no possible term of comparison. Alexander, Caesar, Charlemagne, and I have founded empires. But on what did we rest the creation of our genius? Upon force. Jesus Christ founded His empire upon love; and at this hour millions of men would die for Him.
(Napoleon)
==============================
If the solar system was brought about by an accidental collision, then the appearance of organic life on this planet was also an accident, and the whole evolution of Man was an accident too. If so, then all our thought processes are mere accidents – the accidental by-product of the movement of atoms. And this holds for the materialists and astronomers as well as for anyone else's. But if their thoughts — i.e. of Materialism and — are merely accidental by-products, why should we believe them to be true? I see no reason for believing that one accident should be able to give a correct account of all the other accidents. It's like expecting that the accidental shape taken by the splash when you upset a milk-jug should give you a correct account of how the jug was made and why it was upset.
C.S. Lewis, God in the Dock (Grand Rapids, MI: Eerdmans, 1970), 52-53.
==============================
The nine founders among the eleven living religions in the world had characters which attracted many devoted followers during their own lifetime, and still larger numbers during the centuries of subsequent history. They were humble in certain respects, yet they were also confident of a great religious mission. Two of the nine, Mahavira and Buddha, were men so strongminded and self-reliant that, according to the records, they displayed no need of any divine help, though they both taught the inexorable cosmic law of Karma. They are not reported as having possessed any consciousness of a supreme personal deity. Yet they have been strangely deified by their followers. Indeed, they themselves have been worshiped, even with multitudinous idols. All of the nine founders of religion, with the exception of Jesus Christ, are reported in their respective sacred scriptures as having passed through a preliminary period of uncertainty, or of searching for religious light. Confucius, late in life, confessed his own sense of shortcomings and his desire for further improvement in knowledge and character. All the founders of the non-Christian religions evinced inconsistencies in their personal character; some of them altered their practical policies under change of circumstances. Jesus Christ alone is reported as having had a consistent God-consciousness, a consistent character himself, and a consistent program for his religion. The most remarkable and valuable aspect of the personality of Jesus Christ is the comprehensiveness and universal availability of his character, as well as its own loftiness, consistency, and sinlessness.
Robert Hume, The World's Living Religions, pp. 285-286.
==============================
If A can prove, however conclusively, that he may, of right, enslave B. — why not B. snatch the same argument, and prove equally, that he may enslave A.? …. You say A. is a white, and B. is black. It is –color–, then; the lighter, having the right to enslave the darker? Take care. By this rule, you are to be the slave to the first man you meet, with a fairer skin than your own. …. You do not mean color exactly? — You mean the whites are –intellectually– the superiors of the blacks, and therefore, have the right to enslave them? Take care again. By this rule, you are to be slave to the first man you meet, with an intellect superior to your own. …. But, say you, it is a question of –interest–; and, if you can make it your –interest–, you have the right to enslave another. Very well. And if he can make it his interest, he has the right to enslave you.
(Abraham Lincoln, notes from the Lincoln / Douglas debate)
==============================
We believe as much in the purity of race as we think they do, only we believe that they would best serve these interests, which are as dear to us as to them, by advocating the purity of all races, and not one alone. We believe also that the white race of South Africa should be the predominating race.
(Gandhi)
==============================
We can learn from history how past generations thought and acted, how they responded to the demands of their time and how they solved their problems. We can learn by analogy, not by example, for our circumstances will always be different than theirs were. The main thing history can teach us is that human actions have consequences and that certain choices, once made, cannot be undone. They foreclose the possibility of making other choices and thus they determine future events
Lerner Gerda, Why History Matters, 117.
==============================
And certainly, there's no doubt about it, that in the past, and I think also in the present, for many evolutionists, evolution has functioned as something with elements which are, let us say, akin to being a secular religion … And it seems to me very clear that at some very basic level, evolution as a scientific theory makes a commitment to a kind of naturalism, namely, that at some level one is going to exclude miracles and these sorts of things come what may.
Michael Ruse, "The New Antievolutionism," AAAS Symposium, February 13, 1993.
==============================
The atheist realizes that there must not only be an acceptance of his right to hold his opinion, but that ultimately his is the job to turn his culture from religion, to eliminate those irrational ideas which have held the human race in intellectual slavery…. The atheist must abandon his defensive positions, take up the cudgels and go forward, rather than into the retreat of apathy.
Madalyn Murray O'Hair annual convention speech in Sacramento, California, C-SPAN, April 10, 1993.
==============================
On a dark street, a man draws a knife and demands my money for drugs.

Instead of demanding my money for drugs, he demands it for the Church.

Instead of being alone, he is with a bishop of the Church who act as bagman.

Instead of drawing a knife, he produces a policeman who says I must do as he says.

Instead of meeting me on the street, he mails me his demand as an official agent of the government.

If the first is theft, it is difficult to see why the other four are not also theft.
J. Budziszewski, The Revenge of Conscience: Politics and the Fall of Man, 92.
==============================
I freed Germany from the stupid and degrading fallacies of conscience and morality…. We will train young people before whom the world will tremble. I want young people capable of violence — imperious, relentless and cruel.
Hitler, hung on the wall at Auschwitz; Ravi Zacharias, Can Man Live Without God, p. 23.
==============================
If there is no God, all things are permissible.
(Fyodor Dostoevsky)
==============================
"The question becomes this: What percentage of the Gross Domestic Product we spend on the military inclusive (in other words, we have military bases in over sixty countries, we have wars in Afghanistan and Iraq, we have the world's largest military by far)… what percentage of every dollar that is earned in the United States goes to the military? 4.6% on our military (about a fourth of that is for the wars). We spend double that on education."
(Michael Medved)
==============================
Everything I have said and done in these last years is relativism by intuition…. If relativism signifies contempt for fixed categories and men who claim to be bearers of an objective, immortal truth… then there is nothing more relativistic than fascistic attitudes and activity…. From the fact that all ideologies are of equal value, that all ideologies are mere fictions, the modern relativist infers that everybody has the right to create for himself his own ideology and to attempt to enforce it with all the energy of which he is capable.
Mussolini, Diuturna, pp. 374-77; quoted in, A Refutation of Moral Relativism: Interviews with an Absolutist, by Peter Kreeft, p. 18.
==============================
Even if all the data point to an intelligent designer, such an hypothesis is excluded from science because it is not naturalistic
Kansan State University immunologist, Scott Todd, correspondence to Nature, 410 [6752], 30 September, 1999.
==============================
Note: In these calculations, Yockey generously granted that the raw materials were available in a primeval soup. But in the previous chapter, Yockey showed there was much evidence that a primeval soup never existed, so is an act of faith.
The origin of life by chance in a primeval soup is impossible in probability in the same way that a perpetual machine is in probability. The extremely small probabilities calculated in this chapter are not discouraging to true believers … [however] A practical person must conclude that life didn't happen by chance.
Hubert P. Yockey, Information Theory and Molecular Biology [Cambridge University Press, UK: 1992] 257.
==============================
I now find that many environmental groups have drifted into self-serving cliques with narrow vision and rigid ideology…. many environmentalists are showing signs of elitism, left-wingism, and downright eco-fascism. The once politically centrist, science-based vision of environmentalism has been largely replaced with extremist rhetoric. Science and logic have been abandoned and the movement is often used to promote other causes such as class struggle and anti-corporatism. The public is left trying to figure out what is reasonable and what is not.
(Patrick Moore, co-founder of Green Peace)
==============================
The quantum vacuum is not nothing. The quantum vacuum is a sea of fluctuating energy, endowed with a rich physical structure, and governed by physical laws. It is no exception to the principle "that whatever begins to exist has a cause."
(William Lane Craig)
==============================
We must challenge them [secular social activists] to discern the difference between the true repentance and "social repentance." The Bible says: "For the godly grief produces a repentance that leads to salvation and brings no regret; but worldly grief produces death" (II Cor. 7:10). This was the bitter experiences of many former Russian Marxists, who, after their conversion to Christ came to understand that they had only a sort of 'social repentance'—a sense of guilt before the peasant and the proletariat, but not before God. They admitted that "A Russian (Marxist) intellectual as an individual is often a mild and loving creature, but his creed (Marxism) constrains him to hate" (cf. Nicolas Zernov: The Russian Religious Renaissance). "As it is written, there is none righteous, no, not one…. For all have sinned and come short of the glory of God" (Rom. 3:10,23). A complete change of a society must come from man himself, for basically man is at enmity with God. All humanistic social, economic and political systems are but "cut flowers," as Dr. Trueblood put it, even the best are only dim reflections of the Glory of the Kingdom of God. As Benjamin Franklin in his famous address to the Constitutional Convention, said, "Without His concurring aid, we shall succeed in this political building no better than the builders of Babel." Without reconciliation with God, there is no reconciliation with man. Social action is not evangelism; political liberation is not salvation. While we shall by all means have deep concern on social issues; nevertheless, social activism shall never be a substitution for the Gospel."
Lit-sen Chang, The True Gospel vs. Social Activism, 9-10. Booklet from 1976.
==============================
Biological arguments for racism may have been common before 1850, but they have increased by orders of magnitude following the acceptance of evolutionary theory
Stephen Jay Gould, Ontogeny and Phylogeny, pp. 127-128.
==============================
The Races Of Man – At the present time there exists upon the earth five races or varieties of man, each very different from the other in instincts, social customs, and, to an extent in structure. These are the Ethiopian or Negro type, originating in Africa; the Malay or brown race, from the Islands of the Pacific; the American Indian; the Mongolian or yellow race, including the natives of China, Japan, and the Eskimos; and finally, the highest of all, the Caucasians, represented by the civilized white inhabitants of Europe and America
(A public school textbook, George William Hunter, A Civic Biology Presented in Problems, [The American Book Company: N. Y.; 1914], p. 196)
==============================
If homosexuality is really genetic, we may soon be able to tell if a fetus is predisposed to homosexuality, in which case many parents might choose to abort it. Will gay rights activists continue to support abortion rights if this occurs?
Dale A. Berryhill, The Liberal Contradiction: How Contemporary Liberalism Violates Its Own Principles and Endangers Its Own Goals (1994), 172.
==============================
Since women that believe in God are less likely to have abortions, does that mean that natural selection will result in a greater number of believers than non-believers.
(A question asked by a student attending a debate between Dr. William Lane Craig [a theist] and Dr. Massimo Pigliucci [an atheis])
==============================
And I wish to be very clear about who the abolitionists were, they were classical-liberals, which are now known as conservatives.
(Russell Kirk, The Conservative Mind: From Burke to Eliot)
==============================
I suspect that most of the individuals who have religious faith are content with blind faith. They feel no obligation to understand what they believe. They may even wish not to have their beliefs disturbed by thought. But if God in whom they believe created them with intellectual and rational powers, that imposes upon them the duty to try to understand the creed of their religion. Not to do so is to verge on superstition.
Mortimer J. Adler, "A Philosopher's Religious Faith", in Philosophers Who Believe: The Spiritual Journeys of 11 Leading Thinkers, 207.
==============================
I shall always be convinced that a watch proves a watch-maker, and that a universe proves God.
(Voltaire)
==============================
A little philosophy inclineth a man's mind to atheism, but depth in philosophy bringeth men's minds about to religion.
(Francis Bacon)
==============================
Atheism is a disease of the soul before it is an error of the mind.
(Plato)
==============================
When a man ceases to believe in God he does not believe in nothing, he believes almost in anything.
(G. K. Chesterton)
==============================
President Kennedy avoided engagement with the civil rights movement for as long as possible…. Tellingly, it had been Vice President Richard Nixon who fought for the 1957 Civil Rights Act in the Senate, not Kennedy.
Kenneth J. Heinman, God Is a Conservative: Religion, Politics, and Morality in Contemporary America, 34-35.
==============================
But it was the southern democrats who formed the line to defend Jim Crow. Georgia governor Lester Maddox famously brandished ax handles to prevent blacks from patronizing his restaurant. He was a democrat. Alabama governor George Wallace stood in front of the Alabama schoolhouse in 1963 and thundered, 'Segregation now, segregation tomorrow, segregation forever.' He was a democrat. Birmingham Public Safety commissioner Eugene 'Bull' Conner sicced dogs and turned fire hoses on black civil rights demonstrations [that were manned primarily by Christians]. He was a democrat. In 1954, Arkansas governor Orville Faubus tried to prevent the desegregation of a Little Rock public high school. He was Democrat. President Eisenhower, a Republican, sent in federal troops to prevent violence and enforce a court order desegregating the school. As a percentage of their respective parties, more republicans voted for the passage of the Civil Rights Act of 1964 than did Democrats! A Republican president, Richard Nixon, not John F. Kennedy or Lyndon B. Johnson, instituted the first affirmative action program with goals and timetables…. And it was during the Kennedy administration that FBI head J. Edgar Hoover sought and received permission to wiretap Martin Luther King. The person granting him permission? Attorney General Robert F. Kennedy.
Larry Elder, Ten Things You Can't Say In America, 14-16.
==============================
The existence of the Bible, as a book for the people, is the greatest benefit which the human race has ever experienced. Every attempt to belittle it is a crime against humanity.
(Immanuel Kant)
==============================
(Below are quotes from James H. Cone, A Black Theology of Liberation ~ a book sold in Obama's church's bookstore the entire 20-years he attended.)
~~~~~~~~~~~
It is dangerous because the true prophet of the gospel of God must become both "anti-Christian" and "unpatriotic." (55) …. Because whiteness by its very nature is against blackness, the black prophet is a prophet of national doom. He proclaims the end of the "American Way…" (56)
~~~~~~~~~~~
But this does not mean that religion is irrelevant altogether; it only means that religion unrelated to black liberation is irrelevant. (58-59)
~~~~~~~~~~~
… it is that whites are incapable of making any valid judgment about human existence. The goal of black theology is the destruction of everything white, so that blacks can be liberated from alien gods. The God of black liberation will not be confused with a blood' thirsty white idol. Black theology must show that the black God has nothing to do with the God worshiped in white churches whose primary purpose is to sanctify the racism of whites and to daub the wounds of blacks. Putting new wine in new wineskins means that the black theology view of God has nothing in common with those who prayed for an American victory in Vietnam or who pray for a "cool" summer in the ghetto…. There is no place in black theology for a colorless God in a society where human beings suffer precisely because of their color. The black theologian must reject any conception of God which stifles black self-determination by picturing God as a God of all peoples. Either God is identified with the oppressed to the point that their experience becomes God's experience, or God is a God of racism…. Because God has made the goal of blacks God's own goal, black theology believes that it is not only appropriate but necessary to begin the doctrine of God with an insistence on God's blackness. (62-63)
~~~~~~~~~~~
White religionists are not capable of perceiving the blackness of God, because their satanic whiteness is a denial of the very essence of divinity. That is why whites are finding and will continue to find the black experience a disturbing reality. (64)
~~~~~~~~~~~
In contrast to this racist view of God, black theology proclaims God's blackness. Those who want to know who God is and what God is doing must know who black persons are and what they are doing. (65)
~~~~~~~~~~~
God comes to us in God's blackness, which is wholly unlike whiteness. To receive God's revelation is to become black with God by joining God in the work of liberation…. Becoming one of God's disciples means rejecting whiteness and accepting themselves as they are in all their physical blackness. (66)
~~~~~~~~~~~
Black theology cannot accept a view of God which does not represent God as being for oppressed blacks and thus against white oppressors. Living in a world of white oppressors, blacks have no time for a neutral God. The brutalities are too great and the pain too severe, and this means we must know where God is and what God is doing in the revolution…. What we need is the divine love as expressed in black power, which is the power of blacks to destroy their oppressors, here and now, by any means at their disposal. Unless God is participating in this holy activity, we must reject God's love. (70)
~~~~~~~~~~~
God is black because God loves us; and God loves us because we are black. Righteousness is that side of God which expresses itself through black liberation. God makes black what humans have made white…. Love is a refusal to accept whiteness. (73-74)
~~~~~~~~~~~
If creation 'involves a bringing into existence of something that did not exist before,' then to say God is creator means that my being finds its source in God. I am black because God is black! God as creator is the ground of my blackness (being), the point of reference for meaning and purpose in the universe…. Rather it is incumbent upon me by the freedom granted by the creator to deny whiteness and affirm blackness as the essence of God. That is why it is necessary to speak of the black revolution rather than reformation. The idea of reformation suggests that there is still something 'good' in the system itself, which needs only to be cleaned up a bit. This is a false perception of reality. The system is based on whiteness, and what is necessary is a replacement of whiteness with blackness. (75-76)
~~~~~~~~~~~
Being white excludes them from the black community and thus whatever concern they have for blacks will invariably work against black freedom…. Certainly if whites expect to be able to say anything relevant to the self-determination of the black community, it will be necessary for them to destroy their whiteness by becoming members of an oppressed community. Whites will be free only when they become new persons—when their white being has passed away and they are created anew in black being. When this happens, they are no longer white but free, and thus capable of making decisions about the destiny of the black community. (97)
~~~~~~~~~~~
Born Again: "They [white people] would destroy themselves and be born again as beautiful black persons." (103);
Sin: "This means that whites, despite their self-proclaimed religiousness, are rendered incapable of making valid judgments on the character of sin…. In a word, sin is whiteness…" (106, 108);
Salvation: "Salvation, then, primarily has to do with earthly reality and the injustice inflicted on those who are helpless and poor. To see the salvation of God is to see this people rise up against its oppressors, demanding that justice become a reality now, not tomorrow." (128)
~~~~~~~~~~~
(Above are quotes from James H. Cone, A Black Theology of Liberation ~ a book sold in Obama's church's bookstore the entire 20-years he attended.)
==============================
Do you realize if it weren't for Edison we'd be watching TV by candlelight?
(Al Boliska).
==============================
I'm a Palin fan because she irritates just the right people for me. I mean, she drives the right people crazy, and I love the fact she's gotten $7 million up front. You know what, in the world we live, every freak and truth contortionist on the midway is makin' a buck, why shouldn't a decent dame like Sarah Palin get $7 million. Is she a genius? No. Are the people who say she's stupid everyday, geniuses? No. You know what my definition of genius is? When you get $7 million up-front for a book. That's my definition of genius.
(Dennis Miller, comedian)
==============================
Before any man can be considered as a member of civil society, he must be considered as a subject of the Governor of the Universe.
(Thomas Jefferson)
==============================
"What is it about Marx's grand vision that inspired his disciples to clamber up the pile of corpses to have a better look?"
(Dr. Benjamin Wiker, 10 Books That Screwed Up the World: And 5 Others That Didn't Help)
==============================
"Beware of manufacturing a god of your own: a god who is all mercy but not just, a god who is all love but not holy, a god who has a heaven for everybody but a hell for none, a god who can allow good and bad to be side by side in time, but will make no distinction between good and broad in eternity. Such a god is an idol of your own, as truly an idol as any snake or crocodile in an Egyptian temple. The hands of your own fancy and sentimentality have made him. He is not the God of the Bible, and beside the God of the Bible, there is no God at all. Beware of making selections from your Bible to suit your taste. Dare not to say, 'I believe this verse, for I like it. I refuse that, for I cannot reconcile it with my views.' Nay! But O man, who art thou that repliest against God? By what right do you talk in this way? Surely it were better to say over EVERY chapter in the word, 'Speak Lord, for thy servant heareth.' Ah! If men would do this, they would never deny the unquenchable fire."
(J.C. Ryle, from Fire, Fire!)
==============================
"[The laws of any state rest on] the basis that the idea of the family, as consisting in and springing from the union for life of one man and one woman in the holy estate of matrimony; the sure foundation of all that is stable and noble in our civilization, the best guaranty of that reverent morality which is the source of all beneficent progress in social and political improvement."
(Supreme Court, 1885)
==============================
Research on the origin of life seems to be unique in that the conclusion has already been authoritatively accepted…. What remains to be done is to find the scenarios which describe the detailed mechanisms and processes by which this happened. One must conclude that, contrary to the established and current wisdom a scenario describing the genesis of life on earth by chance and natural causes which can be accepted on the basis of fact and not faith has not yet been written.
Hubert P. Yockey, "A calculation of the probability of spontaneous biogenesis by information theory," Journal of Theoretical Biology, 67:377–398, 1977; quotes from pp. 379, 396.
==============================
"…can a nation rise above the injustices of its origins and, by its moral purpose and performance, atone for them? All nations are born in war, conquest, and crime, usually concealed by the obscurity of a distant past. The United States, from its earliest colonial times, won its title-deeds in the full blaze of recorded history, and the stains on them are there for all to see and censure: the dispossession of a indigenous people, and the securing of self-sufficiency through the sweat and pain of an enslaved race. In the judgmental scales of history, such grievous wrongs must be balanced by the erection of a society dedicated to justice and fairness."
Paul Johnson, A History of the American People, 3.
==============================
"As government regulations grow slowly, we become used to the harness. Habit is a powerful force, and we no longer feel as intensely as we once would have [the] constriction of our liberties that would have been utterly intolerable a mere half century ago."
(Judge Robert Bork)
==============================
"One thing our Founding Fathers could not foresee…was a nation governed by professional politicians who had a vested interest in getting reelected. They probably envisioned a fellow serving a couple of hitches and then looking…forward to getting back to the farm."
(Ronald Reagan)
==============================
"All truth is relative!" (Is that a relative truth?);

"There are no absolutes!" (Are you absolutely sure?);

"Its true for you but not for me!" (Is that statement true just for you, or is it for everyone?)
In short, contrary beliefs are possible, but contrary truths are not possible.
(Paul Copan)
==============================
"The progressive sees racism and other evils as stages to move beyond; they are national problems to be solved, not human problems to be guarded against and punished. In fact, these evils are often made possible by the odd progressive belief that man will stop being bad if he is no longer restricted from being bad."
Dale A. Berryhill, The Assault: Liberalism's Attack on Religion, Freedom, and Democracy, 31.
==============================
"If you wanted to control the nation's manufacturing, commerce, finance, transportation and natural resources, you would need only to control the apex, the power pinnacle, of an all-powerful SOCIALIST government. Then you would have a monopoly and could squeeze out all your competitors…. 'Communism' is not a movement of downtrodden masses but is a movement created, manipulated and used by power-seeking billionaires…"

Gary Allen, None Dare Call It a Conspiracy
==============================
"If chance be the Father of all flesh, disaster is his rainbow in the sky, and when you hear:
State of Emergency!

Sniper Kills Ten!

Troops on Rampage!

Whites Go Looting!

Bomb Blasts School!
It is but the sound of man worshiping his maker."
Ravi Zacharias, The Real Face of Atheism, 133-134.
==============================
"A crucial difference between the Western tradition and the others… [is that]…. The crimes of the West have produced their own antidotes. They have provoked great movements to end slavery, to raise the status of women, to abolish torture, to combat racism, to defend freedom of inquiry and expression, to advance personal liberty and human rights."
Arthur M. Schlesinger, The Disuniting of America: Reflections on a Multicultural Society, 76.
==============================
"Ours is an age of religious cacophony, as was the Roman Empire of Christ's time. From agnosticism to Hegelianism, from devil-worship to scientific rationalism, from theosophical cults to philosophies of process: virtually any worldview conceivable is offered to modern man in the pluralistic marketplace of ideas. Our age is indeed in ideological and societal agony, grasping at anything and everything that can conceivably offer the ecstasy of a cosmic relationship or of a comprehensive Weltanschauung [worldview]."
John Warwick Montgomery, Faith Founded on Fact: Essays in Evidential Apologetics, 152-153.
==============================
"Do not suppose that abuses are eliminated by destroying the object which is abused. Men can go wrong with wine and women. Shall we then prohibit and abolish women? The sun, the moon, and the stars have been worshiped. Shall we then pluck them out of the sky? …see how much he [God] has been able to accomplish through me, though I did no more than pray and preach. The Word did it all. Had I wished I might have started a conflagration at Worms. But while I sat still and drank beer with Philip and Amsdorf, God dealt the papacy a mighty blow."
(Martin Luther, quoted in: Drinking with Calvin and Luther – A History of Alcohol in the Church, by Jim West)
==============================
"The 2001 Houghton Mifflin literature guidelines identify certain children's books that must be avoided, possibly because the author was not of the same ethnic group of the main characters in the book. Some of the prohibited books have received prestigious awards, including Mary Hoffman's Amazing Grace, Theodore Taylor's The Cay, Paula Fox's Slave Dancer, and William Armstrong's Sounder. Ellen Levine's I Hate English!, [is] about an Asian girl learning English, was excluded because the girl required the intervention of her Caucasian teacher to solve her problems, which was apparently offensive to the bias review panel."
Diane Ravitch, The Language Police: How Pressure Groups restrict What Students Learn, 47-48.
==============================
"We need historical perspective. Yes, slavery is America's horror and shame. But slavery, unfortunately, appears throughout the whole of human history. Europeans enslaved Europeans. Asians enslaved Asians. Those we refer to as Native-Americans enslaved other Native-Americans. Black Africans enslaved other black Africans. Slave traders brought more African slaves to the Middle-East and to South America than to Colonial America. Yet this country fought a civil war that resulted in the eradication of slavery, no other nation can say that."
Larry Elder, Ten Things You Can't Say In America, 9.
==============================
"Slaves developed a communal life too, much of it built around the two central institutions of the black church and black family. For a people oppressed, a deep religious faith helped to create autonomous spiritual space that even the master had to respect, and it offered hope that the travails of the slaves would someday end…." D'Souza continues, "The slaves embraced the white man's Christianity…. Identif[ying] with Christ as the suffering victim who would rise again"
Dinesh D' Souza, The End of Racism, 96.
==============================
"People have presuppositions, and they will live more consistently on the basis of these presuppositions than even they themselves may realize. By 'presuppositions' we mean the basic way an individual looks at life, his basic worldview, the grid through which he sees the world. Presuppositions rest upon that which a person considers to be the truth of what exists. People's presuppositions lay a grid for all they bring forth into the external world. Their presuppositions also provide the basis for their values and therefore the basis for their decisions. 'As a man thinketh, so he is,' is really profound. An individual is not just the product of the forces around him. He has a mind, an inner world. Then, having thought, a person can bring forth actions into the external world and thus influence it. People are apt to look at the outer theater of action, forgetting the actor who "lives in the mind" and who therefore is the true actor in the external world. The inner thought world determines the outward action. Most people catch their presuppositions from their family and surrounding society the way a child catches measles. But people with more understanding realize that their presuppositions should be chosen after a careful consideration of what worldview is true. When all is done, when all the alternatives have been explored, 'not many men are in the room' — that is, although worldviews have many variations, there are not many basic worldviews or presuppositions."
(Francis A. Schaeffer, How Should We Then Live? The Rise and Decline of Western Thought and Culture, pp. 19-20)
==============================
"What are the distinctive sources for our beliefs about the past? Most of the beliefs we have about the past come to us by the testimony of other people. I wasn't present at the signing of the Declaration of Independence. I didn't see my father fight in the [S]econd [W]orld [W]ar. I have been told about these events by sources that I take to be reliable. The testimony of others is generally the main source of our beliefs about the past…. So all our beliefs about the past depend on testimony, or memory, or both."
Philosophy for Dummies, by Tom Morris, pp. 57-58.
==============================
"In advanced societies specialization in the gathering and production of knowledge and its wider dissemination through spoken and written testimony is a fundamental socio-epistemic fact, and a very large part of each persons body of knowledge and belief stems from testimony."
The Cambridge Dictionary of Philosophy, edited by Robert Audi [2nd ed.], p. 909.
==============================
"But it is clear that most of what any given individual knows comes from others; palpably with knowledge of history, geography, or science, more subtly with knowledge about every day facts such as when we were born.."
The Oxford Companion to Philosophy, edited by Ted Honderich, p. 869.
==============================
"I believe Christianity is the only logical, consistent faith in the world"
(Mortimer J. Adler)
==============================
"Christianity is true, and its truth will be discovered anywhere you look very far"
(George F. Gilder, one of our century's greatest minds, and author of Wealth and Poverty as well as Telecosm)
==============================
"Along with the idea of karma, Indian thinkers introduced the concept of samsara, literally 'to wander across.' Indian religions believe that the life force of an individual does not die with the death of the body, but instead 'wanders across.' The life force moves on to another time and body, where it continues to live. Many Western thinkers have proposed this idea as 'reincarnation' or the 'transmigration of souls.' Some see this process as a blessing; but in Indian thought, samsara may be thought of as a curse. One is bound to life in ignorance and pain, living over and over again through countless gen¬erations. Indeed, the goal of most Indian religions is to break the cycle of karma and samsara and be free from the burden of life. This breaking free from life is called moksha. In the Upanishads, release from life comes when there is true knowledge of the illusion of life."
(Lewis M. Hopfe and Mark R. Woodward, Religions of the World, 10th ed., 81)
==============================
While speaking in Thailand, Ron Carlson was invited to visit some refugee camps along the Cambodian border. Over 300,000 refugees were caught in a no-man's-land along the border. This resulted from the Cambodian massacre under Pol Pot and the Khmer Rouge in the mid-70's (which is known as the "killing fields") and then subsequently by the invasion of the Vietnamese at the end of the 70's. One of the most fascinating things about these refugee camps was the realization of who was caring for the refugees. Here, in this Buddhist country of Thailand, with Buddhist refugees coming from Cambodia and Laos, there were no Buddhists taking care of their Buddhist brothers. There were also no Atheists, Hindus, or Muslims taking care of those people. The only people there, taking care of these 300,000[+] people, were Christians from Christian mission organizations and Christian relief organizations. One of the men Ron was with had lived in Thailand for over twenty-years and was heading up a major portion of the relief effort for one of these organizations. Ron asked him: "Why, in a Buddhist country, with Buddhist refugees, are there no Buddhists here taking care of their Buddhist brothers?" Ron will never forget his answer:
"Ron, have you ever seen what Buddhism does to a nation or a people? Buddha taught that each man is an island unto himself. Buddha said, 'if someone is suffering, that is his karma.' You are not to interfere with another person's karma because he is purging himself through suffering and reincarnation! Buddha said, 'You are to be an island unto yourself.'" – "Ron, the only people that have a reason to be here today taking care of these 300,000 refugees are Christians. It is only Christianity that people have a basis for human value that people are important enough to educate and to care for. For Christians, these people are of ultimate value, created in the image of God, so valuable that Jesus Christ died for each and every one of them. You find that value in no other religion, in no other philosophy, but in Jesus Christ."
(Ron Carlson & Ed Decker, Fast Facts on False Teachings, 28-29.)
==============================
Although at the beginning the paradigm was worth consideration, now the entire effort in the primeval soup paradigm is self-deception on the ideology of its champions. The history of science shows that a paradigm, once it has achieved the status of acceptance (and is incorporated in textbooks) and regardless of its failures, is declared invalid only when a new paradigm is available to replace it. Nevertheless, in order to make progress in science, it is necessary to clear the decks, so to speak, of failed paradigms. This must be done even if this leaves the decks entirely clear and no paradigms survive. It is a characteristic of the true believer in religion, philosophy and ideology that he must have a set of beliefs, come what may (Hoffer, 1951). Belief in a primeval soup on the grounds that no other paradigm is available is an example of the logical fallacy of the false alternative. In science it is a virtue to acknowledge ignorance. This has been universally the case in the history of science as Kuhn (1970) has discussed in detail. There is no reason that this should be different in the research on the origin of life.
(Hubert P. Yockey, Information Theory and Molecular Biology [Cambridge University Press, UK, 1992], 336.)
==============================
"Roots has a white man leading a slave raid in West Africa, where the hero Kunta Kinte was captured, looking bewildered at the chains put on him as he was led away in bondage. The village elders were likewise bewildered as to what these white men were doing, carrying their people away. In reality, West Africa was a center of slave trading before the first white man arrived there — and slavery continues in parts of it to this very moment. Africans sold vast numbers of other Africans to Europeans. But they hardly let Europeans go running around in their territory, catching people willy-nilly. Because of the false picture of history presented by Roots and by other sources, last year we had the farce of the president of Nigeria making demands on the United States because of the enslavement of people whom his own countrymen had enslaved, and on behalf of a country where slavery still persists, more than a century after emancipation has occurred throughout the Western world. Roots also feeds the gross misconception that slavery was about white people enslaving black people. The tragedy of slavery was of a far greater magnitude than that. People of every race and color were both slaves and enslavers, for thousands of years, all around the world. Europeans enslaved other Europeans for centuries before the first African was brought across the Atlantic. Asians enslaved other Asians, as well as whatever Europeans they could get hold of. Slavery existed in the Western Hemisphere before Columbus ever got here."
(Thomas Sowell)
==============================
"When a statement fails to satisfy itself (i.e., to conform to its own criteria of validity or acceptability), it is self-refuting…. Consider some examples. 'I cannot say a word in English' is self-refuting when uttered in English. 'I do not exist' is self-refuting, for one must exist to utter it. The claim 'there are no truths' is self-refuting. If it is false, then it is false. But is it is true, then it is false as well, for in that case there would be no truths, including the statement itself.
(J.P. Moreland, Scaling the Secular City: A Defense of Christianity, 92.)
==============================
Chris: What if in my reality, my "island," it is wrong for people to own things, and so when you're not looking, I elect to play "Robin Hood" by relieving you of your new two-thousand-dollar-crystal and giving it to someone else?
Zen: Well, uh, I guess I'd have to conclude that my Higher Self wanted me to learn a lesson about material things [as Buddhism teaches and New Age thought teaches].
Chris: Okay, if stealing is not a sin, let's take it further. Now let's pretend I'm a "pedophile" – it's part of my reality to "love" children in every way possible. So, while you're at work I'm going to invite your children into my home to play a "game" that I've made up. Is that all right with you?
Zen: It most certainly is not! It would be part of my reality to report you to the police.
Chris: Why? After all, it's the reality I've sovereignly chosen to create for myself. What gives you the right to interfere in the reality of another god? [Which are what Eastern religions teach, coming to the realization that you are one with the Brahmin.]
Zen: Simple. Your reality is infringing on my children's reality.
Chris: But according to your belief system, before your child incarnated she chose you [by past actions] as her parent and she also chose whatever happens to them, including my act, and you've no right to interfere.
[Side Note: Ravi Zacharias makes the point that one doesn't even know ultimately if it was something in your previous life or something in the parents previous life or the child's previous life (or others involved) that dictated this karmic outcome! (Ravi Zacharias, The Lotus and the Cross: Jesus Talks with Buddha, 23-24.)]
Zen: I do too… in this case.
Chris: Can you see my point now? You are naturally and rightly outraged at the very suggestion of such an act. Something within you knows that it is wrong in and of itself! This reality is in direct contrast to what you should believe if your Buddhist philosophy holds true.
Zen: You are right.
Chris: But that can only be so if there are absolute rights and wrongs independent of our personal reality [which Eastern religions don't teach]. Yet, try as you may, you will not find a ground for such moral absolutes and human value in your worldview. Your God is impersonal and amoral, "beyond good and evil," so you can't appeal to It [as "It" is impersonal]. In addition, since in your view [Buddhism or Hinduism] we are all equally gods, my truth about any subject is as good as your truth. So you see, Eastern beliefs fail the test of human experience – it cannot be consistently lived out.
(Elliot Miller, A Crash Course on the New Age Movement: Describing and Evaluating a Growing Social Force, 209-210)
==============================
Russia is one of the most atheist countries in the world, and abortions there outnumber live births by a ratio of two to one. Russia's birth rate has fallen so low that the nation is now losing 700,000 people a year. Japan, perhaps the most secular country in Asia, is also on a kind of population diet: its 130 million people are expected to drop to around 100 million in the next few decades. Canada, Australia, and New Zealand find themselves in a similar predicament.
Then there is Europe. The most secular continent on the globe is decadent in the quite literal sense that its population is rapidly shrinking. Birth rates are abysmally low in France, Italy, Spain, the Czech Republic, and Sweden. The nations of Western Europe today show some of the lowest birth rates ever recorded, and Eastern European birth rates are comparably low. Historians have noted that Europe is suffering the most sustained reduction in its population since the Black Death in the fourteenth century, when one in three Europeans succumbed to the plague. Lacking the strong religious identity that once characterized Christendom, atheist Europe seems to be a civilization on its way out. Nietzsche predicted that European decadence would produce a miserable "last man' devoid of any purpose beyond making life comfortable and making provision for regular fornication. Well, Nietzsche's "last man" is finally here, and his name is Sven.
Eric Kaufmann has noted that in America, where high levels of immigration have helped to compensate for falling native birth rates, birth rates among religious people are almost twice as high as those among secular people. This trend has also been noticed in Europe." What this means is that, by a kind of natural selection, the West is likely to evolve in a more religious direction. This tendency will likely accelerate if Western societies continue to import immigrants from more religious societies, whether they are Christian or Muslim. Thus we can expect even the most secular regions of the world, through the sheer logic of demography, to become less secular over time….
My conclusion is that it is not religion but atheism that requires a Darwinian explanation. Atheism is a bit like homosexuality: one is not sure where it fits into a doctrine of natural selection. Why would nature select people who mate with others of the same sex, a process with no reproductive advantage at all?
(Dinesh D'Souza, What's So Great About Christianity, 17, 19. See also an Economist article: Faith Equals Fertility)
==============================
… probably, so far as I know, there is no professor of Hebrew or Old Testament at any world-class university who does not believe that the writer(s) of Genesis 1–11 intended to convey to their readers the ideas that:
The figures contained in the Genesis genealogies provided by simple addition a chronology from the beginning of the world up to later stages in the biblical story;

Creation took place in a series of six days which were the same as the days of 24 hours we now experience;

Noah's flood was understood to be world-wide and extinguish all human and animal life except for those in the ark.
(James Barr, Oriel Professor of the interpretation of the Holy Scripture, Oxford University, England, in a letter to David C.C. Watson, 23 April 1984. Barr, consistent with his neo-orthodox views, does not believe Genesis, but he understood what the Hebrew so clearly taught. It was only the perceived need to harmonize with the alleged age of the earth which led people to think anything different—it was nothing to do with the text itself.)
==============================
"To say that we cannot know anything about God is to say something about God; it is to say that if there is a God, he is unknowable. But in that case, he is not entirely unknowable, for the agnostic certainly thinks that we can know one thing about him: That nothing else can be known about him. Unfortunately, the position that we can know exactly one thing about God – his unknowability in all respects except this – is equally unsupportable, for why should this one thing be an exception? How could we know that any possible God would be of such a nature that nothing else could be known about him? On what basis could we rule out his knowability in all other respects but this one? The very attempt to justify the claim confutes it, for the agnostic would have to know a great many things about God in order to know he that couldn't know anything else about him."
(J. Budziszewski, found in Norman Geisler & Paul Hoffman, eds., Why I Am a Christian: Leading Thinkers Explain Why They Believe, revised ed., 58)
==============================
"… most people assume that something exists. There may be someone, perhaps, who believes that nothing exists, but who would that person be? …. no one ever consciously tries to defend the position that nothing exists. It would be a useless endeavor since there would be no one to convince. Even more significantly, it would be impossible to defend that position since, if it were true, there would be no one to make the defense. So to defend the position that nothing exists seems immediately to be absurd and self-contradictory."
(L. Russ Bush, A Handbook for Christian Philosophy, 70)
==============================
"No matter how fulfilling life becomes, there are always certain regrets when one looks back. My deepest sense of loss involves my father, Chandrabhan Ragbir Sharma Mahabir Maharaj. How I wish he were still alive! Nor does the fact that this extraordinary man died so young and under such mysterious circumstances entirely explain my regret. So much that is even more remarkable has happened since then. I often wonder what it would be like to share it all with him, and what his reaction would be. To share it with him! We never shared anything in our lives. Because of the vows he had taken before I was born, not once did he ever speak to me or pay me the slightest heed. Just two words from him would have made me un¬speakably happy. More than anything else in the whole world I wanted to hear him say, 'Rabi! Son!' Just once. But he never did. For eight long years he uttered not a word, not even a whispered confidence to my mother…. 'Why is Father that way?' I would ask my mother when I was still too young to understand. 'He is someone very special—the greatest man you could have for a father,' she would reply, always patient with my persistent questions and puzzled expression. 'He is seeking the true Self that lies within us all, the One Being, of which there is no other. And that's what you are too, Rabi'."
(Rabi R. Maharaj, Death of a Guru: A Remarkable True Story of One Man's Search for Truth, 13-14)
==============================
"As the professor waxed eloquent and expounded on the law of non-contradiction, he eventually drew his conclusion: 'This [either/or logic] is a Western way of looking at reality. The real problem is that you are seeing contradictions as a Westerner when you should be approaching it as an Easterner. The both/and is the Eastern way of viewing reality.' After he belabored these two ideas on either/or and both/and for some time, I finally asked if I could interrupt his unpunctuated train of thought and raise one question. I said, 'Sir, are you telling me that when I am studying Hinduism I either use the both/and system of logic or nothing else?' There was pin-drop silence for what seemed an eternity. I repeated my question: 'Are you telling me that when I am studying Hinduism I either use the both/and logic or nothing else? Have I got that right?' He threw his head back and said, 'The either/or does seem to emerge, doesn't it?' 'Indeed, it does emerge,' I said. 'And as a matter of fact, even in India we look both ways before we cross the street – it is either the bus or me, not both of us'."
(Ravi Zacharias, Can Man Live Without God?, 128-129)
==============================
"Ours is an age of religious cacophony, as was the Roman Empire of Christ's time. From agnosticism to Hegelianism, from devil-worship to scientific rationalism, from theosophical cults to philosophies of process: virtually any worldview conceivable is offered to modern man in the pluralistic marketplace of ideas. Our age is indeed in ideological and societal agony, grasping at anything and everything that can conceivably offer the ecstasy of a cosmic relationship or of a comprehensive Weltanschauung [worldview]."
(John Warwick Montgomery, Faith Founded on Fact: Essays in Evidential Apologetics, 152-153)
==============================
"Logic - 'The science of argument. Logic is centrally concerned with the form or structure of arguments themselves. Logic proper is not concerned with whether the premises in an argument are true, but rather, supposing the premises to be true, does the conclusion follow'."
(Kelly James Clark, Richard Lints, and James K.A. Smith, 101 Key Terms in Philosophy and Their Importance for Theology 48)
==============================
"Logic – 'deals with the methods of valid thinking; it reveals how to draw proper conclusions from premises. It is a prerequisite of all thinking, including all theological thought. Logic is such an inescapable tool that even those who deny it cannot avoid using it, for it is built into the very fabric of the rational universe'."
(Norman Geisler, Systematic Theology, Vol. 1: Introduction/Bible, 81)
==============================
"Natural Law 'a philosophical system of legal and moral principles purportedly deriving from a universalized conception of human nature or divine justice rather than from legislative or judicial action; moral law embodied in principles of right and wrong'."
(Brian A. Garner, ed., Black's Law Dictionary, 7th ed., 1049)
==============================
"Well, I think there are two general kinds of presuppositions that people can make, one is that life, in fact, did arise naturalistically on the primitive earth by some kind of chemical evolutionary process. The second presupposition would be that life may or may not have arisen by a naturalistic, chemical process. Now, if you have the first presupposition, then the goal of your research is to work out plausible pathways of chemical development to go to the bio-polymers, then to the protocells; and what would be likely pathways that you could demonstrate in the laboratory by simulation experiment. If you have the second presupposition, your still going to be doing experiments, but your going to be more open to the possibility that the data, as they [it] come[s] in from those studies may actually be suggesting a different explanation of origins altogether."
(Dean Kenyon, Focus on Darwin: An Interview with Dean H. Kenyon, DVD)
==============================
Psychological Prejudice
But even a sound epistemic system, flawless deductive reasoning, and impeccable inductive procedure does not guarantee a proper conclusion. Emotional bias or antipathy might block the way to the necessary conclusion of the research. That thinkers may obstinately resist a logical verdict is humorously illustrated by John Warwick Montgomery's modern parable:
Once upon a time (note the mystical cast) there was a man who thought he was dead. His concerned wife and friends sent him to the friendly neighborhood psychiatrist determined to cure him by convincing him of one fact that contradicted his beliefs that he was dead. The fact that the psychiatrist decided to use was the simple truth that dead men do not bleed. He put his patient to work reading medical texts, observing autopsies, etc. After weeks of effort the patient finally s"aid, All right, all right! You've convinced me. Dead men do not bleed." Whereupon the psychiatrist stuck him in the arm with a needle, and the blood flowed. The man looked down with a contorted, ashen face and cried, "Good Lord! Dead men bleed after all!"
Emotional prejudice is not limited to dull-witted, the illiterate, and poorly educated. Philosophers and theologians are not exempt from the vested interests and psychological prejudice that distort logical thinking. The question of the existence of God evokes deep emotional and psychological prejudice. People understand that the question of the existence of God is not one that is of neutral consequence. We understand intuitively, if not in terms of its full rational implication, that the existence of an eternal Creator before whom we are ultimately accountable and responsible is a matter that touches the very core of life.
(R.C. Sproul, John Gerstner, and Arthur Lindsley, Classical Apologetics: A Rational Defense of the Christian Faith and a Critique of Presuppositional Apologetics, 69-70)
==============================
"Epistemology – 'the branch of philosophy concerned with questions about knowledge and belief and related issues such as justification and truth.'"
(C. Stephen Evans, Pocket Dictionary of Apologetics & Philosophy of Religion, 39)
==============================
In 1853, a group petitioned Congress to separate Christian principles from government. They desired a so-called "separation of church and state," with chaplains being turned out of Congress, the military, etc.. Their petition was referred to the House and the Senate Judiciary Committees, which investigated for almost a year to see if it would be possible to separate Christian principles from government. Both the House and the Senate Judiciary Committees returned with their reports. The following are excerpts from the House report delivered on March 27, 1854 (the Senate report was very similar):
"Had the people [the Founding Fathers], during the Revolution, had a suspicion of any attempt to war against Christianity, that Revolution would have been strangled in its cradle. At the time of the adoption of the Constitution and the amendments, the universal sentiment was that Christianity should be encouraged, but not any one sect [denomination]…. In this age, there is no substitute for Christianity…. That was the religion of the founders of the republic, and they expected it to remain the religion of their descendants."
Two months later, the Judiciary Committee made this strong declaration:
The great, vital, and conservative element in our system [the thing that holds our system together] is the belief of our people in the pure doctrines and divine truths of the Gospel of Jesus Christ.
(David Barton, "Our Godley Heritage, PDF)
==============================
A Worldview is how one views or interprets reality. The German word is Weltanschauung, meaning a 'world and life view,' or 'a paradigm.' It is a framework through which or by which one makes sense of the data of life. A worldview makes a world of difference in one's view of God, origins, evil, human nature, values, and destiny.
(Norman L. Geisler, Baker Encyclopedia of Christian Apologetics, 785-786)
==============================
A worldview is a commitment, a fundamental orientation of the heart, that can be expressed as a story or in a set of presuppositions (assumptions which may be true, partially true or entirely false) which we hold (consciously or subconsciously, consistently or inconsistently) about the basic constitution of reality, and that provides the foundation on which we live and move and have our well being.
(James W. Sire, Naming the Elephant: Worldview as a Concept,122)
==============================
Every subject we think about is filtered through our worldview. The picture of reality we hold in our minds is what we use at the most basic level to answer every question in life. This is especially true of big questions, like those pertaining to man's origin, ethics, life's meaning and ultimate destiny. This makes faith central to every aspect of our lives and being. The bigger question, of course, is whether or not the picture of reality we have is actually true…. This is a book about worldviews. Everybody has one, but most individuals never really pay much attention to their own personal philosophy of life. This is a tragedy because there is no state of awareness so fundamental to living life.
(Joseph R. Farinaccio, Faith with Reason: Why Christianity is True, 9-10)
==============================
Professor: "Miracles are impossible, don't you know science has disproved them, how could you believe in them [i.e., answered prayer, a man being raised from the dead, Noah's Ark, and the like]."
Student: "for clarity purposes I wish to get some definitions straight. Would it be fair to say that science is generally defined as 'the human activity of seeking natural explanations for what we observe in the world around us'?"
Professor: "Beautifully put, that is the basic definition of science in every text-book I read through my Doctoral journey."
Student: "Wouldn't you also say that a good definition of a miracle would be 'and event in nature caused by something outside of nature'?"
Professor: "Yes, that would be an acceptable definition of 'miracle.'"
Student: "But since you do not believe that anything outside of 'nature' exists [materialism, dialectical materialism, empiricism, existentialism, naturalism, and humanism – whatever you wish to call it], you are 'forced' to conclude that miracles are impossible"
(Norman L. Geisler & Peter Bocchino, Unshakeable Foundations: Contemporary Answers to Crucial Questions About the Christian Faith, 63-64)
==============================
Every powerful movement has had its philosophy which has gripped the mind, fired the imagination and captured the devotion of its adherents. One has only to think of the Fascist and the Communist manifestos of this century, of Hitler's Mein Kampf on the one hand and Marx's Das Kapital and The Thoughts of Chairman Mao on the other.
(John Stott)
==============================
Premise: Since there is no God,

Conclusion: all theistic proofs are invalid.

Premise: Since the theistic proofs are invalid,

Conclusion: there is no God.
(Robert A. Morey, The New Atheism: And the Erosion of Freedom, 57)
==============================
In a certain sense, the debate transcends the confrontation between evolutionists and creationists. We now have a debate within the scientific community itself; it is a confrontation between scientific objectivity and ingrained prejudice – between logic and emotion – between fact and fiction…. In the final analysis, objective scientific logic has to prevail — no matter what the final result is – no matter how many time-honored idols have to be discarded in the process…. after all, it is not the duty of science to defend the theory of evolution, and stick by it to the bitter end — no matter what illogical and unsupported conclusions it offers… if in the process of impartial scientific logic, they find that creation by outside superintelligence is the solution to our quandary, then let's cut the umbilical cord that tied us down to Darwin for such a long time. It is choking us and holding us back…. every single concept advanced by the theory of evolution (and amended thereafter) is imaginary and it is not supported by the scientifically established facts of microbiology, fossils, and mathematical probability concepts. Darwin was wrong…. The theory of evolution may be the worst mistake made in science.
(I. L. Cohen, Darwin was Wrong: A Study in Probabilities, 6-7, 8, 214-215, 209, 210)
==============================
The program of rejecting logic in order to accept mutually contradictory beliefs is not, however, just a harmless, whimsical hope that somehow logically incompatible beliefs can both be true…it results in nothing less than the destruction of any and every concept we could possess. Even the concept of rejecting the law of non-contradiction depends on assuming and using that law, since without it the concept of rejecting it could neither be thought nor stated.
(Roy A. Clouser, The Myth of Religious Neutrality: An Essay on the Hidden Role of Religious Belief in Theories, 178)
==============================
The belief that all religions are ultimately expressions of the same transcendent reality is at best illusory and at worst oppressive – illusory because it lacks any substantiating basis and oppressive because it involves the systematic imposition of the agenda of those in positions of intellectual power on the religions and those who adhere to them. The illiberal imposition of this pluralistic metanarrative on religions is ultimately a claim to mastery – both in the sense of having a Nietzschean authority and power to mold material according to one's will, and in the sense of being able to relativize all the religions by having access to a privileged standpoint.
Alister E. McGrath, Passion for Truth: the Intellectual Coherence of Evangelicalism, 239.
==============================
Metanarratives or Grand Narratives - "big stories, stories of mythic proportions – that claim to be able to account for, explain and subordinate all lesser, little, local, narratives."
Jim Powell, Postmodernism for Beginners, 29.
==============================
A writer who says that there are no truths, or that all truth is 'merely negative,' is asking you not to believe him. So don't.
Roger Scruton, Modern Philosophy: An Introduction and Survey (New York, NY: Penguin Books, Reprint edition, 1996), 6.

==============================
==============================
==============================
==============================