(UPDATE 10-24-2010) Newsbusters explains how the "WikiLeaks" massive dump of classified documents show that WMDs were found:
WikiLeaks Show WMD Hunt Continued in Iraq – With Surprising Results

By late 2003, even the Bush White House's staunchest defenders were starting to give up on the idea that there were weapons of mass destruction in Iraq.

But for years afterward, WikiLeaks' newly-released Iraq war documents reveal, U.S. troops continued to find chemical weapons labs, encounter insurgent specialists in toxins, and uncover weapons of mass destruction.

An initial glance at the WikiLeaks war logs doesn't reveal evidence of some massive WMD program by the Saddam Hussein regime — the Bush administration's most (in)famous rationale for invading Iraq. But chemical weapons, especially, did not vanish from the Iraqi battlefield. Remnants of Saddam's toxic arsenal, largely destroyed after the Gulf War, remained. Jihadists, insurgents and foreign (possibly Iranian) agitators turned to these stockpiles during the Iraq conflict — and may have brewed up their own deadly agents.

… The WMD diehards will likely find some comfort in these newly-WikiLeaked documents. Skeptics will note that these relatively small WMD stockpiles were hardly the kind of grave danger that the Bush administration presented in the run-up to the war.
Sorry, Mr. Shachtman, the "diehards" are those on the left who have never backed away from "no WMDs" claim, which has once again (previous examples here, here, here, and here, to identify just a few) been proven to be demonstrably false.
[….]
Gateway Pundit wonders: "Do you suppose this will make any headlines?" Prognosis: Doubtful. There's too much at stake in protecting the left's folklore.
Quick Update Question: what was Faisal Shahzad (the "Time-Square Bomber") and Umar Farouk AbdulMutallab (the "Dingaling Bomber") charged with?

(CBS Source) A Pakistani-born U.S. citizen admitted involvement in the failed Times Square car bombing and will face terrorism and

weapons of mass destruction charges

, Attorney General Eric Holder said.

(CNN Source) The seven-page indictment charges AbdulMutallab with

attempted use of a weapon of mass destruction
WMDs! If we found them in New York and Detroit, we surely found them in Iraq.
I have attempted here to join many posts and ideas into one to make an airtight case that WMDs did exist, maybe not in the form found in the movie
Spies Like Us
. Which had a Soviet soldier standing over a mobile nuclear tipped ICBM ready to "push the button." I have even argued that the
administration should have used the terms
agents of mass destruction
(AMDs). But this is neither here-nor-there since I feel the below case is sound for there being WMDs as well as AMDs. I will also point out a reason or two for us to enter Iraq even if WMDs were not part of the argument. Enjoy this revision… my last on this topic, it will be my last on WMDs and Iraq.
In this clip, a caller (a conspiratorial anti-Semite) to the Michael Medved Show tries to trip up Paul Wolfowitz on Iraq and Weapons of Mass Destruction. Throughout the video I will post some "factoids" and photos that support Wolfowitz and makes the caller look shallow in his knowledge about what he is calling about:
I wanted to rearrange previously posted information that may help the continuing politico in his refuting of "Bumper Sticker Mantras."
BAGHDAD, June 9 (AFP) – Iraq said Sunday it has sent 20 planeloads of humanitarian assistance to Syria to help victims of Tuesday's Zeyzoun dam collapse in the north of the neighboring country.
"Iraqi Airways planes have made 20 flights to Damascus until today to take foodstuffs and pharmaceutical products to the victims," Transport Minister Ahmad Murtada Ahmad told the official INA news agency.
Planes continued to take off from Baghdad's international airport on Sunday in the airlift put in place on Thursday at the request of President Saddam Hussein, Ahmad said.
Iraq's Health Minister Omid Medhat Mubarak added that the sanctions-hit country would also send teams of specialized doctors, surgeons and chemists to Syria….
I know this might be hard to believe, but… I call BS. Saddam Hussein said those 20 planeloads contained "humanitarian aid" while he was under U.N. Sanctions and he didn't have enough food for his own people who dies of malnutrition and lack of medical assistance. But he had enough to send 20 planeloads of "humanitarian aid" to Syria?! Come on. Three news items support this theory/model that these "humanitarian flights" were something else:
1) A senior Syrian journalist reports Iraq's WMD located in three Syrian sites:

(
Debka
)
Nizar Nayuf
is a Syrian journalist who recently defected from Syria to Western Europe and is known for bravely challenging the Syrian regime, said in a letter Monday, January 5, to Dutch newspaper "De Telegraaf," that he knows the three sites where Iraq's WMD are kept. The storage places are:
Tunnels dug under the town of al-Baida near the city of Hama in northern Syria. These tunnels are an integral part of an underground factory, built by the North Koreans, for producing Syrian Scud missiles. Iraqi chemical weapons and long-range missiles are stored in these tunnels.
The village of Tal Snan, north of the town of Salamija, where there is a big Syrian airforce camp. Vital parts of Iraq's WMD are stored there.
The city of Sjinsjar on the Syrian border with the Lebanon, south of the city Homs.
Najoef writes that the transfer of Iraqi WMD to Syria was organized by the commanders of Saddam Hussein's Special Republican Guard, including General Shalish, with the help of Assif Shoakat , Bashar Assad's cousin. Shoakat is the CEO of Bhaha, an import/export company owned by the Assad family.
In February 2003, a month before America's invasion in Iraq, DEBKAfile and DEBKA-Net-Weekly were the only media to report the movement of Iraqi WMD, the efforts to bring them from Iraq to Syria, and the personal involvement of Bashar Assad and his family in the operation.
Najoef, who has won prizes for journalistic integrity, says he wrote his letter because he has terminal cancer.
2) The man who served as the no. 2 official in Saddam
(
The New York Sun
) Hussein's air force says Iraq moved weapons of mass destruction into Syria before the war by loading the weapons into civilian aircraft in which the passenger seats were removed.
The Iraqi general, Georges Sada, makes the charges in a new book, "Saddam's Secrets," released this week. He detailed the transfers in an interview yesterday with The New York Sun.
"There are weapons of mass destruction gone out from Iraq to Syria, and they must be found and returned to safe hands," Mr. Sada said. "I am confident they were taken over."
Mr. Sada's comments come just more than a month after Israel's top general during Operation Iraqi Freedom, Moshe Yaalon, told the Sun that Saddam "transferred the chemical agents from Iraq to Syria."
Democrats have made the absence of stockpiles of weapons of mass destruction in Iraq a theme in their criticism of the Bush administration's decision to go to war in 2003….
Here is an interview with General Sada from the Hannity & Colmes show:
3) AMMAN, Jordan (CNN) — Jordanian authorities said Monday they have broken up an alleged al Qaeda plot that would have unleashed a deadly cloud of chemicals in the heart of Jordan's capital, Amman.
(
CNN
) The plot would have been more deadly than anything al Qaeda has done before, including the September 11 attacks, according to the Jordanian government. Among the alleged targets were the U.S. Embassy, the Jordanian prime minister's office and the headquarters of Jordanian intelligence.
U.S. intelligence officials expressed caution about whether the chemicals captured by Jordanian authorities were intended to create a "toxic cloud" chemical weapon, but they said the large quantities involved were at a minimum intended to create "massive explosions." Officials said there is debate within the CIA and other U.S. agencies over whether the plotters were planning to kill innocent people using toxic chemicals.
At issue is the presence of a large quantity of sulfuric acid among the tons of chemicals seized by Jordanian authorities. Sulfuric acid can be used as a blister agent, but it more commonly can increase the size of conventional explosions, according to U.S. officials. Nevertheless, U.S. intelligence officials called the capture of tons of chemicals that together could create several large conventional explosions "a big deal." The plot was within days of being carried out, Jordanian officials said, when security forces broke it up April 20.
In a nighttime raid in Amman, Jordanian security forces moved in on the terrorist cell. After the shooting stopped, four men were dead. Jordanian authorities said. They said at least three others were arrested, including Azmi Jayyousi, the cell's suspected ringleader, whom Jordanian intelligence alleges was responsible for planning and recruiting. On a confession shown on state-run Jordanian television, Jayyousi said he took orders from Abu Musab al-Zarqawi, a suspected terrorist leader who has been linked to al Qaeda and whom U.S. officials have said is behind some attacks in Iraq.
"I took explosives courses, poisons high level, then I pledged allegiance to Abu Musab al-Zarqawi, to obey him without any questioning," Jayyousi said. Jordanian intelligence suspects Jayyousi returned from Iraq in January after a meeting with al-Zarqawi in which they allegedly plotted to hit the three targets in Amman. In a series of raids, the Jordanians said, they seized 20 tons of chemicals and numerous explosives. Also seized were three trucks equipped with specially modified plows, apparently designed to crash through security barricades.
The first alleged target was the Jordanian intelligence headquarters. The alleged blast was intended to be a big one. "According to my experience as an explosives expert, the whole of the Intelligence Department will be destroyed, and nothing of it will remain, nor anything surrounding it," Jayyousi said….
….A Jordanian government scientist said the plot had been carefully worked out, with just the right amount of explosives to spread the deadly cloud without diminishing the effects of the chemicals. The blast would not burn up the poisonous chemicals but instead produce a toxic cloud, the scientist said, possibly spreading for a mile, maybe more.
The Jordanian intelligence buildings are within a mile of a large medical center, a shopping mall and a residential area. "And there is no one combination of antidote to treat nerve agent, choking agent and blistering agent," the scientist said. Al-Zarqawi, a Jordanian, has been accused of plotting chemical attacks before, and authorities said it would not be his first attempt to strike Jordan. In 2000, a Jordanian court charged him in absentia with planning to blow up a hotel and attack tourist destinations.
U.S. officials have said he was behind the 2002 assassination of American diplomat Lawrence Foley, who was gunned down outside his home in Amman. According to the televised confessions, $170,000 came from Zarqawi via messengers from Syria.
By-the-by Al-Zarqawi was killed by Coalition Forces June 7, 2006, in Iraq.
These news items show that Saddam was very busy on the Syrian border, and that some chemical weapons made it into Jordan from Syria via a network of Al Qaeda that led right to Iraq. Stephen Hayes compiled much of these connections in his book,
The Connection: How al Qaeda's Collaboration with Saddam Hussein Has Endangered America
. Almost two years after his writing it, some more information came out that supported his position. I will first post here the appearance of Stephen Hayes from Hannity and Colmes, after this video there will come an extended interview with National Review the week his book came out, good stuff for the politico.
NRO: Your new book is on connections between Saddam Hussein and al Qaeda. Is
n't that all a neocon myth? Isn't bin Laden on record dissing Saddam? Secular Saddam, meanwhile, was no Islamic fundamentalist or extremist? Did anti-American hatred trump all?
Stephen F. Hayes: If the Iraq-al Qaeda connection is a neocon myth, those neocons are even more resourceful than the conspiracy theorists suggest and they sure have got a lot of unlikely people making their arguments. Evan Bayh, Democrat from Indiana, has described the Iraq-al Qaeda connection as a relationship of "mutual exploitation." Joe Lieberman said, "There are extensive contacts between Saddam Hussein's government and al Qaeda." George Tenet, too, has spoken of those contacts and goes further, claiming Iraqi "training" of al Qaeda terrorists on WMDs and provision of "safe haven" for al Qaeda in Baghdad. Richard Clarke once said the U.S. government was "sure" Iraq had provided a chemical-weapons precursor to an al Qaeda-linked pharmaceutical plant in Sudan. Even Hillary Clinton cited the Iraq-al Qaeda connection as one reason she voted for the Iraq War.
Saddam was, for a time, an avowed secularist. He began to use Islamist language during the Iran-Iraq War (1980-1988) and stepped it up during the first Gulf War. By the mid-1990s, when his son-in-law Hussein Kamel defected (and was later killed when he foolishly returned to Iraq), Saddam was interrupting Baath-party meetings for prayers.
Bin Laden has dissed Saddam several times. And I would certainly never argue that they were buddies. It was an on-again, off-again relationship based, as Bayh says, on mutual exploitation and a common enemy.
NRO: Who is Ahmed Hikmat Shakir?
Hayes: Shakir is one of the most intriguing and puzzling potential links between Iraq and al Qaeda. He was present at the January 2000 al Qaeda meeting in Kuala Lumpur, Malaysia, where U.S. intelligence officials believe the planning for the attacks on the U.S.S. Cole and September 11 took place. Shakir was working, ostensibly, for Malaysian Airlines as a VIP greeter. He told associates that he got the job through a contact at the Iraqi embassy and the same contact determined his schedule. Shakir escorted one of the 9/11 hijackers (Khalid al Mihdhar) to the meeting and left his airport "job" days after the meeting broke up. Making things even more interesting, Defense Department investigators recently found Shakir's name — with a slight spelling discrepancy — on three separate lists of Saddam Fedayeen officers. He was captured twice after September 11 — once in Qatar, once in Jordan — and let go. The Iraqi government reportedly showed a keen interest in his release. What was he doing at the meeting? How did he know the hijackers? And what, exactly, was his relationship to the Iraqi regime? He may have been a bit player, but it sure would be nice to know more. I hope the 9/11 Commission includes a discussion of Shakir in its final report.
NRO: What is the Feith memo and how important is it?
Hayes: The Feith Memo is a report that Undersecretary of Defense Douglas Feith sent to the Senate Intelligence Committee last fall, in response to a request by that panel to see information the Pentagon gathered on Iraq-al Qaeda connections. Analysts in the DoD policy shop pored over old intelligence, gathered by U.S. intelligence agencies, and unearthed some interesting nuggets — some of them from raw intelligence reports and others from finished intelligence products. CIA Director George Tenet was asked about the Feith Memo at a Senate hearing in March and distanced his agency from the Pentagon analysis. He submitted another version of the document to the committee with some "corrections" to the Pentagon submission. My understanding is that there were but a few such adjustments and that they were relatively minor (although my book challenges two of the most interesting reports in the memo). Some of the stuff — telephone intercepts, foreign-government reporting, detainee debriefings, etc. — is pretty straightforward and most of the report tracks with what Tenet has said publicly; it just provides more detail. That said, there were two items that seemed to require more explanation and, when weighed against available evidence, seem questionable.
NRO: Mike Isikoff from Newsweek and others have tried to discredit some of your reporting on these connections. Do you concede any of their points?
Hayes: Well, Isikoff is a very good investigative reporter and I have long respected his work. We simply disagree on much of this. Intelligence reporting is quite subjective, of course, and lends itself to various interpretations. My problem with so much of the media reporting on this issue is that most journalists have chosen not to investigate the connection, and seem too eager to dismiss them. Why? This wasn't the case in the late 1990s, when Iraq-al Qaeda connections were more widely reported in the establishment press.
After I first wrote about the Feith Memo, the Pentagon put out a statement designed to distance itself from any alleged leak of classified intelligence. It was a classic non-denial denial — virtually devoid of content. It was something any veteran Washington reporter would dismiss without a second thought. But reporters at the New York Times and Washington Post, typically quite cynical about anything that comes from the Pentagon's public- affairs shop, suddenly found it a remarkably credible source.
NRO: It's been suggested by Isikoff and others that some of the evidence turns up nowadays is forged, that you can't take it on its face value. To what extent is the evidence you present corroborated by other evidence, other documented meetings, etc?
Hayes: I think they're right on that point — and it's almost never a good idea to take these things at face value. There was a report that surfaced in December 2003 that suggested that Mohammed Atta had been in Baghdad during the summer of 2001. And, a little too conveniently, the very same document claimed that the U.S. was seeking uranium from Niger. There's little question that the three-page report was forged. (An interesting side note: That document came not from Ahmed Chalabi, but from CIA favorite Iyad Allawi, the new Iraqi interim prime minister. Allawi has long argued that there was a significant relationship between Saddam's Mukhabarat and al Qaeda.)
Much of the evidence in the book comes from open sources — media reporting, court documents, interviews, etc. With respect to the information from the Feith Memo, many of the bullet points corroborate one another or previous intelligence on the relationship. For instance, the U.S. intelligence community has long believed that bin Laden met with the deputy director of Iraqi intelligence, Faruq Hijazi, in the mid-1990s. When we captured Hijazi, we asked him about the meeting. Bin Laden, he reported, asked for anti-ship limpet mines and training camps in Iraq.
NRO: Did Mohammed Atta meet with an Iraqi intelligence officer in Prague — multiple times?
Hayes: I wish we knew. Atta was in Prague under very strange circumstances in May 2000. What's unclear is whether he returned, as initially reported, in April 2001. If he did, it wasn't under his own name. But news reports claiming that the meeting couldn't have taken place because U.S. intelligence has documentation placing him in the U.S. are not accurate. One of the things I report in the book is that both George Tenet and Condoleezza Rice say privately that they believe the April 2001 meeting took place.
NRO: What is the strongest evidence that Iraq was a collaborator in the Sept. 11 attacks?
Hayes: Probably the Shakir story, which is far from conclusive. But it seems to me that the presence of a suspected Saddam Fedayeen officer at a key 9/11-planning meeting can't be dismissed. There have been additional recent developments in the Atta story reported by Edward Jay Epstein. If those turn out to be true, they would be significant. I'm trying, but as yet have been unable to prove or disprove them.
NRO: What's the deal with Richard Clarke? Why is he so adamant to defend Iraq vis-à-vis al Qaeda?
Hayes: I put that question to a top Bush-administration official not long ago. This person said: "If Iraq was involved with al Qaeda, whether they were involved with 9/11 or not, the whole counterterrorism policy of the 1990s was a failure." And we all know who was responsible for the counterterrorism policy of the 1990s. One thing that perplexes me about Clarke was his expressed certainty that there was an Iraqi hand in al Qaeda chemical weapons production in the Sudan in the late-1990s. (Top Clinton advisers — several of them now working for John Kerry — continue to believe that today.) And Clarke's current views (no connection) certainly put him
at odds with CIA Director George Tenet. …
From this we can see that the typical bumper sticker statements/mantras we heard projected from street corners in close proximity close to Whole Foods markets just never took into account much of anything, except their dislike of Cheney and Bush. An example comes from an almost elated exclamation about Kucinich's "attempt" to start impeachment of Bush and friends:
(
The World According to Kimba
)
Breathtaking
in that I believe some, if not most of the charges to be true. Although certainly not all of the charges constitute or necessitate a call for impeachment (as was the case when [Kucinich] offered up articles of impeachment for Dick Cheney last year), they do add up to quite a record for a sitting administration, and I for one, am glad he got them on the record…. Obviously, the political climate these days in Washington are such that they will not touch this hot potato and let King George II serve out his full second term without incident. But, what does it say for our regard for the law, not to mention the constitution,
when we refuse to prosecute for wrongs committed against the public good
? (emphasis added)
Often times people don't follow their logic to the end… for instance, on MSNBC Mike Barnicle simply repeated these "sentiments" (the feeling that he is right based off of his feelings). Sit back, grab some popcorn and enjoy the show:
Debate: On Dec. 30th on MSNBC's 'Morning Joe,' one of Mika's "Must-Read Op-Eds" included one from the New York Times (shocker), slamming the Bush administration for the Iraq war, Mika, Joe and Mike Barnicle sparred about the facts going into the war and all the surrounding facts known at that time.
==========================
One thing I have heard and gave an example of is the Left saying and truly believing that Bush lied about WMDs. If this is the case, what about these other politicians?
If Bush lied about WMDs, then what did Clinton do when he said:
"If Saddam rejects peace and we have to use force, our purpose is clear. We want to seriously diminish the threat posed by Iraq's weapons of mass destruction program." ~ President Bill Clinton, Feb. 17, 1998
Or how about Madeline Albright, John F. Kerry, Ted Kennedy, and the like?

a) "Iraq is a long way from the USA but what happens there matters a great deal here. For the risks that the leaders of a rogue state will use nuclear, chemical or biological weapons against us or our allies is the greatest security threat we face." ~ Madeline Albright, Clinton Secretary of State, Feb. 18, 1998

b) "We know that he has stored secret supplies of biological and chemical weapons throughout his country." ~ Former Vice President Al Gore, Sept. 23, 2002

c) "In the four years since the inspectors left, intelligence reports show that Saddam Hussein has worked to rebuild his chemical and biological weapons stock, his missile delivery capability, and his nuclear program. He has also given aid, comfort, and sanctuary to terrorists, including al Qaeda members. It is clear, however, that if left unchecked, Saddam Hussein will continue to increase his capacity to wage biological and chemical warfare, and will keep trying to develop nuclear weapons." ~ Sen. Hillary Clinton (D, NY), Oct. 10, 2002

d) "Without question, we need to disarm Saddam Hussein. He is a brutal, murderous dictator, leading an oppressive regime. He presents a particularly grievous threat because he is so consistently prone to miscalculation. And now he is miscalculating America's response to his continued deceit and his consistent grasp for weapons of mass destruction. So the threat of Saddam Hussein with weapons of mass destruction is real." ~ Sen. John F. Kerry (D, MA), Jan. 23, 2003

e) "We have known for many years that Saddam Hussein is seeking and developing weapons of mass destruction." ~ Sen. Ted Kennedy (D, MA), Sept. 27, 2002

f) "The last UN weapons inspectors left Iraq in October of 1998. We are confident that Saddam Hussein retains some stockpiles of chemical and biological weapons, and that he has since embarked on a crash course to build up his chemical and biological warfare capabilities. Intelligence reports indicate that he is seeking nuclear weapons…" ~ Sen. Robert Byrd (D, WV), Oct. 3, 2002

g) "Saddam Hussein has been engaged in the development of weapons of mass destruction technology which is a threat to countries in the region and he has made a mockery of the weapons inspection process." ~ Rep. Nancy Pelosi (D, CA), Dec. 16, 1998

h) "He will use those weapons of mass destruction again, as he has ten times since 1983." ~ Sandy Berger, Clinton National Security Adviser, Feb, 18, 1998
So what are some of the examples that counter the Left's claims and bolster the Bush administration as well as the intelligence agencies from Germany, Russia, France, Israel, Britain, China, Jordan, as well as others showing that Saddam had weapons of mass destruction (Saddam even saying he had them)? Well let's see:
Found: 1.77 metric tons of enriched uranium;
Found: 1,500 gallons of chemical weapons;
Found: Roadside bomb loaded with sarin gas;
Found: 17 chemical warheads–some containing cyclosarin, a nerve agent five times more powerful than sarin.
Found:
1,000 radioactive materials–ideal for radioactive dirty bombs;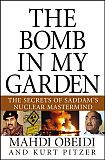 How about the fact that
Mahdi Obeidi (Saddam's head nuclear scientist)
buried a prototype of his gas centrifuge, the most direct and efficient route to enriching uranium, in his backyard in Baghdad. Hence the name of his book, Bomb in My Garden.
This next section comes from a
Daily News
article found in their
Sunday Viewpoint
entitled, "Altered Reality: Look Past The Dogma and You'll See the WMDs" (October 26, 2003, p. 3):

1) A clandestine network of laboratories and safe houses within the Iraqi Intelligence Service that contained equipment subject to UN monitoring and suitable for continuing CBW research.

2) A prison laboratory complex, possibly used in human testing of BW agents, that Iraqi officials working to prepare for UN inspections were explicitly ordered not to declare to the UN.

3)Reference strains of biological organisms concealed in a scientist's home, one of which can be used to produce biological weapons.

4) New research on BW-applicable agents, Brucella and Congo Crimean Hemorrhagic Fever (CCHF), and continuing work on ricin and aflatoxin were not declared to the UN.

5) Documents and equipment, hidden in scientists' homes, that would have been useful in resuming uranium enrichment by centrifuge and electromagnetic isotope separation (EMIS).

6) A line of UAVs not fully declared at an undeclared production facility and an admission that they had tested one of their declared UAVs out to a range of 500 km, 350 km beyond the permissible limit.

7) Continuing covert capability to manufacture fuel propellant useful only for prohibited SCUD variant missiles, a capability that was maintained at least until the end of 2001 and that cooperating Iraqi scientists have said they were told to conceal from the UN.

8) Plans and advanced design work for new long-range missiles with ranges up to at least 1000 km – well beyond the 150 km range limit imposed by the UN. Missiles of a 1000 km range would have allowed Iraq to threaten targets throughout the Middle East, including Ankara, Cairo, and Abu Dhabi.

9) Clandestine attempts between late-1999 and 2002 to obtain from North Korea technology related to 1,300 km range ballistic missiles –probably the No Dong — 300 km range anti-ship cruise missiles, and other prohibited military equipment.
I can also add here that 750 shells with saran gas were found. Just 15 of these killed about 15,000 people. Only in the Left's vernacular does this equal no WMDs. Scurrilous politics on display if there ever were. Two things come to my mind, and they are two slogans I heard all the time.
Bush is an Idiot;

and, Bush lied.
Apparently, Bush, while being called a dunce or ignoramus by the left is so intelligently diabolical that he got every intelligence agency – not to mention every Democrat – to lie for him as well. So is Bush still the "dunce of the class," as the Left paints him; or is he so intelligent that he fooled the world, as the Left paints him. Which is it? Or are both views partisan? And if Bush lied, then he must have known there were no weapons in Iraq. There is no such thing as a lie unless you know the truth. Now, if you say you believe something to be true, and it ultimately becomes false, that's not called a "lie," that's called a "mistake" – a mistake made by the CIA (and the world) that was beyond the Bush's control. However, I have shown there was no mistake. I have yet for someone to show me that this cumulative case can be taken from its lofty place here at my blog. And may I say that I have not seen such a case made yet on this World Wide Web.
Let's hear how the above issues play out in real conversation, and I would entreat the reader to listen to the entire call. One may not like the term "little girl," but this gets explained near the end.
This broadcast below was made before we declared war on Saddam Hussein. The caller is an Iraqi who asks a anti-war organizer a pointed question about leaving Saddam in power. The clip is 6 minutes long and she never answers the question.
So Let Me Conclude
What was discovered in Iraq were dozens of WMD-related program activities and significant amounts of equipment, chemicals, and specialists to make it happen that Iraqi concealed from the United Nations during the inspections that began in late 2002 was the final straw in the U.S. military's back. The discovery of these deliberate concealment efforts have come about both through the admissions of Iraqi scientists and officials concerning information they deliberately withheld and through physical evidence of equipment and activities that ISG (
Iraq Survey Group) has discovered that should have been declared to the UN. This caused the United States and a larger coalition than the First Gulf War to
resume
(not
preempt
) military operations. Just the fact alone that Iraq was firing on our Air Force jets in the no-fly zones was reason enough to
resume
(not
preempt
) operations based on the cease fire agreement brokered by the United Nations via the first war.
A quick refutation of another familiar "mantra" we hear, and one most at the rally in the video above most assuredly accept, is that the U.S. supplied the bulk of weapons that Iraq has and used. This just isn't the case, the the graphic below points out (click it to enlarge it for better viewing):