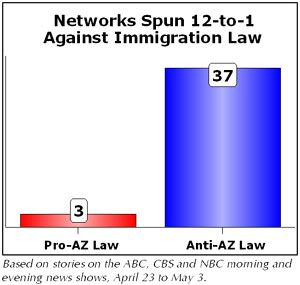 ….From April 23 to May 3, the top three television networks offered viewers 50 stories and interview segments on their morning and evening news programs. The tone was strongly hostile to the law and promotional to the "growing storm" of left-wing protesters: 37 stories (or 74 percent) were negative, 10 were neutral, and only three were positive toward the Arizona law's passage — 12 negative stories for every one that leaned positive. Stories were much kinder and sympathetic to illegal aliens than they were to police officers. Cops were potential abusers of power. Entering the country illegally was not an abuse of power. It was portrayed as an honorable step by the powerless.

The soundbite count was also slanted, with 92 quotes against the law and only 52 in favor. The pro-law numbers, however, included many soundbites of Arizona public officials defending themselves against liberal charges that they were racists or in favor of racial profiling….

….While the harshest Tea Party activists were scorned by the networks for any suggestion President Obama was a "Nazi," on 11 occasions these same networks unquestioningly forwarded smears that proponents of the Arizona law were like Nazis or Civil War-era slaveholders….