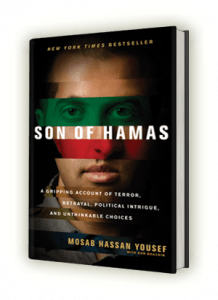 We will prosecute terrorists in federal courts in New York, but we will deport a man who helped Israel save lives (both Israeli and Palestinian) who converted to Christianity, but we will let felons who have been repeatedly deported welfare benefits? It just doesn't make any sense to me.I wonder if Obama's people are trying to make some insane statement (really a non-sequitur) in regards to Arizona??
The Department of Homeland Security is trying to deport the son of a Hamas founder who told of his conversion to Christianity and decade of spying for Israel in a New York Times best-seller.

"Son of Hamas" author Mosab Hassan Yousef revealed on a blog hosted by his publisher he is scheduled to appear June 30 before Immigration Judge Rico J. Bartolomei at the DHS Immigration Court in San Diego.

Yousef said the DHS informed him Feb. 23, 2009, he was barred from asylum in the U.S. because there were reasonable grounds for believing he was "a danger to the security of the United States" and "engaged in terrorist activity."

An incredulous Yousef said the U.S. government's belief he is a terrorist is based on a complete misinterpretation of passages of his book in which he describes his work as a counter-terrorism agent for the Israeli internal intelligence service Shin Bet….

[Yousef said]…. "If Homeland Security cannot tell the difference between a terrorist and a man who spent his life fighting terrorism, how can they protect their own people?"
…(read more)…
After the few instances of Obama's counter-terror adviser and Eric Holder and now this… I just don't know. There seems to be some deep seated dislike of Israel and Christianity, and a moving up the ladder of Islamic beliefs… I guess this all expected considering this secular radical we put into office. Which is why one must get involved for this brother in Christ, here's how:
That's why I am asking you to share this blog post with as many people as you can. Write letters to:
Kerri Calcador
Senior Attorney
U.S. Department of Homeland Security
Immigration and Customs Enforcement
880 Front Street, Suite 224
San Diego, California 92101
or call her at 619.557.5578.