(Inserted a video from Western Journalism)
Here is an excerpt of the National Review article Prager was referencing:
…White Castle, established in 1921 in Wichita, Kan., now operates more than 400 locations, with many in the New York City metropolitan area, which makes the news of New York governor Andrew Cuomo's signing a bill that steeply hikes the minimum wage deeply personal. The wage will go from $9 to $15 an hour by 2018 in New York City, with the rest of the state seeing a more gradual phase-in schedule.
"We've been in New York for a long time," Richardson says. "Castle No. 2 over on Fordham Road opened in 1930."
Unfortunately, despite the Castle's Empire State history, the road ahead may be difficult: "We're disappointed. What this means for White Castle is we really have to evaluate how we manage our business," Richardson tells me. "About 30 percent of every sales dollar covers the pay of our hourly workers, and that doesn't include management."
It's our biggest investment, our biggest cost. And it's one that if we see increase dramatically through fiat, and we don't do anything — it's unsustainable," Richardson says. "We are in uncharted waters."
Of course, Cuomo, California governor Jerry Brown, Hillary Clinton, and minimum-wage activists across the country think that dramatically raising the minimum wage will be a boon to workers and that business can handle the cost increases without too much trouble.
"By moving to a $15 statewide minimum wage and enacting the strongest paid-family-leave policy in the nation, New York is showing the way forward on economic justice," Governor Cuomo said after signing the minimum-wage legislation on April 4. "These policies will not only lift up the current generation of low-wage workers and their families, but ensure fairness for future generations and enable them to climb the ladder of opportunity."
But Cuomo's idea of "economic justice" is a long way from the dollars-and-cents reality of running a burger business. If labor costs rise dramatically, White Castle will have to balance its books by raising prices or changing its business model so that it needs less labor.
"Is there any room to raise prices to cover costs?" Richardson muses. "We think we'd need to increase menu prices by something like 50 percent. It's not something we've done before. It'd be catastrophic."…
Two graphs used in video upload: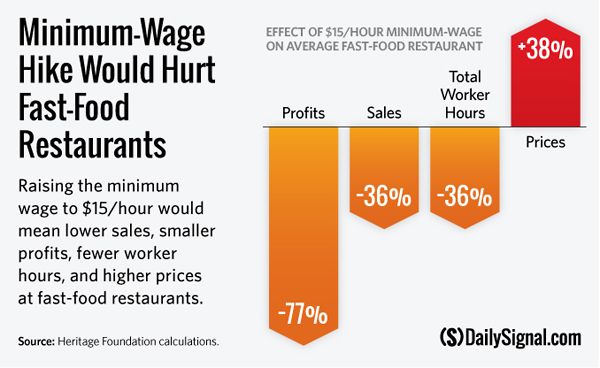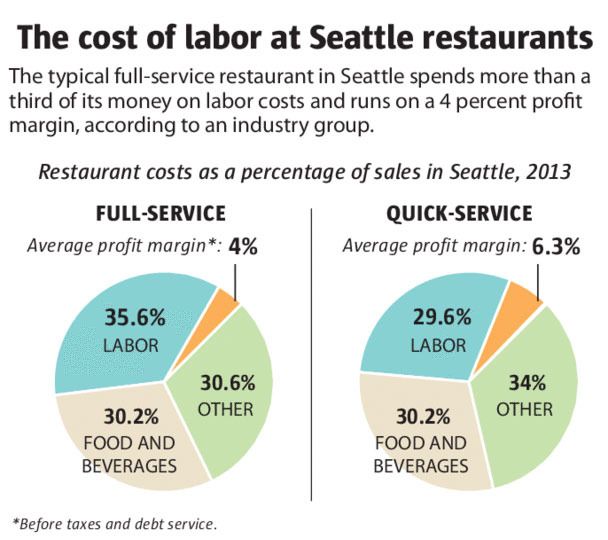 And a third: