Jonathan Swift (1710):
➤ "Besides, as the vilest Writer has his Readers, so the greatest Liar has his Believers; and it often happens, that if a Lie be believ'd only for an Hour, it has done its Work, and there is no farther occasion for it. Falsehood flies, and the Truth comes limping after it; so that when Men come to be undeceiv'd, it is too late; the Jest is over, and the Tale has had its Effect…"
Again: "Falsehood flies, and the Truth comes limping after it…"
Or, put another way by Twain: "A lie can travel halfway around the world before the truth can get its boots on."
What I am saying is that many of the anecdotal positions I have heard taken on this issue do not stand up to the fact. And what we need is clear thinking. Like in other posts refuting Food Inc., and the many anthropogenic global warming supporters, what I am not saying is that we shouldn't consider reducing the amount of vaccines given, or how they are bunched up. Just like I am not saying we should continue to eat sugar and corn-syrup laced foods, or that we shouldn't be concerned for the environment. People tend to make these conversations either or. Again, what I am saying is that the facts used by many of these persons are just plain wrong.
The issue came up, in fact, in the latest CNN GOP debate:
I have noticed a pattern in this debate though.Those that are religious and have wild "New World Order" views and that like Prison Planet (Alex Jones), tend toward the view that vaccines cause all sorts of ills. Others on the left that have a distrust of Big-Money, corporations, likewise see all sorts of nefarious issues with them. (Why the left then loves Big-Government is beyond me, and treat IT as a non-corporation.) So lets begin this short trek that will surely grow over the years.
Big $$$$$
The first challenge I think is important is one I hear made against global warming skeptics, or creationists/Intelligent design persons, etc. It is the charge that "Big-Money" is powerful enough to change facts. So those that support "Al-Gorian" positions in global warming point out that because big-oil has lots of money… that this MUST influence decisions made in the general public. For instance, we can see how this type of argument backfires. In this small excerpt of a larger debate (seen here), Marc Morano responded to the Director of the Sierra Club, Michael Brune, who charged that Marc's organization receive (cue *evil laughter*) "big-oil money."
Brune made the point that receiving money from oil and gas was bad. Morano turned the tables not by arguing that oil and gas do not in fact give monies to these groups… instead he used the premise Brune put forward to his advantage:
✦ Implied premise by Brune: "It is bad to receive money from oil/gas";
✦ Morano's implied premise: "Okay, fine, if bad for 'a,' why not 'b'."
"….he's [Brune] mentioning funding by the way which I think is funny. The Sierra Club took 26 million from natural gas and Michael has the audacity to try to imply that skeptics are fossil fuel funded."
The same happened in conversation on the topic of vaccines. One person told me that "the billion dollar industry is attempting to discredit, and bury, things." And, "There is also billions at stake, so buried data is the M.O." So I invite those reading this to watch the two videos. The first video deals more factually with the main study people use to support their autism connection to vaccines. The second video gets into motivation. And one must keep in mind that in philosophy there is a fallacy that states that one's view of truth is built into the geography of one's birth: the genetic fallacy. But no matter if you were born in the very animistic view of nature via a Papua New Guinea birth, or a Canadian birth… Einstein's theory of relativity is JUST AS TRUE. In other words, no matter how much money is involved, we can know the truth evidentially and not based on which side has more money.
To enforce the point one should have gotten already. If position "a" is true and "b" is false because of the "Big-Health Inc." behind it, then I will use the same argument to say that the biggest donor block to Democrats, injury lawyers (after unions, teacher unions to be specific), who have a vested interest in supporting the "counter-vaccine" position and have pumped "Big-Money" into this view — ergo makes my position true/correct.
One can hopefully see the futility of weighing one's argument on this approach.
In another conversation I gave an example of how people first attributed Shaken Baby Syndrome (SBS) to vaccines. But later it was found to be trauma, either through accidental means or abuse. The anecdotal position gave way to the evidential one.
The person I was talking to thought I meant something else and tried to correct me:
I responded that "No, I didn't mean SIDS, I meant shaking baby syndrome." However, i followed that with, "But okay, lets deal with SIDS."
SIDS (Sudden infant death syndrome)

SIDS as been studied well since the 80's. There have been control groups, and babies without vaccinations as opposed to those with vaccinations shows no difference in SIDS. In one of the largest studies babies who were vaccinated fared better in the SIDS arena.
Note as well that babies of black families are twice as likely and to die of SIDS — Native-American infants are about three times more likely than Caucasian infants. So there is something else going on. Incorporating the above ethnic disparities with the rate of vaccines being "up-to-date," we already see an issue of where evidence doesn't meet the claim:
✦ …the percent of kindergarten students at 24 months of age with the 4:3:1 vaccine series was 76.6+4.2% among white children, 75.0+2.4% among Hispanic children, 72.0+8.4% among African American children, and 81.8+6.5% among Asian children.
So SIDS should be highest in the Asian communities, next in the white, etc., ~ you get the point. It is interesting to note as well that SIDS is at an all-time low:
As a result of efforts by the Institute and other organizations, the sudden infant death rate is at an all-time low. However there are still about 4,000 sleep-related infant deaths that occur each year in the US. (SIDS.org).
But how is this possible? America is at an all-time high in vaccinations? You can see how the anecdotal "illogic" starts to fall apart.
As with other issues in our political and religious realms [and the conspiracies/sloppy thinking that accompany both — from the New World Order to the above example of SIDS], many claims are not self-challenged by the people that hold them.
Rate of Vaccinations
Autism is on the rise… or, is being diagnosed more as we refine our ability to detect it. And I was — in conversation — given a link to a columnist I like who has a large database of articles supporting to one extent or another the position that vaccines are harmful. One article I thought was promising to challenge my point of view was an article entitle, "Where are the Autistic Amish?"
What a great study [I though to myself] that is truly a "double-blind" isolated population. However, I was soon wagging my head that a journalist I like left behind her critical skills in self-challenging her position. Whereas a schlub like myself can critique a story like this.
First, some background.
Like in the videos talking about this supposed link, Olmsted's anecdotal evidence is cited ad nauseum as evidence that thimerosal causes autism. Thimerosal is a form of mercury, and almost always in anti-vaccine sites (like the two examples to the right).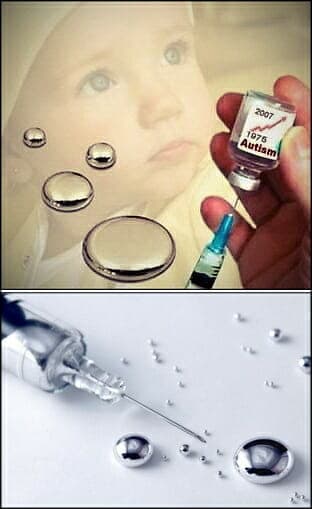 However, thimerosal is not mercury as you know it. Which is important. Before 2001, some vaccines contained thimerosal, a preservative made with ethyl mercury. But ethyl mercury, which is safe, is very different from methyl mercury, which is toxic.
The difference is important, says obstetrician-gynecologist Jennifer Gunter, author of The Preemie Primer. Consider, she says, the huge difference between ethyl alcohol, which is drinking alcohol found in wine and beer, and methyl alcohol, also called wood alcohol, which can cause blindness. (USA Today)
Again, this safe product is not in vaccines any longer, except for, multi-dose flu shots. So when I get my flu shot, I make sure that I am getting a single-dose version that will not have this safe preservative that is not mercury. But autism is still on the rise, to wit,
The Amish
Let's get back to the article that Sharly thought was interesting (as did I). In a response to it from Autism News Beat: An Evidence-Based Resource for Journalists, we read a great excerpt from a critique:
…Olmsted's anecdotal evidence is cited ad nauseum as evidence that thimerosal causes autism. The case rests on twin assumptions: that the Amish don't vaccinate, and that they don't have autism. But Olmsted never visited the cryptically-named Clinic for Special Children in Strasburg, where doctors treat dozens of children who exhibit autistic behavior. It's not even necessary to visit the clinic. A simple phone call to a staff physician, such as the one I made recently, is enough to debunk "the Amish anomaly", as Olmsted calls it.
"The idea that the Amish do not vaccinate their children is untrue," says Dr. Kevin Strauss, MD, a pediatrician at the CSC. "We run a weekly vaccination clinic and it's very busy." He says Amish vaccinations rates are lower than the general population's, but younger Amish are more likely to be vaccinated than older generations.
Strauss also sees plenty of Amish children showing symptoms of autism. "Autism isn't a diagnosis – it's a description of behavior. We see autistic behaviors along with seizure disorders or mental retardation or a genetic disorder, where the autism is part of a more complicated clinical spectrum." Fragile X syndrome and Rett Syndrome is also common among the clinic's patients.
Strauss, along with Dr. D. Holmes Morton, MD, authored a study published in the New England Journal of Medicine which described a mysterious seizure disorder that resulted in mental retardation and autistic behavior in nine Amish children. The study was published one year after Olmsted's mythic voyage, so it would seem a story correction would be in order.
In an email exchange with AutismNewsBeat, Olmsted said he made several attempts to contact Dr. Morton, but Olmsted would not say if those attempts were made before or after his Age of Autism stories ran. Strauss said Olmsted never visited the clinic, and added "I don't think he spent much time in Lancaster County."
Strauss said the clinic treats "syndromic autism", where autism as part of a more complicated clinical spectrum that can include mental retardation, chromosomal abnormalities, unusual facial features, and short stature, as well as Fragile X syndrome. "We see quite a few Amish children with Fragile X," he said….
Again, we see that the anecdotal evidence does not stand under even a minimal checking of the facts. Let us continue to dig into some other evidences that undermine the mercury connection.
Japan
In an article entitled "Autism rises despite MMR ban in Japan," we find that countries that have completely removed the "mercury" from its vaccines, as well as offer much less mandatory vaccines to boot.
For instance, The United States requires infants to receive 26 vaccines, whereas Sweden and Japan administer 12 vaccines to infants, the least amount (Mercola). Yet, autism is on the rise in these least vaccinated countries. Continuing with Japan:
In the New Scientist article where the above graphic is from, the author ends with this:
…They found the cases continued to multiply after the vaccine withdrawal, ranging from 48 to 86 cases per 10,000 children before withdrawal to 97 to 161 per 10,000 afterwards. The same pattern was seen with a particular form of autism in which children appear to develop normally and then suddenly regress – the form linked to MMR by Wakefield.
The study cannot rule out the possibility that MMR triggers autism in a tiny number of children, as some claim, but it does show there is no large-scale effect. The vaccine "cannot have caused autism in the many children with autism spectrum disorders in Japan who were born and grew up in the era when MMR was not available", Honda concludes.
So if the vaccine is not responsible for the rising rates of autism, what is? "Clearly some environmental factors are causing the increases," says Irva Hertz-Picciotto of the University of California at Davis, US. Other experts disagree, saying the apparent rise could be the result of changing diagnostic criteria and the rising profile of the disorder (New Scientist print edition, 17 February 2001).
The end is important, because Sharyl Attkisson links to another article by Dr. Frank DeStefano, Director of the CDC Immunization Safety Office, saying,
…But he acknowledged the prospect that vaccines might rarely trigger autism.
"I guess, that, that is a possibility," said DeStefano. "It's hard to predict who those children might be, but certainly, individual cases can be studied to look at those possibilities."
This is what science is… leaving open possibilities. However, we KNOW "mercury" [thimerosal] is not connected. But all the variables involved with vaccinations leaves open the possibility of future evidence. This same scientific approach is not in the eco-fascist response to anthropogenic global warming skeptics. Scientism is in the later example. Science ~ proper ~ is in the possibility left open in cause-effects of vaccines.
In another exchange, I was challenged with the Vaccine Court awarding settlements to people as an evidence of the issue herein discussed.
Vaccine Court
Here is the challenge:
a) In accordance with section 312(b) of the National Childhood Vaccine Injury Act of 1986, title III of Pub.L. 99–660, 100 Stat. 3779 (42 U.S.C. 300aa–1 note) and section 2114(c) of the Public Health Service Act (42 U.S.C. 300aa–14(c)), the following is a table of vaccines, the injuries, disabilities, illnesses, conditions, and deaths resulting from the administration of such vaccines, and the time period in which the first symptom or manifestation of onset or of the significant aggravation of such injuries, disabilities, illnesses, conditions, and deaths is to occur after vaccine administration for purposes of receiving compensation under the Program.
As of December 1, 2011, the program had awarded $2.35 billion in 2,810 separate claims, including compensation for 390 deaths.
Firstly, there is flawed logic to this, and I will explain with a recent case.
Freddie Gray was taken into custody and died a week after his arrest, in jail. People blame the officers and six of them have been charged and the court proceeding are a long way off. However, Mayor Stephanie Rawlings-Blake's decided to pay Freddie Gray's family a $6.4 million civil settlement even before the officers were found guilty/innocent in the legal proceedings, which again, are a long way off.
So payment has no correlation to guilt, or innocence. Likewise paying off someone in the Vaccine Court doesn't necessarily correlate to proving that vaccines cause particular illnesses.
I respond:
But autism, and "heavy metal" "poisoning" are myths. And awarding money the cases must first go to the Vaccine Court. Which uses a much lower standard of evidence Daubert standard for scientific testimony and evidence (Judge is gatekeeper; Relevance and reliability; Scientific knowledge = scientific method/methodology; Factors relevant; Testimony by Experts). And so, many people are awarded that shouldn't have been.
For instance. At first, shaking baby syndrome was blamed on vaccines, now however, it is known that head trauma is involved. And out of all the vaccine related claims only 3% of those are found to be connected ~ loosely. And of those far less than 1% are serious illness resulting from them. Often times these injuries are from bacteria in the vaccine (in other words, they were not prepared and/or kept hygienic).
The 5,000 cases of parents saying vaccines caused their child's autism lost their case because there is no evidence to support them.
Concluding Thoughts
So with these few examples I have encountered, we see that there is A LOT of bad thinking surrounding the issue. And it is by-and-large by well-meaning persons who are looking for behavior in their children they rightly or wrongly attribute to vaccinations. Us not being able to explain things is a digging issue for the human race. We think we can find answers — immediately — to issues that perplex us. But sometimes we need calmer heads in the matter… like Dr. Carson in the video near the beginning of the post.
Ways to think through tough issues:
Post-Script
In a continuing conversation I was challenged with this:
Find a great deal of unvaccinated autistic children yet? Or still searching? Yea, me too. smile emoticon
So I provided one example to get this person to think critically:
In the United Kingdom, researchers evaluated 498 autistic children born from 1979 through 1992 who were identified by computerized health records from 8 health districts [5]. Although a trend toward increasing autism diagnoses by year of birth was confirmed, no change in the rates of autism diagnoses after the 1987 introduction of MMR vaccine was observed. Further, MMR vaccination rates of autistic children were similar to those of the entire study population. Also, investigators did not observe a clustering of autism diagnoses relative to the time that children received MMR vaccine, nor did they observe a difference in age at autism diagnosis between those vaccinated and not vaccinated or between those vaccinated before or after 18 months of age. These authors also found no differences in autism rates among vaccinated and unvaccinated children when they extended their analysis to include a longer time after MMR exposure or a second dose of MMR.
I got a response. And mind you… this is from a person who is a believer and deals with the confounded logic of atheists and evolutionists. And so here is his response. And his response was merely a cut-n-paste:
Vaccinated boys were 155% more likely to have a neurological disorder (RR 2.55)

Vaccinated boys were 224% more likely to have ADHD (RR 3.24)

Vaccinated boys were 61% more likely to have autism (RR 1.61)
I merely mentioned that this was a s-u-r-v-e-y… by phone. There were not control groups, much of a criteria to test the claims made by these persons called, etc. Here is a bit more:
…Generation Rescue has finally released its long-promised "study" comparing vaccinated versus non-vaccinated children. Not surprisingly, the same day, Dan "Quixote" Olmsted, who's never met a scientific windmill that he didn't like to tilt at when it comes to pseudoscientific claims that vaccines or thimerosal in vaccines cause autism and certainly never met a dubious claim that he wouldn't trumpet as science "proving" a link between vaccines and autism, popped up like the good lapdog he is with a story trumpeting the release of GR's "study."
Not surprisingly, given the source, the "study" turns out to be totally underwhelming, nothing more than a phone poll really. (Amusingly, David Kirby has said that he doesn't consider phone surveys to be "data.") Even so, expect to see it trumpeted all over antivaccination websites and blogs as "proof" that vaccines cause autism or, at the very least, as "evidence" that compels a study. It might be, if it weren't so poorly designed and analyzed and if it actually showed what GR claims that it shows…
I linked to an article with this comment: That was a phone-call survey Dan. Here is a more reliable study noted in this science blog:
…Of late, the anti-vaccine movement has hit upon a new strategy. Specifically, they are demanding what they like to call a "vaxed versus unvaxed" study. Basically, their claim is that unvaccinated children are so much healthier than vaccinated children, and they think that such a study would prove it. Of course, they only hit on this message after making some rather embarrassing missteps. In particular, they didn't seem to realize that a randomized, double blind study of vaccination according to the currently recommended schedule versus unvaccinated children was totally unethical. So, they figured out another angle. They acknowledge that a randomized trial of unvaccinated versus vaccinated children would not be feasible (although they appear not to be able to admit just how unethical it would be), and blithely suggest instead an epidemiological study of the vaccinated versus the unvaccinated without realizing just how horrendously difficult it would be to overcome the confounders that would plague such a study or that ethical considerations still require sound scientific justification for such a study. That's why it's so cute to see anti-vaccine loons trying to justify such a study.
All of which is why it's pretty amusing that just such a study was recently reported in Germany. Can you guess what it found? Let's just say that, to those of us who accept the science showing that vaccines do not cause autism, autoimmune diseases, asthma, and the like, the results were utterly unsurprising:
In their study, the authors compare the occurrence of infections and allergies in vaccinated and unvaccinated children and adolescents. These include bronchitis, eczema, colds, and gastrointestinal infections.
The evaluation showed that unvaccinated children and adolescents differ from their vaccinated peers merely in terms of the frequency of vaccine preventable diseases. These include pertussis, mumps, or measles. As expected, the risk of contracting these diseases is substantially lower in vaccinated children and adolescents.
Surprise, surprise! Unvaccinated kids differ from vaccinated kids only in having a much higher risk of vaccine-preventable disease! Who'da thunk it? But, as is my wont, I need to see the actual study, rather than a news report…
A couple other blog posts I recommend from Respectful Insolence: