This is meant mainly as a supplement to a Christmas Eve-Eve gathering/discussion I was at. I will make this post  a little different than other posts, as, it will be "minimalist." This is the third installment of the topics covered, which are polar bears, rising sea levels, CO2, Inconvenient Truth (the movie), nuclear power, warmest year, electric vehicles (EVs)/hybrid cars, and bullet trains.
One of the main "evidences" the students raised was "rising oceans" for global warming being true. These students are basically saying… "Because my professor said" … see for yourself (via Breitbart):
I wanted to draw the people who believe this (rising oceans) attention to a very old photograph compared to a new one to compare La Jolla (California) sea levels from 1871 to Now: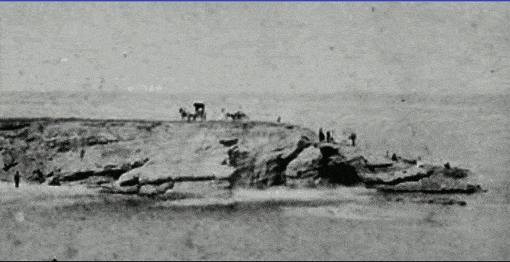 There has been no change. ~ Real Science
---
AP's Seth Borenstein publishes pure propaganda: Climate change has made Earth 'hotter, weirder…downright wilder'
Borenstein: In the more than two decades since world leaders first got together to try to solve global warming, life on Earth has changed, not just the climate. It's gotten hotter, more polluted with heat-trapping gases, more crowded and just downright wilder. Global temperature: up six-tenths of a degree. Population: up 1.7 billion people. Sea level: up 3 inches. U.S. extreme weather: up 30 percent. Ice sheets in Greenland and Antarctica: down 4.9 trillion tons of ice.  "Simply put, we are rapidly remaking the planet and beginning to suffer the consequences," says Michael Oppenheimer, of Princeton University. Diplomats from more than 190 nations opened talks Monday at a United Nations global warming conference in Lima, Peru, to pave the way for an international treaty they hope to forge next year.
Climate Depot's Morano comment: 'AP's Borenstein can be trusted to shill for UN's climate summit in Lima Peru, which I will be attending and speaking at. Borenstein relies on Michael Oppenheimer (who is the UN scientists on the payroll of Hollywood stars) and Climategate's Michael Mann. Borenstein ignores tide gauges on sea level  showing deceleration of sea level rise and ignores satellite temperatures which show the Earth in an 18 year 'pause' or 'standstill' of global warming. Borenstein tortues data in order to claim more weather extremes. We are currently at or near historic lows in tornadoes and hurricanes. Even droughts are on long term declines and floods show no trend. We know not to expect more from Borenstein.' See: 'Long sad history of AP reporter Seth Borenstein's woeful global warming reporting'