(This was originally posted in 2010, brought here in 2012, updated 5-1-2015)
(Keep in mind the above critique is by a Sikh, not a Christian)
Shame on 3HO for NOT acknowledging innocent kundalini yoga students raped & abused by Yogi Bhajan! (Go to this forum to talk to and see ex-members talk about this abuse. If you're having a problem signing into the website be sure to click on as a guest using the red button in the far bottom right of the screen.)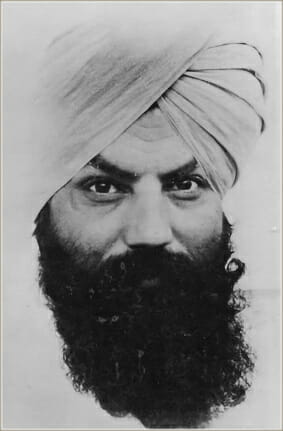 Stories of Yogi Bhajan's improprieties and crooked financial dealing (theft from members) can be found at the RegisterGuard.com (like this one). As well as found at Religion News Blog, (like: 3hO, and Yogi Bhajan as topics in their archive).
I have personally heard stories about Yogi Bhajan because of close family members that use to be involved in this breakaway form of Sikhism.
Having an extensive collection of comparative religious texts that deal in some-form-or-fashion with Sikhism mainly and 3Ho to a lesser extent, my understanding of this "sect" is unfortunately deepened via the personal stories of anguish below, merely confirming that which is already known.
Articles like these (See: Britney Spears) are rare due to the small nature of this "sect" and people assuming it is part of the world religion of Sikhism.
….Bhajan taught, among other things, that he could see auras and see into the future. But perhaps his most outrageous claim was that he was the official religious and administrative leader of all Sikhs in the Western world. I am told that most legitimate Sikhs avoid any association with Bhajan's group, and that Yogi Bhajanism is by no means representative of the five-century-old Sikh tradition whose homeland is in the Indian Punjab.
(source)
Further below I merely produce parts of the articles from RegisterGuard, in the hopes that it adds to an understanding of this movement (maybe a previous innocent naiveté, a, postmodern "who are you to judge" attitude) and how many lives it affected.
One should note that with extreme political ideologies as well as religious ones,
the family unit is broken up, either to bolster the State (communism, fascism, socialism), or a way for one man or a small group to control many (Bhagwan Shree Rajneesh, Jim Jones, etc).
Remember, for instance, in the novel Animal Farm when the offspring of Jessie and Bluebell (two characters in the story — dogs) were taken away from them by Napoleon at birth and reared by Napoleon to be his security force. These dogs are trained to be vicious, going so far as to rip many of the animals to shreds including the four young pigs, a sheep and various hens. Similarly, as the sign over Auschwitz entrance to the medical facilities reads:
"I freed Germany from the stupid and degrading fallacies of conscience and morality…. We will train young people before whom the world will tremble. I want young people capable of violence — imperious, relentless and cruel." ~ Adolf Hitler, A sign of his quote hangs on the wall at Auschwitz; Ravi Zacharias, Can Man Live Without God, p. 23.
It is — the breakup up the family unit — a means for a person to control another. Isolation, separation and alienation leads to the group becoming a substitute family. Members are often encouraged to drop worldly (non-members) friends, may be told to change jobs, quit school, give up sports, hobbies, and the like (source).

Here is some great insight to this dilemma of people stuck in a cult (applicable to political extremes as well):
Milieu Control – the control of the environment including information, associations, time, and energy work to exclude any opportunity for opposition while also promoting the 'party line'.
Mystical Manipulation – this is the 'higher calling' for the follower to be a part of a utopian goal which requires his full devotion. The followers see the leaders as having achieved this higher calling hence they are worthy to be followed.
Demand For Purity – the utopian goal can only be achieved by purity of devotion. Any failure to succeed means impurity exists somewhere and will be searched out by those in control.
Cult of Confession – Failure to succeed means confessions must be made. Any weakness or failure, real or perceived, are to be confessed for the sake of the group. Even confessions where no wrong was actually done can spur the group to more purity.
Sacred Science – The ideology, doctrine and mission of the group are so sacred that they must not be doubted or questioned. To do so is one of the worst offenses possible. However, without the option of questioning, a lie cannot be uncovered.
Loading the Language – Certain words and phrases are so loaded with meaning that stark choices are implied leading to the end of critical thinking.
Doctrine Over Person – What you see, hear or think is irrelevant in the face of the groups doctrine. You must submerge your opinions in the group's worldview.
Dispensing of Existence – Only those who are committed to the group are valued. Those who oppose or betray the group can be dismissed, defamed, disfellowshipped, or killed.
May I also add that in these types of "religions," there is no love story entwined in it. The video to the right is a "parable" of sorts on Christ sacrifice for us… it is the Cosmic Love Story that IS the Good News.
…Continuing…
A slow, painful awakening led Premka Kaur Khalsa, a top secretary in Yogi Bhajan's Sikh organization for almost 20 years, to leave the religious group in 1984, she said.
Premka Khalsa, 66, said she could no longer participate because of the inconsistencies she said she had witnessed between the yogi's behavior and his teachings — the deception and abuse of power.
In 1986, she sued Yogi Bhajan and his Sikh organizations, settling out of court. In court papers, she alleged that the married yogi had sexually and physically assaulted her, that he was sexually involved with other secretaries and that, as the head of his administration, she worked long hours for little or no pay.
The organization's religious leaders vehemently deny those allegations. Its business leaders did not respond to requests for comment for this story.
Kamalla Rose Kaur, 55, another former member of Yogi Bhajan's 3HO (Healthy, Happy, Holy Organization) who wrote for a grass-roots newsletter in the community, said a light switched on for her when she was researching and writing about religious groups and thought, "Hey, we're acting a lot like a cult."
Former member Guru Bir Singh Khalsa, 60, who had been appointed a "lifetime minister" by Yogi Bhajan, said he received a wake-up call in the early 1990s, when Sue Stryker, then an investigator with the Monterey County District Attorney's office, laid out evidence linking members of his spiritual community to criminal activity. Stryker, now retired, said a member of Yogi Bhajan's Sikh community pleaded guilty and served time in prison for a telemarketing scam that bilked seniors out of hundreds of thousands of dollars.
These and other ex-members of Yogi Bhajan's organization say they aren't surprised by events unfolding now, six years after his death. Legal disputes threaten to splinter the community. Allegations of the yogi's past wrongdoing are resurfacing. And the future of the Sikh organization's businesses are in question.
The outcome will ripple far beyond the religious group, whose companies have become intertwined with the local economy and business community.
In Multnomah County Circuit Court, the group's religious leaders are suing the group's business leaders over control of the community's multimillion dollar businesses, including Golden Temple natural foods in Eugene and Akal Security in New Mexico.
"Organizations/cults that have charismatic leaders and their followings, once their charismatic leader dies, this is generally the kind of thing that occurs," Premka Khalsa said.
"It's the meltdown of a cult," said Kamalla Kaur, who spent nearly 20 years in 3HO, and now runs an Internet forum for ex-members. "They actually kept it together longer than we expected."
Steven Hassan, a Massachusetts-based author, counselor and former leader of the Moon cult in the 1970s, said he has counseled about two dozen former 3HO members, including leaders, over the years.
"The group, from my point of view, was always about power and money," he said. "(Yogi) Bhajan is the consummate … cult leader. By not specifying someone to take over, there often are these kinds of political battles and meltdowns — people basically being greedy like Yogi Bhajan was and wanting more of a slice for themselves."
[….]
Watching the business leaders back away from the group's religious practices, some former members said, reminds them of what they experienced when they decided to leave the group.
"You go through stages of discovery of how you gave away your power and were deceived," Premka Khalsa said.
"Once the person who is defining your reality — the charismatic leader — once he's not there continuing to enforce the beliefs, then your eyes start to open," she said. "You see things in a different way, and it can be disillusioning."
Premka Khalsa said that's especially true for the yogi's secretaries, such as herself, who sacrificed much of their lives to serve him.
"I met him at 25," she said. "I was 41 by the time I left, so my life of family, child bearing and (being) productive in the world, that whole piece was gone. Nothing was put into Social Security, and I walked out with the clothes on my back."
The women in his inner circle "were denied having a personal relationship with any other men," she added. "Some of us wanted to get married and have children, but we got sidetracked into agreeing to forego that with the intention of serving something bigger than us. Sacrifice, sacrifice, sacrifice."
[….]
In her 1986 lawsuit, Premka Khalsa alleged that Yogi Bhajan repeatedly physically and sexually assaulted her from November 1968 to November 1984.
McGrory, the religious leaders' attorney, said his clients deny all the allegations in Premka Khalsa's lawsuit, which "were never verified or substantiated."
In court papers, she alleged that the yogi was sexually involved with various female followers, and that he ordered her to coordinate his sexual liaisons, including orgies, with other secretaries, which she refused to do.
The head of Yogi Bhajan's administration, and an editor and writer for his publications, Premka Khalsa said she worked on average 10 hours a day, five days a week. She alleged that she was paid $375 a month — only in her last three years with the group.
"It was another part of how he kept us bound," she said. "We didn't have independent resources. He had a fleet of cars — one of which was mine to drive. And he had properties to live on, but they weren't mine. You had few independent resources, so it made it hard to live out on (your) own. He did that with lots of people."
Premka Khalsa alleged in her lawsuit that Yogi Bhajan called her "his spiritual wife, destined to serve mankind by serving him in a conjugal capacity." He said if she did so, he "would care for her for all of her natural life," she alleged.
When Yogi Bhajan died in 2004, his wife Bibiji Inderjit was to inherit half of their community property, and he designated that his half go to Staff Endowment, a trust to support 15 female administrative assistants.
[….]
She said she was with the group from 1975 to 1985. In her 1986 lawsuit, she alleged that starting in 1978, Yogi Bhajan repeatedly physically and sexually assaulted her.
The lawsuit alleged that the yogi was sexually involved with Guru Amrit Khalsa, as well as various other members of his administrative staff.
Guru Amrit Khalsa's sister also alleged that Yogi Bhajan did not compensate her for skin and hair care products and snack foods she had developed and turned over to him in 1983 and 1984, after he had promised her an ownership stake or other payment
[….]
"Sikh means seeker of truth and therefore I was just a seeker of truth," he said. "The reason I wanted to put those documents on the Internet was to just turn the light on in the closet."
"Yogi Bhajan had a dark side, and I think a lot of people don't want to see it because of what that means about him," Guru Bir Khalsa said. "I know, for myself, I wasn't ready and didn't want to see it. It's kind of tough when you think you've invested as much as you have into something."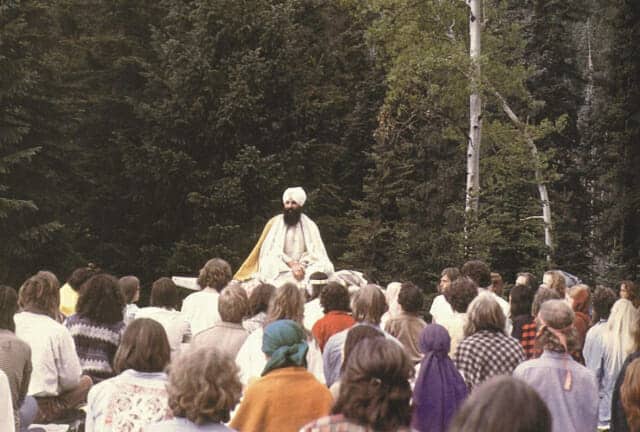 Bottom line with comparing healthy religion to a cultic idea of financial commitment:
Religious leaders regard their followers as being individuals who need protection and assistance, while cult leaders tend to regard people as a resource to be exploited. It seems to be the standard practice that cult victims will end up with no money. But people who become religious are often encouraged to adopt practices that can increase their income (e.g., by avoiding alcohol and drug use). Most people who regularly attend church and who are in a good financial position are expected to donate 10% of their income – which still allows them to have a good standard of living.
(source)
I want to leave the reader with this thought by Robert Hume. In his book, The World's Living Religions, he comments that there are three features of Christian faith that "cannot be paralleled anywhere among the religions of the world" [I can add here, the cults either]. These include the character of God as a loving Heavenly Father, the character of the founder of Christianity as the Son of God, and the work of the Holy Spirit. Further, he says:
The nine founders among the eleven living religions in the world had characters which attracted many devoted followers during their own lifetime, and still larger numbers during the centuries of subsequent history. They were humble in certain respects, yet they were also confident of a great religious mission. Two of the nine, Mahavira and Buddha, were men so strong-minded and self-reliant that, according to the records, they displayed no need of any divine help, though they both taught the inexorable cosmic law of Karma. They are not reported as having possessed any consciousness of a supreme personal deity. Yet they have been strangely deified by their followers. Indeed, they themselves have been worshiped, even with multitudinous idols.
All of the nine founders of religion, with the exception of Jesus Christ, are reported in their respective sacred scriptures as having passed through a preliminary period of uncertainty, or of searching for religious light. Confucius, late in life, confessed his own sense of shortcomings and his desire for further improvement in knowledge and character. All the founders of the non-Christian religions evinced inconsistencies in their personal character; some of them altered their practical policies under change of circumstances.
Jesus Christ alone is reported as having had a consistent God-consciousness, a consistent character himself, and a consistent program for his religion. The most remarkable and valuable aspect of the personality of Jesus Christ is the comprehensiveness and universal availability of his character, as well as its own loftiness, consistency, and sinlessness.
Robert Hume, The World's Living Religions (New York, NY: Charles Scribner's Sons, 1959), 285-286.
a small portion of a documentary about Bhagwan Rajneesh (an Oregon cult):
(For those readers interested, I debated a Sikh — not a 3Ho member — and we spoke about truth… since he was a seeker of it. Portions of this debate are reproduced here: First Debate; Second Debate).