The Blaze notes more "faux" racism on Missouri campus. I say "more" because I believe the "Poop Swastika" was — at least with past faux racism cases — a reality.
University of Missouri Student Body President Payton Head issued a chilling warning of a "confirmed" Ku Klux Klan presence on campus Tuesday — only to admit it was not true hours later.
He quickly sparked panic with a Facebook post claiming he was actively working with "the MUPD, the state trooper and the National Guard" on the so-called threat.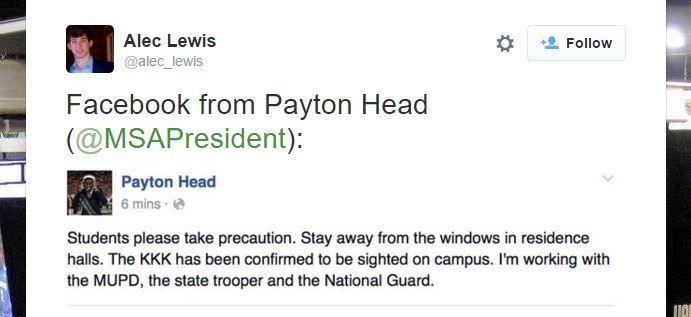 An official with the University of Missouri Police Department refuted the claim a short time later, telling TheBlaze there is "no Ku Klux Klan on campus." Head eventually deleted his post on the KKK scare. The scrubbing was followed by a full apology for spreading misinformation.