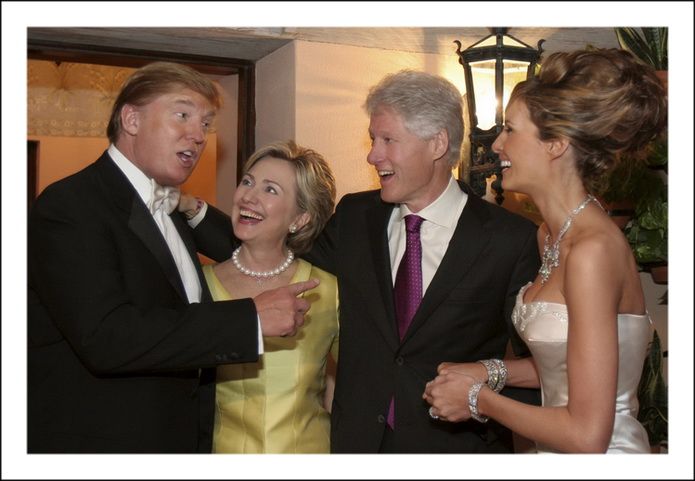 Something occurred to me. If Donald Trump is such a horribly racist xenophobic misogynist bigot… why did Hillary Clinton sit front row at his wedding in 2005?
We know why Bill was there, *wink-wink*
Just a thought.
GATEWAY PUNDIT  flashes back to a 2000 interview in The Advocate, a gay journal, noting:
What would you do to combat antigay prejudice?
I like the idea of amending the 1964 Civil Rights Act to include a ban of discrimination based on sexual orientation. It would be simple. It would be straightforward. We don't need to rewrite the laws currently on the books, although I do think we need to address hate-crimes legislation. But amending the Civil Rights Act would grant the same protection to gay people that we give to other Americans — it's only fair. I actually suggested this first, and now I see [Democratic presidential candidate] Bill Bradley has jumped on the bandwagon and is claiming the idea as his own. [A bill to amend the Civil Rights Act that would have included protections on the basis of sexual orientation was first introduced in the 1970s. — Ed.] Let me tell you something. Bradley is as phony as a $20 Rolex. He says the president ought to have big ideas. His last big idea — the 1986 [Tax Reform Act] — caused a recession and cost thousands of people their jobs. This guy destroyed the real estate industry, and he tanked the S&Ls. It was a disaster. Bradley walked out of the Senate like he was some kind of statesman declaring that "politics is broken." The truth is, the voters were going to dump him in New Jersey. He walked away. Now he poses as some kind of outsider. What a joke. Bradley was a member of the Senate Finance Committee and a longtime part of Washington establishment. When I was $900 million and my companies were $9 billion in debt, I didn't walk away. While others were declaring bankruptcy, I clawed my way back. My businesses are now bigger and better than ever.
Of course I would argue against this, but you get the point. Trump is a Blue Dog Democrat. Not a conservative at all.