(Originally posted 4-6-2013) Just a quick note on when John says (see below) that he doubts "the origin of homosexuality will be discussed," he does not discuss it either (if there is even an "origin" to be discussed). And while I admit to not following John's every contribution to mankind, I doubt John has ever talked about it either, or, if he has, he proffered internally contradictory points. Okay, diving right in… some points I will be working on throughout the post found in the article:
1) Classification by the leading psychiatric group in America (jump);
2) Native American "gays" (jump);
3) Socrates (jump);
4) Some final thoughts on the immutability of marriage and our culture (jump).
Okay, while trying to be understanding to John Van Huizum's allotted space given to write within, he shows a lack of depth in his looking into the matter with anything other than his "prejudicial" view. While he tried to be non-prejudicial, he just cannot. This isn't necessarily a bad thing, we are all prejudicial in our views.
That is why knowing about  worldviews is soo emphasized in Christian apologetics. A clear understanding of the prejudice in origins, for instance, can open up many avenues to learn about reality and you place in the universe. So while John may say he is trying to be more neutral, I doubt he has done the serious work to examine his own life outside of his prejudicial outlook.
"You may believe you are doing right [ Every person's path seems right/straight in their own eyes], but the Lord judges your reasons [weighs your heart]."
But I ingress. Moving on.
POINT #1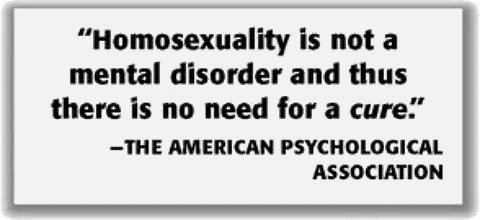 This is taken from a large response to the Reverend Mel White, a gay man who tries to justify the practice of homosexuality via Christianity. (This distinction is important, the "person" is made in the image of God, as fallen as they are [we were/are], they deserve the same respect and love shown us from our Savior.) He uses the same tact that it is — homosexuality — is not considered a "malady" as well. Here is my response:
---
Jeffrey Satinover in his book, Homosexuality and the Politics of Truth,[20] deals with this current position and how the APA got there:
A Change of Status
The APA vote to normalize homosexuality was driven by pol­itics, not science. Even sympathizers acknowledged this. Ronald Bayer was then a Fellow at the Hastings Institute in New York. He reported how in 1970 the leadership of a homosexual faction within the APA planned a "systematic effort to disrupt the annual meetings of the American Psychiatric Association" [R. Bayer, Homosexuality and American Psychiatry: The Politics of Diagno­sis (New York: Basic Books, 1981), p. 102.]They de­fended this method of "influence" on the grounds that the APA represented "psychiatry as a social institution" rather than a sci­entific body or professional guild.
At the 1970 meetings, Irving Bieber, an eminent psychoana­lyst and psychiatrist, was presenting a paper on "homosexuality and transsexualism." He was abruptly challenged:
[Bieber's] efforts to explain his position … were met with derisive laughter. . . . [One] protester to call him a . "I've read your book, Dr. Bieber, and if that book talked about black people the way it talks about homosexuals, you'd be drawn and quartered and you'd deserve it." [102-103]
The tactics worked. Acceding to pressure, the organizers of the following APA conference in 1971 agreed to sponsor a special panel—not on homosexuality, but by homosexuals. If the panel was not approved, the program chairman had been warned, "They're [the homosexual activists] not going to break up just one section" [104].
But the panel was not enough. Bayer continues:
Despite the agreement to allow homosexuals to conduct their own panel discussion at the 1971 convention, gay activists in Wash­ington felt that they had to provide yet another jolt to the psychi­atric profession. . . . Too smooth a transition . . . would have deprived the movement of its most important weapon—the threat of disorder…. [They] turned to a Gay Liberation Front collective in Washington to plan the May 1971 demonstration. Together with the collective [they] developed a detailed strategy for disruption, paying attention to the most intricate logistical details.[104-105]
On May 3, 1971, the protesting psychiatrists broke into a meet­ing of distinguished members of the profession. They grabbed the microphone and turned it over to an outside activist, who declared:
Psychiatry is the enemy incarnate. Psychiatry has waged a relentless war of extermination against us. You may take this as a declaration of war against you. . . . We're rejecting you all as our owners.[105-106]
No one raised an objection. The activists then secured an appearance before the APA's Committee on Nomenclature. Its chairman allowed that perhaps homosexual behavior was not a sign of psychiatric disorder, and that the Diagnostic and Statis­tical Manual (DSM) should probably therefore reflect this new understanding.
When the committee met formally to consider the issue in 1973 the outcome had already been arranged behind closed doors. No new data was introduced, and objectors were given only fifteen minutes to present a rebuttal that summarized seventy years of psychiatric and psychoanalytic opinion. When the committee voted as planned, a few voices formally appealed to the mem­bership at large, which can overrule committee decisions even on "scientific" matters.
The activists responded swiftly and effectively. They drafted a letter and sent it to the over thirty thousand members of the APA, urging them "to vote to retain the nomenclature change" [145]. How could the activists afford such a mailing? They purchased the APA membership mailing list after the National Gay Task Force (NGTF) sent out a fund-raising appeal to their membership.
Bayer comments:
Though the NGTF played a central role in this effort, a decision was made not to indicate on the letter that it was written, at least in part, by the Gay Task Force, nor to reveal that its distribution was funded by contributions the Task Force had raised. Indeed, the letter gave every indication of having been conceived and mailed by those [psychiatrists] who [originally] signed it. . . . Though each signer publicly denied any role in the dissimulation, at least one signer had warned privately that to acknowledge the organizational role of the gay community would have been the "kiss of death."
There is no question however about the extent to which the offi­cers of the APA were aware of both the letter's origins and the mechanics of its distribution. They, as well as the National Gay Task Force, understood the letter as performing a vital role in the effort to turn back the challenge.[146]
Because a majority of the APA members who responded voted to support the change in the classification of homosexuality, the decision of the Board of Trustees was allowed to stand. But in fact only one-third of the membership did respond. (Four years later the journal Medical Aspects of Human Sexuality reported on a survey it conducted. The survey showed that 69 percent of psy­chiatrists disagreed with the vote and still considered homosex­uality a disorder.) Bayer remarks:
The result was not a conclusion based upon an approximation of the scientific truth as dictated by reason, but was instead an action demanded by the ideological temper of the times. [3-4]
Two years later the American Psychological Association—the professional psychology guild that is three times larger than the APA—voted to follow suit.
How much the 1973 APA decision was motivated by politics is only becoming clear even now While attending a conference in England in 1994, I met a man who told me an account that he had told no one else. He had been in the gay life for years but had left the lifestyle. He recounted how after the 1973 APA deci­sion he and his lover, along with a certain very highly placed officer of the APA Board of Trustees and his lover, all sat around the officer's apartment celebrating their victory. For among the gay activists placed high in the APA who maneuvered to ensure a victory was this man—suborning from the top what was pre­sented to both the membership and the public as a disinter­ested search for truth.
So this graphic by the Reverend White means nothing. Most women I know who are lesbians who have intimated family members of mine their past have all said they were abused by a man in the family. Likewise, the two homosexual men I know well enough to ask, both had a sexual encounter with an older man when they were 14 years old and younger. Lesbian author Tammy Bruce intimates this story in her book:
… and now all manner of sexual perversion enjoys the protection and support of once what was a legitimate civil-rights effort for decent people. The real slippery slope has been the one leading into the Left's moral vacuum. It is a singular attitude that prohibits any judgment about obvious moral decay because of the paranoid belief that judgment of any sort would destroy the gay lifestyle, whatever that is…. Here come[s] the elephant again: Almost without exception, the gay men I know (and that's too many to count) have a story of some kind of sexual trauma or abuse in their childhood — molestation by a parent or an authority figure, or seduction as an adolescent at the hands of an adult. The gay community must face the truth and see sexual molestation* of an adolescent for the abuse it is, instead of the 'coming-of-age' experience many [gays] regard it as being. Until then, the Gay Elite will continue to promote a culture of alcohol and drug abuse, sexual promiscuity, and suicide by AIDS.[21]
* By the age of 18 or 19 years, three quarters of American youth, regardless of their sexual orientation, have had sexual relations with another person. Gay males are more likely than heterosexual males to become sexually active at a younger age (12.7 vs. 15.7 years) and to have had multiple sexual partners. The ages at the time of the first sexual experience with another person are closer for lesbians and heterosexual females (15.4 vs. 16.2 years).
Do you think… I am asking you… do you think this is psychological in nature? I mean, raping of boys and these boys growing into men confused, hurt, traumatized (often by a close family confidant) and expressing this confusion in unhealthy lifestyle choices? These men and women are hurting and need counseling, compassion, care, and understanding. But the best way to get this to them is not to normalize the actions done to them and they do to themselves. One author mentions the timing this "reclassification came about:
…it may be just a coincidence that just about at the height of the "sexual revolution" (or devolution) the "evidence from science" changed. Keep in mind that psychiatry and psychology are soft sciences and that secular counseling and education is largely based on the societal trends de jour.[22]
Which brings me to a point I left off with in premise four. Homosexuals make up one to three percent of the population, yet, almost 70% of serial killers are homosexuals… this non-diagnosis in lieu of political correctness and the sexual revolution seems a bit quick and non-scientific, considering the abuse that leads to this lifestyle and crime stemming from this lifestyle.
---
I have shared in the past the story of Walt Haeyer, a man who through an operation "became a woman," lived as such for 8-years, while getting a counseling degree dealt with his tragic childhood (as well as becoming a Christian), now lives as a man and is married with kids. Another touching story is by this young man that touched Ravi Zacharias during a Q&A portion of one of his talks:
Now, to be clear, my point is NOT TO POINT fingers at my gay friends and tell them to change. I cannot do that, nor, outside of loving advice, have the authority to do so. That is between them and their God. My point is that the "malady" may not be as immutable as some would have us think. Which then, in my minds eye, translates into harming more the gay man or woman if this reaction to trauma is accepted as completely normalized (given a rubber stamp of approval) by society. I deal with the loving ways to come at this in my official "Cumulative Case" on the topic. But the "bible" of psychiatry is defining new "illnesses" with each publication, and for homosexuality to be stricken from any analysis is harmful when the internet, grief, even thinking about anxiety are all being classified as an illness… but these often times traumatic experiences many face as children and the twisting of their sexual expression since this experience is not a malady. Something is up… and its called politics. I will let Tammy Bruce (a gay woman) take us out:
…these problems don't remain personal and private. The drive, especially since this issue is associated with the word "gay rights," is to make sure your worldview reflects theirs. To counter this effort, we must demand that the medical and psychiatric community take off their PC blinders and treat these people responsibly.  If we don't, the next thing you know, your child will be taking a "tolerance" class explaining how "transexuality" is just another "lifestyle choice"…. After all, it is the only way malignant narcissists will ever feel normal, healthy, and acceptable: by remaking society – children – in their image.
(Tammy Bruce, The Death of Right and Wrong: Exposing the Left's Assault on Our Culture and Values [Roseville: Prima, 2003], 92, 206.)
POINT #2
Some acquaintances I have followed for a couple of years [their work], and have a meal or two with, make a great point about the Native-American dealing with homosexuality that is quite different than many in today's culture care to admit into the dialogue, and that is: gender differences. The fine gentlemen at Gay Patriot, the afore mentioned acquaintances, mentioned his own research into the Native-American (NA) "two-spirits" designation, and I found this very enlightening:
In my grad school paper for my Native American class, I researched the legends of the berdache, or two-spirit.  Many cite the berdacge tradition as an example of cultures which accept and embrace homosexuality and same-sex relationships.  And while many American Indian tribes recognized same-sex marriages, they all required one partner in such a union to live in the guise of the other sex.  Thus, if one man married another man, one would wear men's clothes and go hunting with the "braves" while the other would have to wear women's clothes and live as a "squaw."  The one who lived as a woman could not go hunting with his same-sex peers nor could he participate in activities, rituals etc reserved for his biological sex.
California, Massachusetts, and other liberal states are not only pushing for same-sex marriage as a societal equal to hetero marriage, but in the process doing away with gender distinctions. This is a travesty, and in agreement with me are many gay men and women.
I have a larger point though, that will tie into Socrates a bit, and it is this: just because NA's had gay persons in their society does not answer the very real possibility of abuse of young persons in that society that may be the bedrock of this behavior. In other words, we know today that many people who consider themselves gay had "coming out" experiences when they were young. In fact, one person I know posted in a gay group this question based on one of my posts (see the discussion that ensued here) and ended up proving my point. This will lead into and combine with…
POINT #3
Very bluntly and plainly, Socrates was not "gay," per se. He was a pedophile, most pedophiles in Grecian days slept with young boys, a homosexual act. Pedophilia became common practice for the well-ta-do, and it took the Judeo-Christian worldview to shake this "habit" from the world in outlawing such actions. "Many men in Ancient Greece had relations with young teens," however, "being outright gay and having an equal relationship with a same-sex partner was not something that was socially approved of at all." Plato speaks to the "mean state" that creates the best "by far the safest and most moderate" a society should promote to enhance its quality of life. One should take note that even Plato's detractor in the end agrees:
Now, what lives are they, and how many in which, having searched out and beheld the objects of will and desire and their opposites, and making of them a law, choosing, I say, the dear and the pleasant and the best and noblest, a man may live in the happiest way possible…
[….]
Speaking generally, our glory is to follow the better and improve the inferior, which is susceptible of improvement, as far as this is possible. And of all human possessions, the soul is by nature most inclined to avoid the evil, and track out and find the chief good; which when a man has found, he should take up his abode with it during the remainder of his life…. every one will perceive, comes the honour of the body in natural order. Having determined this, we have next to consider that there is a natural honour of the body, and that of honours some are true and some are counterfeit…. but the mean states of all these habits are by far the safest and most moderate;
[….]
…but they will not wholly extirpate [root out]the unnatural loves which have been the destruction of states; and against this evil what remedy can be devised?…
[….]
Either men may learn to abstain wholly from any loves, natural or unnatural, except of their wedded wives; or, at least, they may give up unnatural loves; or, if detected, they shall be punished with loss of citizenship, as aliens from the state in their morals. 'I entirely agree with you,' said Megillus,…
This is excerpted from The Dialogues of Plato, in 5 vols (Jowett ed.) [387 BC]
Another piece to the puzzle comes from an excellent apologetic about this very subject. In it we find this:
Aeschines (390-314? BC), in his work Against Timarchus, acknowledged that there were laws on the books that prohibited sexual harassment or assault of young boys.5
1. He further records that Greek law prohibited male prostitutes from holding office in civic affairs, or participating in religious observances.
2. He recognized that laws that regulate moral conduct are the best means of establishing and maintaining an orderly society.
3. This work indicates that there were laws prohibiting these things, and that the punishment was fine or death, depending on the severity of the offense.
So, even in Greece, you had a behavior that was rejected as unnatural, and never accepted in a moral category as "the norm."  So nothing John cites or references would support Prop 8 or the peoples will in California to keep marriage what it has been, a relation between a man and woman (specifically, one man and one woman).
CONCLUDING THOUGHTS
Per John's usual modus operandi, he has connected ideas that have no relation or equal to the current issue, and are by themselves arguments against his position. But I wanted to end with a recent response to a friend that deals with this "mean" that Plato references, the "good" that any society should strive towards. And while I am a Christian and think that theism gives the most powerful "mean" to the "best and noblest, a man may live in the happiest way possible," one should keep in mind that one can do the same even as an atheist. Here is my response:
(Nature Uncaring) True. Dawkins for instance says rape being morally wrong in our current culture is as inconsequential as us evolving 5 rather than 4 fingers. So morally speaking nature is cruel, without — that is — a matrix placed on it that is above nature. Something only the theistic worldview can offer. That being said, we can access the "book of nature," if you will, to codify things that exist, like: the "law of gravity," the "law of conservation," the "law of thermodynamics," the "law of motion." These have always existed, but at some point were "discovered," or codified. Similarly the "laws of thought" (logic) have always existed, but Aristotle codified many of them.
Nature (if that is all you believe in) has created a "way," an "institution" that mankind has always accessed, and was codified in the cultural sense throughout mankind's history. So much like Calvin Coolidge saying the "men do not make laws – they do but discover them," making laws an "ought" should be grounded in something larger than man (like the judges did in the Nuremberg Trials). But you can also merely describe, which I did in a series of questions from you many years ago (from one of my earliest posts: Marriage: Is It Hetero?):
However, there is a "created order," or, even a natural order (if you do not believe in God). My argument for heterosexual (between a man and a woman) unions is usable both by the atheist (non believer in God) and the theist (a believer in God – in the Judeo-Christian sense). Here is the crux of the matter in regards to "nature's order:"
✤ "…take gold as an example, it has inherent in its nature intrinsic qualities that make it expensive: good conductor of electricity, rare, never tarnishes, and the like. The male and female have the potential to become a single biological organism, or single organic unit, or principle. Two essentially becoming one. The male and female, then, have inherent to their nature intrinsic qualities that two mated males or two mated females never actualize in their courtship… nor can they ever. The potential stays just that, potential, never being realized…..
✤ "….Think of a being that reproduces, not by mating, but by some act performed by individuals. Imagine that for these same beings, movement and digestion is performed not by individuals, but only by the complementary pairs that unite for this purpose. Would anyone acquainted with such beings have difficulty understanding that in respect to movement and digestion, the organism is a united pair, or an organic unity?"
So you see, the two heterosexual organisms that join in a sexual union cease being two separate organisms for a short time and become one organism capable of reproduction. This is what the state and the church are sealing in a marriage, this intrinsic union. The homosexual couple can never achieve this union, so "natures order" has endowed the heterosexual union with an intrinsic quality that other relationships do not have or could never attain. Both the atheist and theist can argue from this point, because either we were created this way or we evolved this way. Either way, nature has imposed on the sexual union being discussed.
I will make the point as well, that as society moves away from the matrix our Founding documents are overlay'ed with, the human (the gay man/women specifically) will have his humanity threatened. You see, in the Judeo-Christian matrix, the homosexual has intrinsic worth. (The authors of the book "Relativism: Feet Firmly Planted in Mid-Air" make this point in deeper philosophical argument than I.) And as people move further away from nature's order, a form of "worth" anarchy will break out. Two people that saw this first hand comment well on the matter. The first is the author of "The Gulag Archipelago," by Aleksandr I. Solzhenitsyn. He says this in his Templeton Address:
More than half a century ago, while I was still a child, I recall hearing a number of older people offer the following explanation for the great disasters that had befallen Russia: Men have forgotten God; that's why all this has happened.
Since then I have spent well-nigh fifty years working on the history of our Revolution; in the process I have read hundreds of books, collected hundreds of personal testimonies, and have already contributed eight volumes of my own toward the effort of clearing away the rubble left by that upheaval. But if I were asked today to formulate as concisely as possible the main cause of the ruinous Revolution that swallowed up some sixty million of our people, I could not put it more accurately than to repeat: Men have forgotten God; that's why all this has happened.
What is more, the events of the Russian Revolution can only be understood now, at the end of the century, against the background of what has since occurred in the rest of the world. What emerges here is a process of universal significance. And if I were called upon to identify briefly the principal trait of the entire twentieth century, here too, I would be unable to find anything more precise and pithy than to repeat once again: Men have forgotten God.
The failings of human consciousness, deprived of its divine dimension, have been a determining factor in all the major crimes of this century. The first of these was World War I, and much of our present predicament can be traced back to it. It was a war (the memory of which seems to be fading) when Europe, bursting with health and abundance, fell into a rage of self-mutilation which could not but sap its strength for a century or more, and perhaps forever. The only possible explanation for this war is a mental eclipse among the leaders of Europe due to their lost awareness of a Supreme Power above them….
Men have forgotten God.
Tammy Bruce, a lesbian, notes our current culture:
Even if one does not necessarily accept the institutional structure of "organized religion," the "Judeo-Christian ethic and the personal standards it encourages do not impinge on the quality of life, but enhance it. They also give one a basic moral template that is not relative," which is why the legal positivists of the Left are so threatened by the Natural Law aspect of the Judeo-Christian ethic."
[….]
The moral vacuum did rear its ugly head during the 1960s with the blurring of the lines of right and wrong (remember "situational ethics"?), the sexual revolution, and the consequent emergence of the feminist and gay civil-rights movements. It's not the original ideas of these movements, mind you, that caused and have perpetuated the problems we're discussing. It was and remains the few in power who project their destructive sense of themselves onto the innocent landscape, all the while influencing and conditioning others. Today, not only is the blight not being faced, but in our Looking-Glass world, AIDS is romanticized and sought after…
Tammy Bruce, The Death of Right and Wrong: Exposing the Left's Assault on Our Culture and Values (Roseville: Prima, 2003), 35, 97.
CHANGE OF DIRECTION AND QUESTION:
SO, LET US MOVE to what "matrix" you see as being the most beneficial to human worth [especially to the gay man/woman] out of the only available to mankind. The seven world views. But out of the biggies (pantheism, theism, and atheism), which do you see the one lifting mankind up to the pinnacle of an ontological worth not found in nature?
And this is key, which direction will afford the American experiment the maximum liberty COUPLED WITH what Nature and Nature's Laws/Author has wrought for the happiest "mean" we can attain? This is the battle and question before mankind right now… however, as Gay Patriot pointed out in the post entitled, silencing and slurring those with politically incorrect views, much of the voting population are "low-info" (non-thinking) people who have lost the art to do anything other than "resort to name-calling and ostracism of individuals who oppose their cause."
A liberal professor takes umbrage with this new wave of non-thinking, and even says it harms the intellectual "mean," if you will, of the liberal person this thinking infects. And as you can see in two discussions I was in recently (here, and here — same person) any semblance of maturity in dialogue and learning and admitting, maybe, just maybe, the positions taken are in fact not a tenable position. but in our society where people elevate opinion as truth, and pride in Narcissism  is the prevailing guide… you will never get much beyond being called sexist, intolerant, xenophobic, homophobic, Islamophobic, racist, bigoted (S.I.X.H.I.R.B.). Or as Doug Mainwaring says in his article that Gay Patriot linked to, "anti-science, homophobic, misogynist, racist, xenophobic, Neanderthal."
Political correctness seeks to silence all opposition to the advancement of progressive ideology. Those who manipulate the power of political correctness appear on the surface to be the good-hearted, the vulnerable, and the victimized. Whether as individuals, as organizations, or as cultural groups, they present a picture of innocence and goodness, of unparalleled magnanimity and empathy. Yet like Anthony, their appearance is deceiving. They demand total fealty. And if you don't think the "happy thoughts" they want you to, their outward appearance gives way to vindictiveness and the same swift, disproportionate punishments that little Anthony meted out.
They want to be constantly affirmed, never challenged, never questioned, never judged. If they sense you don't agree with them, you are immediately judged to be a "bad person, with bad thoughts." They intimidate you into silence, until outwardly you only express happy thoughts, i.e., expressions of vigorous agreement with and the moral goodness of their will. For individuals and organizations who do not bend to their will, like Anthony, they wish their detractors out to the cornfield. Their version of the cornfield is the constant threat of social isolation, of being unloved and disrespected.
Pick any issue currently being advanced by progressives — same-sex marriage, state-mandated free contraception, abortion, man-made global warming and strict gun control, to name a few. Publicly question or resist any of these and be prepared to be judged as an anti-science, homophobic, misogynist, racist, xenophobic, Neanderthal.
(Read more at American Thinker)
Until people begin to inform themselves on how to think, we will never have good legislation in most states. States that have the "perfect storm" of rational thinking and dialogue (like New Hampshire) come up with the greatest liberty and "good" for their citizens in this experiment we call the States… however, John is far from this experiment's stated goals by the authors of supporting the New Government and the Constitution:
"…we have no government, armed with power, capable of contending with human passions, unbridled by morality and religion. Avarice, ambition, revenge and licentiousness would break the strongest cords of our Constitution, as a whale goes through a net. Our Constitution was made only for a moral and religious people. It is wholly inadequate to the government of any other." ~ John Adams
Indeed