And this report talks about how political correctness kills… weeks earlier a person who works near the shooters home saw a bunch of Middle-Eastern men at Sayed's home, via The Blaze: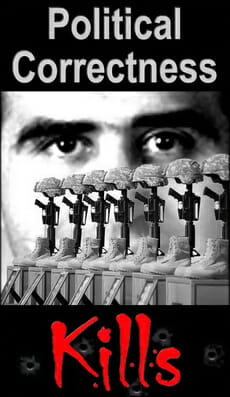 Yes, the ideology of the left kills. So, this is a good reminder… you see half-a-dozen Jews, Hindus, Sikhs, or Christians congregating at a home… don't call. You see that amount of Middle-Eastern men… call.
It is probably an innocent event… but it may help save lives. If people had shed the progressive leftist scales in the United Kingdom, untold children's lives would be better.
Here is some audio from Ben Shapiro filling in for Dennis Prager speaking about the latest news from the terror attack:
See more at:
We know who the female was that joined Syed in his killing spree… and do you think she had a Scandinavian sounding name? Nope. Tashfeen Malik, his wife. Yep, she was most likely a "devout" Muslim as well. And this is the rub… you will have to second guess even those you do not see as fanatical, but only devout:
That is because these people do not know the high percentage of those in the Islamic faith support violence in reaction to life's problems. Gateway Pundit noted the radical nature of a large percentage of Muslims: