Video Description:
He mentioned most of the experts KNOW how CO2 affects climate. He says he does not and doesn't think they do either. This has nothing to do with the supposed "consensus" of experts — 97% — who "say" it is driven by mankind. This is known as anthropogenic global warming, of AGW. The myth of the 97% started with ONLY 75-out-of-77 climatologists saying they believe man is the primary cause.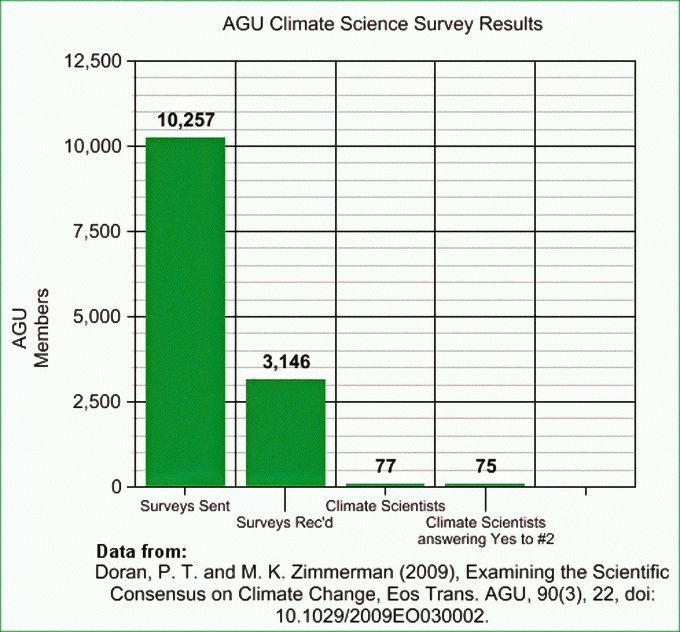 Yes, you heard me correctly, seventy-five.
Another study has undergrads and non-specialists (bloggers) search through many articles in peer reviewed journals, and noting that a large majority supported the AGW position. The problem was that they were not specialized in the field of science… AND… they only read the abstracts, not the peer reviewed paper itself. Many of the scientists behind the papers "said" to support AGW rejected that idea. So the specialists THEMSELVES said their papers cannot be read to support the AGW position.
Another study (pictured in the graph above) tries to save an earlier one with tainted information based on abstracts — a very UNSCIENTIFIC way to get to consensus (that is, relying on abstracts). Not only was this study based on abstracts, again, non specialists categorized them. Yet another study was merely based on search parameters/results. Here is more info (mainly links) for the not-faint-of-heart.
In reality, nearly half of specialists in the fields related reject man causing climates change.
And a good portion of those that do reject the claim that it is detrimental to our planet.
Only 13% saw relatively little danger (ratings of 1 to 3 on a 10-point scale); the rest were about evenly split between the 44% who see moderate to high danger (ratings of 4 to 7) and 41% who see very high or grave danger (ratings of 8 to 10). (Forbes)
Here is a list of scientists with varying views on the cause of "Climate Change," and here is a list of 31,000 who stand against man as the primary cause.
(Click Graph To See Previously Hidden Data)
We've all been subjected to the incessant "97% of scientists agree …global warming…blah blah" meme, which is nothing more than another statistical fabrication by John Cook and his collection of "anything for the cause" zealots. As has been previously pointed out on WUWT, when you look at the methodology used to reach that number, the veracity of the result falls apart, badly. You see, it turns out that Cook simply employed his band of "Skeptical Science" (SkS) eco-zealots to rate papers, rather than letting all authors of the papers rate their own work (Note: many authors weren't even contacted and their papers wrongly rated, see here). The result was that the "97% consensus" was a survey of the SkS raters beliefs and interpretations, rather than a survey of the authors opinions of their own science abstracts. Essentially it was pal-review by an activist group with a strong bias towards a particular outcome as demonstrated by the name "the consensus project".
[….]
Dr. Judith Curry writes:
Look at the views in column 1, then look at the % in the rightmost column:  52% state the the warming since 1850 is mostly anthropogenic.  One common categorization would categorize the other 48%  as 'deniers'.
So, the inconvenient truth here is that about half of the world's largest organization of meteorological and climate professionals don't think humans are "mostly" the cause of Anthropogenic Global Warming the rest will probably get smeared as "deniers"
(Read More at WUWT)
[….]
I wish to note, that, the truth was not a 97% consensus, but that about half disagreed with man causing it. Which is about the same percentage Dr. Happer says on CNBC:
Even the "Father of Climatology" (so all the programs in universities are because of him) says it's B.S.