This is an older topic that was freshly visited by the Sage of South Central (Larry Elder) because of a caller calling him disingenuous. I edit his segment on it — directly below — and add links to many resources for further study. Enjoy, and please, pass along to Democrat friends and family that have a skewed view of this ~ blaming corporations, banks, or Wall Street.
The line-up of video used in the above Larry Elder audio is as follows:
Here is some of the resources I have previously posted on my site — bringing them to one place for the furtherance of putting liberals in their place.
AEI Scholar Peter J. Wallison Talks Housing Crisis ~ Larry Elder interviews Peter J. Wallison, a lawyer and the Arthur F. Burns Fellow in Financial Policy Studies at the American Enterprise Institute. He specializes in financial markets deregulation.
This is a good montage proving what is being attributed to the Democrats: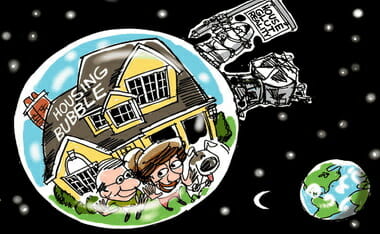 Larry Elder on his FACEBOOK notes some of these articles, so I will as well:
The following are very similar in substance (much of the video used at least). However, it is commented on and reordered a bit to make varying points that differ substantially:
This is merely a caller into the Michael Medved explaining succinctly the issue: Best Call of the Week. Likewise, here is a 30-second rebuttal by Larry Elder of the issue on his radio show: A Quick Rebuff to Freddie Fannie Charge. And finally here is Judge Andrew Napolitano's speaking to the issue:
I hope this helps people settle old conversations.