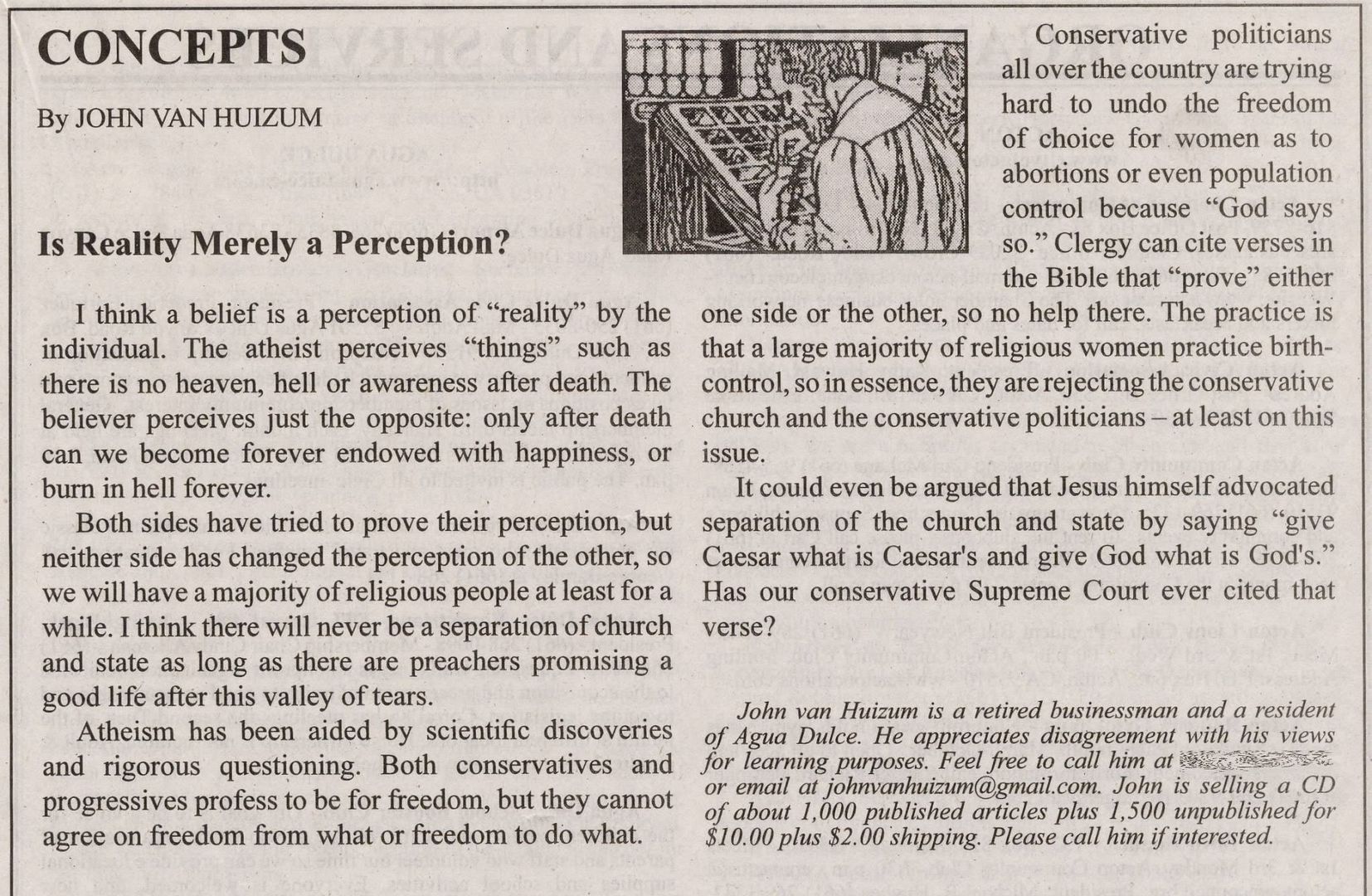 (As usual you can enlarge the article by clicking on it.) I enjoyed this weeks Concepts by John Van Huizum. While he showed the usual lack of deep study and merely expresses opinion as such, he is right about one thing… reality is perception. In Planned Parenthood v. Casey (1996), the 9th District Appeals Court wrote:
"At the heart of liberty is the right to define one's own concept of existence, of meaning, of the universe and of the mystery of human life. Beliefs about these matters could not define the attributes of personhood were they formed under compulsion of the State."
 I have a feeling that John would agree with the following statement:
"If relativism signifies contempt for fixed categories and men who claim to be bearers of an objective, immortal truth… From the fact that all ideologies are of equal value, that all ideologies are mere fictions, the modern relativist infers that everybody has the right to create for himself his own reality…"
More on Johns Relativism (cultural relativism/subjectivism, relativism, pluralism) later.
In Christian apologetics, often times the person doing the perceiving is said to have a pair of colored glasses on:
The right eyeglasses can put the world into clearer focus, and the correct worldview can function in much the same way. When someone looks at the world from the perspective of the wrong worldview, the world won't make much sense to him. Or what he thinks makes sense will, in fact, be wrong in important respects. Putting on the right conceptual scheme, that is, viewing the world through the correct worldview, can have important repercussions for the rest of the person's understanding of events and ideas… Raising one's self-consciousness [awareness] about worldviews is an essential part of intellectual maturity.
Ronald H. Nash, Worldviews in Conflict: Choosing Christianity in a World of Ideas (Grand Rapids, MI: Zondervan, 1992), 17-18, 9.
After this mentioning of "perceptions," or, really one's worldview, John starts down his normal rabbit trail of ideas stuck together, his straw-men "set-ups," and the like. For instance, perceptions are often changed… usually when an unprepared youth of faith goes off to college and finds a university teaming with…
➲ evolutionary psychology (for instance, atheist defender Sam Harris makes the Darwinian psychological statement that "…there's nothing more natural than rape. Human beings rape, chimpanzees rape, orangutans rape, rape clearly is part of an evolutionary strategy to get your genes into the next generation if you're a male.");
ϟ science (often put forward in the classroom as "scientism");
Ⓐ and militant skepticism.
…they will typically reject their childhood faith, and not set foot into a church till their thirties/forties. It is said that men stop going to church at 18 when their mom stops dragging them, and start back up when their wife drags em' back (why men hate church).
People first became aware of the problem after hearing the results of a Barna Research Group study that said that between 67% and 94% of Christian students (depending on denomination), within 18 months of graduating high school, are no longer at church. This report was given in 2002 and showed that the largest protestant denomination, the Southern Baptist Convention, was losing an average of 88% of their students while in college. (Why Apologetics)
Typically though, later in life the person in question will start reading some scholarly Christian works, or family harkens them to their childhood faith, someone close dies, life hits em' hard, something happens that draws them back into their faith. Even within someone's faith there are levels of trust in believing. Professor Stokes points out that such doubt is natural to a person,
Often, however, the cause of our doubt isn't what you might think. It isn't necessarily the strength of the arguments that rattles us, but the way they resonate with the unbeliever in each of us (what the Bible calls the "old self"). We hear Tokyo Rose's voice and she seems to make pretty good sense sometimes. Yet more often than not, if we look closely at the atheist's arguments, we find that there is little substance. Seeing this can change the argument's frequency and therefore break its spell. Believers often worry that their doubts signify the rapid approach of full-blown unbelief. But as pastor and author Tim Keller puts it,
Faith without some doubts is like a human body without any antibodies in it. People who blithely go through life too busy or indifferent to ask hard questions about why they believe as they do will find themselves defenseless against either the experience of tragedy or the probing questions of a smart skeptic.
All thoughtful believers—even those whose faith is mature—encounter doubt. Not a single person has had unadulterated faith. In any case, it certainly won't do to ignore your doubts, and defusing them will only strengthen your faith. To be sure, doubts can be strong enough to become a trial in your life; but like all trials, they're meant to refine faith, not stifle it.
Mitch Stokes, A Shot of Faith: To the Head (Nashville, TN: Thomas Nelson, 2012), xvii. (Emphasis added!)
So people are a bit more complicated than space could allow John to state, or that he cares to ponder. I will also agree with him that this conversation has been going on a very long time.* Cicero is a great example, he was born in 106 BC and died in 43 BC, and said the following in response to the skeptics of his day:
But if the structure of the world in all its parts is such that it could not have been better whether in point of utility or beauty, let us consider whether this is the result of chance, or whether on the contrary the parts of the world are in such a condition that they could not possibly have cohered together if they were not controlled by intelligence and by divine providence. If then the products of nature are better than those of art, and if art produces nothing without reason, nature too cannot be deemed to be without reason. When you see a statue or a painting, you recognize the exercise of art; when you observe from a distance the course of a ship, you do not hesitate to assume that its motion is guided by reason and by art; when you look at a sun-dial or a water-clock, you infer that it tells the time by art and not by chance; how then can it be consistent to suppose that the world, which includes both the works of art in question, the craftsmen who made them, and everything else besides, can be devoid of purpose and of reason? Suppose a traveller to carry into Scythia or Britain the orrery recently constructed by our friend Posidonius, which at each revolution reproduces the same motions of the sun, the moon and the five planets that take place in the heavens every twenty-four hours, would any single native doubt that this orrery was the work of a rational being? These thinkers however raise doubts about the world itself from which all things arise and have their being, and debate whether it is the product of chance or necessity of some sort, or of divine reason and intelligence;
Cicero, Nature of the Gods, Translated by H. Rackam, pp. 207-209
So yes, important topics and questions are new to every generation, but these queries have been asked for a very long time, and should continue to be. Believing that mankind will outgrow their "superstitious" faith is merely someone displaying their metaphysical naturalist presuppositions. Now on to another aspect of a statement by John. He said,
❂ "Atheism has been aided by scientific discoveries and rigorous questioning."
I think this is true if one looks at the situation wrongly. When people do not try on other pairs of glasses, become skeptical of their skepticism, do not use self-refuting propositions (similar to Vincent Bugliosi), or study to see which worldview offers a better explanation, they can become ideologues (religious or secular):
… a "coherent worldview must be able to satisfactorily answer four questions: that of origin, meaning, morality, and destiny." He says that while every major religion makes exclusive claims about truth, "the Christian faith is unique in its ability to answer all four of these questions." These questions are the bedrock of any worldview… that holds any weight at least.
Ravi Zacharias, Deliver Us From Evil (Nashville, TN: Word Publishers, 1997), 219–220; taken from the first chapter of my book.
For example, apologist Lee Strobel talks to a philosopher about the evidence that culminated in many atheists rejecting (or wanting to reject) science because of its implications FOR God, or origins [Side note… Einstein introduced the Special Theory of Relativity in 1905, when applied to the universe as a whole in 1915, it became known as the General Theory of Relativity]:
When Albert Einstein developed his general theory of relativity in 1915 and started applying it to the universe as a whole, he was shocked to discover it didn't allow for a static universe. According to his equations, the universe should either be exploding or imploding. In order to make the universe static, he had to fudge his equations by putting in a facto that would hold the universe steady.
In the 1920's, the Russian mathematician Alexander Friedman and the Belgium astronomer George Lemaitre were able to develop models based on Einstein's theory. They predicted the universe was expanding. Of course, this meant that if you went backward in time, the universe would go back to a single origin before which it didn't exist. Astronomer Fred Hoyle derisively called this the Big Bang — and the name stuck!
Starting in the 1920's, scientists began to find empirical evidence that supported these purely mathematical models. For instance, in 1929, the American astronomer Edwin Hubble discovered that the light coming to us from distant galaxies appears redder than it should be, and this is a universal feature of galaxies in all parts of the sky. Hubble explained this red shift as being due to the fact that the galaxies are moving away from us. He concluded that the universe is literally flying apart at enormous velocities. Hubble's astronomical observations were the first empirical confirmation of the predictions by Friedman and Lemaitre.
Then in the 1940's, George Gamow predicted that if the Big Bang really happened, then the background temperature of the universe should be just a few degrees above absolute zero. He said this would be a relic from a very early stage of the universe. Sure enough, in 1965, two scientists accidentally discovered the universe's background radiation — and it was only about 3.7 degrees above absolute zero. There's no explanation for this apart from the fact that it is a vestige of a very early and a very dense state of the universe, which was predicted by the Big Bang model.
The third main piece of the evidence for the Big Bang is the origin of light elements. Heavy elements, like carbon and iron, are synthesized in the interior of stars and then exploded through supernova into space. But the very, very light elements, like deuterium and helium, cannot have been synthesized in the interior of the stars, because you would need an even more powerful furnace to create them. These elements must have been forged in the furnace of the Big Bang itself at temperatures that were billions of degrees. There's no other explanation.
So predictions about the Big Bang have been consistently verified by the scientific data. Moreover, they have been corroborated by the failure of every attempt to falsify them by alternative models. Unquestionably, the Big Bang model has impressive scientific credentials . . . . Up to this time, it was taken for granted that the universe as a whole was a static, eternally existing object . . . . At the time an agnostic, American astronomer Robert Jastrow was forced to concede that although details may differ, "the essential element in the astronomical and Biblical accounts of Genesis is the same; the chain of events leading to man commenced suddenly and sharply, at a definite moment in time, in a flash of light and energy"…. Einstein admitted the idea of the expanding universe "irritates me" (presumably, said one prominent scientist, "because of its theological implications").
Lee Strobel, The Case for a Creator: A Journalist Investigates Scientific Evidence that Points Towards God (Grand Rapids, MI: Zondervan, 2004), 105-106, 112.
Here are just two (of the many examples I can provide) of an atheist and an agnostic commenting on the above evidence:
✪ "The essential element in the astronomical and biblical accounts of Genesis is the same; the chain of events leading to man commenced suddenly and sharply, at a definite moment in time, in a flash of light and energy…. The Hubble Law is one of the great discoveries in science; it is one of the main supports of the scientific story of Genesis." ~ Robert Jastrow: American astronomer and physicist. Founding director of NASA's Goddard Institute for Space Studies, he is the director of the Mount Wilson Institute and Hale Solar Laboratory. He is also the author of Red Giants and White Dwarfs (1967) and God and the Astronomers (2nd ed., 2000).
✪ "Certainly there was something that set it all off. Certainly, if you are religious, I can't think of a better theory of the origin of the universe to match with Genesis." ~ Robert Wilson: is an American astronomer, 1978 Nobel laureate in physics, who with Arno Allan Penzias discovered in 1964 the cosmic microwave background radiation (CMB)…. While working on a new type of antenna at Bell Labs in Holmdel Township, New Jersey, they found a source of noise in the atmosphere that they could not explain. After removing all potential sources of noise, including pigeon droppings on the antenna, the noise was finally identified as CMB, which served as important corroboration of the Big Bang theory.
Dr. George Smoot, Particle Physicist, Nobel Prize winner, and team leader from the Lawrence-Berkeley Laboratory, regarding the 1992 observations from COBE (the NASA satellite Cosmic Background Explorer): "It's like looking at God."(8)
A somewhat more "sober" assessment of the findings was given by Frederick Burnham, a science-historian. He said, "These findings, now available, make the idea that God created the universe a more respectable hypothesis today than at any time in the last 100 years."(9)
Dr. Stephen Hawking (Theoretical Physicist) described the big bang ripples observations as "the scientific discovery of the century, if not all time."(10)
Dr. George Greenstein (Professor of Astronomy at Amherst.): "As we survey all the evidence, the thought insistently arises that some supernatural agency – or, rather, Agency – must be involved. Is it possible that suddenly, without intending to, we have stumbled upon scientific proof of the existence of a Supreme Being? Was it God who stepped in and so providentially crafted the cosmos for our benefit?"(11)
Sir Arthur Eddington (British Astrophysicist): "The idea of a universal mind or Logos would be, I think, a fairly plausible inference from the present state of scientific theory."(12)
Dr. Arno Penzias (Nobel Prize winner in physics, co-discoverer of the microwave background radiation from the Big Bang): "Astronomy leads us to a unique event, a universe which was created out of nothing, one with the very delicate balance needed to provide exactly the conditions required to permit life, and one which has an underlying (one might say 'supernatural') plan."(13)
Sir Roger Penrose (Physicist, Emeritus Rouse Ball Professor of Mathematics at the Mathematical Institute, University of Oxford, and joint developer of the Hawking-Penrose Theorems): "I would say the universe has a purpose. It's not there just somehow by chance." (14)
Dr. Robert Jastrow (Founding director of NASA's Goddard Institute for Space Studies): "For the scientist who has lived by his faith in the power of reason, the story ends like a bad dream. He has scaled the mountains of ignorance; he is about to conquer the highest peak; as he pulls himself over the final rock, he is greeted by a band of theologians who have been sitting there for centuries."(15)
Dr. Frank Tipler (Professor of Math and Physics at Tulane University): "When I began my career as a cosmologist some twenty years ago, I was a convinced atheist. I never in my wildest dreams imagined that one day I would be writing a book purporting to show that the central claims of Judeo-Christian theology are in fact true, that these claims are straightforward deductions of the laws of physics as we now understand them. I have been forced into these conclusions by the inexorable logic of my own special branch of physics."(16). Tipler since has actually converted to Christianity, resulting in his latest book, The Physics Of Christianity.
Dr. Alexander Polyakov (String Theorist, Princeton): "We know that nature is described by the best of all possible mathematics because God created it."(17)
Dr. Edward Milne (British Astrophysicist, former Rouse Ball Professor of Mathematics, Oxford): "As to the cause of the Universe, in context of expansion, that is left for the reader to insert, but our picture is incomplete without Him [God]."(18)
Dr. Arthur L. Schawlow (Professor of Physics at Stanford University, 1981 Nobel Prize in physics): "It seems to me that when confronted with the marvels of life and the universe, one must ask why and not just how. The only possible answers are religious…. I find a need for God in the universe and in my own life."(19)
Dr. Wernher von Braun (German-American Pioneer Rocket Scientist) "I find it as difficult to understand a scientist who does not acknowledge the presence of a superior rationality behind the existence of the universe as it is to comprehend a theologian who would deny the advances of science."(20)
Dr. Frank Tipler (Professor of Math and Physics at Tulane University): "From the perspective of the latest physical theories, Christianity is not a mere religion, but an experimentally testable science."(21)
---
Footnotes for this quote
---
8) Thomas H. Maugh, II (April 24, 1992). "Relics of Big Bang, Seen for First Time". Los Angeles Times: pp. Al, A30.
9) The Los Angeles Times, Saturday 2nd May 1992.
10) Smoot, George, Wrinkles in Time, 2007 edition , cover.
11) Greenstein, G. 1988. The Symbiotic Universe. New York: William Morrow, p.27.
12) Heeren, F. 1995. Show Me God. Wheeling, IL, Searchlight Publications, p. 233.
13) Margenau, H and R.A. Varghese, ed. 1992. Cosmos, Bios, and Theos. La Salle, IL, Open Court, p. 83.
14) Penrose, R. 1992. A Brief History of Time (movie). Burbank, CA, Paramount Pictures, Inc.
15) Jastrow, R. 1978. God and the Astronomers. New York, W.W. Norton, p. 116.
16) Tipler, F.J. 1994. The Physics Of Immortality. New York, Doubleday, Preface.
17) Gannes, S. October 13, 1986. Fortune. p. 57
18) Heeren, F. 1995. Show Me God. Wheeling, IL, Searchlight Publications, p. 166-167.
19) Margenau, H. and R. A. Varghese, eds. Cosmos, Bios, Theos: Scientists Reflect on Science, God, and the Origins of the Universe, Life, and Homo Sapiens (Open Court Pub. Co., La Salle, IL, 1992).
20) McIver, T. 1986. Ancient Tales and Space-Age Myths of Creationist Evangelism. The Skeptical Inquirer 10:258-276.
21) McIver, T. 1986. Ancient Tales and Space-Age Myths of Creationist Evangelism. The Skeptical Inquirer 10:258-276.
So, far from atheism being supported by science, the theistic worldview has been exemplified above all other models of interpretation (perceptions) of reality. Mind you this isn't "proof" how the naturalist wrongly interprets the empirical method (scientific positivism), but it is a probability that exceeds others. (I suggest taking time, about an hour, and listen to this presentation by William Lane Craig on the evidences for theism over other worldviews.) Here John makes one of his signature jumps from one topic to a completely different one. I sometimes feel — shot in the dark again — he does this with the idea that he is saying something "scientific" and that everyone should credit his knowledge in on this particular topic (which is not the case), and then he brings that "trust" into a completely different topic.
Odd, to say the least. At any rate, freedom is something atheism does not account for, determinism is (enjoy the John Cleese video to the right). But that is a subject left for another day.
At this pivot point regarding freedom in one sentence to abortion in the following deserves some attention. Mr. Van Huizum seems to think that those who stand against abortion are doing so because God says. There are many atheists who are pro-life. How do they make their argument then? Science! Oooooh DRAT! Foiled by his own premise. If John had a grave to roll over in, he would. Here, for example, is model Kathy Ireland using the scientific laws to make her point:
Kathy Ireland, many years ago, was on Bill Mahers Politically Incorrectand the discussion that ensued shows the frailty of the liberal/relativistic position:
Bill Maher: Kathy, why do you oppose a women's right to choose
Kathy Ireland: Bill, when my husband was going to medical school I underwent a transformation. Because I used to be in favor of abortion. But I noticed when I was reading through some of his medical teaching books, that according to a law in science known as the law of biogenesis, every living thing reproduces after it own kind. That means dog produce dogs, cats produce cats, humans produce humans. If we want to know what something is we simply ask what are its parents. If we know what the parents are, we know what the thing in question is. And I reasoned from that because human parents can only produce human offspring, unborn human fetuses could be nothing but human beings, because the law of biogenesis rules out every other alternative. And I concluded therefore that because human fetuses were part of our family, we should not harm them without justification.
Bill Maher: Well Kathy, that's just your opinion!
In October 2002, Kathy Ireland made a compelling argument against abortion on the Fox News Channel's Hannity and Colmes political debate show. Alan Colmes described Ireland's opinions as religious, but Ireland said that her views on abortion do not stem from faith. She asserted that even atheists could realize that abortion is wrong. Kathy told Alan that her belief is founded in science and technology, which she says, "has come a long way since Roe vs. Wade."
Ireland also defended her values as being pro-women, stating, "We need to support these women who are in crisis pregnancy situations." She claimed that because scientific evidence proves that abortion is murder, "I have no choice but to defend the most vulnerable among us."
Here is one the best presentations detailing some of the above by Scott Klusendorf, a guy who's specialty is the pro-life position in contradistinction to the pro-choice one. [Actually, since one position is "pro-life," the other one is rightfully the "pro-death" position.] (Audio presentation to the right, 30-minutes.) So John Van Huizum's statement that the pro-life position is merely based on "God says so" seems to be — either out of ignorance or bias — a straw-man argument of what the other side truly believes. Again, John seems to cheapen these important issues, not giving the other side its proper due.
Right when you think Mr. Huizum is staying on one topic, he switches again in his last paragraph by quoting a verse about taxes, as if this verse has something to do with a letter from Jefferson to the Danbury Baptists. I dissect this position quite a bit in my paper found here, but this quote from a seminary level text that touches on the idea (separating the religious realm from the secular) John expresses:
Such "exclude religion" arguments are wrong because marriage is not a religion! When voters define marriage, they are not establishing a religion. In the First Amendment, "Congress shall make no law respecting an establishment of religion, or prohibiting the free exercise thereof," the word "religion" refers to the church that people attend and support. "Religion" means being a Baptist or Catholic or Presbyterian or Jew. It does not mean being married. These arguments try to make the word "religion" in the Constitution mean something different from what it has always meant.
These arguments also make the logical mistake of failing to distinguish the reasons for a law from the content of the law. There were religious reasons behind many of our laws, but these laws do not "establish" a religion. All major religions have teachings against stealing, but laws against stealing do not "establish a religion." All religions have laws against murder, but laws against murder do not "establish a religion." The campaign to abolish slavery in the United States and England was led by many Christians, based on their religious convictions, but laws abolishing slavery do not "establish a religion." The campaign to end racial discrimination and segregation was led by Dr. Martin Luther King Jr., a Baptist pastor, who preached against racial injustice from the Bible. But laws against discrimination and segregation do not "establish a religion."
If these "exclude religion" arguments succeed in court, they could soon be applied against evangelicals and Catholics who make "religious" arguments against abortion. Majority votes to protect unborn children could then be invalidated by saying these voters are "establishing a religion." And, by such reasoning, all the votes of religious citizens for almost any issue could be found invalid by court decree! This would be the direct opposite of the kind of country the Founding Fathers established, and the direct opposite of what they meant by "free exercise" of religion in the First Amendment.
Wayne Grudem, Politics According to the Bible (Grand Rapids, MI: Zondervan, 2010), 31.
So you see that — again — John's understating of theology, culture, philosophy and science is one that is the culmination (I suspect) of a life lived rejecting the other side of the issue as mere opinion… or worse yet, as delusional, without really taking into consideration the best of the opposing views scholarly arguments. All this evidence being shown I suspect that john rejects faith, God, conservative ideals for psychological reasons more than evidential. I will begin to end this critique with a presentation by Dr. Paul C. Vitz, Professor of Psychology at New York University (emeritus?).
Now, I promised to end with more on a quote I used from the 9th District Court that I thought John would agree with. Let's compare a portion from both statements:
1) "At the heart of liberty is the right to define one's own concept of existence, of meaning, of the universe and of the mystery of human life…"
2) "…the modern relativist infers that everybody has the right to create for himself his own reality…"
Whether you're an Atheist, Buddhist, Hindu, Christian or Muslim, agnostic, [Democrat, Republican, Libertarian], it doesn't matter. Your reality is just that… your reality, or opinion, or personal dogma. I want to now complete one of the quotes that I left somewhat edited, not only that, but I want to ask you if you still agree with it after you find out who wrote it.
Ready?
"Everything I have said and done in these last years is relativism by intuition…. If relativism signifies contempt for fixed categories and men who claim to be bearers of an objective, immortal truth… then there is nothing more relativistic than fascistic attitudes and activity…. From the fact that all ideologies are of equal value, that all ideologies are mere fictions, the modern relativist infers that everybody has the right to create for himself his own ideology and to attempt to enforce it with all the energy of which he is capable."
Mussolini, Diuturna pp. 374-77, quoted in A Refutation of Moral Relativism: Interviews with an Absolutist (Ignatius Press; 1999), by Peter Kreeft, p. 18.
______________________________________________________
*As the link points out, intelligent design is not a recent invention of creationists and their response to "lost" court case. Here is more:
Is intelligent design based on the Bible?

No. The idea that human beings can observe signs of intelligent design in nature reaches back to the foundations of both science and civilization. In the Greco-Roman tradition, Plato and Cicero both espoused early versions of intelligent design. In the history of science, most scientists until the latter part of the nineteenth century accepted some form of intelligent design, including Alfred Russel Wallace, the co-discoverer with Charles Darwin of the theory of evolution by natural selection. In the Judeo-Christian tradition, meanwhile, the idea that design can be discerned in nature can be found not only in the Bible but among Jewish philosophers such as Philo and in the writings of the Early Church Fathers. The scientific community largely rejected design in the early twentieth century after neo-Darwinism claimed to be able to explain the emergence of biological complexity through the unintelligent process of natural selection acting on random mutations. In recent decades, however, new research and discoveries in such fields as physics, cosmology, biochemistry, genetics, and paleontology have caused a growing number of scientists and science theorists to question neo-Darwinism and propose intelligent design as the best explanation for the existence of specified complexity throughout the natural world.