THE DAILY MAIL has a story about a Honduran Satanic gang murdering to appease demons:
…10 of the 13 indicted suspects were citizens of El Salvador or Honduras who were in the U.S. illegally, ….
Illegal El Salvador migrant gang members with a Satanic shrine in their apartment "kidnapped, drugged and raped a 14-year-old Houston girl and murdered another to appease insulted demon"
✦ Miguel Alvarez-Flores, 22, and Diego Hernandez-Rivera, 18, charged in sick plot
✦ MS-13 gang members kidnapped two teenage girls for weeks, cops say
✦ The pair of illegal immigrants from El Salvador were living in the Houston area
✦ Gang leader called himself 'Diabolical' and kept a Satanic shrine
✦ Killed one of the teens after she insulted and destroyed demon shrine, cops say
✦ The other girl, 14, kidnapped on her way home from school in early February
✦ She told cops she was drugged and brutally raped repeatedly
✦ Said pair held her down and gave her a tattoo with an image of the Grim Reaper
✦ The Gangbangers both smiled and waved to cameras in courtroom
✦ Hours earlier, 13 members of the same gang were arrested in New York for allegedly killing three high school students
The MS-13 gang members in New York killed a person (one of many) because they thought he was an informant and gay. My question is were some of these younger people fromn Hunduras — illegally — in the school sytem. I ask this because the grieving mother at the beginning of the video seems to connect it to the school:
Here are some related stories: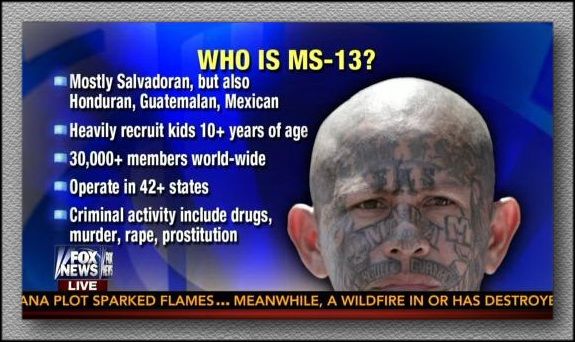 SHERIFF: MS-13 GANG BRINGS MACHETES, RAPE, SCALPING TO TEXAS
Members of the hyper-violent MS-13 transnational criminal gang are bringing severe tactics like machete-hacking murders, rape, and scalping to Texas according to the Texas Sheriff's Association.
Jackson County Sheriff Andy Louderback, who also serves on the Texas Sheriff's Association, told Breitbart Texas on Monday that the MS-13 gang members are bringing a level of violence not seen before by gangs in the U.S.
"They have distinguished themselves as to the level of violence by committing heinous acts including hacking people to death with a machete, scalping, and raping young girls," the sheriff said. "They are a Tier 1 threat in Texas."…
MS-13 Gang Members Indicted for NY Teen Murders
A number of MS-13 Gang members, some of which are illegal immigrants, were indicted in federal court for their involvement in the slayings of two New York teenagers.
Some 13 MS-13 gang members, 10 being illegal immigrants, were indicted for murder charges against Nisa Mickens and Kayla Cuevas, as well as five other individuals who were allegedly murdered by the criminal organization, according to NBC New York.
According to federal prosecutors in the Eastern District of New York, Mickens' body was found brutally beaten in a tree-lined area of the crime-ridden region of Brentwood. Just a day later, her lifelong best friend Cuevas was found beaten and killed in a wooded area in the same area.
New York Attorney Robert Capers said the MS-13 gang members noticed the two teenage girls while they were looking for rival gang members to spar with. The gang members had previously known Cuevas from a past altercation and called their gang leader for approval to kill the girls.
Capers told the media that the two girls were killed from MS-13 gang members "swinging baseball bats and machetes" at them, pointing out that both were running for their lives….