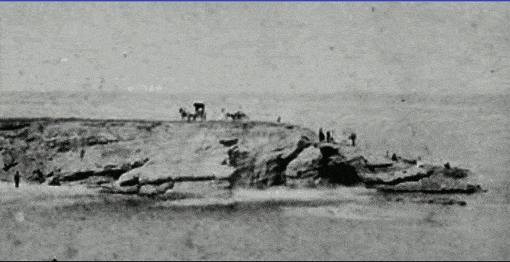 (La Jolla [California] sea levels from 1871 to Now)
Much like the "Polar Bear Scare" – Polar Bears reaching a record population since being measured, I tell my "warmist" friends that we should burn more CO2 because if we were worried about CO2 when the population was thought to be decreasing… why aren't we lauding it as it increases?!
LIKEWISE – here is a report about the "disappearing islands due to "SEA RISE":
ClimateFact Verified: Tropical Pacific Islands Are Not Being Drowned By Rising Seas
"…the pair of New Zealand researchers set out to examine historical changes in 87 islands found within the Jaluit Atoll…over the period 1945-2010. During this time, the islands were subjected to ongoing sea level rise and the passage of a notable typhoon…which caused severe damage with its >100 knot winds and abnormal wave heights…caused a decrease in total island land area of approximately five percent, yet Ford and Kench write that "despite [this] significant typhoon-driven erosion and a relaxation period coincident with local sea-level rise, [the] islands have persisted and grown." Between 1976 and 2006, for example, 73 out of the 87 islands increased in size, and by 2010, the total landmass of the islands had exceeded the pre-typhoon area by nearly 4 percent."
Should we encourage China to build MORE coal plants? Hmmm?
An older challenge was about ANWR… and running a pipeline from Alaska to a port. Eco-fascists use to tell me that it was bad for the caribou species in the area. Then someone did a study and found the caribou population thrived as they used the pipeline to break the harsh elements. After that study came out, the challenge faded into history. But, it caused headlines that swayed public opinion… truth being hindmost in the Left's arsenal. One last example of this statement for context:
"The scientist behind the bogus claim in a Nobel Prize-winning UN report that Himalayan glaciers will have melted by 2035 last night admitted it was included purely to put political pressure on world leaders…. Dr. Lal's admission will only add to the mounting furor over the melting glaciers assertion, which the IPCC was last week forced to withdraw because it has no scientific foundation." (David Rose, The Daily Mail, January 24, 2010)
David Mamet, The Secret Knowledge: On the Dismantling of American Culture (New York, NY: Sentinel Publishing, 2011), [FN] 161.
---
See also:
---